Rovell: I've Got $238,000 Riding on a Northwestern Big Ten Future, and No Plans to Hedge
Credit:
Zach Bolinger/Icon Sportswire via Getty Images. Pictured: Northwestern Wildcats head coach Pat Fitzgerald (center) huddles up with the team.
UPDATE: I'm sweating this game out live on Twitter, with PointsBet offering me cashout options as it goes on.
---
It had become an annual tradition. Every year, just for kicks, I would bet $50 to $100 on Northwestern to win college football's national championship.
It was always in the same range every year — 150/1 to 500/1. Did I think my alma mater would win it all? Come on. But I wanted to substantiate my belief in the program.
It was 25 years ago, a year before I arrived at Northwestern, that its football fortunes started to turn around. The perennial losers, who hadn't gone to a bowl in 57 years and at one point had lost 34 straight games — still an FBS record — made an improbable trip to the Rose Bowl.
They repeated as Big Ten champs the next year. And although it got lean quick, they were back to the new Northwestern the year after I left with another Big Ten title in 2000.
In the years that followed, Rose Bowl captain Pat Fitzgerald took over as head coach and led the program to new heights and yet, Northwestern has never gotten a ton of respect in the betting market.
There are two specific ways this manifested itself. As underdogs, the Wildcats are seemingly always underrated and win straight-up in impressive fashion. They break power ratings.
In the last decade, Northwestern has won 25 games straight-up as an underdog (only Kansas State, 27, and Duke, 26, have more). And the Wildcats are tied for the most wins as a double digit underdog in the last decade at eight (with Wyoming and Eastern Michigan).
I always feel like Northwestern is priced longer than it should be, both to win the conference and national title, even if the latter is almost impossible. This team tends to outperform baseline expectations, evidenced by its output as an underdog.
There's also never a flood of 'Cats money entering the market — if you bet on Northwestern to win the conference title or national title, you had to go to Northwestern. And there's not a massive alumni base piling into sportsbooks every August, digital or in person.
At the beginning of this season, I looked at Northwestern's odds to win the Big Ten.
200-1.
For the national title? 300-1.
I thought immediately that the Big Ten bet had a chance — at least a much better one than the odds implied.
Northwestern was 3-9 last year and its underlying metrics were even worse, but had Indiana quarterback transfer Peyton Ramsey coming in and our defense was led by an experienced linebacker corps.
I also thought about COVID, and all the implications that come with it. I wasn't exactly going on a limb by expecting a chaotic year in college football and arguing that a team like Northwestern, which has played in the Big Ten title game as recently as 2018, shouldn't be 200-1 in this climate. At least that's what I reasoned back in August.
As it turns out, Northwestern has survived without an outbreak within the program and has had just one canceled game.
I stared at that 200-1. Not wanting to alarm the guys at PointsBet, where I made the bet, I made it incrementally.
$150 at 200-1
$100 at 200-1
$200 at 200-1
$200 at 200-1
$300 at 200-1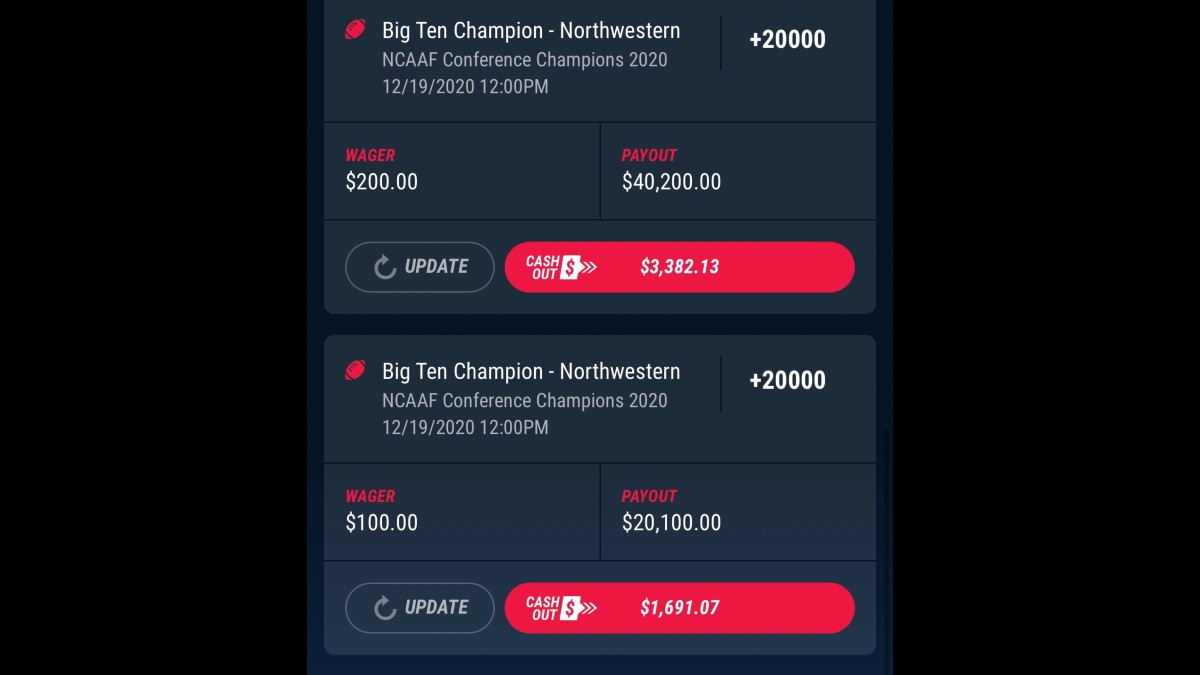 I had gotten down $950 easily, an amount I was comfortable losing should it go wrong.
I added more.
$100.
Damn, it dropped to 150-1. I bet the $100 and stopped.
Shortly after Northwestern went to 2-0 on the year, I checked back. PointsBet was offering 66-1.
I liked it more and got down $500.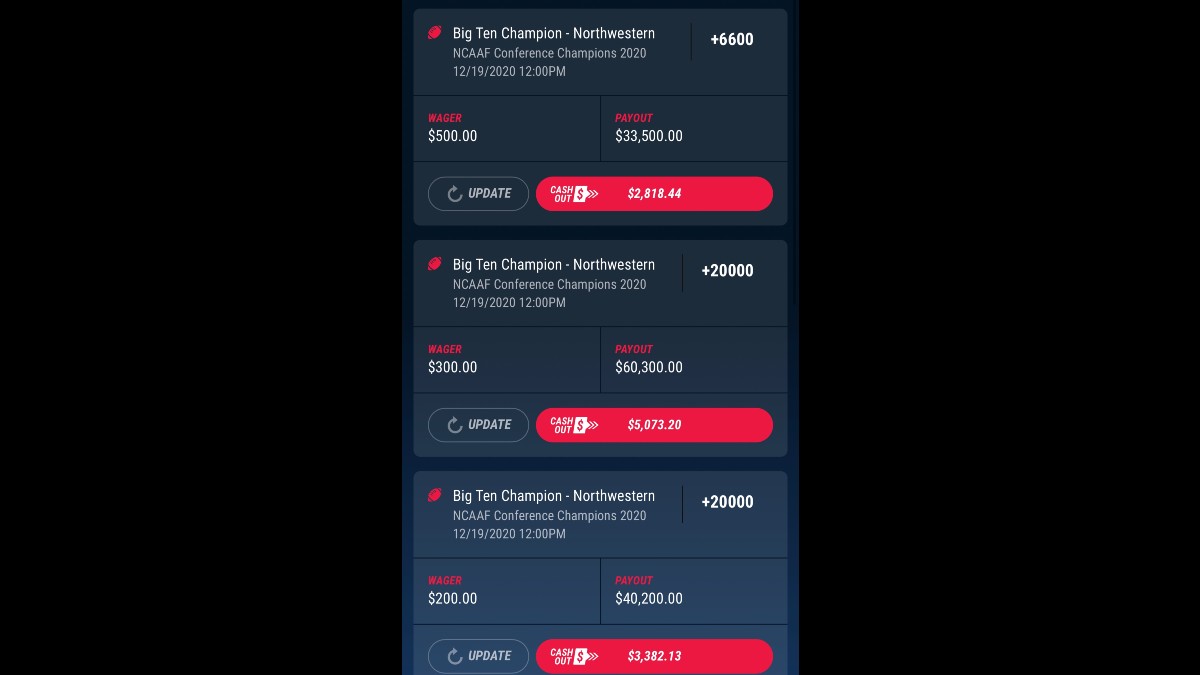 In Week 5, I started counting up what I had done. Northwestern was 5-0 and had beaten Iowa and Wisconsin. They could lose out and still be in the Big Ten title game.
I had bet $1,550 to win $238,000.
Holy crap. It's not an amount of money I'm uncomfortable losing, but it's a huge leap of faith on a team I love.
Over the next couple days, with Northwestern at 5-0, I told friends.
They all made sure I was sane.
"You're hedging right?"
"Well, it depends who is playing," I replied.
If Ohio State was disqualified from the game for playing too few games, Northwestern would have played Indiana and I could easily lock in my money by throwing money on the Hoosiers, who may have been a short favorite. Yes, a nuts fan like me also thinks this is horrible karma.
But when the Big Ten changed its rule and allowed Ohio State in, the easy hedge went away. The Buckeyes are a 20.5-point favorite and -1112 on the moneyline — I'd have to lay $1,112 for every $100 I wanted to win.
To properly hedge, I would have to back up a Brinks truck.
When the matchup firmed up, I looked back at my bets in the PointsBet app.
New cashouts were there.
PointsBet was offering me $20,153.97 on $1,550 in bets.
A nice return at about 13-1, but I don't want it.
Always thinking of an opportunity, I called PointsBet spokesman Patrick Eichner and senior editor Teddy Greenstein and asked them if they would be willing to listen to my proposal.
I stream myself watching the Big Ten title game (noon ET this Saturday), while Teddy, who was the Northwestern beat writer at the Chicago Tribune for years, would chat with me. And now here's the kicker. Teddy would be in touch with PointsBet's trading team who will relay live offers to me "Deal or No Deal" style.
I'm going to work ahead of time to figure out at what point I would take a cash out. I think, due to the emotion of betting on my team, preparation is the key to maintaining rationality.
Am I nervous about Saturday? Oh yeah. And I'm going to let you all in on my world. Hope you will watch. It should be an insane second screen experience.
Go Cats!
How would you rate this article?
This site contains commercial content. We may be compensated for the links provided on this page. The content on this page is for informational purposes only. Action Network makes no representation or warranty as to the accuracy of the information given or the outcome of any game or event.