2022 NFL Defensive Rookie of the Year Odds Tracker: Pass Rushers Favored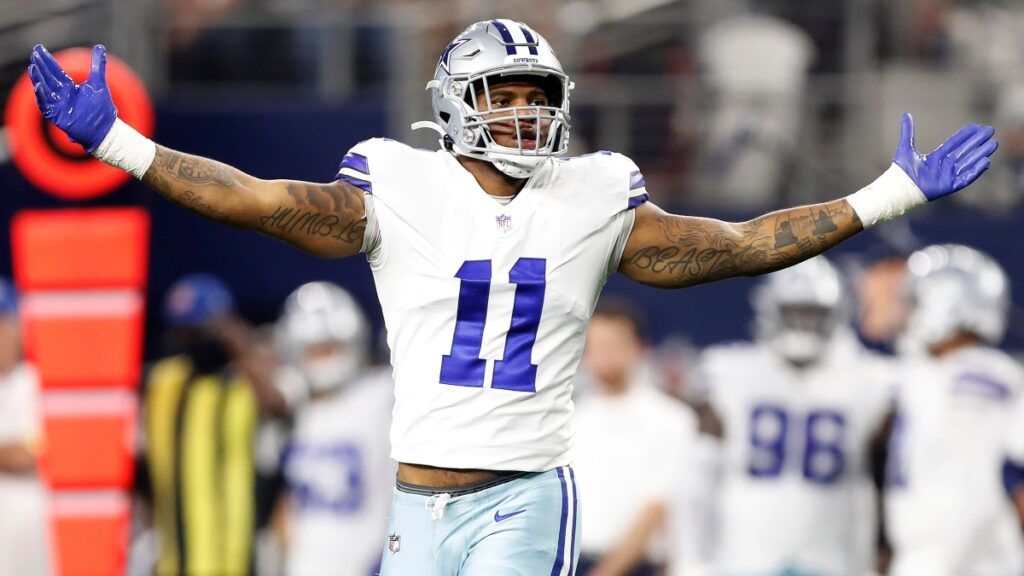 | Player | Odds |
| --- | --- |
| Sauce Gardner - New York Jets | -1200 |
| Aidan Hutchinson - Detroit Lions | +800 |
| Tariq Woolen - Seattle Seahawks | +1600 |
| Lewis Cine - Minnesota Vikings | +5000 |
| Nakobe Dean - Philadelphia Eagles | +5000 |
| Kayvon Thibodeaux - New York Giants | +6600 |
| Nik Bonitto - Denver Broncos | +6600 |
| Cameron Thomas - Arizona Cardinals | +6600 |
| Myjai Sanders - Arizona Cardinals | +6600 |
| Kaiir Elam - Buffalo Bills | +8000 |
| Jermaine Johnson - New York Jets | +8000 |
| Andrew Booth Jr. - Minnesota Vikings | +8000 |
| Martin Emerson Jr. - Cleveland Browns | +8000 |
| Dax Hill - Cincinnati Bengals | +8000 |
| Christian Harris - Houston Texans | +8000 |
| Brian Asamoah II - Minnesota Vikings | +8000 |
| Jack Jones - New England Patriots | +10000 |
| Kyle Hamilton - Baltimore Ravens | +10000 |
| Malcolm Rodriguez - Detroit Lions | +10000 |
| Sam Williams - Dallas Cowboys | +10000 |
| Jalen Pitre - Houston Texans | +10000 |
| Devin Lloyd - Jacksonville Jaguars | +10000 |
| Roger McCreary - Tennessee Titans | +10000 |
| Trent McDuffie - Kansas City Chiefs | +10000 |
| Jordan Davis - Philadelphia Eagles | +10000 |
| DeMarvin Leal - Pittsburgh Steelers | +10000 |
| Logan Hall - Tampa Bay Buccaneers | +10000 |
| Arnold Ebiketie - Atlanta Falcons | +10000 |
| Boye Mafe - Seattle Seahawks | +10000 |
| Devonte Wyatt - Green Bay Packers | +10000 |
| Brandon Smith - Dallas Cowboys | +10000 |
| Kingsley Enagbare - Green Bay Packers | +10000 |
| Josh Paschal - Detroit Lions | +10000 |
| Darrian Beavers - New York Giants | +10000 |
| Leo Chenal - Kansas City Chiefs | +12500 |
| Bryan Cook - Kansas City Chiefs | +12500 |
| Cam Taylor-Britt - Cincinnati Bengals | +12500 |
| Channing Tindall - Miami Dolphins | +12500 |
| Travis Jones - Baltimore Ravens | +12500 |
| Marcus Jones - New England Patriots | +12500 |
| Chad Muma - Jacksonville Jaguars | +15000 |
| Perrion Winfrey - Cleveland Browns | +15000 |
| Coby Bryant - Seattle Seahawks | +20000 |
| Jaquan Brisker - Chicago Bears | +20000 |
| George Karlaftis - Kansas City Chiefs | +20000 |
| Travon Walker - Jacksonville Jaguars | +20000 |
| Drake Jackson - San Francisco 49ers | +20000 |
| Derek Stingley Jr. - Houston Texans | +20000 |
| Quay Walker - Green Bay Packers | +20000 |
| Nick Cross - Indianapolis Colts | +20000 |
| Josh Jobe - Philadelphia Eagles | +20000 |
| Kerby Joseph - Detroit Lions | +20000 |
| Derion Kendrick - Los Angeles Rams | +20000 |
| DeAngelo Malone - Atlanta Falcons | +20000 |
| Jack Sanborn - Chicago Bears | +25000 |
| Mario Goodrich - Philadelphia Eagles | +25000 |
The NFL Defensive Rookie of the Year odds board is crowded with pass rushers at the top, as those defensive ends and linebackers selected high in the 2022 NFL Draft will have a shot to contribute right away.
The first three pass rushers off the board in the draft are favored to win -- Lions DE Aidan Hutchinson (+500), Giants DE Kayvon Thibodeaux (+550) and the No. 1 overall pick, Jaguars EDGE Travon Walker (+650).
Defensive Rookie of the Year used to be a linebackers award, as LBs won 26 of the first 47 awards. And many were more traditional inside linebackers who racked up tackles and nothing else. But over the last decade, it's become more of a pass-rushers award, with six of the last eight winners making sacks their primary statistical contribution.
That's why Jets CB Sauce Gardner, Texans CB Derek Stingley and Ravens S Kyle Hamilton are not among the top betting choices, despite the first two being top 10 picks. Just 10 defensive backs have ever won Defensive Rookie of the Year. All three are in the +1000 to +1200 range, depending on the sportsbook.
The next tier has some interesting names, like Jags LB Devin Lloyd, who stuffed the stat sheet at Utah, and Eagles DT Jordan Davis, the mammoth inside presence for Georgia who had a much bigger impact than his basic stats would suggest.
This has not been an award for longshots. Most of the winners have been first-round picks and opened the season with single-digit odds.
Who Are the Defensive Rookie of the Year Favorites?
1. Aidan Hutchinson (+500)
Lions
Defensive End
No. 2 overall pick
College: Michigan
Hutchinson had a monster senior season at Michigan, helping lead the Wolverines to their first Big Ten title under Jim Harbaugh and first win over Ohio State in almost a decade.
2. Kayvon Thibodeaux (+550)
Giants
Defensive End
No. 5 overall pick
College: Oregon
Thibodeaux was favored to be the top pick at many points throughout the 2021 college season, but ultimately dipped a bit before the Giants scooped him up at No. 5. He has tons of raw ability and was one of the highest-rated recruits in high school football history.
3. Travon Walker (+650)
Jaguars
EDGE
No. 1 overall pick
College: Georgia
Walker tested so well at the combine the Jaguars passed on more productive college players to select him No. 1 overall. He posted just six sacks and 33 tackles for an elite Georgia defense in 2021.
4. Quay Walker (+900)
Packers
Linebacker
No. 22 overall pick
College: Georgia
The other Walker waited behind some great linebackers to get his shot at Georgia but became a focal point of the Bulldogs national-title winning defense. He's more of a traditional linebacker than a pass
5. Jermaine Johnson II (+900)
Jets
Defensive End
No. 26 overall pick
College: Florida State
Johnson dropped to the end of the first round but played brilliantly in his only full year as a starter. Johnson starred on the Netflix docu-series "Last Chance U" after being academically ineligible to play college football coming out of high school. He started his career at Georgia and then transferred to Florida State, where he was the ACC Defensive Player of the Year with 11.5 sacks.
FUTURES
Consensus
Cons.

Sauce Gardner

S.Gardner

Tariq Woolen

T.Woolen

Aidan Hutchinson

A.Hutchinson

Kayvon Thibodeaux

K.Thibodeaux

Jack Jones

J.Jones

Devin Lloyd

D.Lloyd

Travon Walker

T.Walker

George Karlaftis

G.Karlaftis

Jordan Davis

J.Davis

Jalen Pitre

J.Pitre

Kaiir Elam

K.Elam

Jaquan Brisker

J.Brisker

David Ojabo

D.Ojabo

Dominique Robinson

D.Robinson

Sam Williams

S.Williams

Malcolm Rodriguez

M.Rodriguez

Quay Walker

Q.Walker

Derek Stingley Jr.

D.Stingley

Jaylen Watson

J.Watson

Kyle Hamilton

K.Hamilton

Lewis Cine

L.Cine

Jermaine Johnson

J.Johnson

Andrew Booth Jr.

A.Booth

Alontae Taylor

A.Taylor

Josh Ross

J.Ross

Devonte Wyatt

D.Wyatt

Trent McDuffie

T.McDuffie

Roger McCreary

R.McCreary

Christian Harris

C.Harris

Arnold Ebiketie

A.Ebiketie

Drake Jackson

D.Jackson

Myjai Sanders

M.Sanders

Chad Muma

C.Muma

Nik Bonitto

N.Bonitto

Cameron Thomas

C.Thomas

Brian Asamoah II

B.Asamoah

Coby Bryant

C.Bryant

Brandon Smith

B.Smith

Kader Kohou

K.Kohou

Troy Andersen

T.Andersen

Kyler Gordon

K.Gordon

Logan Hall

L.Hall

Boye Mafe

B.Mafe

Nakobe Dean

N.Dean

Dax Hill

D.Hill

Cam Taylor-Britt

C.Taylor-Britt

Leo Chenal

L.Chenal

Travis Jones

T.Jones

Brandon Smith

B.Smith

Kingsley Enagbare

K.Enagbare

Phidarian Mathis

P.Mathis

Marcus Jones

M.Jones

Josh Paschal

J.Paschal

Channing Tindall

C.Tindall

Bryan Cook

B.Cook

Martin Emerson Jr.

M.Emerson

Darrian Beavers

D.Beavers

Derion Kendrick

D.Kendrick

DeAngelo Malone

D.Malone

Micheal Clemons

M.Clemons

Perrion Winfrey

P.Winfrey

Mykael Wright

M.Wright

Christian Benford

C.Benford

Kerby Joseph

K.Joseph

Mario Goodrich

M.Goodrich

DeMarvin Leal

D.Leal

Jack Sanborn

J.Sanborn

Josh Jobe

J.Jobe

Marcus Jones

M.Jones

Nick Cross

N.Cross
Who Can Win Defensive Rookie of the Year?
We covered how voters behave and which kind of players win Defensive Rookie of the Year here.
There are three main things to look out for when betting this market.
Does the player play linebacker or defensive line? Preferably a pass rusher. Six of the last eight winners have made sacks their primary contribution.
Sacks are the most accepted currency, but tackles and interceptions can help too. Defensive stats are harder to quantify, so many voters just look at basic stats like sacks.
Did their team's defense struggle last year, and can that player help them take a step forward? The last five winners have seem their team improve in points per game by 20 spots from the previous year.
Naturally, many of the favorites will check these boxes. Pass rushers Aidan Hutchinson, Kayvon Thibodeaux and Travon Walker top the board.
There are a few names further down the board in 2022 who check some of the boxes at better prices.
Devin Lloyd, LB, Jaguars (15-1): Lloyd

stuffed the stat sheet for Utah. And in his final season, he had 111 tackles, 22 tackles for a loss, seven sacks, four interceptions, six pass breakups, a forced fumble and a fumble recovery. He

rushed the passer and played in coverage.

His path is like Darius Leonard's — rack up a ton of tackles and chip in some sacks and INTs for a much-improved defense. I think he could also benefit from the "he's playing better than Jacksonville's No. 1 overall pick" narrative.

George Karlaftis, DE, Chiefs (20-1): Karlaftis checks a lot of the same boxes as the favorites at the top. He was a projected top 10 pick earlier in the NFL Draft process but fell to Kansas City. And while the Chiefs defense was fine last season and won't benefit from a big narrative jump, they should be leading a lot, and Karlaftis could find himself in pass-rushing situations.
Arnold Ebiketie, EDGE, Falcons (50-1): Ebiketie transferred from Temple to Penn State for his senior season and racked up 9.5 sacks and 17.5 tackles for loss. He has a path to playing time with the Falcons rebuilding pretty much everywhere, and Atlanta's defense has nowhere to go but up.
Get the full checklist here.
NFL Defensive Rookie of the Year Odds FAQs
Can I bet on who will win NFL DROY?
What is the NFL Defensive Rookie of the Year award?
Who won NFL DROY in 2020?
Who can win the DROY award?