Updated NFC East Title Odds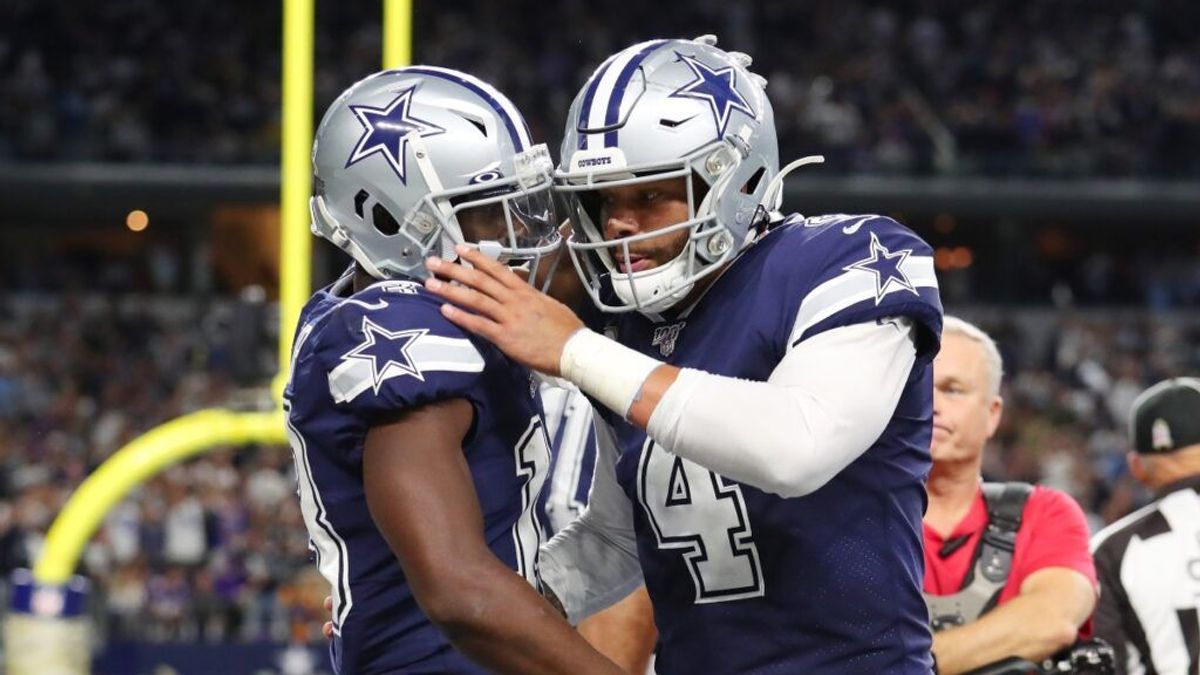 The Cowboys are the early favorites to claim the NFC East crown with -110 odds at Caesars Sportsbook, but the Eagles are hot on their tail after a stellar offseason.
Dallas traded away WR Amari Cooper, meaning it's finally time for Ceedee Lamb to step into the No. 1 receiver role. Meanwhile, the Eagles traded for A.J. Brown and selected Georgia DT Jordan Davis on Draft Night, and signed the likes of Hasson Reddick and James Bradberry during free agency.
Philly is now +250 to win the division, a sneaky bet if you're looking for something solid with good value -- especially with their easy strength of schedule.
The Giants also have one of the easier schedules in the league, but there are so many question marks surrounding the team -- and specifically Daniel Jones, who is entering a contract year -- that oddsmakers gave them the worst odds at +800.
The newly-named Commanders come in at +500 with Carson Wentz now under center and back in his original division.
Odds via Caesars and updated in real-time.
Preseason Updates
May 18: The Eagles closed the gap a bit between themselves and the Cowboys after they had one of the best draft nights in the league and it was revealed they had one of the easiest schedules as well. The Cowboys still hold -110 odds, while the Eagles are now down to +250, the Commanders up to +500 and the Giants at +800.
April 1: After the free agency signing and trading frenzy, the odds in the NFC East were unchanged.
Feb 28: The Cowboys started the offseason as the favorites to win the NFC East with -120 odds, followed by the Eagles (+300), Commanders (+450) and Giants (+700).
Past NFC East Winners
Odds via Sports Odds History prior to Week 1 of that season.
The NFC East hasn't had a repeat winner since the Eagles won it four years in a row from 2001-04. Will the carousel continue this season? The Cowboys are now on the clock to try and repeat and are the favorites to do so ahead of the season.
| | | | |
| --- | --- | --- | --- |
| Year | Team | Record | Odds |
| 2002 | Philadelphia Eagles | 12–4 | -180 |
| 2003 | Philadelphia Eagles | 12–4 | -180 |
| 2004 | Philadelphia Eagles | 13–3 | -185 |
| 2005 | New York Giants | 11–5 | +700 |
| 2006 | Philadelphia Eagles | 10–6 | +275 |
| 2007 | Dallas Cowboys | 13–3 | +180 |
| 2008 | New York Giants | 12–4 | +325 |
| 2009 | Dallas Cowboys | 11–5 | +175 |
| 2010 | Philadelphia Eagles | 10–6 | +275 |
| 2011 | New York Giants | 9-7 | +300 |
| 2012 | Washington Commanders | 10–6 | +1000 |
| 2013 | Philadelphia Eagles | 10–6 | +350 |
| 2014 | Dallas Cowboys | 12–4 | +500 |
| 2015 | Washington Commanders | 9–7 | +3500 |
| 2016 | Dallas Cowboys | 13–3 | +200 |
| 2017 | Philadelphia Eagles | 13–3 | +250 |
| 2018 | Dallas Cowboys | 10–6 | +350 |
| 2019 | Philadelphia Eagles | 9–7 | -160 |
| 2020 | Washington Commanders | 7–9 | +2200 |
| 2021 | Dallas Cowboys | 12–5 | +135 |
Another one of the NFL's storied franchises, the Dallas Cowboys are tied for the second most Super Bowl wins in league history with five. A couple in the 1970s followed by winning three of four from 1992-95 has them in the running for one of the best franchises ever. From Roger Staubach, Troy Aikman and Tony Romo, to Emmitt Smith, Michael Irvin and Tony Dorsett (plus many more), the Cowboys have seen some of the best offensive players in the game wear the Dallas star on their helmets. Even as we fast forward to the 2020s, though we haven't seen much playoff success, it's not because of the lack of talent. Looking at the current roster, Dallas is loaded up with the likes of Dak Prescott, Ezekiel Elliot and CeeDee Lamb on one side of the ball, and Micah Parsons, Trevon Diggs and DeMarcus Lawrence on the other. But will they be able to finally make it back to The Big Game?
Playoff Berths: 30

Division Titles: 21
NFC Championships: 8
Super Bowl Championships: 5
The New York Football Giants certainly know how to make the most of the opportunities presented in front of them, having won four of their five Super Bowl appearances over the years. The Giants are as sporadic as a franchise can get, missing the playoffs for years and years on one end, while also being tied for the third most Super Bowls in NFL history -- thanks in part to Phil Simms, Otis Anderson, Lawrence Taylor, Eli Manning, David Tyree and a slew of other players. Taylor is considered one of the greatest players of all-time, while Manning is widely considered the greatest Giant of all-time thanks to his 16-year career at quarterback and two Super Bowl MVPs. Now that the latter has retired, New York has been in a bit of a tailspin and just hired their fourth new head coach since Tom Coughlin left in 2015. How much longer will it be before what seems like another inevitable title?
Playoff Berths: 16

Division Titles: 8
NFC Championships: 5
Super Bowl Championships: 4
The Eagles spent years and years trying to claw their way to a Super Bowl title, and after failing in their first twos appearance back in 1980 and 2004, The Birds got it done in 2018 -- with backup QB Nick Foles rising to the occasion after starter Carson Wentz's season ending injury and putting together an unforgettable run that culminated in defeating Tom Brady and the New England Patriots in Super Bowl 52. The Eagles went through years of hardships despite having some extremely talented players on their roster, including Brain Dawkins, Reggie White, Randall Cunningham, Donavan McNabb, LeSean McCoy and Terrell Owens. Now that they've got one trophy under their belt, of course they'd like another.
Playoff Berths: 24

Division Titles: 11
NFC Championships: 3
Super Bowl Championships: 1
New name, new team? Washington has gone through a few names over the last few seasons, but it looks like the Commanders are here to stay now. But despite the name change, Washington's history won't go away that easy. The team in red and yellow has three Lombardis in their trophy case and have been competitive through many years in the league. But the 2000s have been pretty quiet for the most part, with just five playoff appearances and three division titles added to their books as of late. Finding the right quarterback has been an issue ever since the Joe Theismann era and Robert Griffin III's injuries that derailed what was to be a stellar career. Jason Campbell, Donavan McNabb, Rex Grossman, Kirk Cousins and Alex Smith highlight some of the quarterbacks that have tried to turn things around in the 2000s, but failed to do much. A strong defense and some offensive weapons look to keep them just one signal caller short of becoming contenders again.
Playoff Berths: 19

Division Titles: 9
NFC Championships: 5
Super Bowl Championships: 3
NFL NFC East Title Odds FAQs
Can I bet on NFL division title winners?
What teams are in the NFC East?
What does winning a division title mean?
Who's won the most NFC East titles?
Who won the NFC East in 2021?