Friday's Lead: Tiger vs. Phil on Thanksgiving, Urban Meyer's Point-Spread Value, More
Credit:
Brian Spurlock-USA TODAY Sports: Pictured: Tiger Woods and Phil Mickelson
Sign up for The Action Network's daily newsletter to have trending articles delivered into your inbox each morning.
This holiday season, Tiger Woods and Phil Mickelson are making gambling dreams come true. According to reports, the two golf icons will play for $10 million on Thanksgiving weekend in the most anticipated head-to-head match of all-time. Jason Sobel says it's going to be a gambling festival, which sounds like … heaven? Think that's heaven, Jason. The bonanza's taking place in a sleepy desert town called Las Vegas and might very well prove to be the defining intersection of sports and gambling…
Sharps Love This Match
Tiger opened as a -130 favorite over Phil around the market, and it didn't take long for sharp bettors to pick a side…
Phil Dancing
Phil Mickelson can't dance, which is why a viral video of him shaking his groove thing for Mizzen + Main is something you have to see to believe…
---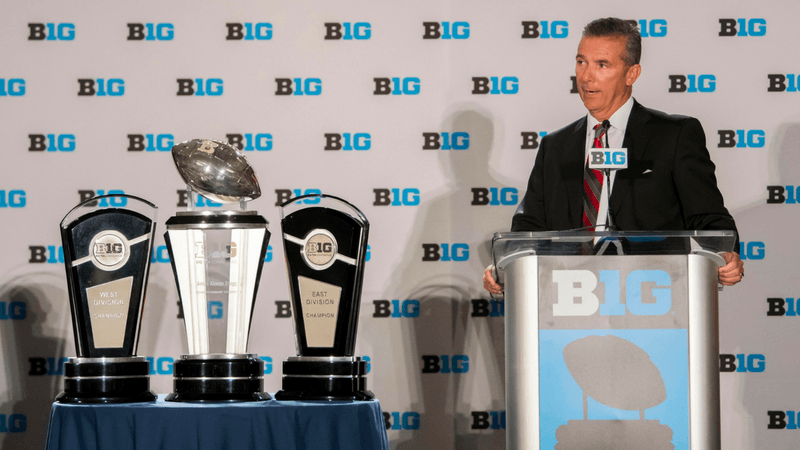 Ohio State was one of the betting favorites to win the national title earlier this week. Things are different now. Bookmakers spent yesterday taking down and adjusting OSU lines due to a report that head coach Urban Meyer has known of domestic abuse allegations against former assistant coach Zach Smith since 2015. Meyer was placed on administrative leave on Wednesday…
One thing is for sure: If Urban is a goner, bookmakers won't miss him a lick. Stuckey explains…
---
There are more seats up for grabs in the Senate than at a BIG3 game, but oddsmakers heavily favors the Republicans to maintain control come November. So who will bring the House down? A handful of oddsmakers think it'll be close with a slight edge going to the Democrats, though PredictIt (a trusted, often accurate political prediction market) has other thoughts…
---
ACTION ITEMS
Bonne Chance Jean Football: Johnny Manziel will start for the Montreal Alouettes tonight against his former team, the Hamilton Tiger-Cats. Most bets are coming in on J. Football, and John Ewing found some numbers that say you should back the Heisman winner…
Irish Goodbye: Kyrie Irving will be a free agent in 2019, so bookmakers are doing what they do best — putting up odds on where he'll play next for us to freak out about…
Terrible Teams: You know what sounds like a great idea? Betting on last year's awful college football teams. No really, it's a great idea. John Ewing can explain…
The Buffet: Chad and Scooch are back to talk about the NBA-MGM deal and some pigskin…
How would you rate this article?