Saturday's Lead: College Football Games The Sharps Are Betting
Credit:
Matt Cashore-USA TODAY Sports, Pictured; Notre Dame Fighting Irish head coach Brian Kelly and his team
Sign up for The Action Network's daily newsletter to have trending articles delivered into your inbox each morning.
NCAAF
The best teams in the nation are set to battle with more pent up testosterone than the eighth grade boys cabin at sleep-away camp. Here are the games the pros are betting, our staff's favorite bets, a cheat sheet with everything you need to know and individual guides for the top games:
Notre Dame-Michigan
Two of the most prestigious schools in the country, scattered thunderstorms, and a line oscillating more than the price of Bitcoin. What's not to love…
Alabama-Louisville
We can't confirm that Bobby Petrino is paying Lamar Jackson to comeback and suit up as "Larry Johnson" tonight, but that's the best chance the Cardinals have of keeping this one close…
Washington-Auburn
Gus Malzahn can't beat anyone good out of conference. Chris Petersen can't beat anyone good, ever. Something's got to give in this epic neutral site showdown…
West Virginia-Tennessee
The last time we saw Tennessee, it was getting smoked at home by Vanderbilt to cap an 0-8 SEC season. Expect a renewed Vols team in their opener against WVU…
---
BE A BETTER BETTOR
Take advantage of our 60% OFF special offer and bet like a PRO this season. Live odds from 50+ sportsbooks, real-time trends, and all of our premium content costs less than a cup of hipster coffee. #BeABetterBettor and go PRO before time runs out…
---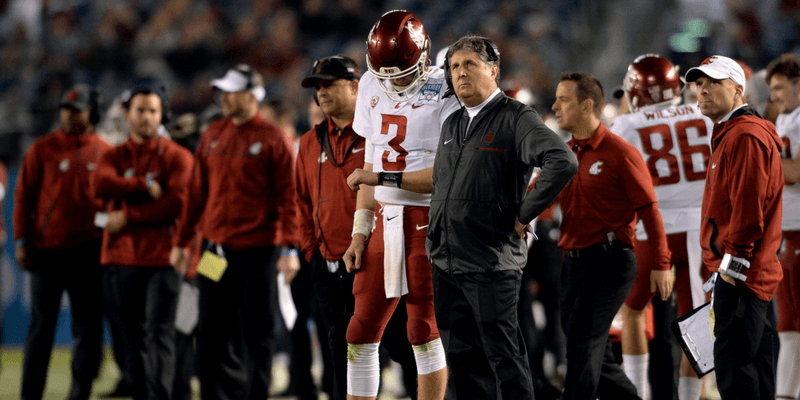 NCAAF
Stuckey wanted to title this piece "Get Faded," which we had to explain had a completely different connotation amongst today's youth. Finding value in the overlooked teams with subpar reputations, Stuck's intrigued by the likes of Kansas and Baylor early, and fading Washington State harder than a brightly colored H&M shirt in its first time in the wash…
80 Essential Betting Tips, Trends, and Stats
Did you know Tom Herman is 10-1 ATS as an underdog since 2015? Steve Petrella's lucky number is 4,356, but we convinced him to condense his findings into 80 important nuggets to guide your CFB betting…
Watchability Ratings
Overwhelmed by the first Saturday of the season? Bryan Mears did the hard work of crafting the perfect TV schedule for you, using Vegas data to figure out the most likely edge-of-your-seat games…
Dan Rubenstein's Picks For Brave Bettors
Our newest college football pundit makes his picks not only for football, but for life. Rubenstein's life hack: the coffee nap…
---
TOP EXPERT PICKS
Washington +2.5 vs. Auburn. The Pac-12 has long struggled against the SEC. This is the game that shifts the tides.