WNBA Injuries to Know: Diana Taurasi, Sue Bird, Candace Parker, More
Credit:
USA Today Sports. Pictured: Diana Taurasi, Sue Bird, Candace Parker
Justin Phan and Bill Monighetti break down the biggest WNBA injuries heading into the 2019 season.
From Diana Taurasi in Phoenix to Candace Parker in L.A., here's how the absences of eight players will impact their teams and the betting market.
There are a number of high-profile WNBA injuries heading into the 2019 season, which tips on Friday night.
Our experts Justin Phan and Bill Monighetti analyzed how the absences of eight players (for injury and other reasons) will impact their respective teams, the landscape of the league and the betting market.
Let's get started.
Note: All injury information and expected timetables as of May 23.
Breanna Stewart and Sue Bird, Seattle Storm
Stewart's injury and timetable: Ruptured Achilles tendon; Out for season
Bird's injury and timetable: Left knee surgery; Out indefinitely
Impact: The hits keep on coming for the defending champions.
After losing Stewart for the season to an Achilles injury and the revelation of coach Dan Hughes' cancer diagnosis, things got even worse with the news that Bird could miss the majority of the season.
The losses of Stewart and Bird will likely prove insurmountable. The duo accounted for 36% of the Storm's points and 43% of their assists last season. The Storm's Offensive Rating fell off a cliff without Stewie and Bird, going from 117.6 when they shared the court to 94.9 with both on the bench.
Jewell Loyd will be forced into the No. 1 role now as the team's leading returning scorer, with Natasha Howard not too far behind.
It's worth noting that the Storm played significantly slower without Stewie and Bird, as their 74.7 pace would've ranked dead last among all teams in 2018. They actually defended well in that sample (97.2 Defensive Rating), too, so betting unders could prove to be a profitable play early on if there isn't a big enough adjustment on their totals. — Justin Phan
Candace Parker, Los Angeles Sparks
Injuries: Left hamstring
Timetable: 2-4 weeks
The Sparks should be in title contention in 2019, but there isn't a lot of wiggle room should Parker's injury keep her out longer than her original timetable with powerhouses Las Vegas, Phoenix and Washington lurking.
The Sparks are deep in the frontcourt — especially after acquiring Chiney Ogwumike from Connecticut in the offseason — but Parker has the type of do-it-all game that cannot be easily replaced, even among a roster full of All-Star caliber players.
The schedule won't do Los Angeles any favors, either. The Sparks will play Las Vegas, Connecticut (twice), Phoenix and Washington in Parker's expected absence. Still, as long as she returns to the court by the end of June, Los Angeles will have plenty of time to make a run in 2019. — Bill Monighetti
Diana Taurasi, Phoenix Mercury
Injury: Back surgery
Timetable: 6-8 weeks
Impact: Phoenix enters the season with a few big question marks, namely the health of Taurasi. Still, with Taurasi, Brittney Griner and DeWanna Bonner, the Mercury have arguably three of the top 10 players in the league.
They'll welcome back a healthier Briann January, who played the entire season with a dislocated shoulder and had surgery in the offseason to address it. They added Essence Carson in free agency as well as three of the top-13 rookies in the draft. They could also get Sancho Lyttle back from a torn ACL as soon as the season opener (coach Sandy Brondello said Lyttle might be available to play limited minutes).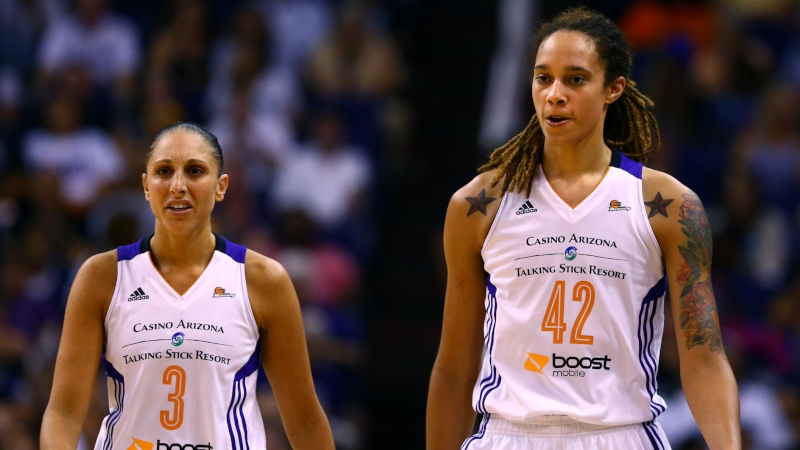 All roads will likely lead through Las Vegas with the Aces' addition of Liz Cambage, but Phoenix is one of few teams that have the top-end talent necessary to compete with them, especially once Taurasi returns. — Phan
Skylar Diggins-Smith, Dallas Wings
Reason: Childbirth
Timetable: To be determined
Impact: It's a good time to rebuild for the Wings.
After Cambage forced her way out of Dallas over the offseason, the Wings' roster is full of intriguing complementary players and high-upside prospects. But there's a clear lack of ready-to-contribute, top-end talent on a roster that will be without its two best players from a year ago — at least to begin the season.
Diggins-Smith has left the door open for a return to the Wings' active roster during the season, but a lot will likely depend on the Dallas' record to begin the year and its positioning in the playoff race.
Dallas will need to hope for a big second-year improvement from Azura Stevens and a Rookie of the Year-type campaign from No. 5 overall draft pick Arike Ogunbowale to stay competitive until Diggins-Smith rejoins the roster. — Monighetti
Maya Moore and Rebekkah Brunson, Minnesota Lynx
Moore's reason and timetable: Personal; Out for season
Brunson's injury and timetable: Concussion; Uncertain
Impact: It's tough to really encapsulate what Moore has meant to the Lynx organization. Since she was drafted in 2011, the team has made the playoffs in eight straight seasons and gone to the WNBA Finals six times. No other team has been to the Finals more than twice over that span.
Minnesota has leaned heavily on its veterans and superstars in the past, but that will change with the absences of Moore and Lindsay Whalen (retirement). While the Lynx still have strong leadership at the top with Sylvia Fowles and Seimone Augustus, this looks to be a transition year with the heavy injection of youth into the roster. Only four of Minnesota's 12 players have six or more years of WNBA experience.
But before you totally count the Lynx out, keep in mind that there's only been one player who has finished top-3 in win shares in each of the past three seasons. Put some respect on Sylvia Fowles' name. — Phan
Angel McCoughtry, Atlanta Dream
Injury: Torn ligaments in knee
Timetable: Unknown
Impact: A high-volume scorer, McCoughtry continues her recovery from a knee injury that forced her to miss the latter part of the 2018 season, including Atlanta's somewhat surprising playoff run.
Without McCoughtry, Atlanta played bruising defense and won it fair share of rock fights during its playoff run. But as the season resets, you have to wonder if the Dream have enough scoring should McCoughtry be sidelined for a majority of the season.
Coach Nicki Collen should be praised for getting career-year type production in 2018 from several players, most notably Tiffany Hayes. But if you agree that players like Hayes, Renee Montgomery and Jessica Breland played near their ceilings last season, that combined with the team's lack of young talent hints towards regression in 2019 — especially if McCoughtry is unable to compete at a high level. — Monighetti