Week 6 XFL Betting Trends: Against the Spread & Over/Under Records, Red-Zone Efficiency, More
Credit:
Andrew Hancock/XFL via Getty Images. Pictured: Renegades WR Joshua Crockett (#11)
Just like that, we are halfway through the regular season of the XFL. We saw a few trends break in Week 5, some stand strong and some new ones begin to form.
We'll continue this deep look at the top trends to know as we head into Week 6.
XFL Home vs. Away Splits
Home vs. away splits continue to stand pretty strong when it comes to straight-up wins, with home teams taking three of four games in Week 5.
Home teams have won 70% of their games this season with a record of 14-6, and three of those home losses belong to the Dallas Renegades alone. Away teams have finished a week 2-2 only once this season (Week 3) with all other weeks resulting in the home teams finishing 3-1 straight up.
Home-field advantage hasn't been quite as strong when it comes to covering the spread, but is still notable with a 60% cover percentage.
XFL Against the Spread Trends
Betting against the spread continues to be the trickiest task in the league with all teams combining to cover 50% of the time. The St. Louis BattleHawks, DC Defenders, Seattle Dragons and New York Guardians are all 3-2 ATS while the other four teams are each 2-3.
The Guardians' blowout win over the Renegades last week skewed each team's season averages pretty drastically with New York coming into that game as an 8-point underdog and winning by 18, causing Dallas to miss the spread by 24.
The Tampa Bay Vipers have been the closest to covering the spread overall this season, missing by just a combined seven points (1.4 points per game) with a 2-3 record. They've covered in two of their past three games. The Seattle Dragons are right there with Tampa Bay but on the positive side, having covered by a total of 7.5 points combined (1.5 points per game), giving them a 3-2 record ATS. They've covered in each of their last two games by at least four points.
While the Houston Roughnecks may be the most dominant team when it comes to total points scored, they've been a bad bet ATS — they've covered only once over their past four games.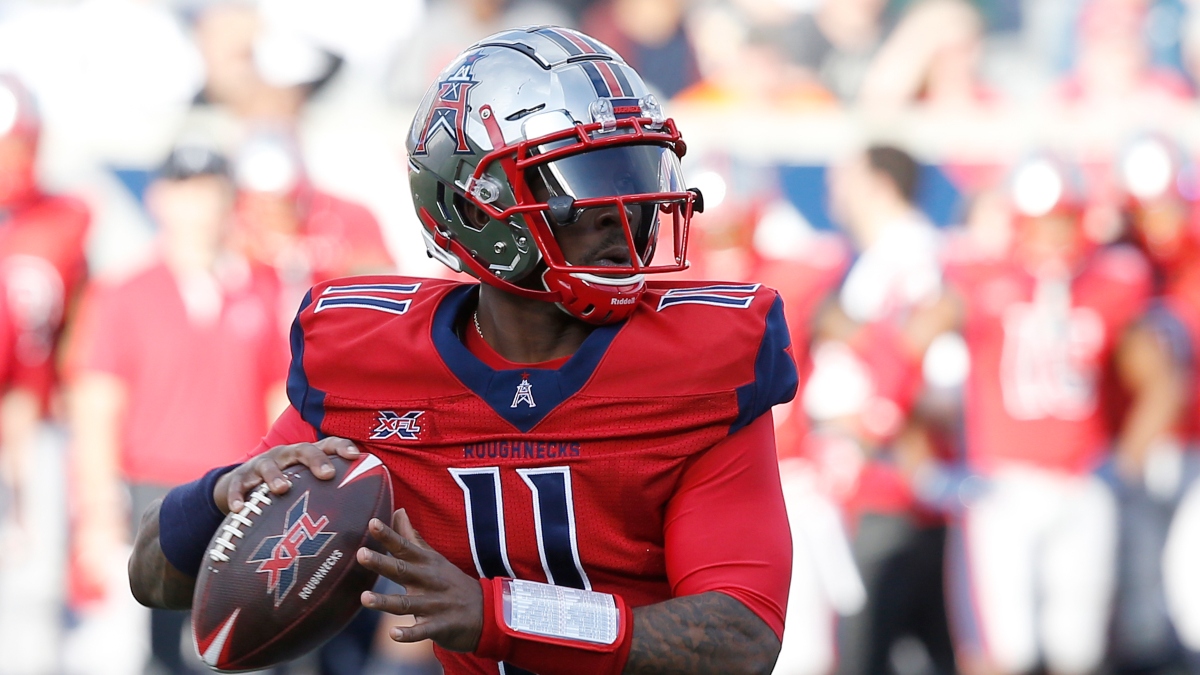 After starting the season 3-0 ATS, the BattleHawks have now failed to cover in each of their past two games.
XFL Over/Under Trends
Week 5 was an odd week for over/unders as the over hit in three of the four games. The under had hit in about 69% of the games until last week, making it one of the safest bets in the league. But sportsbooks have gotten wiser and are constantly dropping their totals, causing that under rate to fall to 60%.
The average set total per game this season is 45.3, and games have gone under that total by an average of 4.3 points. The over has hit by more than five points in only three of eight games. The under has hit by more than five points in seven of 12.
The Roughnecks are still the best bet to push the over this season with their games exceeding the set total in four of five games. Their games have gone over by a total of just 22.5 points combined (4.5 points per game).
The Wildcats are the only other team in the league to push the over in more than half of their games this season. Thanks to their shootout against the Vipers, the Wildcats have now seen the over hit by 26.5 combined points this season (5.3 points per game). Before last week, the over hadn't hit by more than three points for them.
Before last week, the over was 0-4 in Guardians' and Renegades' games, so naturally their matchup had to push the over last week, bringing each to a 1-4 record. New York's games have resulted in the fewest points in the league so far with an average combined total of just 32.8 points per game.
The Defenders are the only other team to see the over hit just once this season. Their Week 3 game against the Wildcats barely pushed the over by 1.5 points. The Defenders are right behind the Guardians with an average combined total of 34.2 points per game. The under has hit by at least 17.5 points in three of five games.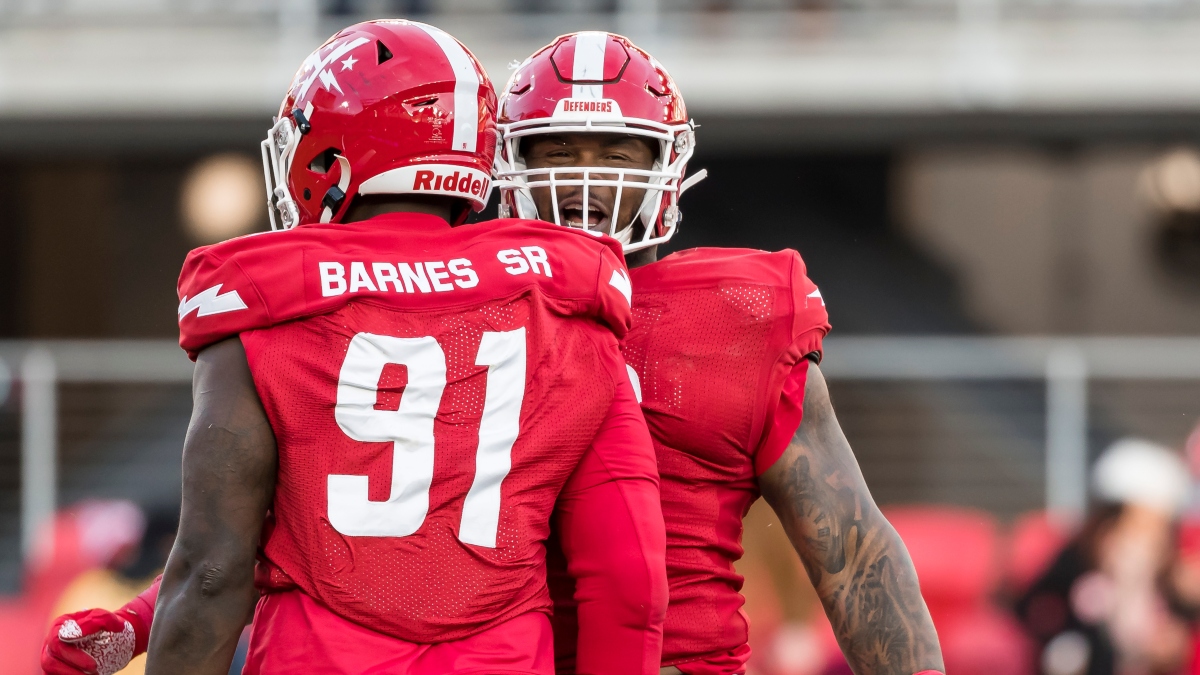 The over has hit in each of the last two games for the Dragons thanks to matchups against two of the top teams in the league, the Roughnecks and BattleHawks.
XFL Red-Zone Efficiency Trends
Something I noticed in my team-by-team usage recap at Establish the Run this week is that red-zone efficiency was trending up over Weeks 3-4 to 63.3%, but it fell slightly in Week 5 to 54.1%. This is still better than what we saw in Weeks 1-2 when teams struggled to crack the 40% mark.
Two teams have been especially strong in red-zone efficiency over the past three weeks with the Dragons and Wildcats both converting 100% of their red-zone drives into a score. The Dragons have gone 6-for-6 over that span while the Wildcats have gone 9-for-9.
The Roughnecks have been the best here on the season having converted 15-of-19 (78.9%) red-zone drives. The Wildcats and Dragons are right behind them at 70.6% and 70%, respectively, though it is worth noting that Seattle also has just 10 red-zone drives this season — fewest in the league.
---
Check out FanDuel, where you can get a $500 risk-free bet, or more offers and reviews for the best online sportsbooks.
---
XFL Play-Calling Trends
The league saw its lowest pass percentage of the season in Week 5 with all teams combining for a virtual 50/50 pass-to-run ratio. The extremes in the league saw the Defenders run the ball 71.9% of the time as they tried their best to hide their offensive ineptitude at quarterback. The Defenders also somehow regressed after putting up an embarrassing 1.9 yards per play in Week 4, they fell to 1.2 yards per play in Week 5 — they had no business winning that game against St. Louis to be perfectly honest.
On the other end of the pass/run splits, we saw Dallas embrace its backup quarterback and pass the ball 78.1% of the time.
Getting back to the subject of yards per play, the league as a whole saw just 3.6 yards per play on average in Week 5. This is identical to Week 4 but much lower than the 5.1 yards per play average we saw between Weeks 1-3. This didn't affect scoring last week as all teams combined for a season-high 193 points (24.1 points per game) in Week 5. However, it is still something to think about, especially considering we saw 38.9% of last week's points come from one game. In Week 4, the league managed a season-low 142 total points (17.8 points per game) while carrying the same yards per play number.
How would you rate this article?