Manny Pacquiao vs. Adrien Broner Betting Guide: Should You Lay the Chalk?
Betting Odds: Manny Pacquiao vs. Adrien Broner
Manny Pacquiao odds: -320
Adrien Broner odds: +290
Over/Under: 10.5 rounds (-255/+215)
Location: MGM Grand, Las Vegas
Time: Approx. 11 p.m. ET
Channel: Showtime PPV
The 2019 boxing schedule begins in earnest on Saturday, Jan. 19 with what promises to be an entertaining fight between all-time great boxer Manny "Pac Man" Pacquiao (60-7-2, 39 KOs) and the engimatic-yet-entertaining Adrien "The Problem" Broner (33-3-1, 24 KOs).
The fight will headline a card that also features an intriguing light heavyweight title fight between Badou Jack (22-1-3, 13 KOs) and Staten Island native Marcus Browne (22-0, 16 KOs).
Setting the Stage
The Pacquiao-Broner fight seemingly came out of nowhere when it was announced a few months ago. It honestly has the feel of a non New Year's Six college bowl game between two big programs. Both Pacquiao and Broner are fascinating characters that will always draw a crowd, despite the fact that neither are at the height of their powers.
Even though these two will be fighting for Pacquiao's WBA Welterweight title, there's plenty more at stake than that in this peculiar fight.
Pacquiao will need to prove that he has enough in the tank to either chase a rematch against Floyd Mayweather or, at the very, least be a competitive opponent for a big fish like Terence Crawford, Errol Spence Jr. or Mikey Garcia. Pac Man is now into the final chapters of his storybook career, so if he wants to go out with a bang a solid performance against Broner is imperative for the 40-year-old.
Broner, 29, is seemingly always at a career crossroads every time he steps into the right. "The Problem" was a champion at four different weight classes, graced pound-for-pound lists before his victory over Paulie Malignaggi in 2013 and was once considered to be Floyd Mayweather's protege, so there's some serious talent there.
Unfortunately people talk about Broner's out-of-ring (and sometimes in-ring) antics more than his actual boxing skill these days and that, along with losses to Marcos Maidana, Shawn Porter and Mikey Garcia has relegated Broner to an afterthought in a stacked division.
This would be the biggest win of Broner's career and perhaps earn him the chance to fight one of the welterweight kingpins like Crawford or Spence. It would also earn Broner a little respect from the boxing community, something that would go a long way in helping him piece back together a once-promising career.
The Betting Market
Pacquiao has been the favorite throughout the life of this fight. The Filipino Senator opened as a -245 favorite (5Dimes) when the bout was announced back on Nov. 19, 2018.
The line has since bounced between -250 and -305, but before the last move to -305, Broner money would come in anytime the line ticked to -300. It'll be interesting to see if that will be the case now that it has pushed past -300 around the market (odds courtesy of ProBoxingOdds.com).
Pacquiao's Path to Victory
Despite being 11 years Broner's senior and well past his prime, there's no reason to doubt that Pacquiao should be a decent favorite in this tilt.
In his last two fights, a ridiculously controversial loss to Jeff Horn in Melbourne (Horn's backyard) back in July, 2017 and a KO victory over power-puncher Lucas Matthysse in Malaysia this past July, Pacquiao has shown some flashes of the brilliance he once emanated.
I do have some reservations of putting too much stock in the Matthysse fight because I don't know how motivated the Argentine was to win (he retired right after the fight), but Pacquiao was clearly the better man in his last two fights despite going 1-1.
Pacquiao's biggest advantage is that he is an aggressive fighter taking on an opponent who goes rounds without doing anything. Broner's biggest flaw, at least in the ring, to date is that he doesn't do enough. He's quick, slick and athletic but his offense disappears for entire rounds, and even entire fights.
Broner will fight in spots, unleashing combinations that leave you wondering why he doesn't come forward more often, but it's easy to compile rounds against him because of AB's lack of activity.
If this fight stays on-script, the Filipino Slugger will be the hunter in the ring on Saturday night and that bodes very well for him because this fight has a very good chance of going to the cards (MyBookie has it at -200, an implied probability of 66.7%, to go the distance). That makes sense because Broner's power at welterweight is mediocre, but he has a terrific chin and good defense so it's hard to imagine this fight ending before the final bell.
To me, Pac Man's best chance at victory is sticking to his gameplan and staying aggressive against a reluctant fighter.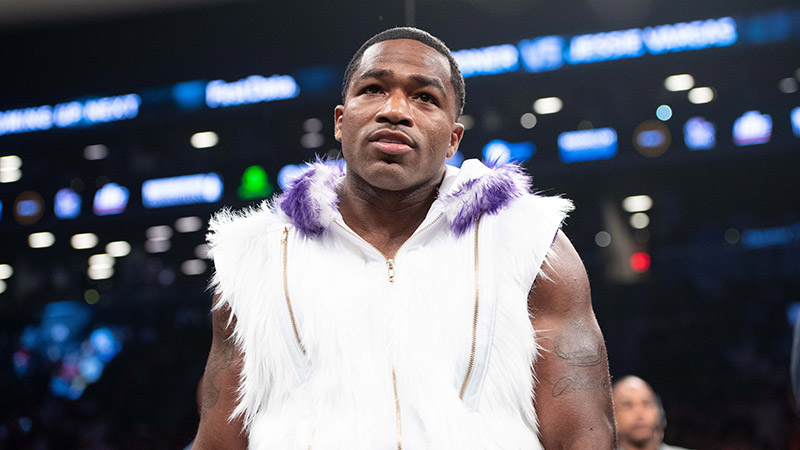 Broner's Path to Victory
For all the talk about Broner's sometimes brash personality, and his random (sometimes hilarious) outbursts, he's one of the most skilled boxers out there when he wants to be.
His approach in his past two fights against Jesse Vargas (majority draw) and Garcia (unanimous decision loss) didn't reflect those skills. Vargas, and Garcia were much more active than, both throwing more than 300 more punches than Broner in their respective fights.
The good news for Broner? His opponent, who was known for his tremendously high output at his peak, has slowed down significantly — as most fighters do in their 40s. Pacquiao is still dangerous at his age, but liekly won't match the output that Garcia displayed in his fight against the AB.
Broner has excelled in his career with his hand speed and accuracy. His last win, which was nearly two years ago against Adrian Granados showed off that accuracy as Broner landed 41% of his total punches, according to CompuBox. He will need to employ that surgeon like accuracy to gain an advantage on Pacquiao.
Ultimately he will need to raise his activity level, especially against a champion like Pac-Man.
Our Favorite Bets
Pacquiao wins by UD +135, Draw +1800
If the past two years has taught us anything it's that boxing is unpredictable and a judges scorecards can be wildly different than the person they are sitting next to. I believe Pacquiao will do enough to  to get a win, but this is a Pay-Per-View fight in Las Vegas. I'm putting some money on a draw as a contingency because Wilder-Fury and Canelo-GGG showed me that this sport is still full of surprises. — Malik Smith
Pacquiao by Decision +100
Manny Pacquiao ends his two year American hiatus for his 70th professional fight against Adrien Broner in Las Vegas. At 40 years old Pacquiao has undoubtedly lost some of the power and speed that made him an eight-division champion, but as he proved against Lucas Mathysse, he is still dangerous.
Broner is a fighter with three professional losses, but they are what you could call "quality losses" to good fighters. The issue with Broner's defensive style is he takes a while to get warmed up and settled in as evidenced by his draw against Jessie Vargas in his last bout. "The Problem" tries to fight in a style similar to Floyd Mayweather, but he isn't in the same league as Floyd. I think Pacquiao uses Broner's slower style to accumulate rounds early on and he hangs on late for a win. — BlackJack Fletcher
Pacquiao by Decision +100 and Pacquiao -320 in Parlays
This fight actually sets up perfectly for Pacquiao. He thrives when he's able to be on the front foot and Broner has let basically everybody he's ever fought take the fight to him.
Of course Broner could turn the tables and come out hard, but he has never shown that. I look at Broner's fight with Mikey Garcia back in July, 2017 as a good guide for what to expect. Garcia is an elite boxer and is much better than this version of Pacquiao, but he gave us a blueprint of what to expect when Broner is overmatched in the ring.
In that fight Garcia landed 244 of 783 punches while Broner scored on just 125 of 400 punches thrown. I don't think Pac Man will come close to 800 punches thrown, but I expect the difference in activity to be stark, as it always is in a Broner fight.
I also don't expect Broner to be hunting the KO. Pacquiao has been caught before, and that could be a little scary for chalk-eaters in this one, but Broner's power isn't really noteworthy at 147-pounds.
Pacquiao is definitely the more likely of the two to score a knockout, but Broner's chin is sturdy and his defense is solid so I don't think that will be how the Filipino ends up earning this win.
There's a very clear path to victory here for Pacquiao: Stay busy and get ahead on the cards early. Pac Man is obviously hell-bent on getting one last huge fight before riding off in the sunset (again) and that makes this fight a must-win. He and Freddie Roach will have the right gameplan for Broner and in a fight that seems destined for the cards, I've got no problem taking the fighter with the much more eye-pleasing style.
At -320 the odds imply that Pacquiao wins this fight 76.2% of the time and while that may seem steep, I actually think it makes a fine parlay leg with another bet you like. — Michael Leboff