Tyson Fury vs. Tom Schwarz Betting Odds, Preview: Schwarz Gains Betting Steam On Fight Night
Credit:
Courtesy of Top Rank Boxing. Pictured: Lineal heavyweight champion Tyson Fury (left), Tom Schwarz (right).
Tyson Fury has moved from a -3000 to -1500 favorite over Tom Schwarz in their heavyweight fight on Saturday, June 15 in Las Vegas, Nevada on fight night.
This is Fury's fight since his draw against Deontay Wilder last December.
Will "The Gypsy King" have any trouble with Schwarz?
Betting odds: Tyson Fury vs. Tom Schwarz
Tyson Fury odds: -1500
Tom Schwarz odds: +850
Over/Under: 9.5 Rounds (+175/-210)
Time: Approx. 11 p.m. ET
Location: MGM Garden Arena, Las Vegas, Nevada
TV: ESPN+
Tyson Fury (27-0-1, 19 KOs) makes his long-awaited return to the ring this weekend.
The lineal heavyweight champion was a massive -3000 favorite against the relatively unknown Tom Schwarz (24-0, 16 KOs) at the MGM Garden Arena in Las Vegas, Nevada prior to fight night.
Now, Fury is listed as a -1500 favorite, with Schwarz back from +1200 to +850.
This is nothing more than a tune-up fight for Fury ahead of his rematch with Deontay Wilder in early 2020, but as we saw two weeks ago with Andy Ruiz, heavyweight boxing can still be full of surprises.
Michael Leboff
Usually when boxers get to the apex of their career we have a pretty good idea of what to expect. Tyson Fury is different.
Fury is clever, quick, athletic and deceiving in the ring. He will give you about a dozen different looks every round and find ways to score while you are trying to figure out what the hell is going on. We saw Deontay Wilder, who isn't someone you'd label as a technical boxer, have a lot of trouble trying solve the Fury puzzle and if it wasn't for the thunder Wilder keeps in his gloves, he would have been routed by "The Gypsy King."
Tom Schwarz's power isn't in the same universe as Wilder's. The 25-year-old German boasts a spotless W-L record, but he's only stopped 16 of his opponents, although he's won his last three fights by way of the KO.
Schwarz also doesn't have any notable wins under his belt and this is the first time he's fought outside of Europe in his career.
The one thing that Schwarz can bank on is that Fury lacks the one-punch knockout power that plenty of other heavyweights own. "The Gypsy King" relies on movement, guile and speed to beat his opponents.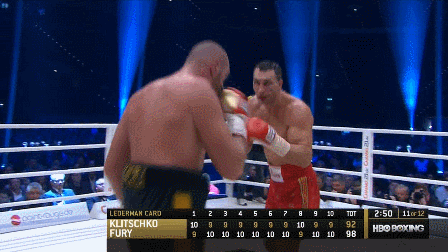 That doesn't mean Fury can't stop this fight early, it just means Schwarz may be more comfortable taking chances and hunting the KO — his only chance of winning — than he would against other heavyweights.
What that could mean is that Schwarz will be goaded into making mistakes and if Fury catches him lunging, he may not put him down, but he will definitely put him a precarious position and just start pummeling on him.
I think the gulf in talent and skill between these two guys is so vast that this fight won't last all that long. Fury should overwhelm Schwarz with his speed and if the German isn't able to respond, I think the ref or his corner will be quick to call the fight.
The current odds suggest the fight has a 58.8% chance of ending before the midway point of Round 10 — I think that's pretty low as Fury is so much better than Schwarz.
Malik Smith
This will be the third bout with a fighter who has a legitimate claim to the heavyweight crown in just a one-month span. Each fight was seen as a tune-up and each fight delivered drama in their own way. Michael made some great points about the experience gap between Fury and Schwarz — who by the way is somehow ranked ahead of the lineal champion by the WBO.
The thing you have to love about Fury is that he knows how to get in the head of his opponent. No matter who his opponent is, or how stoic they try to appear, Fury does his work early with his trolling and antics. By the time Fury steps into the ring, he thinks he has a mental edge over the competition.
I mean just look at the press conference from earlier this week:
This feels like Schwarz is being lulled into a false sense of security, but the cunning Gypsy King.
As far as what to expect in the ring, I don't see how Schwarz can solve the puzzle as Michael stated earlier. At his best, Fury made the great Wladimir Klitschko look foolish, holding him to just 4.5 punches per round, according to CompuBox. And despite only having one tune-up prior to the Wilder fight, he held the WBC champion to 16.5% connect percentage in December.
Fury doesn't always dominate, but he makes it nearly impossible for anyone he fights to look good against him. I see him frustrating the German Schwarz from the jump and closing him out in under 9.5.
How would you rate this article?