Crypto Salary: A Growing NFL Trend
Credit:
Crypto salaries for NFL Players
Over the last year or so, cryptocurrency has hit the mainstream investor market and quickly seen a surge in popularity, especially for early coins such as Bitcoin and Ethereum. Many people have either started investing in crypto on their own or at least know someone who has. This new form of investing has become so popular that several NFL players have structured their contracts to include a partial or total crypto salary.
While the upside of cryptocurrencies have show to be immense, so too has the downside. Volatile fluctuations in cryptocurrency value are to be expected, so investors are just as likely to win big in their return as they are to lose big.
Currently, at least five current NFL players are receiving at least some of their pay in the form of a crypto salary. Those players include:
Aaron Rodgers
Trevor Lawrence
Odell Beckham Jr.
Russell Okung
Saquon Barkley
Of these players, Odell Beckham Jr. made the biggest news splash as he requested that his entire contract with the Los Angeles Rams be paid out in Bitcoin. This was a significant move by Beckham, which may be signaling the fact that crypto salaries are here to stay. However, players may be wary of this move in the future as OBJ's salary figure was essentially cut in half with a sharp decline in Bitcoin value. Of course, it could peak again and pay out in the end.
This got us wondering: How could other high-profile NFL athletes fare if they converted their current salaries into cryptocurrency? Analyzing Bitcoin and Ethereum trends between 2020-2021 and 2021-2022, we've been able to reveal just how much the top-20 highest-paid NFL stars could have potentially earned, or lost, by investing their annual earnings into crypto – some of the figures will shock you!
How Bitcoin Could Have Impacted the NFL's Highest-Paid Players
Bitcoin was the cryptocurrency that started it all. It has seen countless people profit from its meteoric rise in value over the years. But how much could the top-20 earning NFL players have earned by investing at Bitcoin at the right time? And perhaps more importantly, what would they have lost if they entered the market too late?
Bitcoin Salary Boom 2020-21
Rolling back the years to 2020, it's astonishing to see just how much football players on mega salaries could've cashed in on the then-impending Bitcoin boom. In fact, anyone investing their salary each week in 2020 could've increased their pay 2.5x over by January 2021 (before tax). This means that the top-20 highest-paid NFL players all missed out on at least $50 million apiece.
No NFL star could've earned more than Kansas City Chiefs quarterback Patrick Mahomes. Fresh off a Super Bowl LIV victory and an accompanying MVP performance, Mahomes was earning $863,013 weekly. If invested in Bitcoin, Mahomes could have earned a mind-boggling additional $113.86 million between January 2020 – January 2021.
Following closely behind Mahomes is Buffalo Bills QB Josh Allen. He unwittingly sat on $108.81 million in unfulfilled potential earnings in 2020 while the Cowboys' Dak Prescott could've made $101.20 million. Rounding out the top-10 were:
Deshaun Watson missing out on $98.68 million

Russell Wilson,

Jared Goff, and

Carson Wentz each missing out on $80 million

Matt Ryan, Ryan Tannehill, and T.J. Watt all missing out on $70 million
Bitcoin Salary Bust 2021-22
If 2020 was the year to profit from Bitcoin, 2021 was the exact opposite. Any player who dollar cost averaged their salary between January 2021 – January 2020 would have seen their crypto salary drop by 19.51% and lost millions.
Looking back to our hypothetical situation, if the league's highest-paid player, Patrick Mahomes, had invested his weekly pre-tax earnings into Bitcoin last year, he'd have lost $8.78 million by January 2022. Of course, similar stories are also true for the rest of the aforementioned list as well.  Josh Allen, Dak Prescott, and Deshaun Watson ultimately dodged losses of $8.39 million, $7.80 million , and $7.60 million, respectively, by not investing in Bitcoin.
Meanwhile, last year's Bitcoin crash could've cost Russell Wilson $6.82 million, Jared Goff $6.54 million, Carson Wentz $6.24 million, Matt Ryan $5.85 million, Ryan Tannehill $5.76 million, and T.J. Watt $5.45 million.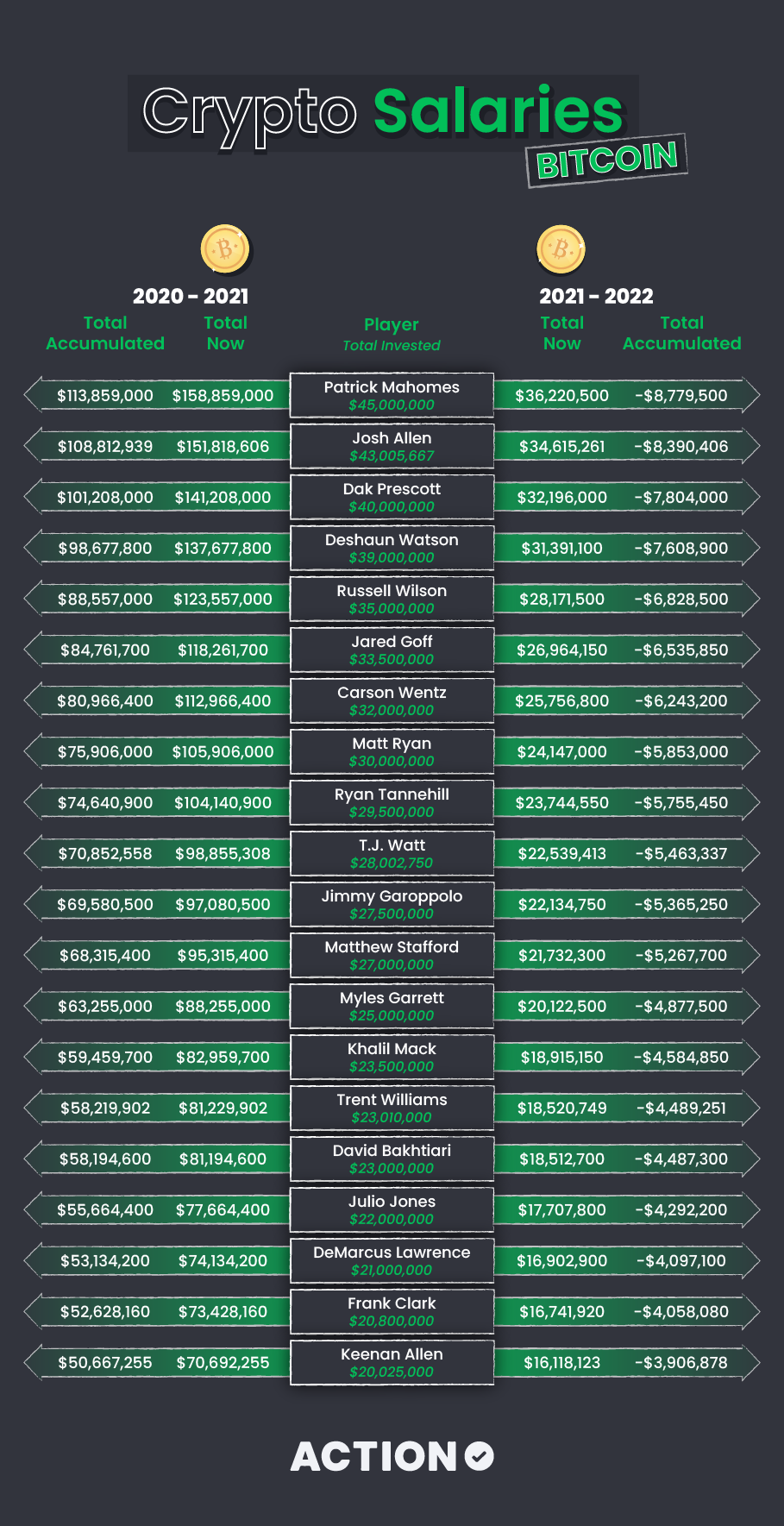 NFL Players Could Have Earned Nine-Figures Off Ethereum
The second-strongest cryptocurrency by market capitalization, Ethereum, has seen untold investments return millions of dollars since its release. The Ethereum boom would have been even more beneficial to NFL players should they have invested their weekly earnings into cryptocurrency.
Ethereum Salary Boom 2020-21
Ethereum is another popular and now mainstream cryptocurrency. But back in 2020, it was still largely an unknown quantity. As such, there were not many, if any, of the highest-earning NFL athletes investing in Ethereum. Little did some know, though, they could have bagged nine-figure sums by predicting the boom (before tax and by dollar cost averaging their weekly income).
As with Bitcoin, Patrick Mahomes is the player who missed out most. If he'd had the foresight to invest his weekly income in 2020 into Ethereum, he'd have accumulated over a third of a billion dollars by 2021 ($357.43 million). It would take him eight years to earn this from his salary alone. And with the unpredictable nature of the NFL, that is hardly guaranteed money.
Three more players were sitting on a golden ticket worth $300 million-plus in Josh Allen, Dak Prescott, and Deshaun Watson. Another eight players could have accumulated $200 million or more, including Russell Wilson, Jared Goff, Carson Wentz, Matt Ryan, Ryan Tannehill, T.J. Watt, Jimmy Garoppolo, and Matthew Stafford. Of course, nobody wants to be the first to risk their hard-earned salary in an unknown commodity. Hindsight is always 20/20, as they say.
Ethereum Salary Bust 2021-22
As we've come to know with cryptocurrency, all good things usually come to an abrupt end. The same held true for Ethereum in 2021-22 as it saw a drop in value for anyone dollar cost averaging their investment. As a result, any player that would have converted their 2021-22 salary into Ethereum would have suffered a total loss of 4.91%.
Top-earners Patrick Mahomes and Josh Allen would have consequently lost $2.20 million and $2.11 million, respectively. Dak Prescott, Deshaun Watson, Russell Wilson, Jared Goff, and Carson Wentz avoided losses of over $1.5m each.
Also dodging a seven-figure crypto salary loss last year were:
Matt Ryan: $1.47 million

Ryan Tannehill: $1.45 million

T.J. Watt: $1.37 million

Jimmy Garoppolo: $1.35 million

Matthew Stafford: $1.33 million

Myles Garrett: $1.23 million

Khalil Mack: $1.15 million

T

rent Williams: $1.13 million

David Bakhtiari: $1.13 million

Julio Jones: $1.08 million

DeMarcus Lawrence: $1.03 million

Frank Clark: $1.02 million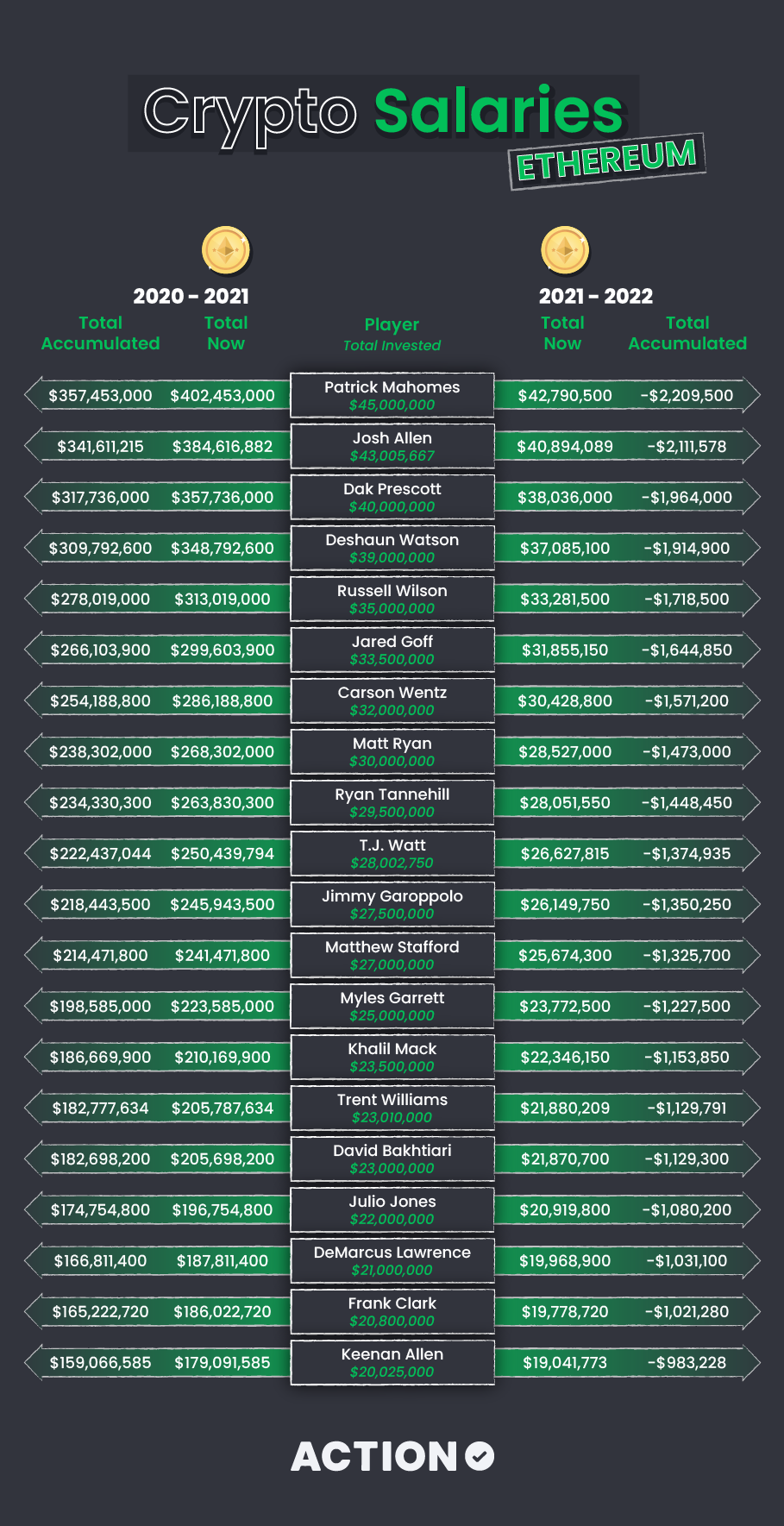 It's no secret that football players can earn incredible sums from playing the game, but it's intriguing to explore how their wealth can drastically change by investing in the ever-fluctuating crypto market. While we may not be the best cryptocurrency advisors, be sure to check in with the Action Network regularly for all of the latest NFL odds and expert picks for every game.
NFL bettors can take advantage of Caesars Sportsbook odds pricing. They offer the best average odds across all NFL betting markets!
Crypto Salary Conversion Methodology
We obtained the salaries for the highest-paid NFL players using Spotrac to collect the data used in this article. Each star's annual income was divided by 52 to reveal their weekly salary. The weekly figure was then dollar cost averaged* (DCA) to reveal return on investment if converted to Bitcoin or Ethereum weekly through the years 2020-2021 and 2021-2022. All salary and investment return/loss data is pre-tax.
*Dollar cost averaging is a common investment strategy whereby a total sum is invested in periodic purchases rather than in one amount. It's often employed to counter market volatility.
How would you rate this article?
This site contains commercial content. We may be compensated for the links provided on this page. The content on this page is for informational purposes only. Action Network makes no representation or warranty as to the accuracy of the information given or the outcome of any game or event.