Should You Draft Travis Kelce, Darren Waller or George Kittle In Fantasy? Which Round To Invest In A Stud TE
Credit:
David Eulitt/Getty Images. Pictured: Chiefs TE Travis Kelce.
Should you go all in on a stud tight end like Travis Kelce or Darren Waller or George Kittle in 2021 fantasy football drafts?
Our trio of analysts -- including the No. 1 draft ranker of 2019 -- weigh in on when it's worth investing in a Big 3 TE.
Life is full of big questions and fantasy football is full of even bigger ones.
When it comes to contentious draft strategies, stud tight ends present an intriguing question: Should you go all in on a TE who is sure to bring points and fun or should you save your early picks for league-winning RBs and WRs?
Our trio of fantasy football analysts answer where they stand on stud TEs below.
---
Should You Draft a Stud TE In Fantasy?
Sean is our Director of Predictive Analytics and was the No. 1 draft ranker of 2019 according to FantasyPros.
Drafting a stud tight end is absolutely worth it because it gives you a massive edge over the rest of your league. To better illustrate this, take a look at my projected points per game for the top 25 TEs in 2021: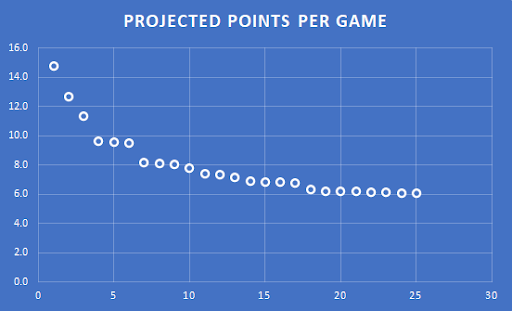 As you can see, once the top six TEs are off the board, the position levels off significantly.
While it's ideal to land a top-six TE in your draft, it isn't a requirement. Every season there are one or two TEs that come out of nowhere and post top-10 numbers. Just look at the last three seasons' league-winning TEs who were drafted in late rounds before they broke through:
2020: Robert Tonyan, Logan Thomas
2019: Darren Waller
2018: George Kittle
If you end up punting at TE and manage to land this year's breakout player, you'll be in a good position to win your league.
Check out my TE Tiers & Strategy Guide for a more in-depth look at how I'm approaching the position this season.
Chris is the host of our Fantasy Flex podcast and was the No. 4 in-season ranker of the 2019 season.
Given the massive drop-off in quality we see with fantasy tight ends after the top tier, it is certainly worth drafting a stud TE. Historically speaking, fantasy teams that draft their TE1 in Rounds 2-4 have higher win rates than those that don't.
Here are the win rates above expectation by draft slot for TE1s in 12-team leagues from 2015-2020, courtesy of RotoViz's Bestball Win Rate Explorer: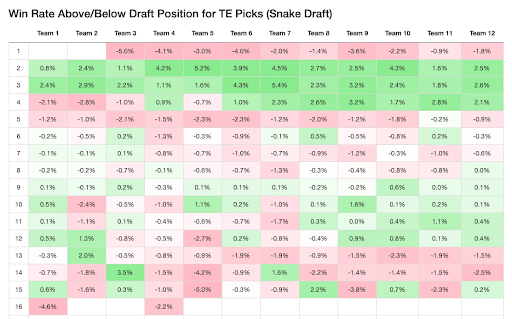 The biggest risk you take with employing a stud TE strategy is bypassing league-winning RBs or WRs, because the top RBs and WRs score more raw points than the top TEs. In other words, all things being equal, you'd rather have the overall RB1 or WR1 than TE1, because you get the same type of drop-off with more raw points.
For example, Travis Kelce was the TE1 in 2020, but was outscored by three RBs (Alvin Kamara, Dalvin Cook and Derrick Henry) and two WRs (Davante Adams and Tyreek Hill) in all scoring formats. In 2019, the gap was even larger, with Kelce's TE1 season being bested by over a dozen combined RBs and WRs.
Kelce was able to finish with the top win rate last year (24.4%), but that was because he was going in Round 2 (ADP 17.9), which allowed you to stack him with an elite RB or WR. Kelce's win rate soared when paired with Kamara (52.7%), Adams (43.4%), Cook (40.4%) or Henry (36.7%), but decreased to under 1% if you took him in the first round, because that meant bypassing the league-winning RBs.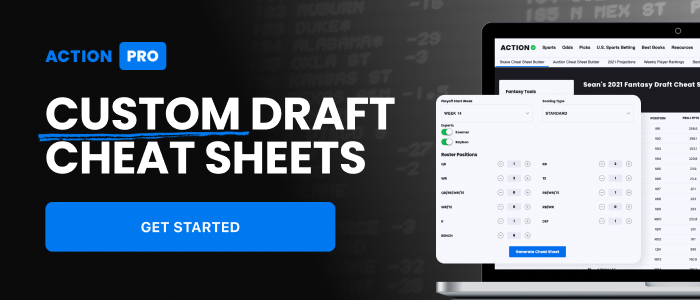 Every year is different, so none of this is to say Kelce is someone to avoid in Round 1 of 2021, but there's less margin of error with him than a Darren Waller or George Kittle, because now that Kelce is at his highest-ever ADP, it precludes him from being paired with the Alvin Kamaras and Davante Adams of the world this year.
One final note: Even if you believe in the stud TE strategy, there's still a good chance you don't get one — there are only three, after all. If you miss out, it can be easy to fall into the temptation of reaching for a TE with stud upside in the next tier, but the historical data tells us to be cautious about this.
While Mark Andrews, Kyle Pitts and T.J. Hockenson all have an outside shot at finishing in the top three, they all have obvious risks to match and should be selected because they fall to you as a value, not because of positional need. Andrews' volume ceiling is capped relative to the other studs because of his snap share and the Ravens' run-heavy offense; Pitts would have to essentially post the greatest rookie TE season of all time to meet cost, and Hockenson has a new offense and quarterback.
As Hockenson tends to be the last player drafted in the second tier, he's the TE I end up with the most. I also think he has the best shot at putting up a top-three season based on volume, as the Lions lack WR depth and have a QB in Jared Goff that likes to throw underneath and between the numbers.
Samantha is a fantasy football analyst.
Tight end can be one of the most frustrating positions for fantasy football. I have been known to wait longer than most to draft my TE in the past, but there is a compelling argument to be made for grabbing one of the top stud TEs early.
It should come as no surprise that Travis Kelce is once again the consensus-ranked top TE. He has finished as TE1 in four of the last five years with just one year at TE2 in 2017. He was also extremely dominant and scored almost 60 more fantasy points than the TE2 last season, Darren Waller, over 16 games. His workload is unicorn-like and truly separates him from the rest of the pack. Kelce is easily worth a late first-round, early second-round pick.
After Kelce are Waller and George Kittle. Personally, I prefer Waller over Kittle due to injury concerns, but the two are interchangeable and are worth taking somewhere in the third round. Kittle has sky-high upside when healthy and Waller is going to be Las Vegas' No. 1 option on the heels of his breakout sophomore year.
Those three round out the top tier of stud TEs, and there's a palpable drop-off to the next tier: T.J. Hockenson, Mark Andrews and Kyle Pitts. I don't like to split hairs between the three and prefer to think of them as a singular tier. Each one has upside and downside, but they're all worth considering in Rounds 5-6 as "budget" studs.
After the top two tiers, there is  what I consider to be a titanic drop-off to the Tier 3 guys — Noah Fant, Dallas Goedert, Logan Thomas, Robert Tonyan, Tyler Higbee and Mike Gesicki — all of whom have much more volatility:
I keep rooting for Fant, who has the talent and skills to be a Tier 1 or 2 guy, but Denver's suboptimal quarterback situation and strong defense could inhibit a Year 3 breakout.
Goedert is being drafted as though Zach Ertz is no longer on the team. Ertz could still be traded, but until then, Goedert's price tag is too rich for my blood.
Thomas is decent value at his ADP, but his new quarterback, Ryan Fitzpatrick, doesn't have a good track record with tight ends. Washington's defense and bevy of offensive weapons could bring Thomas back down to earth this year.
Tonyan caught a jaw-dropping 11 touchdowns in 2020, nine more than he had caught in the previous two seasons combined. Aaron Rodgers might be back, but Tonyan's situation reeks of potential TD regression.
Higbee was fairly hyped up heading into 2020 after finishing as TE9 in 2019. He disappointed and fell to TE17 through 16 games. He won't have to compete with Gerald Everett for targets this year, but I still don't have the confidence that he can be an every-week TE1.
Gesicki benefitted from the dearth of pass-catching weapons on the Dolphins, who added Will Fuller and Jaylen Waddle this offseason. I just don't see him having a safe floor week-to-week.
In my opinion, there are definitively six guys that make up the top two tiers at tight end this year, but my stance on TE draft strategy is more predicated on my lack of confidence in the later tier. Getting one of those top six will make your team weaker at other positions, but given the relative positional scarcity of consistent players, it's worth reaching for one of them over rolling the dice later in the draft.
How would you rate this article?