Fantasy TE Tiers: Rankings & A Strategy For Every Round
Credit:
Jamie Squire/Getty Images. Pictured: Travis Kelce
Sean Koerner -- the No. 1 fantasy football draft ranker of 2019 -- reveals his tight end tiers for 2020.
These tiers leverage his rankings, identifying the optimal rounds for drafting each of the top TEs.
Good news? The TE position offers value throughout the draft this season to fit any strategy.
There are winning strategies for drafting tight ends in every round this year.
You could go early-TE with Travis Kelce or George Kittle in Round 2. Or you could target running backs and wide receivers over the first two rounds then still pick up Mark Andrews in Round 3. There's also top-five potential in middle rounds with Tyler Higbee and Hayden Hurst. And finally, there are league-winning fliers available in later rounds.
The "choose your adventure" nature of the position means I can let the draft dictate how and when I target TEs. There is no reason to reach for any player above their average draft position (ADP), because you will likely have at least one TE fall too far in your draft.
While I discourage reaching for a TE, I also do not advocate relying on streaming TEs via the waiver wire. It's usually a very top-heavy position that only offers "TD or bust"-type fliers on the waiver wire most weeks. However, given how much more prevalent the position is becoming in the passing game, there should be reliable options available to you whenever you find yourself in a pinch.
Over the past few years, we've witnessed an injection of potentially elite TEs into the league. Realistically, we could see yet another young tight end break out this season, much like George Kittle in 2018 or Mark Andrews in 2019. I've identified Tier 7 as the group that is most likely to include that breakout player (or two).
Below, I will map out the position by highlighting which TEs I'm targeting in each phase of the draft.
---
More Tiers: QB | RB | WR
---
Fantasy TE Rankings
Rankings are based on half-PPR scoring. Click on a tier to skip to the analysis.
Tier 1
Travis Kelce
George Kittle
Tier 2
Mark Andrews
Tier 3
Zach Ertz
Tier 4
Darren Waller
Tier 5
Evan Engram
Tyler Higbee
Tier 6
Hunter Henry
Jared Cook
Hayden Hurst
Rob Gronkowski
Dallas Goedert
Tier 7
Mike Gesicki
Austin Hooper
T.J. Hockenson
Jonnu Smith
Noah Fant
Tier 8
Blake Jarwin
Eric Ebron
Jack Doyle
Tier 9
Ian Thomas
Irv Smith Jr.
Chris Herndon
Greg Olsen
Kyle Rudolph
Tier 10
Jace Sternberger
Dawson Knox
O.J. Howard
Jimmy Graham
Tier 1
Travis Kelce, KC
George Kittle, SF
Having an elite TE gives you a considerable edge over the rest of your league.
Recent seasons have proven that you can find elite fantasy production deep in the draft, but it may be a higher-risk proposition whereas Kelce and Kittle have established themselves as proven commodities. I'm projecting each of them to average approximately 6.5 more points per game than a replacement-level player (TE12). That would give you about a 59% win probability over a team with a replacement-level TE.
Of course, drafting Kelce or Kittle likely requires you to pass on a stud RB or WR in Round 2, but I would not fault you for doing precisely that.
That said, with the steady increase in the position's involvement in the passing game, TE is more loaded now than ever before. Because of this, we have seen an increasing trend of league-winning TEs available much later in the draft — think of George Kittle in 2018, or Austin Hooper, Mark Andrews, Tyler Higbee, and Darren Waller in 2019.
This season, there are a handful of TEs who fit that same profile as potential breakout candidates. It's why waiting at TE is a viable alternative strategy.

[Create Custom Cheat Sheets Feat. Koerner's Rankings]
Tier 2
Mark Andrews, BAL
Andrews is due to regress in terms of his efficiency metrics (13.3 yards per catch, 15.6% touchdown rate). However, his playing time will increase significantly this year with Hayden Hurst off to Atlanta.
Andrews commanded a 44% snap share in 2019. I expect that to approach 75% this season. His projected increase in total opportunities should compensate for his coming regression in per-catch efficiency.

As a result, Andrews should provide more consistent production from week to week, and he has a ceiling that could push him into Tier 1 during the season.
Tier 3
Zach Ertz, PHI
You can always play it safe and take Zach Ertz in Round 4. However, "safe" may not be the right way to describe his 2020 outlook.
He relies on massive target volume to maintain his status as a top-five fantasy TE, and there's a chance he'll begin to see a decline in targets this season. Last year, Ertz maintained a healthy target share in part due to the Eagles' litany of injuries at WR. But a healthy DeSean Jackson and the addition of first-round pick Jalen Reagor each pose a significant threat to Ertz's offensive usage.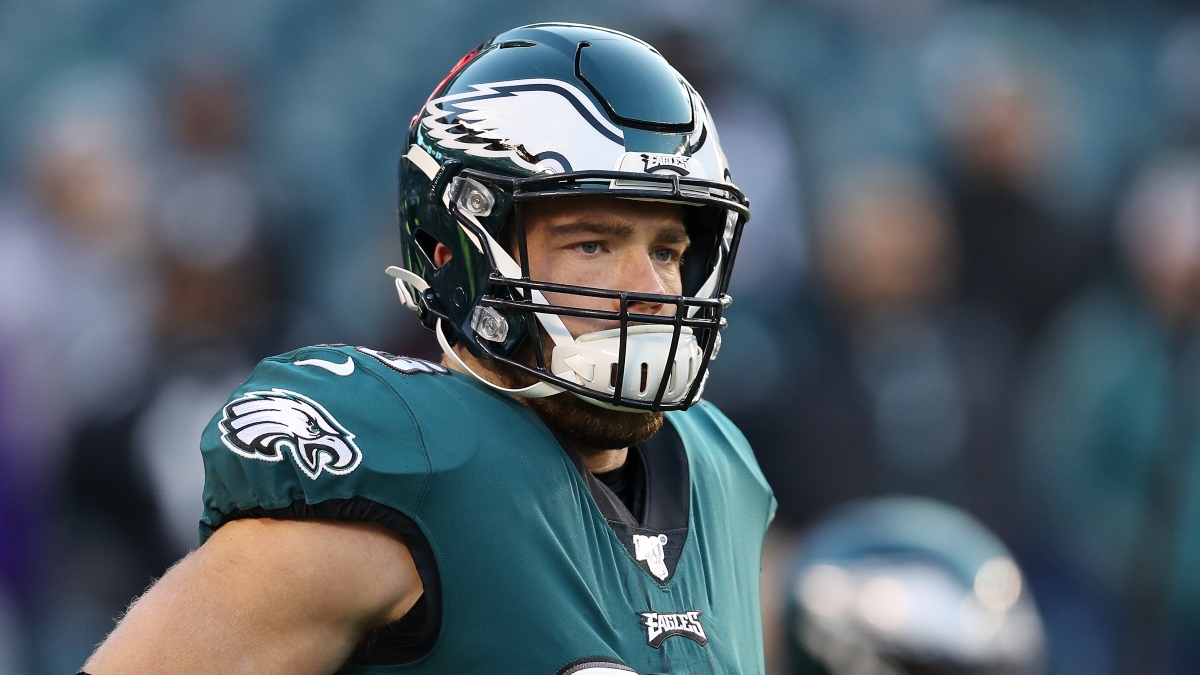 Backup TE Dallas Goedert may also challenge Ertz's preeminence. Goedert is entering his prime at 26 years old, while Ertz will be turning 30 this season.

I still expect Ertz to be a solid TE1 this year, but his weekly floor may be less consistent than we've come to expect over the last several years.
Tier 4
Darren Waller, LV
Waller benefited from the Raiders' talent disparity at WR after Antonio Brown left the team before Week 1.
This offseason, Las Vegas bolstered its weak WR corps by drafting Henry Ruggs and Bryan Edwards, both of whom are expected to have prominent roles as rookies. The Raiders also added veterans Nelson Agholor and Jason Witten via free agency.
Those significant personnel additions should decrease Waller's target share in 2020. I also expect him to see some positive regression in TD scoring, which will help offset any dip in targets.

Waller scored only three TDs last season, but I'm projecting him to score closer to five this season. Given his 6-foot-6, 238-pound frame, there's reason to believe that Waller can become a more consistent red-zone weapon for Derek Carr.
Tier 5
Evan Engram, NYG
Tyler Higbee, LAR
Engram has top-five fantasy potential if he can stay healthy, though with his three-year injury history, he's yet to prove he can.
Higbee has similar top-five potential if he can maintain the offensive role he achieved by the end of 2019. The Rams utilized more two-TE sets during the second half of the season, featuring Higbee as the main pass-catching option.
The question for 2020 is how much Gerald Everett will eat into that role. Everett dealt with lingering injuries during the latter part of 2019, which casts some doubt on Higbee's status in the Rams' TE hierarchy. Did Los Angeles favor Higbee down the stretch due to his skillset, or by necessity?

He has the biggest range of outcomes of all fantasy TE1s, and I'm viewing him as more likely to hit his ceiling than his floor.
Tier 6
Hunter Henry, LAC
Jared Cook, NO
Hayden Hurst, ATL
Rob Gronkowski, TB
Dallas Goedert, PHI
Austin Hooper was my highest-owned TE of 2019 thanks to his role in offensive coordinator Dirk Koetter's scheme, which has consistently produced TE1s. Now I'm bullish on Hurst for the same reason — he should step right into Hooper's role this season.
Cook finished with 10 or more points in 64% of his games last season, tied for second-best at the position. But he was also more likely to put up a dud with five or fewer points in 29% of his games. That's why he gets a significant boost in best ball formats, but I wouldn't rely on him week-to-week in redraft leagues.
Goedert offers the type of upside I typically target in RBs: If Ertz were to miss time, Goedert would have instant top-five value. And even when Ertz is healthy, Goedert should be able to post low-end TE1 numbers.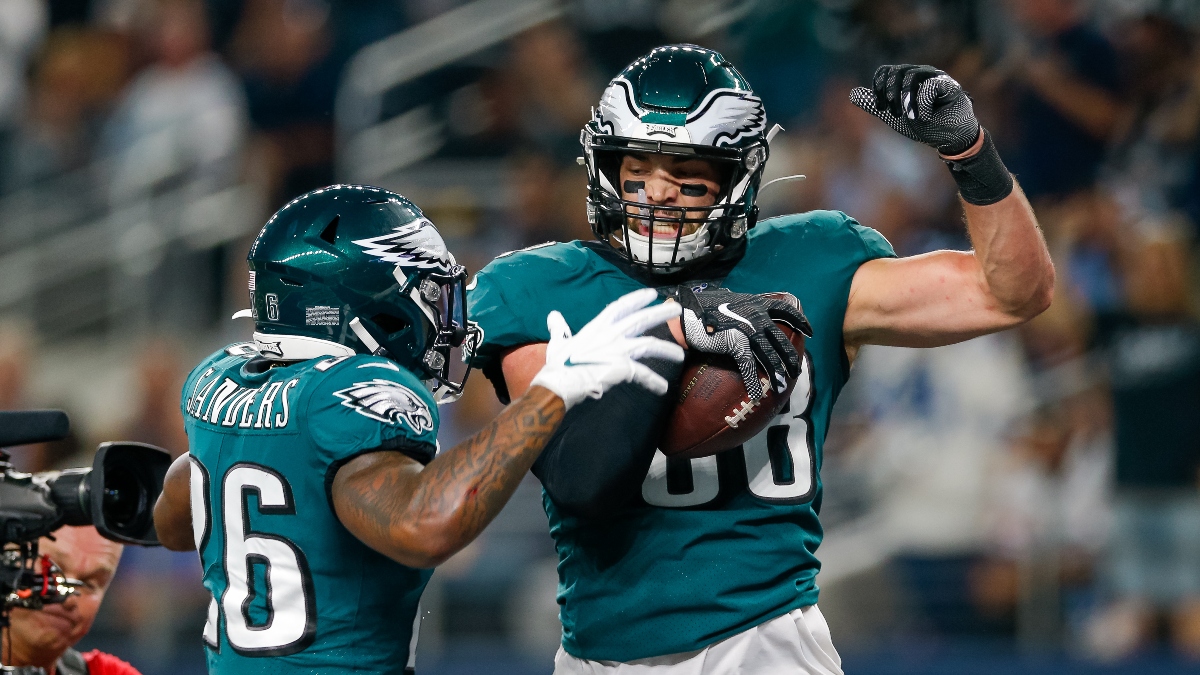 As always, I like to build a roster of players who should be able to return value at their current ADP, but would have league-winning upside if a specific teammate were to miss time. Goedert is the only TE who fits that profile — and he can be had much later in drafts.
Tier 7
Mike Gesicki, MIA
Austin Hooper, CLE
T.J. Hockenson, DET
Jonnu Smith, TEN
Noah Fant, DEN
This is the tier of TEs who profile similar to league winners of the past two seasons: Kittle in 2018 and Andrews, Hooper and Waller in 2019.
Gesicki, Hockenson and Fant, specifically, are three of the best TE prospects the league has ever seen. It usually takes TEs two to four seasons to break out, so it's only a matter of time before they do so.
As for Smith, he flashed whenever given the chance to start in Delanie Walker's place. Now with Walker gone, Smith has sneaky upside.
What makes him truly unique is his rushing usage: He carried the ball four times for 78 yards last season. These weren't gimmicky plays, either — the Titans actually lined him up as a RB in the backfield. You almost had to squint to make sure Smith wasn't Derrick Henry.

If the Titans decide to use Smith more in that way, it would give him an additional path to TE1 value.
Tier 8
Blake Jarwin, DAL
Eric Ebron, PIT
Jack Doyle, IND
You won't need to roster any of these TEs in anything other than deeper leagues or best ball formats. They will make for compelling streaming options in-season when you need a bye-week fill-in, though.
Of this trio, Ebron has the clearest path to TE1 value if he can become Ben Roethlisberger's preferred red-zone target.

Doyle, meanwhile, should benefit from Ebron's departure from Indianapolis. And with the addition of Philip Rivers, Doyle should have a high weekly floor considering his new quarterback has a long history of heavily targeting his TEs.
Tier 9
Ian Thomas, CAR
Irv Smith Jr., MIN
Chris Herndon, NYJ
Greg Olsen, SEA
Kyle Rudolph, MIN
Irv Smith Jr. has the most upside of this tier.
The departure of Stefon Diggs to Buffalo creates a target windfall in Minnesota's offense. It's a wide open competition to determine who will claim a role as the Vikings' No. 2 receiving target. And it very well could be Smith.

He would likely need Kyle Rudolph to miss time in order to be trusted as a starting fantasy TE. Still, Smith is someone we need to keep an eye on throughout the season.
Tier 10
Jace Sternberger, GB
Dawson Knox, BUF
O.J. Howard, TB
Jimmy Graham, CHI
Sternberger has the potential to fill the void left by Jimmy Graham (released by team) and Devin Funchess (opted out due to COVID-19). I'm not betting on it, but there is a chance that the Packers will deploy Sternberger in the slot when they run 11 personnel.
To be clear, I have zero shares of Sternberger. But we need to monitor any reports on how Green Bay intends to use him, because he does have some upside in deeper leagues
Knox has massive potential if he remediates his glaring drop issue. Among 42 TEs who received at least 30 targets in 2019, Knox ranked dead-last with an 18% drop rate. He would need one of Buffalo's three starting WRs to miss time in order to warrant starting consideration in deeper leagues.
How would you rate this article?