Hype, Luck and Mystery: The Story of Fusiachi Pegasus and the Most Valuable Horse Race in History
Credit:
TIM SLOAN/AFP via Getty Images. Pictured: Kent Desormeaux aboard Fusaichi Pegasus
Twenty years ago today, as the sun had begun to set on the familiar twin spires of Churchill Downs, a horse named Fusaichi Pegasus ran what is, still to this day, the single most valuable horse race of all time.
What follows is a story of a bet made on hype, luck, mystery and disappointment.
The excitement started on day one when the horse was born to Angel Fever, a mare purchased by the late Houston Texans owner Bob McNair and Arthur Hancock's Stone Farm for $525,000, and Mr. Prospector, the most successful stallion in Triple Crown history. From 1982 to 2019, 51 of the 114 Triple Crown winners — 44.7 percent — had some lineage to Mr. Prospector.
"I called Bob the night this colt was born and I told him we had Superman," Hancock III told Tim Price of the Fort Worth Star-Telegram.
Fifteen months later, in July 1998, the horse started to set records. At the select yearling sale at Keeneland, the horse's looks wowed Japanese businessman Fusao Sekiguchi, who had about 80 horses in Japan. He told his associates in Lexington the night before the auction he just had to have that horse wearing Hip 228.
---
LIMITED-TIME OFFER! Bet $300, Lose Nothing: Get your first horse racing bet 100% risk-free at TVG.
---
And so it was, for $4 million, Sekiguchi took home the most expensive yearling at the sale in 13 years.
"If I had money, I would have never sold him," Hancock III said then.
Sekiguchi named the horse Fusaichi Pegasus using the first four letters of his name, "ichi" meaning best and Pegasus as in mythical horse with wings.
That Sekiguchi was even allowed into Keeneland that year is astonishing. Just two years before, he had been fired from his job in Japan for his extravagance and had to welch on the $5.75 million he promised to pay Keeneland for seven horses.
But he was back, this time with his own company and the check wasn't going to bounce.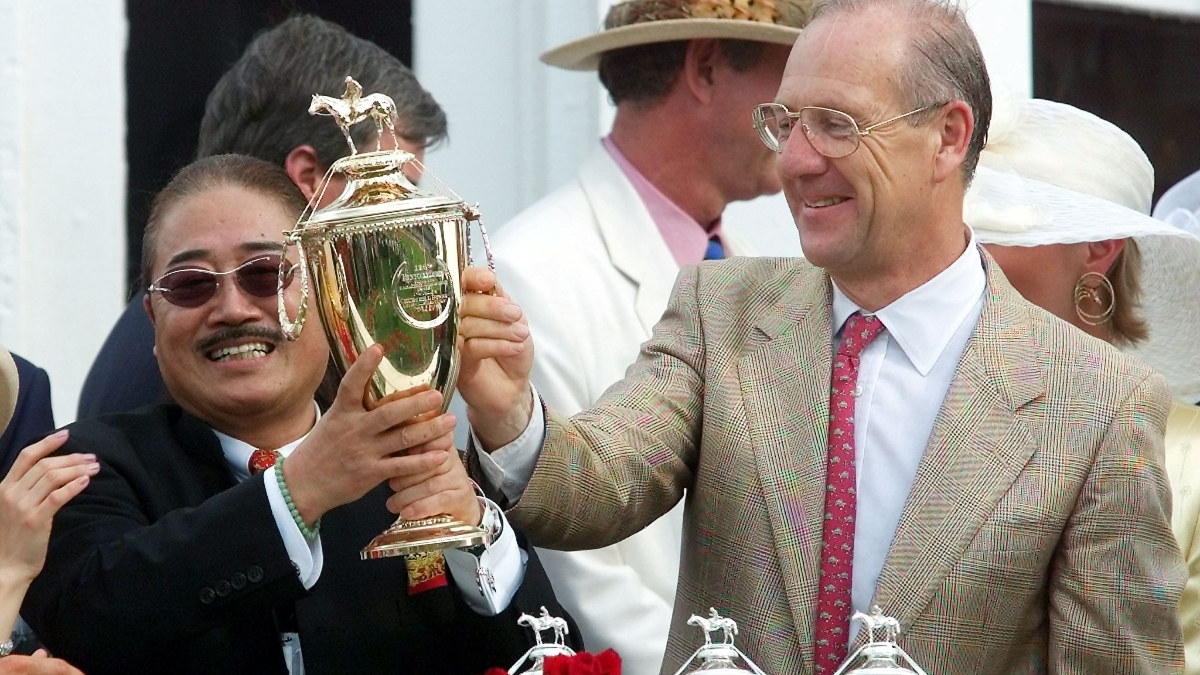 The horse was a late starter. He made his debut as a 2-year-old on Dec. 11, 1999 in a maiden special weight race at Hollywood Park in Inglewood, Calif. It was a disappointing second-place finish that Sekiguchi witnessed in person and was one of the few times that Sekiguchi even talked to trainer Neil Drysdale about the horse.
Partly due to the language barrier, Sekiguchi would communicate from Japan to Kentucky through fax. Sekiguchi's notes would be written in English by a translator by the time Drysdale received them.
But then came the run. Fusaichi Pegasus would win three races in a row at Santa Anita, including the Grade II San Felipe Stakes, over the next three months. The horse had jumped from 50-1, with 21 horses ahead of him in the Kentucky Derby futures pool, to the 7-1 favorite.
Kent Desormeaux, the jockey for the three wins, said he didn't whip him once.
In April, Fusaichi Pegasus continued his head-turning form at the Wood Memorial by running down impressive rivals in the final stretch to convincingly win.
A few weeks later, on May 6, 2000, Fusaichi Pegasus, who went off at 9-5, became the first favorite to win the Kentucky Derby since Spectacular Bid did it in 1979, a stretch of 21 years. Not only that, the horse did it in 2:01:12, the seventh-fastest time in the 126-year history of the race.
Fusaichi Pegasus' bid for the Triple Crown wouldn't go any further than Churchill Downs, though, as he finished second at the Preakness to his main rival, Red Bullet.
It didn't much matter. The work was done. The best breeders in the world had seen enough.
The lineage, the confirmation and five wins in seven tries — including the Kentucky Derby — was just too much to pass up. Fusaichi Pegasus was the most sure thing in the uncertain world of horse breeding.
In a hotel room in Louisville, envelopes slid under the door. There were initial bids for the horse's stallion rights of $30 million to $50 million, according to James Clay, who conducted the negotiations on behalf of the Japanese contingent. The lowest one was from Hancock, feeling he had to make a bid for the champion he sold. The highest was from Coolmore Farm in Ireland, which was the underbidder to Sekiguchi at the yearlong sale.
By the time a deal was done, Fusaichi Pegasus was sold by Sekiguchi for a record $72 million — 60% of the horse would be owned by Coolmore and 40% by Japan's Shadai Farm. Unlike most owners, Sekiguchi gave it all up, wanting nothing of the horse's future.
After skipping the Belmont, Sekiguchi chose for the horse's last race to be at the Breeders' Cup in November 2000, where the horse was beaten by Tiznow, whose sire stood for $5,000 and whose mare was 1-for-18 in her racing career. It would turn out to be an ominous sign.
In 2001, Fusaichi Pegasus stood around Coolmore's Ashford Stud in Versailles, Ky. for an opening stud fee of $150,000, a then-high for a first-year stallion.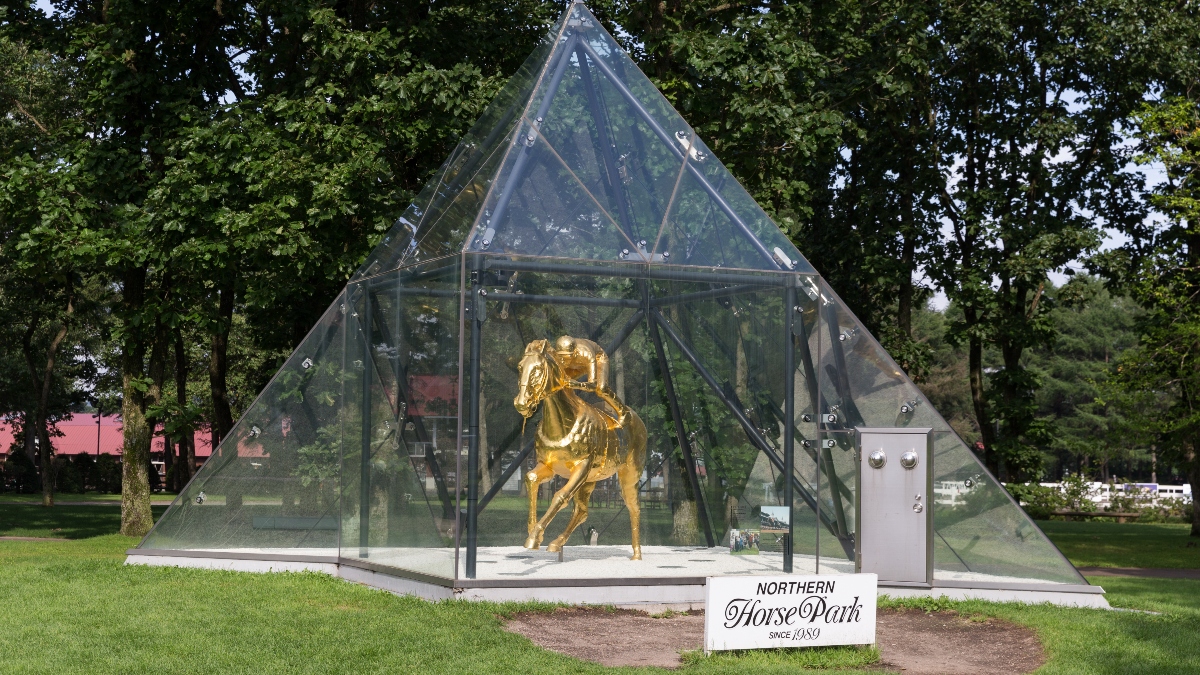 Due to the disappointment of his progeny, the fee was cut in half to $75,000 by Year 6 in 2007, cut to $45,000 in 2008, $30,000 in 2009, $15,000 in 2010 and $7,500 for the last eight years. According to The Jockey Club, FuPeg was only in the breeding shed five total times in 2019.
At $7,500 per live foal, Fusaichi Pegasus is the cheapest horse of the 14 stallions at Ashford Stud. The most expensive are the only two Triple Crown winners still alive — American Pharoah and Justify — each of whom Coolmore purchased at a valuation less than Fusaichi Pegasus.
As for Sekiguchi, he popped back into the horse racing game, using his money to buy a Storm Cat foal for $8 million at Keeneland in 2004. But that horse only ran in four races before he was forced to retire. When that horse out of the game, Sekiguchi, now 84 and living in Japan, disappeared from the American horse racing scene after his horses, including Fusaichi Pegasus, started just 32 races.
Fusiachi Pegasus earned $1.8 million, 81% of the earnings of Sekiguchi's American stable. After tasting what it was like to win a Triple Crown race, and selling the breeding rights, he boldly and wholly sold, Sekiguchi somehow was content to leave the sport and cash in on the most valuable two minutes in sports.
How would you rate this article?