Paul Lo Duca's 2018 Kentucky Derby Power Rankings
Here we go. The Kentucky Derby is just a few days away. I've ranked all 20 horses in the field from 20 to 1 with notes on each pony. The "Run for the Roses" takes place on Saturday, May 5. Coverage of the event starts at 11:30 a.m. ET, but the main event begins right after 6:30 p.m. ET on NBC. Let's dive in.
20. Firenze Fire
Firenze Fire's career got started in promising fashion. He won a maiden sprint at Monmouth Park first out with relative ease. Then trainer Jason Servis shipped the bay colt up to Saratoga to run in the Sanford Stakes. He won again, this time a 12-1 upset.
After a 2-for-2 start to his career followed by a 4th in the Hopeful Stakes at Saratoga, Firenze Fire had his crowning moment in the Grade 1 Champagne at Belmont. He raced wide off a fast pace and got up by a half-length late over eventual 2-year-old champion Good Magic. Firenze Fire had a big seasoning edge that day on Good Magic who was making just his second start.
Firenze Fire is a hard-trying horse who you could already call an overachiever. However, his form this year has gone backward. He comes into the Derby off two distant 4ths. Speed figures show that Firenze Fire is the slowest horse in this year's running.
19. Instilled Regard
There will be only one Hall-of-Fame entrant in the 2018 horse racing class later this summer at Saratoga. Out of 10 finalists this year, the millionaire filly Heavenly Prize was the only one who met the percentage requirements of voters to be elected. The great Heavenly Prize happens to be the granddam (grandmother) of Instilled Regard.
That pedigree brought enough attention to this dark bay colt by Arch at the sales that $1 million didn't take him down. $1,050,000 ended up being the number where the gavel finally hammered down.
After competing in a late scrum with a pair of Bob Baffert stablemates in the Los Alamitos Futurity, Instilled Regard finally won his first stakes race with a trip to Louisiana for the early season Lecomte Stakes. His gaudy price tag and racing class made him an early contender on the trail.
In his next two starts however, development just wasn't there. If anything, regression was. This million-dollar baby has been very underwhelming in his last two starts to manage only a pair of flat 4ths. For Instilled Regard, bragging about his grandmother should be the highlight of his Derby week.
18. Bravazo
One horse this year that showed marked improvement from his 2-year-old form into his sophomore season was Bravazo. He learned a new element to his game in his first start back when he had to close into a very fast pace with a tear-away leader. For what used to look like a headstrong horse early, Bravazo this time saved his best for last and rallied by in the stretch to start his year in the winner's circle.
He then went on the road where Derby points were at stake in the Risen Star at Fairgrounds. He confidently stalked a very slow pace and was able to force himself by in the last stride in a race where nobody passed anybody. That victory at upset odds of 21-1 was worth 50 points to the Kentucky Derby. Just like that, D. Wayne Lukas had punched his next ticket to his most important Saturday of the year.
However, all of that development seemed lost in just his very next start. The Louisiana Derby was a disaster. He stalked the pace, then tried to lug out on his rider around the turn, and then readily pulled himself out of the battle to finish 8th over 20 lengths.
He enters the Derby off easily the worst race of any contender. Plus that worst effort was in the prep season's slowest race.
17. Promises Fulfilled
Every year in the Kentucky Derby there's always one horse that gives bettors the fleeting thrill of knowing their horse is in front and leading the way. This year that horse looks to be the headstrong frontrunner, Promises Fulfilled. The chestnut colt by Shackleford showed speed from Day 1 when he won his first two races while leading the whole way.
In his first race as a 3-year-old, he won the G2 Fountain of Youth in upset, front-running fashion. He also beat the 2-year-old champion Good Magic on his return to the races that day. Credit that win to jockey Irad Ortiz Jr. for aggressively pushing right to the lead. Promises Fulfilled enjoyed his easy lead that day and strode out a nice winner.
However speed can backlash on those who possess it, and for Promises Fulfilled that other reality came to light in his very next start. In the Florida Derby, his need for the lead was attacked in a vulgar way by another talented sprinter. Both Promises Fulfilled and Strike Power faded badly through the field after their stubborn duel had commenced.
Now Promises Fulfilled comes in with the same mission that he started with — to get the lead. Look for him to merely be the target in this year's Kentucky Derby. If he is still leading at the top of the stretch, he will have run a courageous race.
16. Combatant
Combatant's name does match his style. He's a bruiser and likes being in the battle. But he's not quick into stride and he wants to survey the field early. He was a bubble horse on points late this spring and one of the last horses to gain entrance into the Kentucky Derby after two defections the week before.
He owns only one victory, a simple maiden special weight win at Churchill last fall. Yet in his next five starts in stakes races he was in the Top 4 every time while never threatening to actually win the race.
Combatant has been unlucky to have a far outside post in each of his last three starts. He already was going to have a tough enough time catching up to the favorites, and then add that to the fact that he had to take the overland route.
Combatant only adds to the absolute banner year for the late stallion Scat Daddy, who also sired Justify, Mendelssohn and Flameaway in the race. Yet bringing his form under close inspection shows that he has never run a race close to being fast enough to compete against this stellar class.
15. Lone Sailor
After a mid-pack 5th-place finish in his debut, Lone Sailor woke up in a big way at Saratoga in start No. 2. It was raining hard that day, and Lone Sailor couldn't have cared one bit. As a matter of fact, he was relishing the wet track as he skipped home an 11-length winner.
Lone Sailor hasn't won since. His first start of the year was an experiment gone wrong. Trainer Tom Amoss saw fit to put blinkers on his late-running colt. After showing more speed than usual early, he faded to 9th. The blinkers immediately came off for his next start, a troubled closing second in allowance competition.
Most recently Lone Sailor came through with a surprisingly close 2nd in the Louisiana Derby. His trainer is a Cajun himself. Consider them the home team that ran big right out of their backyard. The Louisiana Derby was Lone Sailor's Kentucky Derby.
As for the Kentucky Derby itself, Lone Sailor is strictly an outsider.
14. Free Drop Billy
As a 2-year-old, Free Drop Billy looked like one of the brighter kids in the Kindergarten class. The smaller chestnut colt with the white face came to the track last summer race ready. He won his first start in June while doing all the right things. Free Drop Billy was then a close 2nd in two consecutive stakes races at Saratoga.
His career highlight came last fall with a smart G1 win at Keeneland. A trip to the Breeders Cup in California for his next start was a humbling experience. After making a small move down the backside, Free Drop Billy completely flamed out to 9th.
After time off to forget that distant defeat, he has come back to race three times this year. They all resulted in minor placings while he failed to move up in the pack late. Give Free Drop Billy credit; he was smart enough to give himself an advantage early in his career. Yet he has lacked physical development, and his number pattern is stagnant or has even plateaued. Most of the crop has passed up this early bloomer. Look for most of the crop to pass him up in the Kentucky Derby as well.
13. Noble Indy
Todd Pletcher enters this year's Kentucky Derby like he enters most runnings, with multiple horses and multiple chances. For Derby 144, Pletcher will bring four colts to Louisville. Of those four, Noble Indy would be the last one to take his warmups off.
He showed ability first out at Gulfstream for Pletcher. But then again, which of them doesn't? Noble Indy was boiling over at the starting gate and still had the raw ability to run away from a subpar group of maidens by 8-plus lengths.
After a relatively easy win in his second start, Noble Indy shipped out of Florida for the first time to contest the G2 Risen Star in Louisiana. A very slow pace was set that day, and all horses essentially ran in place throughout. Noble Indy followed orders and ran 3rd the whole way around.
He was game in his final start when retaking the lead late in the stretch of the Louisiana Derby to win by a neck over longshot Lone Sailor. Of all the final prep races, Noble Indy's win rated the lowest on speed figures. He is well over-matched in this year's Kentucky Derby. If anything, he could play the role of pace presser to set up a faster tempo for his stablemate Audible.
12. Solomini
Solomini is like a fullback, someone who could grind out two or three yards if you needed it," Baffert said referring to his colt's lunch-pail mentality. Unfortunately for Solomini, he'll need to pick up more than three yards in the Kentucky Derby. He will have to navigate 2,200 yards from start to finish.
In four starts as a 2-year-old Solomini tallied almost a half-million in earnings to go along with some graded stakes placings. After a wokman-like debut win at Del Mar, he was then left in the wake of Bolt d'Oro's highly rated Front Runner score in his second start. He was defeated 7-plus lengths that day for second. Up next was the Breeders Cup. Again, he was a soundly beaten second to Good Magic and finished a fortunate length ahead of Bolt d'Oro, who essentially raced in the parking lot that day.
Solomini's career triumph, if you can call it that, came in a small Grade 1 field for the Los Alamitos Futurity. He crossed the wire first in a three-horse battle with McKinzie and Instilled Regard. Yet after the stewards reviewed some bumping in late stretch, he was disqualified and placed 3rd. This was absolutely Solomini's race to win. McKinzie was very well-regarded, but he had only one race under his belt and had never run around two turns. Instilled Regard, the other contender in the small field, is a stakes-type colt but had not run nearly fast enough to win at that point. Crossing the wire first in that race by a small margin of ¾ of a length against rivals he should have absolutely beaten that day was somewhat unimpressive.
After Solomini missed some time due to a fever to begin 2018, his last two starts in Arkansas have been more of the same. It certainly never hurts to pick up second and third in the Rebel and Arkansas Derby, respectively, which he did. Yet once again he was clearly inferior to the winner of both races, Magnum Moon.
Solomini is still learning. He hasn't even mastered the simple racing task of correctly switching leads in the stretch run. As Baffert mentioned, his consistent and hard-trying style has led to a racing career in which he is yet to miss the top 3 in any of his six races. Solomini, however, is not a win contender in Derby 144. His speed figures are stagnantly average, and he has not shown improved racing maturity to build on what was already a mundane 2-year-old campaign.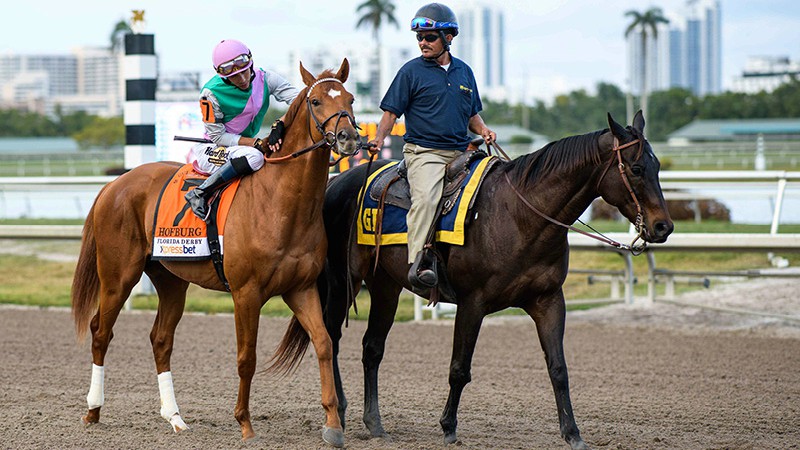 11. Enticed
Last year, one 2-year-old prep race that came up surprisingly strong was the Kentucky Jockey Club right there at Churchill Downs. The race produced many next out stakes winners such as Promises Fulfilled, Reride, Quip, and Bravazo. The horse that won that race on Thanksgiving weekend was Enticed.
After a promising juvenile campaign, the first start of Enticed's 3-year-old campaign was a huge disappointment. He broke from the rail as the favorite in the Holy Bull at Gulfstream Park. An inside trip proved to be less than ideal for this colt. He had to slightly tap on the brakes midway through the race. Audible took over at the top of the stretch and Enticed faded to a distant 4th. With Enticed being the public choice, his connections blamed the poor effort on an anxious inside trip.
That excuse was validated in his very next start. He shipped to New York and drew the outside post in the Gotham at Aqueduct Park. He stalked from a wide position and drove by impressively to win with run left in reserve. His final prep race was also in New York, this time the Wood Memorial. His set-up in this race was less than ideal. Enticed had to chase after a runaway longshot early. Then he had to rally alongside Vino Rosso, who had a full head of steam into the stretch. Those two contenders bumped in the lane and Enticed turned up second-best.
The key to Enticed in the Kentucky Derby is an unabated trip in the outside, where his momentum doesn't get stopped. He is a big colt who has shown an impressive stride when he's at his best. He has speed figures that put him in the neighborhood of this year's top contenders. He also enters the Derby off the toughest trip of any contender. Of all the mid-priced longshots in this year's field, Enticed might just be the most overlooked.
10. My Boy Jack
In a race that has brought even some of the best thoroughbreds to the point of tiring exhaustion, bettors are always intrigued by any horse who seems to get faster the more time spent in motion. The lean and nimble build of My Boy Jack represents one of said horses this year.
My Boy Jack is trained by a man who Derby dreams with blinkers on. You can't find one sprinter in the barn of Keith Desormeaux. He goes to the sales to look for a horse that he thinks can run long. Then, he teaches them to run long! Desormeaux has shown a propensity for bargain buys time and time again; Texas Red, Swipe, & Exaggerator are proof. His latest, My Boy Jack, has gone from a very modest $20,000 yearling purchase to well over a half-million dollars in earnings.
While his numbers are comparatively light on paper, he has shown the ability to chew up ground in an eye-catching way. He carries no extra body weight, and his rider Kent Desormeaux can weave through Derby traffic as well as any from the era.
The reality of how tough this field is keeps the expectations of My Boy Jack in check. If he runs the race of his life, that would still only project to land him 4th or even 3rd. His chances only increase with a wet racetrack. The best race of his career was at Oaklawn Park over a muddy track where he rode the rail like a pro and showed his biggest late burst to date.
9. Hofburg
Even in a 4th-place effort in which he was defeated nine lengths last summer at Saratoga, Hofburg showed promising signs in what would prove to be his only race as a 2-year-old. He was off a bit slow, raced wide, and you could tell by his size and stature that he would need more time and development.
After waiting all the way from September to March, Hofburg finally made his second start at the races. He traveled very wide, but won his maiden diploma at Gulfstream Park by a half-length.
It was a bit surprising when Hall-of-Fame trainer Bill Mott opted for the Florida Derby in his very next start. Patience isn't just a virtue for Mott, it's a staple of his training pattern. His horses routinely peak in the fall, and he has rarely heard from with 3-year-olds in the spring. This colt is ahead of schedule and has put Mott back on the Derby Trail for the first time in years.
He continued forward with a soundly defeated 2nd in the Florida Derby behind Audible. Other top contenders in the race faded badly after dueling early. Audible and Hofburg laid back and passed those tiring horses in the stretch.
Having only three starts for a patient trainer puts Hofburg in a very tough spot trying to compete against this field. He was no match for the more experienced Audible in Florida, and his numbers show that he will need more time and development to be able to compete at this level.
8. Flameaway
It might be surprising to most to know that the horse with the most wins in Kentucky Derby 144 is Flameaway. He's won five times. Some of these top contenders haven't even raced five times! Flameaway has won on fast dirt, wet dirt, synthetic and turf. So basically that's every single surface in the sport.
He can also win close races like he did in the Kitten's Joy and Sam F. Davis. He races with high energy and intelligence. He does not want to be far out of the fight early.
Yet a turf stakes and a modestly timed second-place finish at Tampa Bay Downs have not put him in the winning Derby discussion. He exits a 2nd-place effort at Keeneland to Good Magic. He showed early speed from an outside post, but was vanquished late defeated just over a length.
Flameaway's win record is admirable, and his racing acumen is bright. Yet for him to be close to the pace like he wants to be, he'll be running with the likes of horses he hasn't seen before. That could be a rude awakening for a forward type.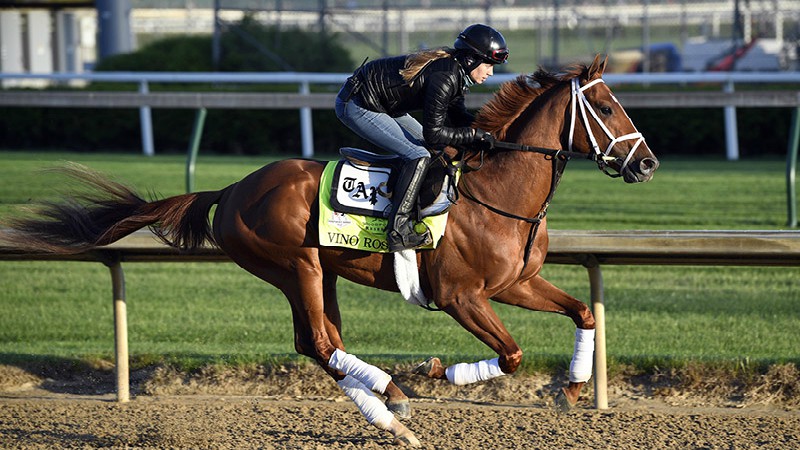 7. Mendelssohn
In 143 runnings, no European horse has ever won the Kentucky Derby. Take that notion and quickly dispose of it this year. Mendelssohn is a different type. First of all he's not technically even a "European". As a matter of fact, he is the bluest of Kentucky blue bloods. His half-sister, Beholder, was one of the best female racehorses of the new era, and his brother, Into Mischief, is a top Kentucky stallion that has sired multiple Derby runners, including Audible in this year's field.
The European powerhouse Coolmore was willing to pay whatever it took to buy Mendelssohn at the 2016 Keeneland yearling sale. After the fiercest bidding war of the entire sale, Coolmore had their dream Derby colt. The gavel finally crashed its base at $3,000,000. That was a full one million dollars more than the second-most expensive horse in the entire sale. This royally bred colt was then shipped to Europe to be under the care of world-class conditioner Aidan O'Brien.
Early in his European career, Mendelssohn showed a lack of racing focus as he had one win to go along with two distant finishes in his first three starts. His racing career changed dramatically in October when his trainer added blinkers for the first time. A newly focused Mendelssohn ran a big second on the turf to his stablemate US Navy Flag before making a ship to America for the first time to contest the Breeders Cup Juvenile Turf.
O'Brien explained last fall that he viewed Mendelssohn as his Derby horse but he didn't think he was mentally ready to handle the rigors of American dirt racing at that young of an age. Mendelssohn won the Juvenile Turf anyway — against a good field nonetheless — as last year's event featured future stakes winners such as My Boy Jack, Flameaway, Catholic Boy, James Garfield and Beckford.
After time off and an easy win over the synthetic European track Dundalk in March, Mendelssohn was ready to have his one chance at punching his Kentucky Derby ticket. The 2018 version of the UAE Derby in Dubai might just be one of the strongest editions that has ever been hosted. Mendelssohn, in his first time ever racing on dirt, won off by a jaw-dropping 18-plus lengths. This race received easily the best Thoro-Graph speed figure in this year's field; and the math, when comparing it to others' in that UAE Derby, seems to really check out.
O'Brien set a world record for most Grade 1 wins in a year just last racing season, one of those victories being Mendelssohn's win last fall at Del Mar. World-class jockey Ryan Moore will pair up with his longtime man O'Brien to try to make both of their American Derby dreams come true with this one horse. Mendelssohn was purchased for such an outstanding price that Coolmore was banking on him potentially becoming King Kong. Now here he is almost two years later, coming back to Kentucky beating his chest and roaring against his rivals. Mendelssohn is Europe's best chance in the entire history of the Kentucky Derby.
6. Bolt d'Oro
When casinos in Las Vegas began to post future odds last fall for the Kentucky Derby, Bolt d'Oro was the early favorite. Bolt had run up an impressive undefeated record to start his career. He was off a step slow in his debut at Del Mar last August in San Diego, but then rushed up to take command of the race and win with style. His next start was more of the same. He didn't have a good break once again, but drove by in the stretch to win the G1 Del Mar Futurity. That also happened to be the same race American Pharoah won his first stakes in 2014.
The third start for Bolt d'Oro was his true breakout. He ran up the score in the G1 Frontrunner, this time at Santa Anita Park. He won by almost 8 lengths and received the highest speed figure of any 2-year-old race last year. The undefeated colt then went back to Del Mar for the Breeders Cup as predictions of greatness began to swirl. He broke from the 11 post that afternoon and ended up having one of the widest trips in American racing history. Bolt d'Oro was so egregiously wide in his 3rd-place effort that trainer Mick Ruis fired jockey Corey Nakatani in the aftermath.
After a slight fever cost Bolt d'Oro some training early in the new year, he resurfaced in the San Felipe stakes at Santa Anita against top colt McKinzie. This proved to be the slugfest of this year's Derby trail. With both colts refusing to lose, they furiously strode to the wire nose and nose. McKinzie crossed the wire a nose ahead. Yet after the stewards looked for more than 10 minutes, they made a change and announced Bolt d'Oro the winner after disqualifying McKinzie for bumping.
The final start for Bolt d'Oro was a rude introduction to the uber-talented Justify in the Santa Anita Derby. Bolt was chasing after Justify throughout. The less experienced Justify was just toying with Bolt d'Oro as he won by 3 lengths. This race was rated as the fastest of the prep season.
Bolt d'Oro was the clear leader of the pack early on the trail last year. Since then though, top horses have emerged from all over. His 2018 campaign has been less than ideal. He missed some training in January due to a fever. He also emerged from the Santa Anita Derby with a cut on his front right hoof. While the fever and foot abrasion might be minor setbacks, they are setbacks nonetheless. Bolt d'Oro was the clear early favorite last fall for the Kentucky Derby. That being said, the waters have gotten noticeably deeper this spring.
5. Vino Rosso
The Todd Squad is scary as ever coming into Derby 144. Of Pletcher's four colts, Vino Rosso has created the most recent excitement ahead of the May classic. Another contender by the top stallion Curlin, Vino Rosso has carried a strong billing with him throughout his young career.
First up last November, this strong chestnut colt took care of an overmatched maiden group at Aqueduct. He won by fewer than three lengths but was always in control. Up next was a winter trip to Florida. He was as big of a favorite as you can get in his allowance race at Tampa. Once again he faced overmatched foes. Bet one dollar and get back a nickel. That's how big of a favorite Vino Rosso was as he cruised around the field without running up the score.
His next two races at Tampa Bay Downs, this time against tougher stakes horses, weren't as easy. He seemed a bit flat and one-paced in his 3rd in the Sam F. Davis and 4th in the Tampa Bay Derby. He wasn't fading late, but he wasn't cutting into the margin either. He just seemed to be running at a methodical, constant pace.
Pletcher decided to ship him back up to New York, the site of his maiden win at Aqueduct. In the Wood Memorial, Vino Rosso got much more pace at which to run, this time showing a burst of acceleration that he hadn't in his first four starts. It was his second time wearing blinkers, and it was the most complete race he has run. There was bumping with Enticed in late stretch, but he kept his momentum moving forward for a 3-length victory.
With that win, Vino Rosso went from underachiever to contender in just under two minutes. Jockey John Velazquez gave up his mount on Audible to secure his spot on the reemerging Vino Rosso. His trainer and jockey won last year's Kentucky Derby with Always Dreaming. They even laid out a similar campaign for Vino Rosso, starting off his year with an easy allowance field at Tampa Bay to build his confidence. This colt has always had a methodical stride that could seem better suited for the Belmont Stakes. Of the top contenders this year, Vino Rosso is the most inconsistent. He is however within shouting distance of the best horses in this year's crop.
4. Good Magic
Consider the connections of Good Magic the Dream Team of the 2018 Kentucky Derby. It will mark the first time that a reigning Eclipse champion jockey, champion trainer, and champion 2-year-old will team up in the Run for the Roses. Jockey Jose Ortiz and trainer Chad Brown have been winning elite-level races for a few years now. However, neither has ever won the Kentucky Derby.
The word was out on Good Magic last summer at Saratoga. He was training very well in upstate New York ahead of his debut, plus he also flaunted a gaudy $1,000,000 price tag at the '16 Keeneland Yearling Sale. Surprisingly though, he could manage only a close 2nd in his first start. His trainer was bold enough to push on to the G1 Champagne at Belmont Park for his next start. You almost never see a horse that hasn't won yet entered into a Grade 1. Again, Good Magic ran a good race but finished second again. He showed that day that he could compete at the Grade 1 level, even if he hadn't had a winner's photo yet.
Brown stayed bold and brazen and decided to ship his Curlin colt out to California for the Breeders Cup Juvenile. Ortiz got Good Magic into a perfect stalking position and then thundered home to win by more than 4 lengths for his first win in the most coveted 2-year-old race in America. He was fortunate that the big favorite that day, Bolt d'Oro, raced as wide as any horse can race and finished an unthreatening 3rd.
After being given Eclipse Champion honors after his lone key victory, Good Magic came back in March in the Fountain of Youth at Gulfstream. It wasn't a flattering way to begin his sophomore campaign. He was under stout restraint down the backside but couldn't make up any ground into an extremely slow pace. He ended up 3rd.
The connections pressed on to Keeneland for the Bluegrass Stakes. Good Magic once again reasserted his class with a measured win to propel him to the Kentucky Derby with newfound confidence. However, his win didn't rate as fast as other preps this season. He is a champion, and he's being trained and ridden by reigning champions. Good Magic can put himself into a great spot early in the race. He has high racing intelligence and is in the conversation for best horse in this crop.
3. Audible
Even in defeat first out, Audible showed an incredible flash into the future with his late-closing 3rd last September at Belmont Park. Facing other New York breds, this expensive son of top stallion Into Mischief broke out of the gate and was running in slow motion as the field sped off into the turn. Audible left the camera screen as the cameraman tried to widen the shot to keep the bay colt within the lens. He was nearly 20 lengths back through a half-mile. Once he finally emerged into the camera shot, it was as if he had pulled a magic trick. The same horse that left the screen with no early foot had reemerged into the screen and was running over his rivals.
That day Audible charged up the rail to finish 3rd, but you could tell he was moving 3 to everybody else's 1. His next two starts were no-sweat wins against New York competition at Aqueduct. He then shipped south to Florida, where the next start for Audible would be the Holy Bull. Audible stalked the pace and broke away from the field to win by five widening lengths. He showed a marked step forward from 2 to 3 years old. He also showed that he was a serious player this year and that the flashes he displayed early in his career in New York were coming to light.
Audible's final start in the Florida Derby was a chance to prove that he could put in a strong bid from anywhere in the pack. When pacesetters Promises Fulfilled and Strike Power began a vicious duel, Audible had no choice but to come from a closer's position in the pack. Close he did, as Audible once again was showing a dominant stride coming for home. He won going away by 3 lengths and continued a four-race winning streak after his incredible debut third.
While Audible's pedigree is more speed-centric and maybe more tailored to shorter racing, he has shown absolutely no signs as an individual that he can't run as far as they ask him to. He pretty clearly exhibited in his first start that sprinting is going to be way too short for him. He hasn't lost since. There are some high-level horses that project to race up front in this year's Kentucky Derby. Audible is an improving colt that has shown some of the best late kick in this year's bunch. If the top horses up front have to fend off a serious challenge from off the pace, that challenge could very likely come in the form of Audible.
2. Justify
Wake up the ghosts, Justify is coming to Louisville wanting to wreck your history lesson. That specific ghost is Apollo, and he's been gone for more than 100 years. He is the horse that gets referenced almost each Derby season to remind fans and bettors that no horse has won the Run for the Roses without racing as a 2-year-old since Apollo himself in 1882.
After not competing as a juvenile, Justify finally made the first start of his career in mid-February at Santa Anita. After taking two challenges from both sides early, this long-striding Scat Daddy colt took flight in the stretch to win by nearly 10 lengths. At the time no 3-year-old had posted a triple-digit Beyer speed figure. Justify put a stop to that by posting a 104 in just start one.
While Justify was well behind his peers on seasoning, Baffert stated clearly after that debut that this horse would still be pointing to the Kentucky Derby. Up next would be an easy allowance race where he would go two turns for the first time. He showed the ability to give up the lead early as he was waiting at any moment to inhale the front-runner ahead of him. He glided up around the turn with a superstar's burst and won by 6 lengths under no encouragement. Up next would be his one chance to gain the Derby points he needed to make it to Louisville.
The Santa Anita Derby gave Justify a measuring stick to his talent in the form of early Derby favorite Bolt d'Oro. This colt measured out well. In a small field he simply had too much natural ability to play around early. He went right to the front and was always a clear distance ahead of his main rival Bolt d'Oro. Again, he won with absolutely no resistance from any rival who attempted to contest him.
With that Santa Anita Derby win, the undefeated Justify now comes to Kentucky as the undisputed favorite. Even with all the history against him plus this year's amazingly deep field, he has shown scary enough talent to warrant being the decisive betting choice. Speed is one of his best assets, and jockey Mike Smith will surely use it. Stamina is also one of his best assets as he has widened his winning margin in all three starts. Every tool ever needed to become a superstar racehorse has been exhibited by Justify in just a little over a two-month racing career.
Justify has been so above his competition in three starts that he hasn't even received a challenge. He'll get his wish in this field as he looks to be tested early and late. He has displayed talent that is scary, to say the least. This year however, his biggest challenge to scare off on the First Saturday in May will be the ghost of the late Apollo.
1. Magnum Moon
Since early January, Magnum Moon has gone from unraced to undefeated. This Malibu Moon colt debuted at Gulfstream Park on Jan. 13 without any starts as a 2-year-old. He won in typical Todd Pletcher fashion at Gulfstream. Three lengths was the final margin, but he received an eye-catching 95 Beyer for his effort.  Based on speed figures, that first race alone immediately placed him in the upper echelon of this year's crop.
His next start at Tampa Bay Downs was laughably easily. Jockey Luis Saez got Magnum Moon to relax just off the pace early. And then with absolutely no encouragement from his rider, Magnum Moon breezed on by in one of the easiest wins of the year. He was now a perfect 2 for 2 as a Derby points race was calling.
Magnum Moon then shipped to his third different track to contest the Rebel Stakes at Oaklawn Park in Arkansas. His forward style put him right into the heat of the battle early. Coming into the stretch he still had plenty of run left and began to assert himself as the dominant horse of the bunch. He won by 3 and-a-half convincing lengths as he drifted outward a bit coming across the wire. In just two months' time, Magnum Moon went from a horse with no starts to a horse who had officially punched his ticket to Louisville with that 50-point victory.
In his final start in the Arkansas Derby, Magnum Moon faced most of the same horses he had just defeated in the Rebel. This time, instead of stalking early, he took it right to the field. He hit the lead into the first turn and was always traveling confidently. He shook off pace-presser Quip and began to widen in the lane. This time he drifted outward considerably more than he did in the Rebel but he won by an even bigger margin — 4 lengths.
Magnum Moon enters Derby 144 a perfect 4 for 4, each of those four wins by at least 2 lengths. No horse has won the Kentucky Derby without racing at the age of 2 since Apollo all the way back in 1882. Yes, that's 136 years ago. Magnum Moon and Justify are both in that category. They also carry more talent than almost all of the horses in this year's race. Most handicappers have taken a stand against Magnum Moon this year. Detractors cite his lack of professionalism as he's drifted out in his last two starts. They also point to the fact that his wins have not been rated as fast as those of some others in the field. Even with the obstacles against Magnum Moon this year, bet against this undefeated colt at your own peril.
---
Top Photo: John Velazquez (8) aboard Audible, trained by Todd Pletcher, crosses the finish line and wins the 67th running of the Florida Derby at Gufstream Park. Credit: Douglas DeFelice-USA TODAY Sports
How would you rate this article?
This site contains commercial content. We may be compensated for the links provided on this page. The content on this page is for informational purposes only. Action Network makes no representation or warranty as to the accuracy of the information given or the outcome of any game or event.