I've Won Over $15,000 On Same-Game Parlays This Month. Here's How.
Credit:
Picture by Getty Images.
Every bettor dreams of this moment. A pocket-change bet that pays out thousands. You black out for seconds before reality sets in. For me, that $25 bet turned into $13,248 during Game 1 of the Western Conference Finals. 
HANG IT IN THE LOUVRE!! OH MY GOD

I'm at a loss for words. Took a mid-day walk with @_kiz__ saying "it's time for a can't miss parlay."

He told me not to include him so it hits. He was right. pic.twitter.com/1Dv3U9BkRP

— Charlie DiSturco (@charliedisturco) May 17, 2023
No one expects a life-changing bet. I had just hit a $15 for $3,412 same-game parlay two weeks prior in MLB.
Still, I was resigned to the fact it wouldn't happen again for some time. Lottery tickets are fun but even with proper research, they're longshots for a reason.
This one for Lakers vs. Nuggets was nothing more than a for-fun parlay that I threw in with the bonus bets I had left. I placed it and never thought it had a chance after the Nuggets took a commanding 20-point lead. 
So I did what every good boyfriend does. Put on a facemask with my girlfriend as the game was muted in the background. You can't blame me! The parlay was seemingly dead and my skin needed some care.
Then it all happened. Kentavious Caldwell-Pope and Austin Reaves went up-and-down hitting their second 3s. The other legs had all hit, all I needed was one more 3 from each guard.
As the facemask hardened, I felt like Joel Embiid in 2018. It was game time and I was locked in. The only difference? I actually came through in the postseason.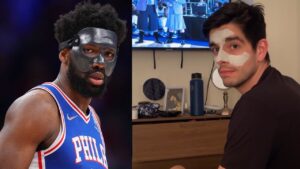 Reaves quickly hit a 3 soon afterward and Caldwell-Pope would notch his third four minutes later. A little hot potato passing with Jokic led to a catch-and-shoot 3. A scream left my girlfriend's mouth as I stood there in shock. 
Cash.
The funniest part about this whole thing is that I hate the NBA. I think it's the worst product in all of sports. But it's the playoffs and I love LeBron James. So I did my research and had a little fun. 
That fun soon turned into the best bet of my entire life. In two weeks, I had hit same-game parlays combining for over $15,000. 
The Process Behind a Same-Game Parlay
The most important thing to consider when concocting a same-game parlay is building a narrative on how you expect the game to unfold. Each leg should be correlated with one another so that IF the game flow goes to plan, the parlay has a chance. 
It feels self-explanatory, but if you expect a faster-paced, higher-scoring game, the majority of the parlay should be overs. And vice versa. Higher-scoring games also allow for alt lines that could increase the odds significantly. 
Being meticulous with your legs is important. Following a narrative is a necessity, but so is being smart with how you build the SGP. Don't go taking every superstars' over. Like we saw with Jayson Tatum in Game 7, if one player completely takes over, his teammates will likely see a decrease in scoring as a result. Usage is important.
This leads to my next point, which is beating a dead horse – but do your due diligence. It can make all the difference in the world.
It's like you're studying for the SATs — but this matters a helluva lot more! Sort of.
For example, how has a player fared in previous games vs. their particular opponent? Is there anyone entering on a hot streak? Are there any injuries or mismatches that could shift how a game plays out?
You don't just pick and plug. Everything needs to be thought out, even if it's a longshot lottery ticket.
Be sure to line shop, too. The proliferation of same-game parlays across the betting ecosystem has resulted in dramatically different pricing from sportsbook to sportsbook. Each book calculates correlation differently. There can be drastic differences throughout the market. Some sportsbooks – like DraftKings– will juice down SGPs and severely reduce the payout. I tend to use FanDuel for my SGPs and find they offer the best odds.
Some general tips to help (which applies to straight bets, too):
Basketball: Especially during a playoff series, look toward a player's "potential assists" and "potential rebounds" rather than actual output. Sometimes a cold shooting night or not fielding a rebound cleanly can result in a poor statline. But in reality, the player had an opportunity to reach his total. The culprit? A series of unlucky bounces that don't show up on the stat sheet. 
Baseball: Splits mean so much. How does a hitter fare against left-handed pitching rather than right? Does a certain pitcher struggle in their home park vs. on the road, or vice versa? 
Football: Know offensive schemes and if a team is run- or pass-heavy. How they attack when they're up or down. The same applies for opposing defenses. Are they a run-funnel, or do they struggle against the pass, which could lead to explosive plays or quick short gains.
Moral of the story: it's important to be calculated. 
How Tuesday's Same-Game Parlay Unfolded
Rui Hachimura 10+ Points:
My favorite bet of the entire night was Rui Hachimura to score 10+ points. I talked it over with a close friend of mine and given the physicality and length of the Nuggets frontcourt, the Lakers couldn't sustain a long-term small-ball lineup. 
I didn't expect an 8-of-11 outburst from Hachimura, who attacked the rim with ease all night. But his strength around the rim and ability to stretch the floor at plus-money was a perfect way to start.
Nikola Jokic 10+ Assists:
Nikola Jokic is a walking triple-double. I expected the Denver big to struggle at times against Anthony Davis around the rim — he didn't — which would open the door for potential assists. He's arguably the most talented passer of all-time and entered with 10+ assists in his last four. 
This is also a hat tip to Joe Dellera, one of our most talented NBA handicappers at Action Network. I loved the spot for Jokic and once I saw he was also on the prop, it was the validation I needed to throw him into the pot. 
Anthony Davis 25+ Points:
You never know if A.D. is going to be absolutely dominant or an absolute disaster. There are days where Davis is one of the best big men in the world and against  weak Denver rim protection, I was banking on him to come out with a bang. 
Like Jokic, this leg was primarily fueled by PropBetGuy, another contributor at Action Network. I didn't trust the rebounds because of Jokic's ability to stretch the floor and knack for rebounding — which limits second-chance opportunities. But I did feel like if the Lakers were to keep it close, it'd come on the back of their 6-foot-10 center. 
Michael Porter Jr. 8+ Rebounds:
Since Game 3 against the Suns, there's been a notable uptick in Michael Porter Jr.'s physicality around the rim. He wasn't aggressive from the perimeter until that time, either. 
Given my built-out narrative that Hachimura will have to play more as a result of Denver's size and the fact that Davis and Jokic would battle it out around the rim — even pulling the opposing big away from the hoop — that would open the door for plenty of rebounding opportunities. Porter towers over the majority of players at 6-foot-10. 
I expected that same aggression on the glass and rather than trusting his streaky shooting, I trusted his length to make a difference. 
Kentavious Caldwell-Pope & Austin Reaves 3+ 3s:
These go hand-in-hand. Neither player is the first option on their team from the perimeter, but both are successful when it comes to catch-and-shoot. Because of the superstars on their team — LeBron and Davis for LA, Jokic and Murray for DEN — double teams could lead to open looks. 
And both have sweet strokes, too. Caldwell-Pope has shot 42.3% from the perimeter this season and finished with 3+ 3s in 40% of games against the Suns. Plus, I'd be lying if I didn't choose him because of the revenge game narrative vs. his former team. 
Reaves' confidence went through the roof after Game 4 against Golden State. He had been struggling to find his stroke but that all changed and he finished with three straight games of 3+ 3s. I expected a similar output from the guard who has become one of LA's most consistent players. 
What to do After Hitting a Same-Game Parlay
Nothing should change after hitting a same-game parlay when it comes to your approach to betting. 
If you want to leave some money in to have fun with more lottery ticket style parlays, do it. If you want to hit the bars and celebrate, be my guest. But don't keep it all in your account and waste it looking for another shot at glory. 
Continue to practice safe betting. Don't increase your unit size just because of one singular bet. Don't go around throwing 5x your normal unit sizing because you see it as a lock and you didn't have that money to blow prior. Continue to build your bankroll and stay true to your routine. 
I personally rarely bet same-game parlays unless I have bonus bets or risk-free opportunities at sportsbooks. It's not +EV and they're longshots for a reason.
Don't expect same-game parlays to frequently hit! The odds are super high for a reason, because the probability of winning is extremely small. I enter with the mindset that there's a chance, but I'm most likely never getting that money back. It's a fun way to spend a few hours watching sports. What's better than that?
So there you have it. Trust your opinion, do your research, listen to other experts in the field and be meticulous and smart with your betting. There's nothing quite like winning five figures, facemask on with your girlfriend begging to go to Italy with the money you've just won.
How would you rate this article?
This site contains commercial content. We may be compensated for the links provided on this page. The content on this page is for informational purposes only. Action Network makes no representation or warranty as to the accuracy of the information given or the outcome of any game or event.