Million-Dollar Bets and Private Jets: Spending Game 2 With "Mattress Mack"
Credit:
Darren Rovell. Jim "Mattress Mack" McIngvale poses with a fan.
By now you probably know the story of Jim "Mattress Mack" McIngvale, the 68-year-old furniture mogul and philanthropist who has spent the better part of October placing huge bets on his beloved Houston Astros to win the World Series.
Entering Wednesday, "Mattress Mack" had at least $8.6 million on Houston to win the Fall Classic and would net nearly $16 million if the Astros beat the Nationals in a best-of-7 series. McIngvale's wager is a partial hedge of a big promotion he's running at his stores, in which customers would get refunds on purchases of $3,000 or more if the Astros go on to win the World Series. He says his total liability for the promotion is around $20 million.
After defeating the Yankees in the ALCS, the Astros — who were the wire-to-wire favorites to win the World Series — dropped Game 1 to the Nationals in Houston. That loss moved the series to essentially a pick 'em.
The Astros' loss in Game 1 wasn't all bad news for McIngvale, as it allowed him to get more money on the 'Stros at a reduced price compared to what it was before the series started.
I knew Mack would be looking to get down more money wherever he could, so I flew down to Houston to tag along and see what a day in the life of a man trying to get millions of dollars in bets looks like.
---
11 a.m., Gallery Furniture Headquarters
After flying to Houston during Game 1, I found my way to Gallery Furniture's headquarters in the Space City around 11 a.m. This place looks exactly like I thought it would — A Disney World of Furniture.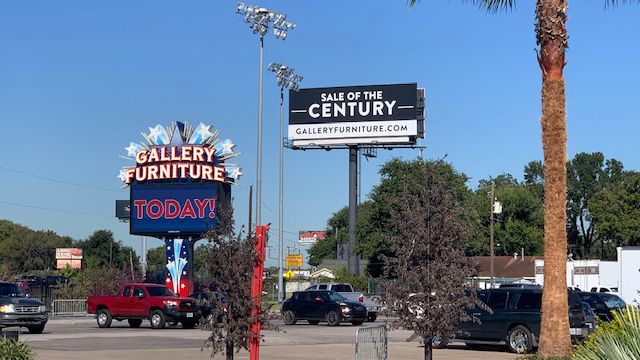 11:20 a.m., Mack's Office
Mack is on the phone with one of his gambling consultants in Vegas to get a sense of market this morning.
The Astros are still a favorite (-118, -120) despite losing Game 1.
"I still have some liability," Mack says. "But New Jersey has dried up." He asks to call around to the Beau Rivage in Mississippi and places in Vegas. "I'll fly there today if I have to."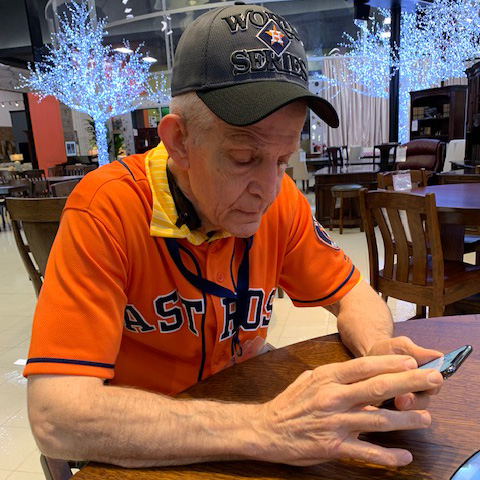 11:50 a.m.
How much has Mack gotten down? He won't say exactly, but he's upping the number. "At least $10 million. I'll probably get down another $1 million."
Here are all the bets we've been able to confirm so far:
12:50 p.m.
More than 100 people have come to say hi and take pictures. This young man, visiting from Kentucky, wanted Mack to autograph the Astros World Series hat Mack gave him.
1 p.m. ET
Biloxi, Mississippi here we come.
The folks at the DraftKings Sportsbook at the Scarlet Pearl Casino in Biloxi have agreed to book Mack's action, so we're rushing to the airport to get on a private jet to fly to Mississippi.
The particulars? Oh, just a million bucks on Houston to win the World Series at -118. This particular wager would net $847,000.
The flight is about 35 minutes, so we should make it back to Houston in time for first pitch without much of a problem.
---
Check out PointsBet, where Action Network users can access an exclusive promotion to get a 200% deposit match (deposit $50, bet with $150).
---
2 p.m.
We've arrived at the airport and will be taking off for The Magnolia State shortly so that Mack can get another million dollars down on the Astros.
The airport's name is pretty fitting, huh?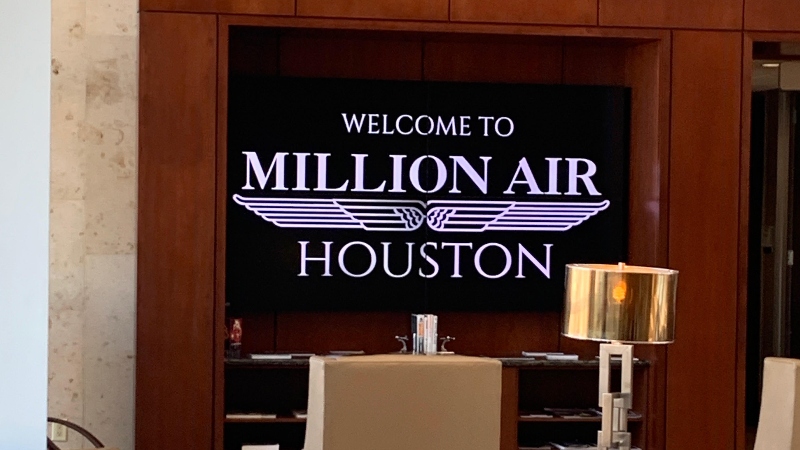 2:30 p.m. ET
Wheels up time. Mack and I are off to Mississippi. When Mack comes back to Texas he will be a million dollars lighter.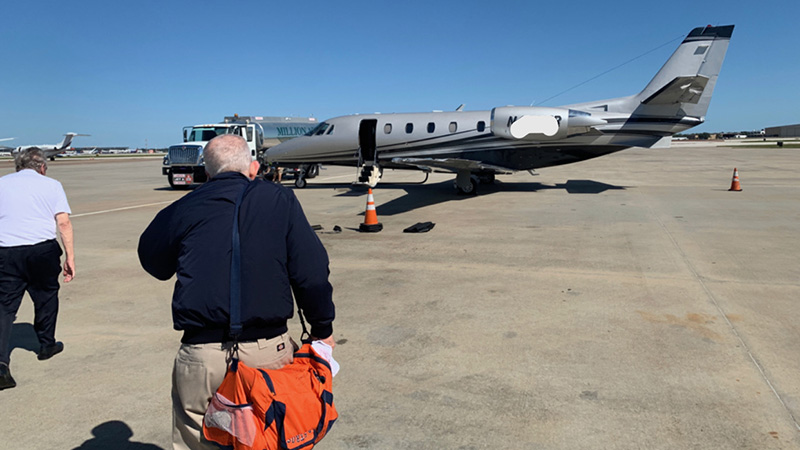 3:30 p.m. ET
We've landed in Mississippi. There was a limo waiting for us at the airport. Now we're off to place a bet. A very large bet.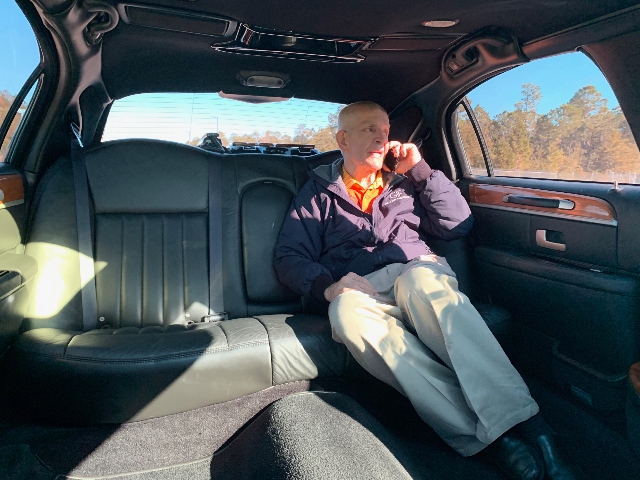 5:10 p.m. ET
So what's the process for making a $1 million bet? It's actually not as complicated as you'd think.
Mack wired the cash to the casino, where he then converted the money into chips before heading to the sportsbook to place the wager.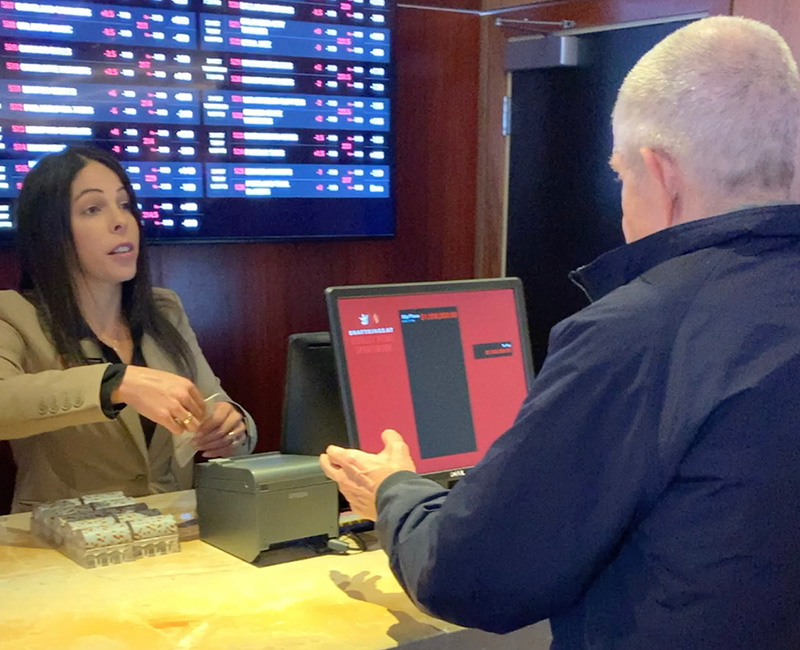 The result is this ticket, which will pay out $847,457.65 if the Astros come back from a one-game deficit to win the World Series.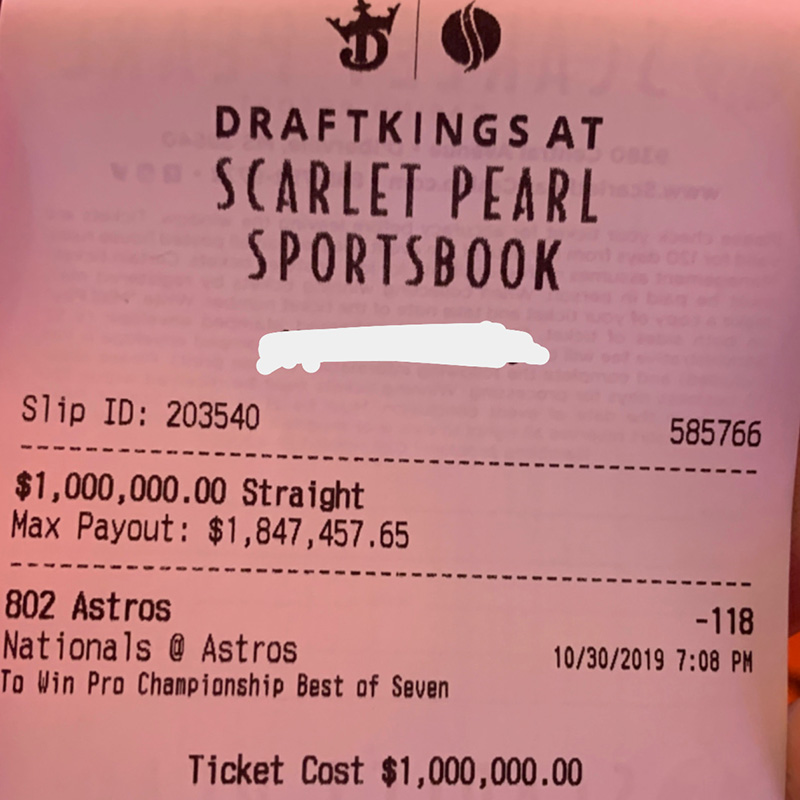 5:37 p.m. ET
While on the way to Mississippi, Mack got a second casino, the Beau Rivage, to agree to accept his action at the Astros to win the World Series at -120 odds.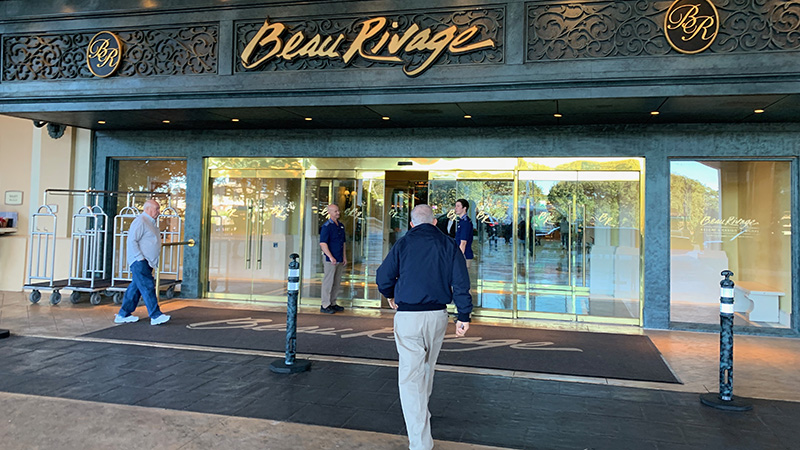 So after finishing up at the Scarlet Pearl, we hopped back in the limo for a quick eight-minute drive and repeated the same process again, converting the money wired to the casino into chips before ultimately getting what we came for in the first place: an extremely valuable piece of paper.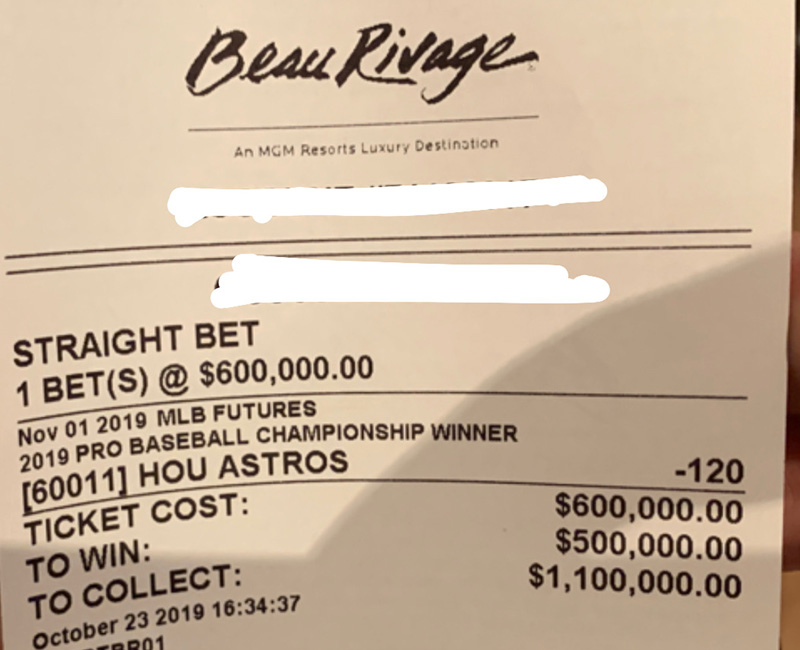 The $1.6 million in bets Mattress Mack placed in less than 30 minutes brings his total amount wagered on the Astros to $10.2 million. If they win it all, he'd net $17,317,873.
7:28 p.m. ET
We've landed in Houston after a quick plane ride back from Mississippi and have 40 minutes to get to Game 2 of the World Series. Mattress Mack has his two betting tickets, worth a combined $1.6 million, on hand as he speeds (literally) to the stadium.
$1.6 million worth of bets on the Astros, 830 miles flown round trip to Biloxi, Mississippi and "Mattress Mack" and I are trying to make first pitch. pic.twitter.com/c4CdXINYQk

— Darren Rovell (@darrenrovell) October 23, 2019
Below is a quick rundown of all the bets from Mack on the Astros to win the World Series (that we've been able to confirm). McIngvale also told me he lost $384,500 betting on Houston to win Game 1. When you combine that with the $584,615 Mack won wagering on Houston in Game 5 of the ALDS, he's cleared almost exactly $200K via one-off bets on his hometown team.
9:19 p.m.
The Astros and Nationals are tied, 2-2, heading into the sixth inning but Mack doesn't seem too worried. Probably because everywhere he turns someone wants to shake his hand or take a picture.
11 p.m.
A six-run seventh inning by the Nationals had made it apparent that Mack and the Astros would find themselves down, 2-0, after Game 2.
Most fans were showing their emotion, upset that it looked likely that their would-be dynasty was about to fall short for the second October in a row. But Mack was upbeat and continued to take pictures on the way out.
"Mattress Mack! Ten million strong!" Someone yelled as we walked the concourse.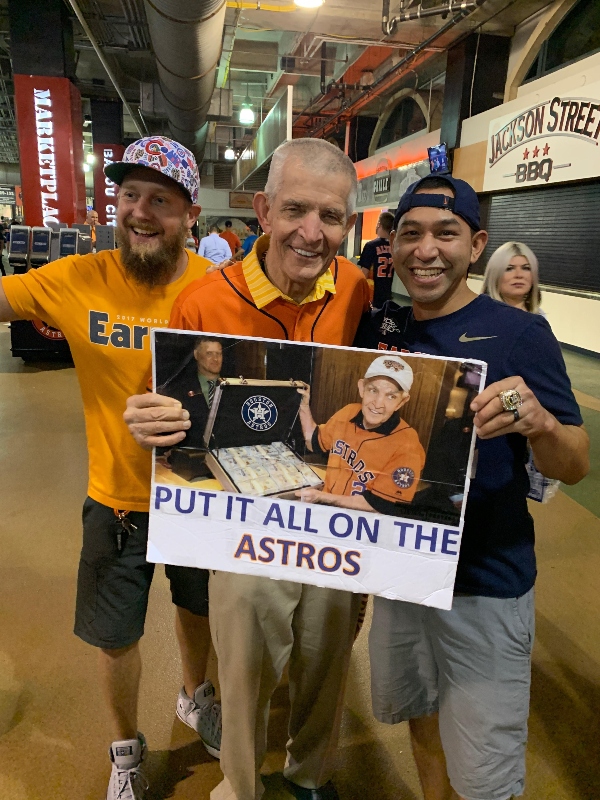 After entering the World series as -220 favorites, the Astros will now find themselves as at least a 2-to-1 underdog as they head to Washington, needing to win four of five games against the Nats.
The task is daunting, but are the odds too good to pass up?
"Depends on what my consultants say," Mack said. "Gotta keep the faith."
How would you rate this article?