Why You Shouldn't Blindly Follow Park Factors in MLB DFS and Betting
Credit:
Ron Chenoy-USA TODAY Sports. Pictured: Coors Field
Parks are very important in daily fantasy baseball and betting, as each one is unique and produces different results.
But you shouldn't blindly follow park factors, as they change drastically throughout the year for a variety of reasons.
Baseball is one of the more unique sports because the location of a game can really affect the outcome.
Imagine if the Lakers played with eight-foot hoops while the rest of the league played at the regular 10? Things would obviously be very different.
That's the case in baseball, where each stadium is different. For example, Yankee Stadium is just 314 feet to the right field fence, whereas Wrigley Field is at 353 feet with a much higher fence to boot. As expected, there were more home runs by lefty hitters at Yankee Stadium than at Wrigley last season.
But dimensions aren't the only thing that affect park factors. Weather and location are incredibly important as well.
Some parks have constants that allow them to be hitter- or pitcher-friendly: Coors Field, the most hitter-friendly park, produces so many runs because of the altitude.
Other parks like Chase Field in Arizona and Globe Life Park in Arlington are also friendly to hitters, but not because of dimensions or altitude. Rather, it's the heat that causes so many runs. In general, balls travel farther in warmer weather because of the lower air density.
You probably get where I'm going with this: Weather is not constant throughout the season. It's 76 degrees in Arlington on Opening Day, where the Rangers will face the Cubs. That's not cold, but it's nowhere near the heat Arlington will experience in July.
As a result, we see Park Factors change throughout the season.
Let's dig into how leverage those changes in DFS and betting over/unders.
---
MLB DFS Park Factors by Month
The graph below shows the DraftKings Plus/Minus — points scored above or below salary-based expectations — for hitters at each park throughout the year.
Indeed, hitters actually sport a -0.2 Plus/Minus in Arlington during April but a high +1.0 mark in July. Citi Field, home of the Mets, is a positive hitters park in July but a fairly negative one in April. That's true with Target Field in Minneapolis, among others.
It seems there's some discrepancy among parks throughout the year in terms of betting over/unders, too.
Of course, note that over/unders are subject to the betting market, so a park that is good for hitters won't necessarily be good for over bettors. The market might over-adjust, in fact, creating value for unders.
---
MLB Over/Under Park Factors by Month
The chart below shows the Return on Investment (ROI) for under bettors at each park throughout the season (going back to the 2005 season).
There are some huge discrepancies here, too: It's been very profitable historically to bet unders at Minute Maid Park in Houston in April (12.4% ROI) but not in July (-9.0% ROI).
There are countless discrepancies. although, remember that this is based on market data — a pitcher-friendly park won't produce more under value if the market adjusts or over-adjusts for that.
Finally, there are other things to keep in mind for park factors when you're playing MLB DFS or betting over/unders.
The first is weather that might be mostly random, including damp weather or windy conditions in Chicago. And the second is different park dimensions in different areas of the field, which is a hugely important factor that not many fantasy players pay attention to; a lefty and righty might have very different expected outcomes depending on the stadium layout.
Thankfully, we have a ton of tools to help you weed through all of these issues. If you're a DFS player, our Lineups page shows current weather and wind strength and trajectory.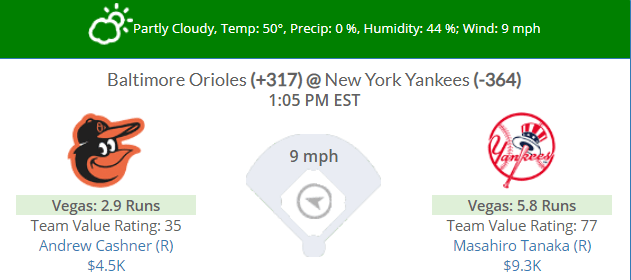 Further, we have a Park Factor propriety metric in our MLB models at FantasyLabs that is adjusted for handedness and considers all hit types.
And, of course, we have our Bet Labs tool, which can show you how different factors have affected over/under lines in the past. For example, our own Mark Gallant wrote about how the wind in Philly on Opening Day should favor the over.
Make sure to check out all of our tools and models, and make sure you don't miss our daily content to help you weed through all of the games and variables.
Good luck this season!
How would you rate this article?
This site contains commercial content. We may be compensated for the links provided on this page. The content on this page is for informational purposes only. Action Network makes no representation or warranty as to the accuracy of the information given or the outcome of any game or event.