Friday MLB Playoff Betting Odds, Picks & Predictions for Twins vs. Yankees, All 4 Games
Credit:
Adam Hunger-USA TODAY Sports. Pictured: Aaron Judge.
MLB expert Sean Zerillo breaks down his favorite picks for all four of Friday's MLB Playoff games, including the Nationals-Dodgers nightcap.
He also gives detailed analysis of Twins-Yankees ALDS Game 1, in which the Yankees are big betting favorites (-185 moneyline odds).
Who's ready for 10 straight hours of playoff baseball?!
There's a lot of noise out there in the betting market, and we're here to help you find the what matters — and what doesn't — before you place your wagers.
Below I've put together detailed betting previews of each matchup, which contain my analysis on the pitching matchup, the trends that matter, what my betting model for the game is saying, any wagers offering value and much more.
Let's get started with Rays-Astros, which is a 2:05 p.m. ET first pitch. We'll also hit on Cardinals-Braves (4:37 p.m. ET), Twins-Yankees (7:07 p.m. ET) and Nationals-Dodgers (9:37 p.m. ET).
Odds as of Thursday evening. Check out PointsBet, where Action Network users get an exclusive 200% deposit match (deposit $50, bet with $150).
---
Rays vs. Astros Game 1 Betting Odds, Picks & Predictions
Probable starters: Tyler Glasnow (6-1, 1.78 ERA) vs. Justin Verlander (21-6, 2.58 ERA)
Rays odds: +188
Astros odds: -210
Over/Under:  7
First pitch:  2:05 p.m. ET on FS1
The Astros are a substantial favorite to win the 2019 World Series. Listed at  +200 in the futures market, oddsmakers give Houston a one-in-three chance of capturing their second championship in three seasons.
But the Tampa Bay Rays aren't afraid of anyone; playing in a division where they face the Red Sox and Yankees a combined 38 times per season.
After defeating the Oakland Athletics in the AL Wild Card Game, the Rays have a chance to shock the baseball world; and upset an Astros team that has at least three and upwards of five or six future Hall-of-Fame players on their roster.
Tampa Bay has elite pitching to play tight games with the Astros, and they won the season series 4-3; despite a 40-27 deficit in the run differential.
Can they win three out of their next five meetings, and propel past this Astros roster that is fully loaded for another World Series run?
The Starters 
What Tyler Glasnow has done in 2019, and since joining the Rays at the 2018 trade deadline, is nothing short of impressive.
He ranks in the top 2% of every expected statcast metric while throwing harder (97 mph average fastball) than all but three starters (Noah Syndergaard, Nathan Eovaldi, Gerrit Cole).
A forearm issue sidelined Glasnow from May through early September, but he has looked fantastic over four September starts (12.1 innings, five walks, 21 strikeouts) while ramping up his pitch count from 41 to 66; last pitching 4.1 innings against the Blue Jays on Sept. 27.
The real question is how many pitches the Rays will be willing to let him throw on Friday if he's cruising early. Glasnow's velocity and stuff have looked every bit as good in September, as it did in April, since his return.
The above four-seam fastball/curveball combination is generally what you get from Glasnow. His usage rate on those two pitches this season is 96.4% – going to the curveball just a hair under 30% of the time.
He hasn't thrown his changeup since May, and he stopped throwing his sinker in 2017 — when he was a talented farmhand with significant control issues for the Pirates.
He faced the Astros on March 30, defeating Collin McHugh 3-1; while allowing six hits and a walk over five innings, striking out four.
Justin Verlander defeated the Rays in both of his starts against them this year – on March 28 and again on August 27. He allowed one run over 12.1 combined innings; allowing just seven hits while recording 13 strikeouts.
Verlander has not won a Cy Young Award since 2011 when he also won the AL MVP, but he has had a dominant run with Houston for more than two seasons since joining the eventual 2017 champions at the August waiver trade deadline.
In 73 regular season starts with the Astros, he has compiled a 42-15 record with a 2.45 ERA (3.01 FIP, 3.09 xFIP) with 633 strikeouts against just 84 walks in 417 innings.
That's good for a strikeout-to-walk ratio of more than 7.5 – first amongst all starters by a substantial margin; as Chris Sale and Carlos Carrasco each rank second with a rate of 6.3.
His FIP and xFIP would be better, but for a home run problem, which Verlander began to develop in 2016. And it has only gotten worse this season with the new baseball that the league is using: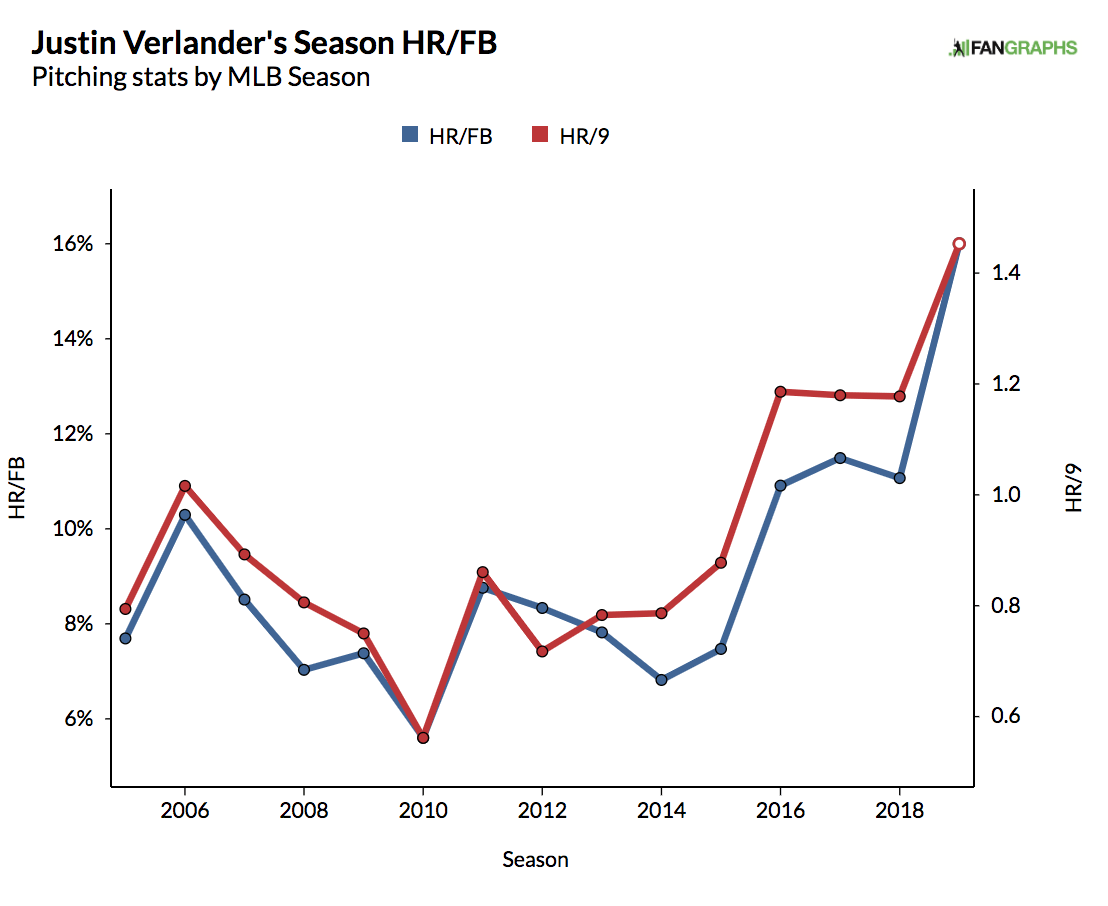 It's a testament to Verlander's quality to say that he has developed a problem, only to mean that he has merely regressed towards league average in a categorical skill.
He used to be elite at home run prevention and now he's just average. Verlander has a career 38% ground-ball rate – he was never built to altogether avoid the longball. And that's fine because he's elite at basically everything else.
Primarily a power fastball-slider pitcher, all four of Verlander's offerings (including the changeup and curveball) ranked above average this season – the first time he's achieved that since 2012.
By pitch value, Verlander and Scherzer's sliders were the best amongst starting pitchers this season:
Verlander also passed a number of milestones in 2019, recording his first 300 strikeout season, and becoming the 18th pitcher to record more than 3,000 career strikeouts.
The Bullpens
On the season, the Astros bullpen ranks 11th in FIP, 1st in xFIP, and 1st in K-BB%. By the same metrics, the Rays rank 1st, 3rd, and 2nd.
Both teams have a deep group of elite arms, and runs are going to be extremely hard to come by in this series.
The Rays used both Diego Castillo (33 pitches) and Nick Anderson (22 pitches) for extended stretches in the Wild Card game, and Kevin Cash would probably only use them if necessary on Friday.
Trevor Richards was left off of the Rays Wild Card roster (which only included 10 pitchers), but I would expect him to be included on their ALDS roster.
Acquired from the Marlins at the trade deadline, Richards is a changeup specialist (38% usage), whom the Rays have twice used as a bridge between Glasnow and their late-inning relievers in September.
The Rays bullpen weakness is their lack of a dominant left-handed reliever, so they might look to assign some plate appearances for Astros lefties Michael Brantley and Yordan Alvarez to Richards' off-speed stuff:
With Glasnow, Snell, and Morton, the Rays can go toe-to-toe with the Astros early in games, but they're going to need some quality innings from their middle relief, and the Midas touch from Kevin Cash to make it through this Astros lineup for five games.
Projected Lineups
Data per FantasyLabs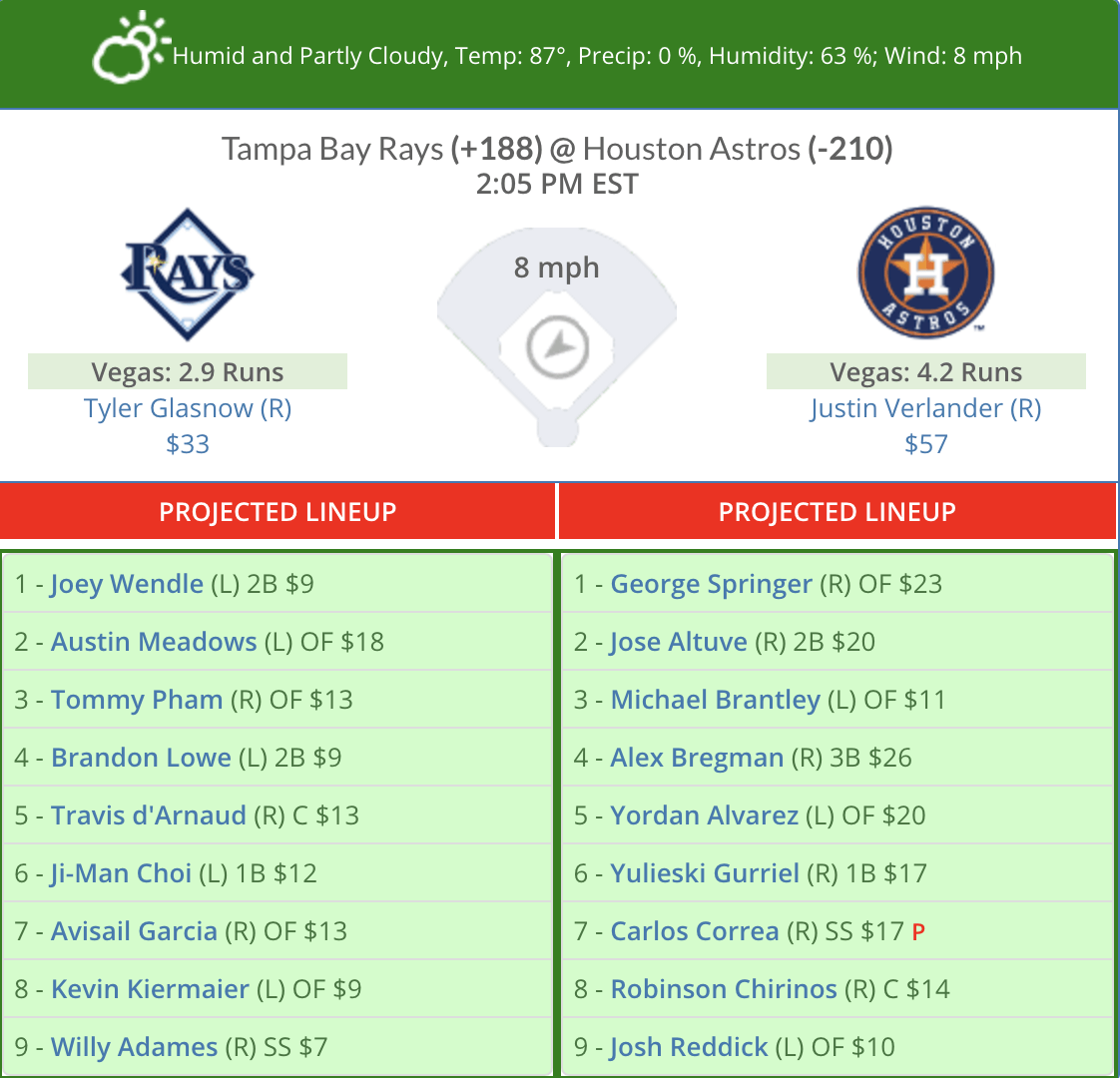 Weather Report
Data per Sports Insights
Trends to Know
The Under has been extremely profitable in Justin Verlander's starts over the past two seasons, going 46-26-3 (63.9%) netting a consistent $100 bettor $1,786 (23.8% ROI).
Most of that under profit has come at home, where Verlander is 26-14-4 (65%, +$1,144) over the same period.
Minute Maid Park is the most profitable park in baseball to bet the under, with a 53.3% lean dating back to 2005; netting a $100 bettor $5,092.
In the postseason, however, the under is just 10-12-1 in Astros home games.
Model Projected Odds
Favorite Bet
I projected the Astros as a -190 favorite in this game, and I set the total at 6.3 runs. Therefore, I don't see any value on either side of the moneyline, but I do see value on the under 7 at even money, in what projects as a pitchers' duel. 
If it's a combined question of vig and total, bet Under 7 (+100) rather than under 7.5 (-125).
I project the Rays as a +214 underdog for the best-of-5 series, an implied win probability of 31.8%, but was able to play the Rays at +250 to win the series. That's an implied 28.6% win probability and a gap of more than 3% in expected value from my projection.
I prefer the Rays series moneyline as opposed to their Game 1 moneyline, but I did take a half-unit taste on the Game spread (+1.5) in what projects as a low scoring affair.
If you asked me to preference those wagers, I would prefer the Under, followed by the series moneyline, and then the game spread. And I wagered a half unit on each.
---
Cardinals vs. Braves Game 2 Betting Odds, Picks & Predictions
Probable starters: Jack Flaherty (11-8, 2.75 ERA) vs. Mike Foltynewicz (8-6, 4.54 ERA)
Cardinals odds: -130
Braves odds: +110
Over/Under:  8.5
First pitch:  4:37 p.m. ET on TBS
---
Odds as of Thursday evening. Check out PointsBet, where Action Network users get an exclusive 200% deposit match (deposit $50, bet with $150).
---
The turning point in Game 1 of this series occurred during a warm-up session before the top of the eighth inning. With a 3-1 lead, the Braves brought on Chris Martin, who headed to the clubhouse with an oblique injury before throwing a pitch in the game.
Former closer Luke Jackson was summoned as his emergency replacement, and after a lengthy delay, Jackson promptly surrendered a long home run to Paul Goldschmidt. The momentum of the game immediately flipped.
After a couple of outs and a couple of singles, the Cardinals pinch-hit with lefty Matt Carpenter for the right-handed Harrison Bader. The Braves countered by bringing in their best remaining reliever, Mark Melancon.
Carpenter hit a bloop double down the left-field line to tie the game, but a slowed-by-injury Kolten Wong was hamstrung at the plate, trying to score the go-ahead run from first base with two outs.
Melancon came back on for the 9th  inning and allowed four runs of his own before the Braves fell a run short in the game after hitting two home runs in the bottom of the ninth inning off of Cardinals closer Carlos Martinez; who came on in the 8th but seemed erratic after waiting around while his team grabbed the lead.
The Cardinals prevailed 7-6; an unfortunate outcome for under bettors who saw a 3-1 game through 7 innings.
Are more runs in the forecast for Friday?
The Starters 
This is a matchup between two young hurlers who have come into form during the second half of the season, though Flaherty is a deserving favorite in this matchup.
The Cardinals' righty has a 0.91 ERA in 15 starts since the All-Star break (0.77 ERA since August 1), including seven shutout innings against the Cubs in Game 162 to clinch the NL Central for the Redbirds.
Foltynewicz was a 2018 All-Star, but he couldn't find his command early in the year (6.37 ERA, 16 HR allowed through 11 starts) before spending time finding his game in the minors.
Since returning in early August, Folty has a 6-1 record over 10 starts with a 2.65 ERA (3.77 FIP, 4.19 xFIP)
What have these young starters done to improve their performance in the second half?
Foltynewicz, now 27-years-old, has lost 1.5 mph on his four-seam fastball over 2018, and has responded by increasing his sinker usage and decreasing his four-seam fastball usage since returning from the minors.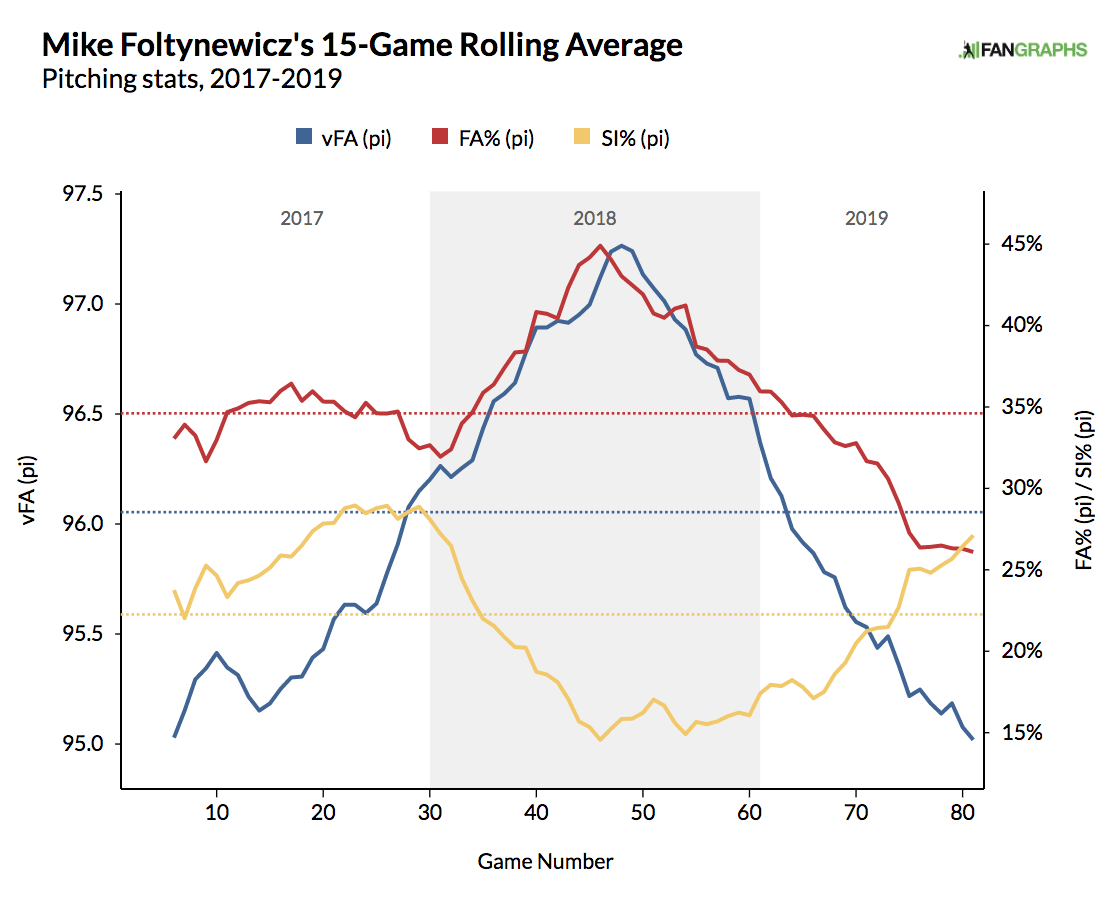 As you can see, this overall change began to occur in the middle of the 2018 season, which also coincided with an increase in slider usage; but Folty is not currently the strikeout-per-inning arm that he was in 2018.
But he is still something close to that, provided that he can maintain his command. Take a look at Folty's slider locations in the first half of the season: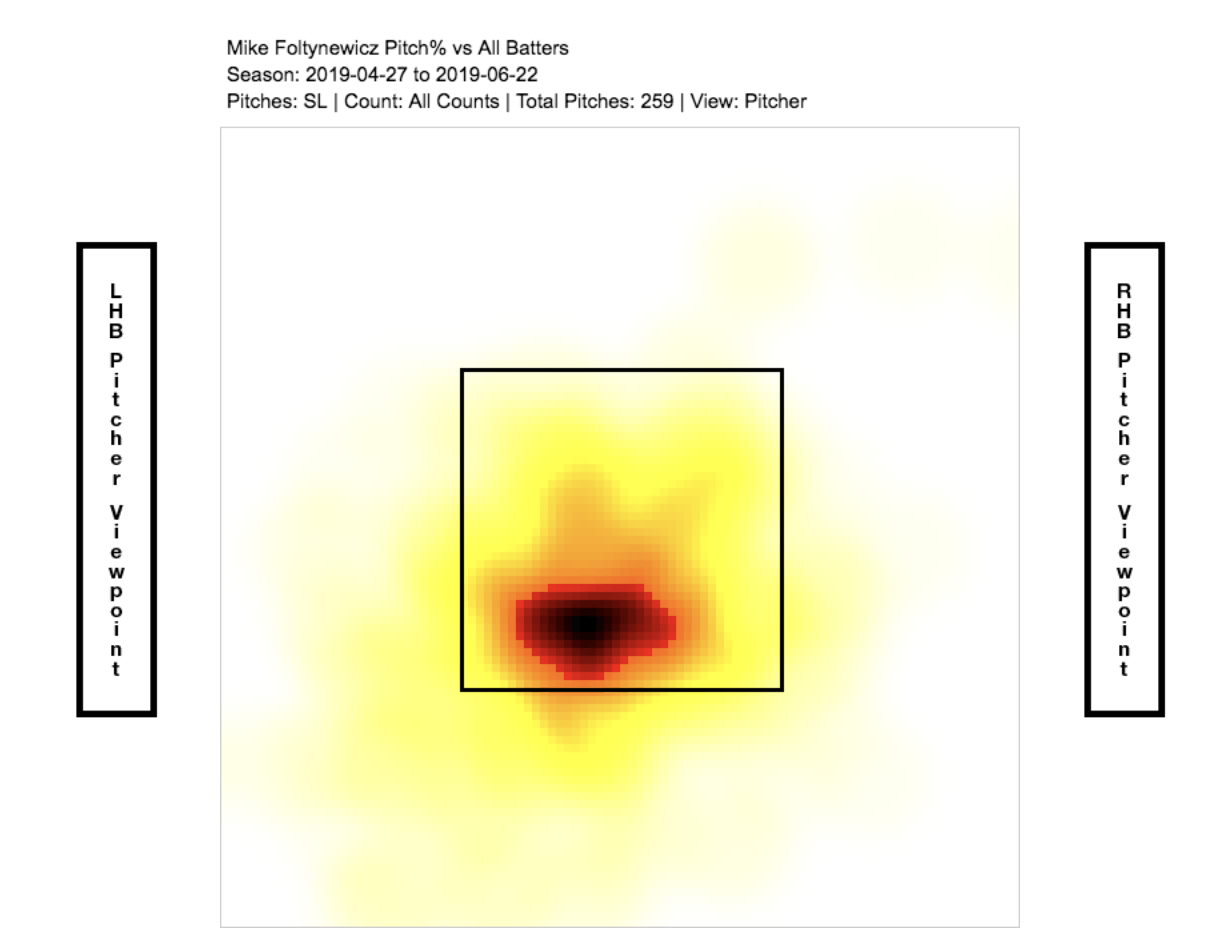 As compared to his final 10 starts: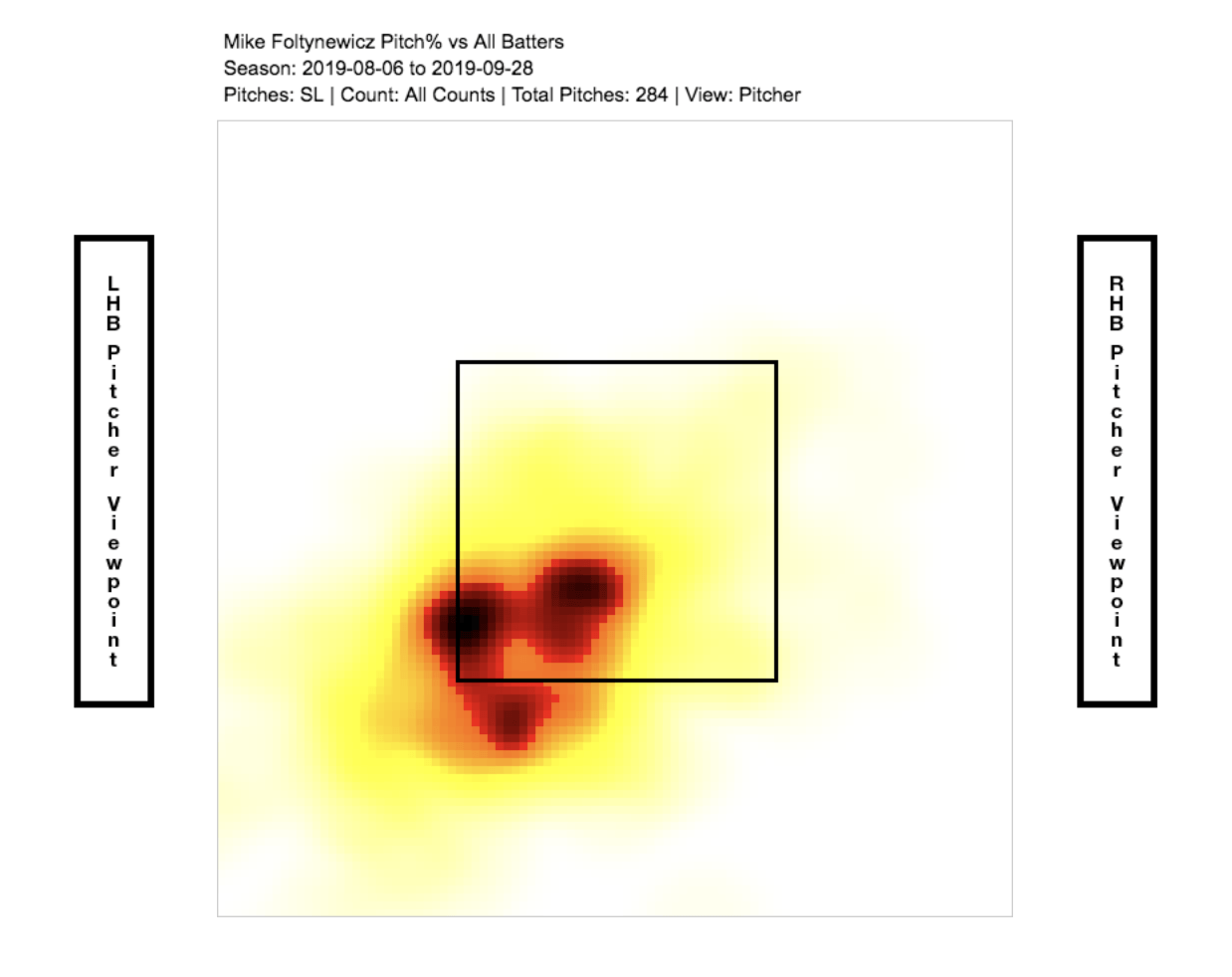 It's one of the better sliders in baseball, though all four of his pitches have returned positive value down the stretch:
In addition to that sparkling 0.91 second-half ERA, Flaherty ranks fourth in FIP (2.22) and 9th in xFIP (3.19)
In contrast to Foltynewicz, the 23-year-old Flaherty's velocity is on the rise: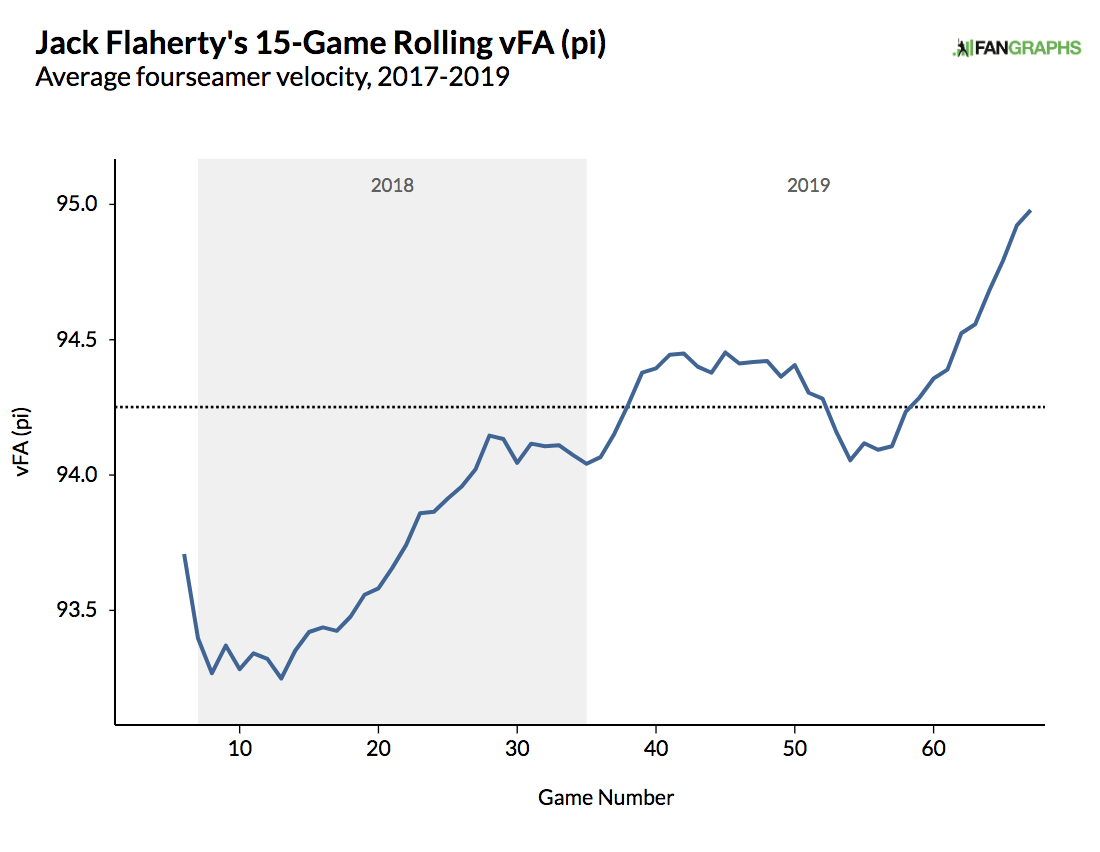 This factor only helps his dominant fastball/slider combination, which he plays off of both his two-seam fastball:
And also the four-seam fastball:
Flaherty is a young pitcher whose fastball velocity and command are both improving, and he could be the X factor that helps the Cardinals make a deep run in the playoffs.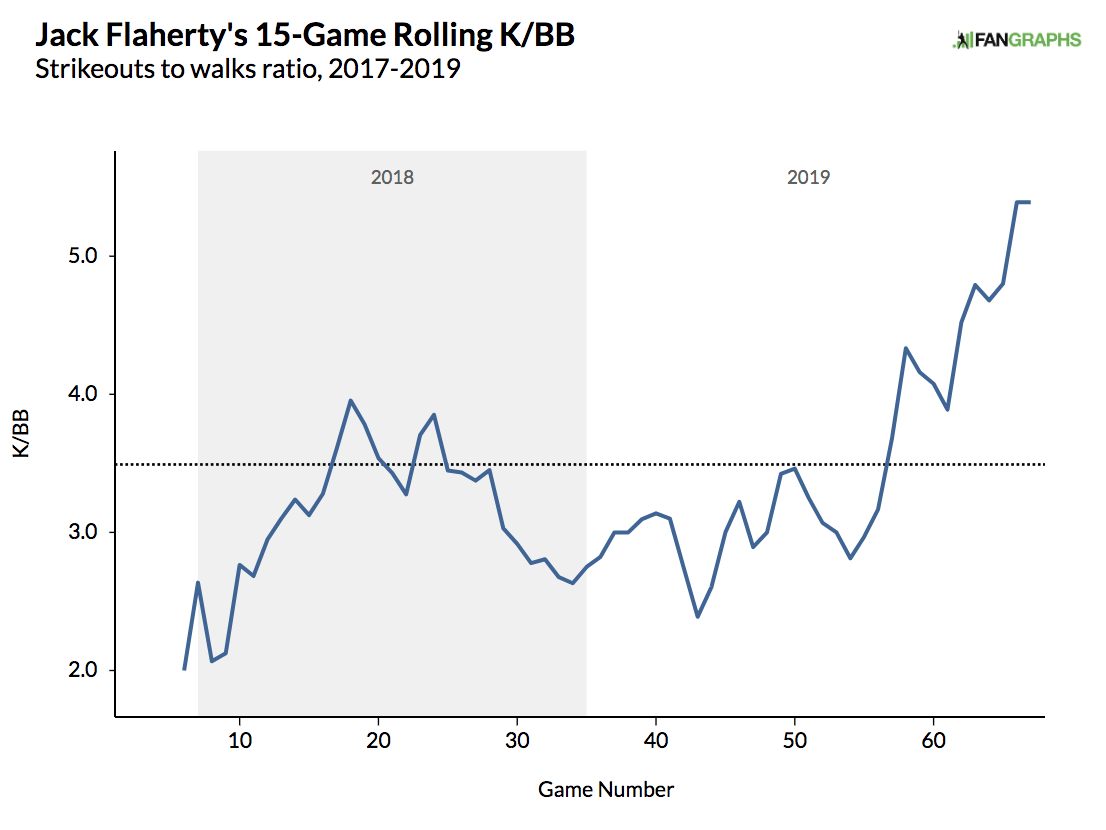 The Bullpens
On the season, the Braves bullpen ranks 14th in FIP, 16th in xFIP, and 17th in K-BB%. By the same metrics, the Cardinals rank 11th, 12th, and 15th.
The teams used 14 combined pitchers (not including Chris Martin) in Game 1, mostly proving that the managers don't have much faith in any of these arms. That's a big reason why I like the over once again on Friday.
Closers Carlos Martinez (29 pitches) and Mark Melancon (28 pitches) were both lit up and were also the only arms that were truly taxed.
Josh Tomlin seems likely to enter Friday's contest for the Braves after warming up but failing to enter Thursday's game.
He's a prime live over target for bettors, with a 3.74 ERA that is undermined by a 4.49 FIP and 4.95 xFIP – while striking out fewer than six batters per nine innings.
Tomlin might be the least effective pitcher on any of these playoff rosters, and the Braves bullpen quality takes a bit hit with Martin's injury.
We could continue to see these offenses trade blows in the late innings.
Projected Lineups
Data per FantasyLabs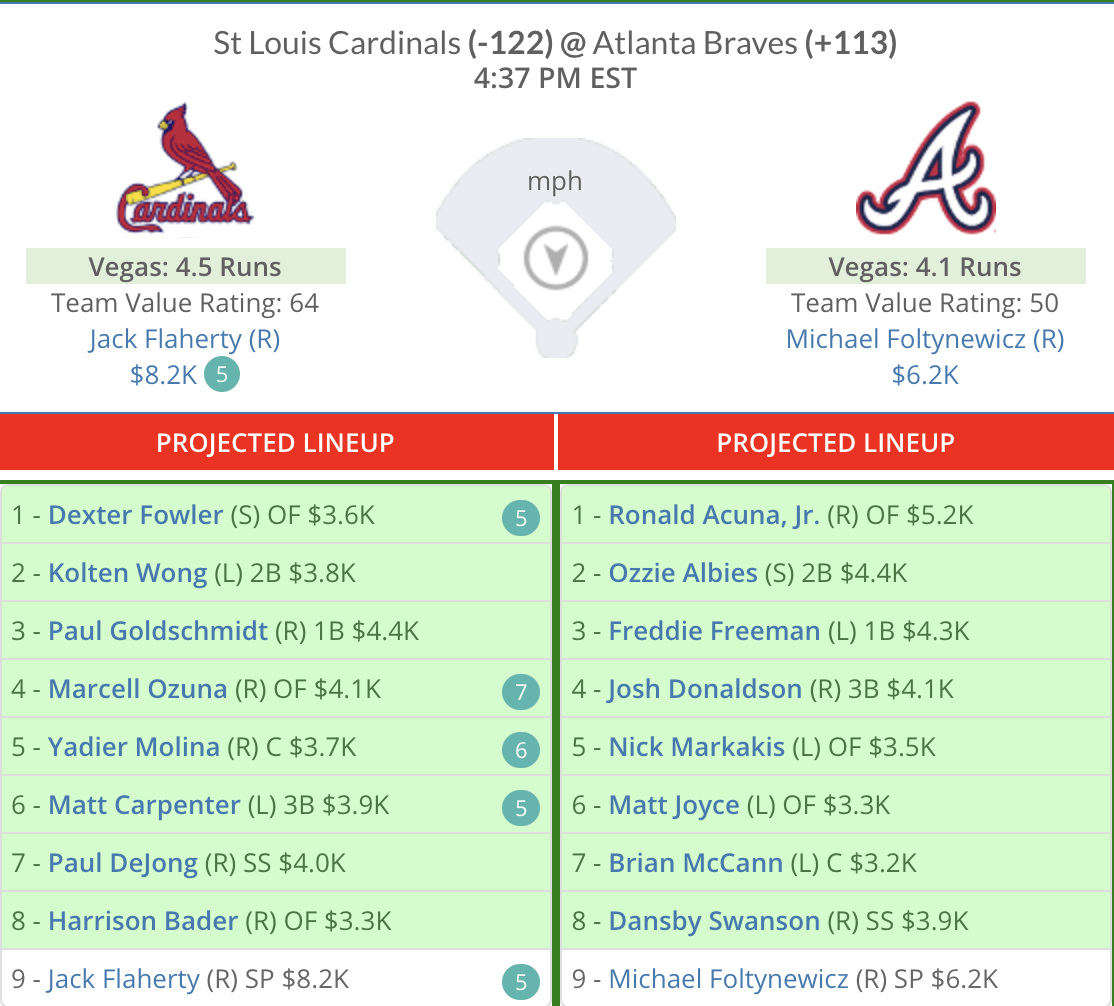 Umpire Weather Report
Data per Sports Insights

Alan Porter, who was the first base umpire in Game 1, should be the plate umpire in Game 2.
He is a trend-neutral umpire, with a 134-130-7 (50.8%) record to the under, and a 140-134 moneyline record (51.1%) for home teams.
Trends to Know
Jack Flaherty is 29-19-14 (60.4%) on the first five innings (F5) moneyline over the past two seasons, while Mike Foltynewicz is 25-19-12 (56.8%).
The Braves are 29-31 as an underdog this season, but just 5-6 at home. The Cardinals are 20-16 as a road favorite.
If you blindly bet $100 on the under in every Jack Flaherty start, you would be 38-26-3 (59.4%), suitable for a profit of $1,038 and a 15.5% ROI.
Employing the same strategy for Foltynewicz, you would be 48-61-12 (44%), and down over $1,500.
Model Projected Odds
Favorite Bet
I projected the Cardinals as a -125 favorite in this game, and I set the total at a hair under 9.0 runs. Therefore, I don't see any value on the moneyline, but I did place a wager on the Over when the total was still listed at 8; before it came up to 8.5 in some spots. 
Despite the presence of Flaherty, and Foltynewicz's second-half resurgence, these two bullpens are in shambles and an early hiccup from either starter could cause this game to unravel.
I would still consider betting the over with the total listed at 8.5 but would be equally willing to bet on Flaherty in the F5 portion of the game; at what I consider to be a price in line with my fair odds.
Flaherty has both a  higher upside and a higher floor than Foltynewicz, and this game could mark the beginning of the end for the 2019 Braves.
---
Twins vs. Yankees Game 1 Betting Odds, Picks & Predictions
Probable starters: Jose Berrios (14-8, 3.68 ERA) vs. James Paxton (15-6, 3.82 ERA)
Twins odds: +170
Yankees odds: -185
Over/Under:  8.5
First pitch:  7:07 p.m. ET on MLB Network
From July 22-24 in Minnesota, the Yankees took two out of three games in a rollicking series that featured 57 runs scored. The highlight was a 14-12, ten-inning epic that ended with a game-saving catch by former Twin Aaron Hicks. After those three games, it seemed destined that these clubs would meet again in the playoffs.  
By becoming the first two teams to ever swat more than 300 home runs in a single season, the Twins and Yankees embody the 2019 MLB season better than any other playoff pairing.
Unfortunately for Twins fans, they're playing the one team that they wouldn't want to face in a postseason series. The Yankees have eliminated the Twins in four of their five divisional round appearances since 2003.
The Yankees also eliminated the Twins in the 2017 Wild Card game, meaning that the Twins have not made a League Championship Series since 2002, or a World Series since 1991; but they have made the playoffs six times since 2002 and their season has ended at the Yankees hands, at the first stage, in five of those years.
As a result, the Twins (2004-present) have lost 13 consecutive playoff games, tied with the Boston Red Sox (1986-1995), for the most extended postseason losing streak in MLB history.
Can they avoid a Game 1 loss in the Bronx, and prevent both extending the streak, and breaking the record, with 14 consecutive playoff losses?
The Starters 
There's not a ton of difference between these two pitchers in terms of overall quality; they go about their business differently.
Paxton is a power pitcher who generates more strikeouts but allows louder contact. Berrios is a command pitcher who creates relatively weak contact.
Paxton was pulled after one inning on Sept. 27, after experiencing a nerve irritation in his glute, but he's ready to go for Game 1. Before that start, he had won 10 consecutive outings, finishing his first year in the Bronx with a 15-6 record.
It was also his worst season since 2015.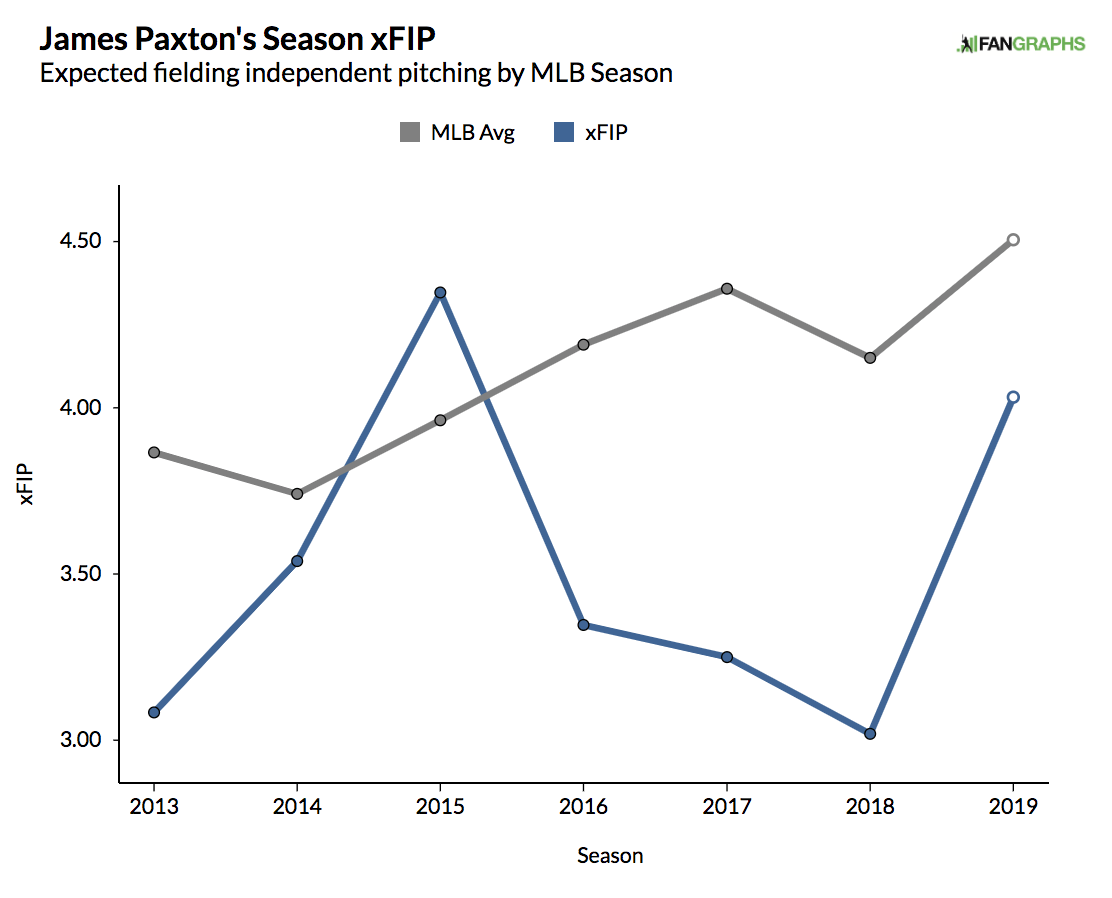 Paxton has trended towards becoming a flyball pitcher of the course of his career, which does not fit particularly well with a move from T-Mobile Park to Yankee Stadium.
As his groundball rate has declined, his HR/9 rate has increased, to a career-high of 1.4 in 2019: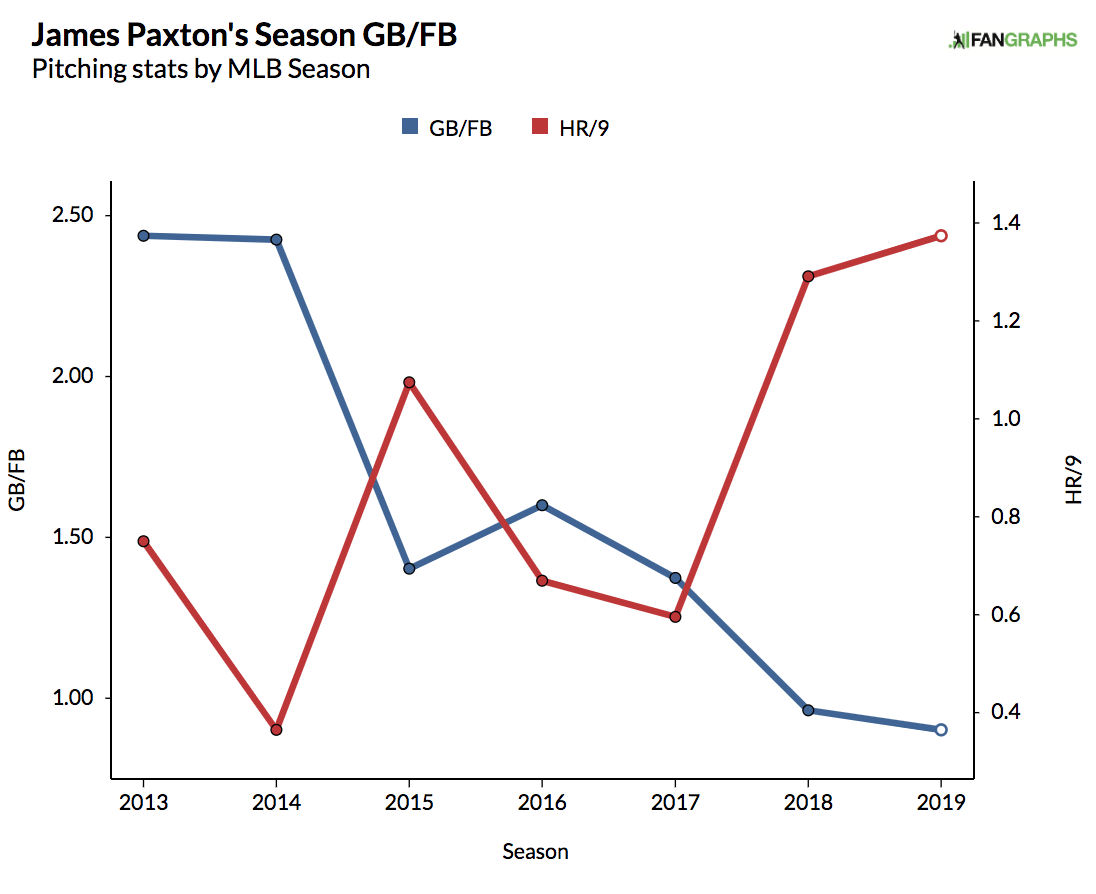 He has nasty stuff, including a 95.5 mph fastball from the left side, in addition to a cutter, curveball, and changeup. He's an ace when he's on.
Berrios also uses two fastballs, but a sinker instead of a cutter, in addition to a curveball and a changeup.
The curveball is his bread and butter secondary pitcher, throwing it nearly 29% of the time in his MLB career.
But its pitch value is pretty neutral. Instead, both the fastball and sinker return a positive value.
He hasn't changed much as a pitcher during his MLB career, so you can see, even in 2017, how Berrios sequences his pitches (which all appear to be going towards the same spot), to set up a hitter for failure:
His early struggles against Yankees hitters are a cause for concern. The Yankees own a career .302/.397/.508 (.905 OPS) triple slash line off of Berrios over 62 at-bats.
The Bullpens
On the season, the Twins bullpen ranks 1st in FIP, 6th in xFIP, and 3rd in K-BB%. By the same metrics, the Yankees rank 9th, 4th, and 6th.
Since the trading deadline, the Twins rank first or second in MLB all three categories, while the Yankees average is closer to 10th.
Their trade deadline acquisitions were Sergio Romo (Marlins) and Sam Dyson (Giants). Romo has pitched well in the eighth inning role, while Dyson hasn't been used since Sept. 4.
Tyler Duffey (2.94 xFIP), and closer Taylor Rogers (2.84 xFIP) are relatively unknown but extremely effective late-inning relievers, each posting a strikeout rate of higher than 11 batters per nine innings.
Rogers averages 95 mph from the left side, with a terrific slider:
The Yankees have an elite trio at the back end of their bullpen with Aroldis Chapman, Zack Britton, and Adam Ottavino — though Ottavino has walked a ton of hitters and has a considerable gap between his ERA (1.91) and underlying metrics (3.44 FIP, 4.32 xFIP).
But they have some decisions to make with regards to their middle reliever group, needing to fill three or four bullpen spots from Luis Cessa, Nestor Cortes Jr., Cory Gearrin, Ben Heller, Jonathan Loaisga, and Stephen Tarpley.
The performance of those depth arms in the playoffs, behind the Yankees relatively shallow group of starters, could make or break their season.
Projected Lineups
Data per FantasyLabs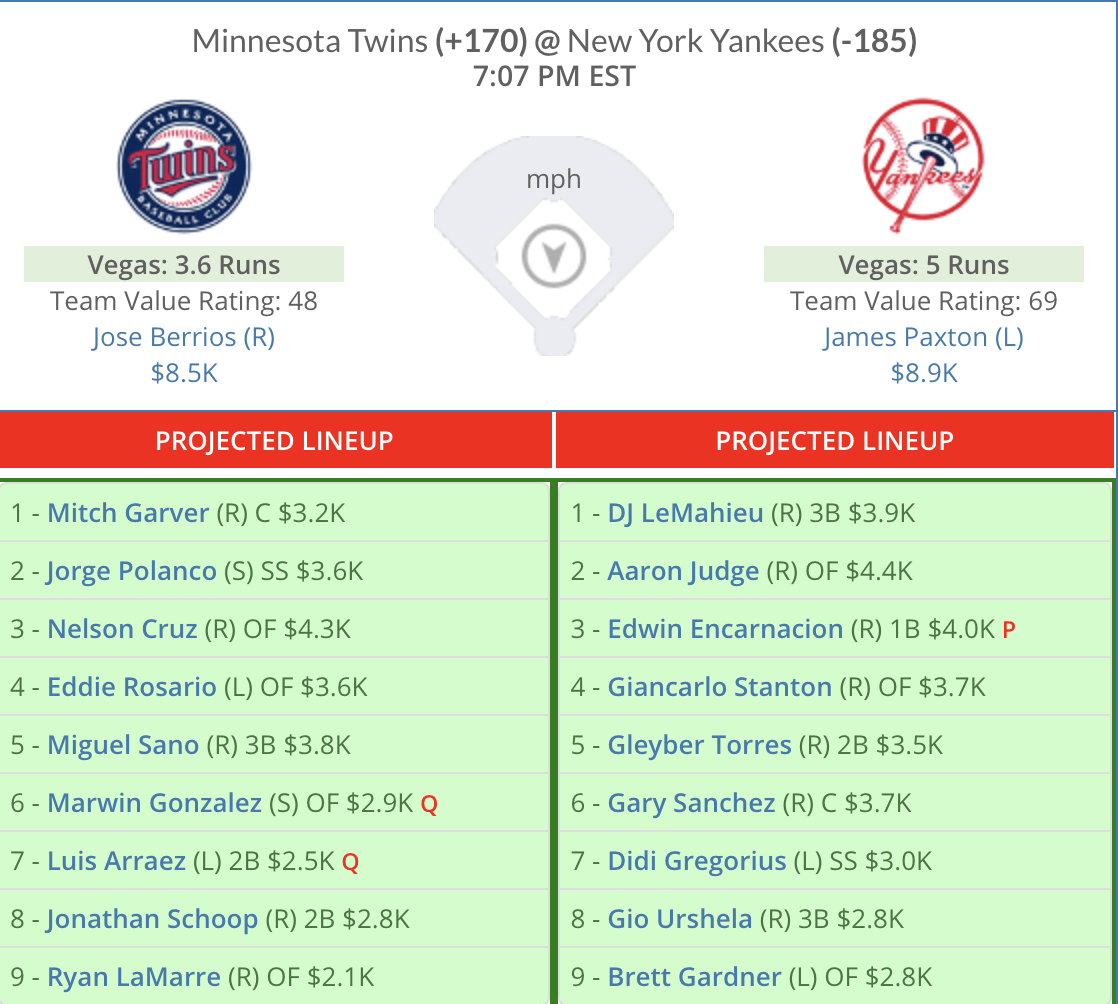 Weather Report
Data per Sports Insights
Trends to Know
This game fits a lot of positive trends for under bettors, including one of the most reliable BetLabs Pro systems:
As of writing, more than 80% of tickets are on the over, but any totals that have touched nine have come right back down to 8.5.
A quick look at the profit history of the Contrarian Under system:

Despite the number of runs that the Yankees scored in 2019, unders went 47-42-2 (52.8%) at Yankee Stadium, which had the second-lowest park factor in MLB this season.
Away from Yankee Stadium, overs in Yankee games went 55-31-4 (64%) in 2019, so keep that in mind when the teams travel to Minnesota for Game 3 and 4 (if necessary).
The Twins have been one of the better road underdogs in MLB this season, at 28-19; generating a consistent $100 bettor $1,643, suitable for a 35% return on investment.
Model Projected Odds
Favorite Bet
I projected the Yankees as a -144 favorite in this game, and I set the total at 9.33 runs. Therefore, I see value on both the Twins moneyline and the over. 
I placed a half unit bet on the Twins when their moneyline opened, but the price now is substantially better. Make a note that if you want to bet the Twins in this series, wait until closer to first pitch, as opposed to open, for the best price.
Rather than adding more on Game 1, I decided to add an additional half unit wager on the Twins series price at +201 (implied 33.2% win probability).
I projected Minnesota's series price at +170 (37%), an expected value gap of 3.8%. Anything over +200 is actionable.
As for the over, I would wait to see how Berrios and Paxton perform early. If both teams score runs and get to the middle relievers by the fourth and fifth inning, consider a live wager on the over.
But I'm never fond of going against that BetLabs system for contrarian unders, and oddsmakers seem reluctant to move the total up to 9.
---
Nationals vs. Dodgers Betting Odds, Picks & Predictions
Probable starters: Stephen Strasburg (18-6 3.32 ERA) vs. Clayton Kershaw (16-5, 3.03 ERA)
Nationals odds: +135
Dodgers odds: -160
Over/Under:  7.5
First pitch:  9:37 p.m. ET on TBS
The Dodgers took Game 1 of this series, 6-0, in relatively uneventful fashion, compared to the Nationals dramatic comeback in the NL Wild Card Game.
Washington's offense couldn't get anything going against Walker Buehler, who allowed just one hit and three walks over six shutout innings while striking out eight.
Patrick Corbin was erratic early for the Nationals, walking four batters in the first inning, but he settled in to toss a quality start before his bullpen allowed four runs over the final three frames.
That could be a theme for the Nationals in this series – sticking around early in games before the Dodgers take over late – and it's an assumption confirmed by my Game 2 projection, which is indicative of my betting approach for Friday's matchup.
Can the Nats draw even with the Dodgers, or will they fall behind 2-0 in this series before heading home?
The Starters
Kershaw has the better ERA, but Strasburg has a better argument for winning a Cy Young Award. Not only because he threw five more starts and 31 extra innings, but because all his underlying metrics show him to be a better pitcher than the current version of Kershaw.
In the offseason, Strasburg seems likely to opt-out of the four years and $100 million remaining on his current deal – and the Nationals are now using him like this is the end of his road in Washington – whether they win the World Series or not.
This is a far cry from 2012 when they refused to pitch Strasburg in the NLDS, when they lost to the Cardinals in five games, due to a team imposed innings limit that turned into a national story. In hindsight, few things have ever made so little sense – as playoff opportunities are so few and far between.
Strasburg makes this start just three days after throwing 34 pitches in the NL Wild Card Game.
Meanwhile, the Dodgers slotted Kershaw into Game 2, so he would be fresh for a Game 5 relief appearance if needed.
His velocity has declined in recent seasons, and Kershaw has responded by using his fastball less often, and his slider more often: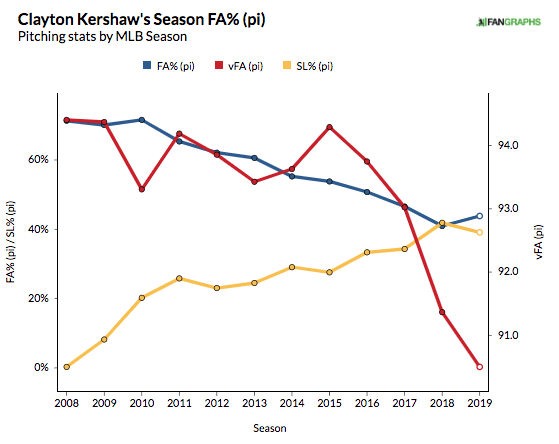 His fastball returned a negative value in 2018 but has bounced back into positive territory this season. However, Kershaw's underlying metrics continue to trend in the wrong direction – towards league average: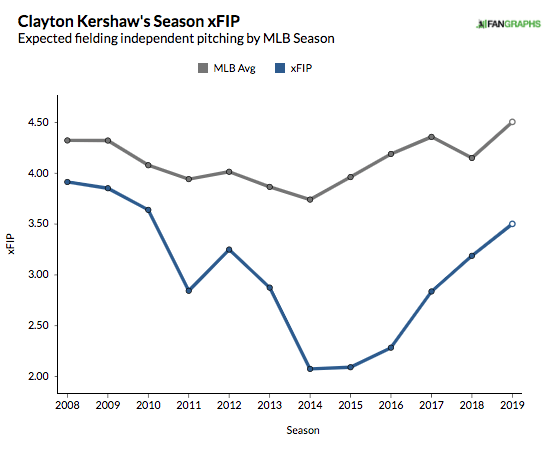 Strasburg's 2019 uptick was partially due to a change in approach – throwing his four-seam fastball less often in exchange for more sinkers and curveballs: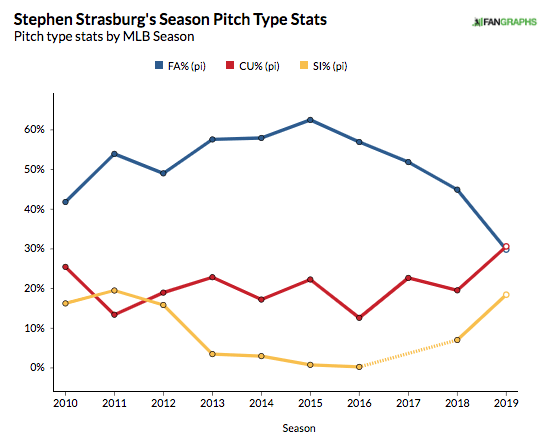 On the season, Strasburg ranked behind only Charlie Morton in total pitch value with his curveball; and fourth on a per pitch basis. The pitch was responsible for a 40% swinging-strike rate.
And when you overlay his three best pitches, it's easy to see why Strasburg is so dang effective:
It seems that either Strasburg or Jacob deGrom will take home the NL Cy Young Award, and this could be your final chance to back Strasburg in a Nationals uniform.
The Bullpens
On the season, the Dodgers bullpen ranks sixth in FIP, seventh in xFIP, and fifth in K-BB%. By the same metrics, the Nationals rank 26th, 29th, and 23rd.
As I mentioned, Strasburg will start Game 2 on short rest, meaning that the Nationals may need to turn to their bullpen by the sixth inning.
They needed 27 pitches from Hunter Strickland, 23 pitches from Fernando Rodney, and 16 pitches from Tanner Rainey to record six outs on Thursday – so look for their other relievers to get into this game.
The Dodgers went to more prominent arms, in Joe Kelly, Adam Kolarek, and Kenta Maeda to close out the game behind Buehler.
Every bullpen arm should be available on Friday, however, which helps the Dodgers maintain their significant advantage in the late innings.
Projected Lineups
Data per FantasyLabs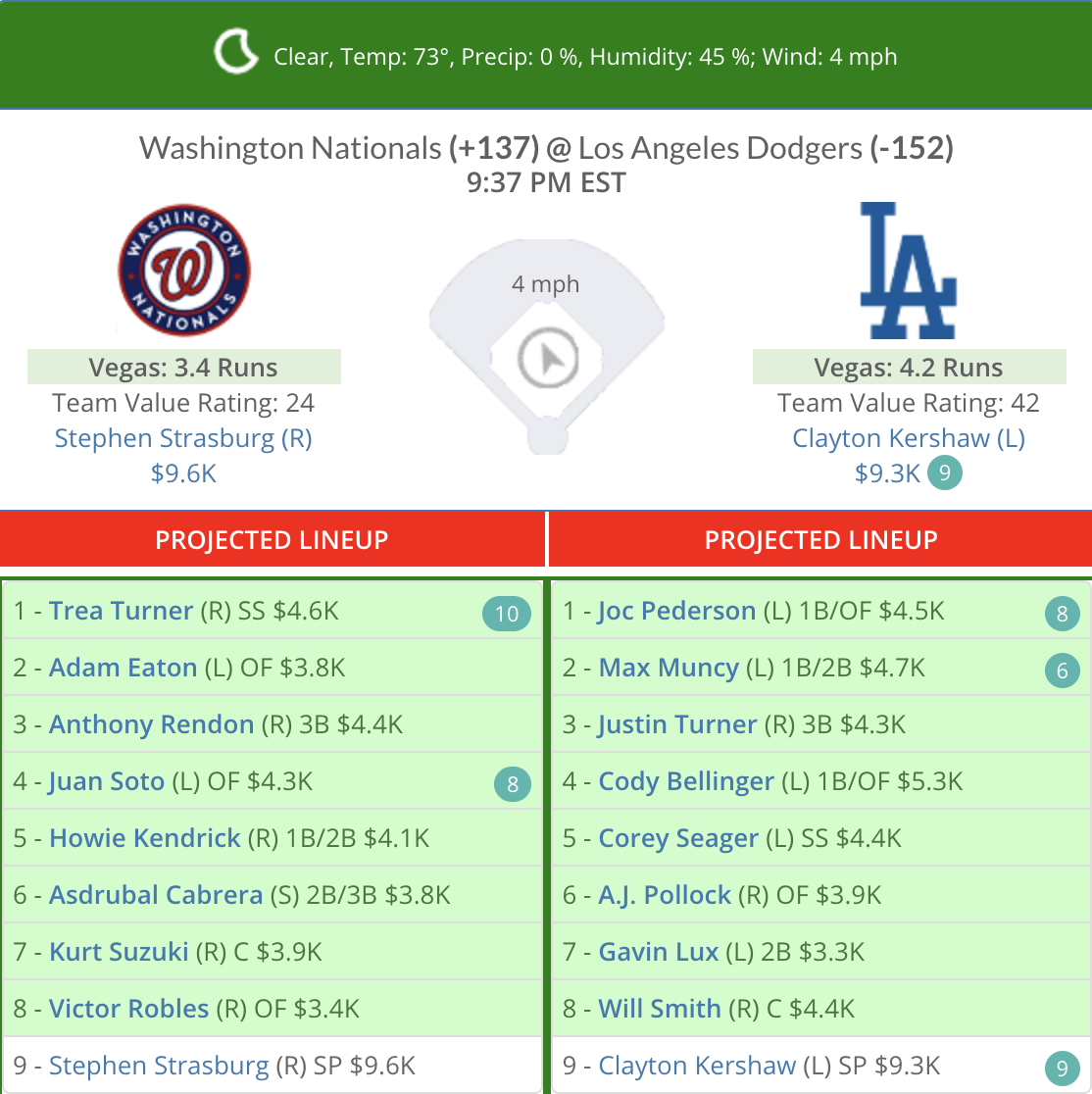 Weather Report
Data per Sports Insights

Trends to Know
Stephen Strasburg is 15-15 in his career as an underdog, including a 13-13 record on the road.
Since the start of the 2016 season, Strasburg is 83-35-1 (70.3%) on the full game moneyline, netting a consistent $100 bettor $1,897 – the third-most profitable pitcher in baseball over that span.
Over the same period, he is 58-34-20 (63%) against the first five innings moneyline, only generating a profit of $207.
For his career, Clayton Kershaw is 177-91-80 (66%) on the F5 moneyline but has only generated a profit of $648.
Kershaw is 252-132 (65.6%) against full game moneylines, generating a profit of $2,178.
It has also been profitable to bet the under in every Kershaw start (193-163-15, 53.2%), though not so in Strasburg's starts (108-128-9, 45.8%)
Kershaw is 9-6-9 against the F5 moneyline in the playoffs, and 13-11 against full game moneylines.
Model Projected Odds
Favorite Bet
I projected the Dodgers as a -128 favorite in this game, and I would need to see +145 or higher on the Nationals moneyline to consider betting it. I set the total at 7.57– and see no value compared to the listed total of 7.5. 
In the first five innings (F5), I would take anything over +120 on the Nationals.
I locked in an F5 bet at +135, as I set the Nationals F5 moneyline fair odds at +105. I also placed another bet on their F5 spread (+0.5, -110)
Compared to current lines, I see a gap of more than 5% in expected value from +105 (implied 48.8%) to +130 (implied 43.5%) in the first five innings – more significant value than exists between the full game projection at +128 (implied 43.9%) as compared to game moneyline line at +140 (41.7%).
I wouldn't look to back the Nationals live if they fall behind early, but I would consider betting on the Dodgers to storm back in the late innings if they're playing with a deficit. They led MLB with more than 10 walk-off wins this season, and are never out of any game.
How would you rate this article?