Monday MLB Betting Picks: Our Bets for Marlins vs. Nationals, Cubs vs. Tigers, Rockies vs. Diamondbacks
Credit:
Jonathan Daniel/Getty Images. Pictured: Ron Kulpa
Casey Mize and the Tigers headline Monday's MLB slate, which is on the lighter side as some teams around the league are currently in between series.
Mize will face a struggling Cubs lineup at Comerica Park, and Stuckey sees plenty of value on the home underdogs in this game.
Check out his full analysis for Tigers vs. Cubs and more of our MLB staff's best bets below.
As several teams are currently in between series, Monday's baseball slate is on the lighter side. Still, though, our experts have found four spots offering value this evening.
Check out how we're betting the following games below:
Marlins vs. Nationals (6:05 p.m. ET)
Cubs vs. Tigers (7:10 p.m. ET)
Reds vs. Brewers (8:10 p.m. ET)
Rockies vs. Diamondbacks (9:40 p.m. ET)
Note: Odds as of 11:30 a.m. ET.
---
Advanced Stats Glossary
FIP or Fielding Independent Pitching measures what a pitcher's ERA would look like if the pitcher experienced league-average defense and luck. xFIP is a regressed version of FIP that adjusts or "normalizes' the home run component based on park factors.
wRC+ or Weighted Runs Created Plus takes the statistic Runs Created and adjusts that number to account for critical external factors — like ballpark or era. It's adjusted, so a wRC+ of 100 is league average, and 150 would be 50 percent above league average.
wOBA or Weighted On-Base Average is a catch-all hitting metric with more predictive value than on-base percentage. An average MLB hitter can be expected to post a .320 wOBA. xwOBA is a regressed version of wOBA that accounts for variables like park factors.
---
Collin Wilson: Marlins vs. Nationals Under 9 (-105)
If a gambler is looking for a little getaway under action, the Marlins and Nationals may provide the solution. The Marlins will complete their fifth game in four days in the nation's capital before heading out to face the Mets on Tuesday.
And there is no better umpire for low totals on getaway day than Ron Kulpa, who is 250-188 to the under in his career. When calling balls and strikes, Kulpa averages 8.2 runs per game, hitting the under at a 57.1% rate and lining the pockets of gamblers with 41.95 units.
Pablo Lopez has been bankable for the Marlins, while Austin Voth looks to trim a hefty xFIP against the Miami lineup. The Marlins are due for regression, ranking third in BABIP against righties while supporting a sad rank of 27th in ISO. This is a lineup Voth can survive in prime spot where both teams are looking towards their next series.
Stuckey: Tigers Moneyline (+115) vs. Cubs
Time to go back to the Alec Mills fade. Like his teammate Jon Lester, he was running like a god to start the year. We saw some inevitable regression in each of their previous starts and I still expect more in the short term.
Look no further than Mills' .219 BABIP and 65.8% strand rate — both should rise significantly, especially for a guy whose fastball lives around 90 mph, striking out fewer than six batters per nine innings.
The Tigers will counter with former first-round draft pick Casey Mize, whom I was actually impressed with in his MLB debut. He didn't make it through the fifth, but allowed just three earned runs against a scorching-hot White Sox lineup that has crushed righties all year.
More importantly, he struck out seven and didn't walk a single batter, becoming the first pitcher in Tigers history to K at least seven with no walks in a debut.
His 6.23 ERA is obviously meaningless after just one start but the advanced metrics were more fond of that start with a sub-3 FIP and sub-2 xFIP. You can't take too much from one start but the stuff is there with a mid-90s fastball and filthy splitter.
He looked calm for someone making his first start in the bigs after dominating Double-A ball but never even pitching in Triple-A. He should be even more comfortable in his second start and manager Ron Gardenhire hinted that they'll let him go longer tonight if he's effective.
Mize will also face a Cubs lineup that just isn't hitting of late. The lineup is really struggling as a result of a scuffling middle of the order. Anthony Rizzo, Javy Baez, Wilson Contreras or Kyle Schwarber are all hitting .230 or worse and only Schwarber is hitting north of .215 among that group. The Cubs are also missing Kris Bryant, who was placed on the IL this past weekend.
If the game is close late, the Cubs don't have many pen arms I really trust right now outside of Jeffress, who has been fortunate and likely unavailable after a long outing yesterday.
Bottom line, there's too much value to pass up on the home dog here.
Sean Zerillo: Reds F5 Moneyline (-162) vs. Brewers
"We might not have had the technology before to measure how sticky stuff affects the ball, how it spins, how it moves. But, all that research is clear now. We know how it affects spin rate and we know how spin rate affects outcomes and pitches and movements that have a big difference in a game, a season and each individual player's career." — Trevor Bauer, 2018
Trevor Bauer was one of my favorite early longshot wagers for the 2020 NL Cy Young award and although the Reds have disappointed to date their pending free agent starter has surpassed expectations.
Through four starts, Bauer leads the National League with a 1.92 FIP, .175 xwOBA, and 1.23 xERA — and he ranks second in baseball in all three of those categories (behind either Shane Bieber or James Karinchak).
In 2020, MLB pitchers are throwing fewer fastballs than ever before. Naturally, the always contrarian Bauer has increased his fastball and cutter usage to career high levels (combined 76.3%), at the expense of his changeup and curveball this season.
More importantly, however, you should note that the spin rate has increased on each of his pitches, and dramatically so: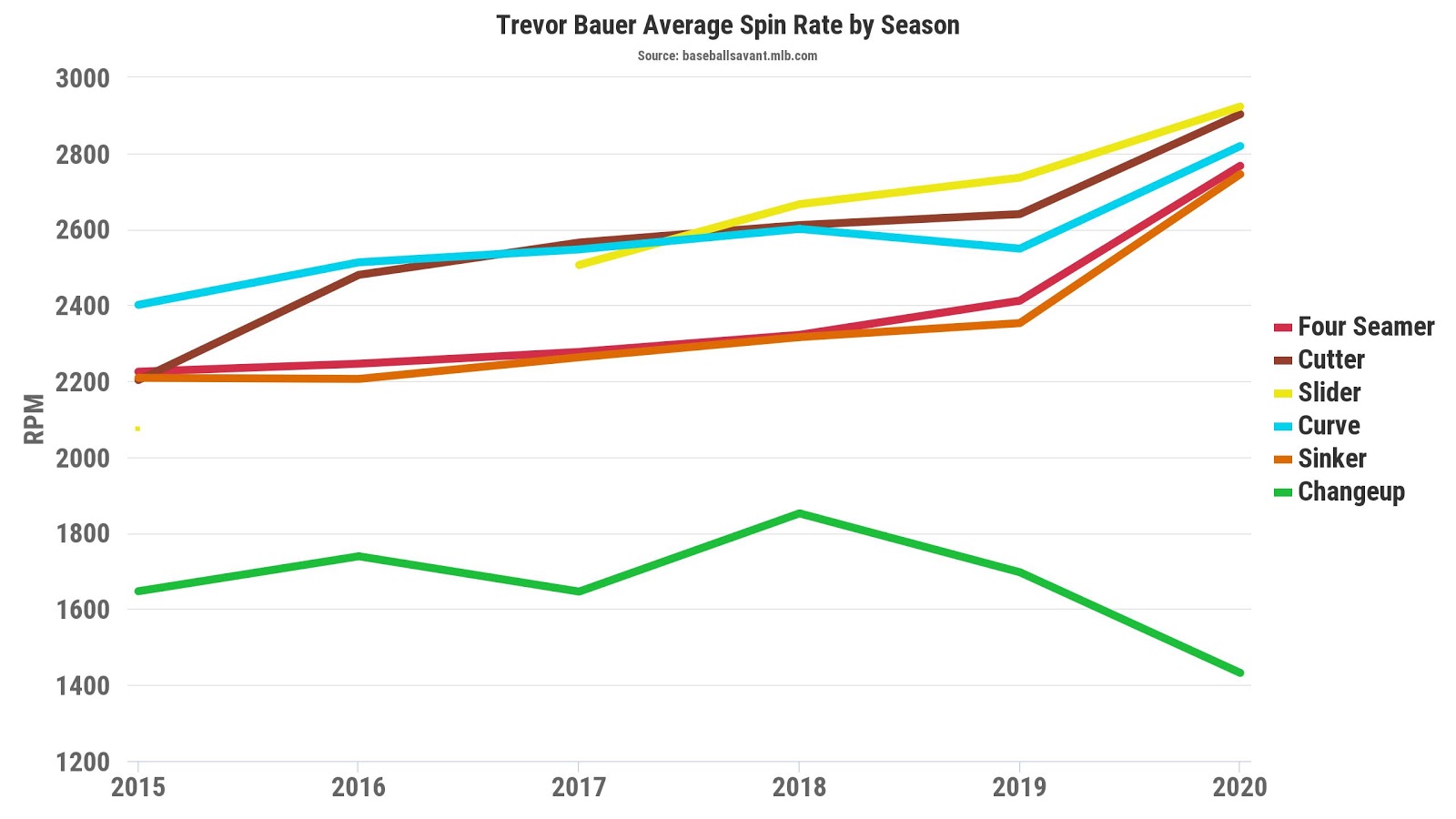 Bauer's fastball ranked 110th in spin rate last season, and 175th in 2018. In 2020, it has more spin (2767 rpm) than any fastball in the majors, and he's shown similar improvements on his sinker (17th to 1st), cutter (15th to 1st), slider (46th to 2nd) and curveball (168th to 19th) too.
An early critic of the Astros, Bauer conducted some experiments in 2018 to prove that he could manipulate the spin rate on his pitches. Late in 2019, we again saw a similar change to his spin rate.
This has only amplified in 2020, as Bauer stands on the cusp of free agency in the midst of a shortened season. Whether or not Bauer is using "sticky stuff" on the ball to pad his market value, he's never been more dominant.
I show only a slight edge on Cincinnati's full-game moneyline, but I projected them as 72.3% favorites, implied odds of -261 in the first five innings (F5) — and I would bet their F5 moneyline up to -200.
BJ Cunningham: Diamondbacks -1.5 (+132) vs. Rockies
Either the projections on Ryan Castellani were flat-out wrong or some negative regression is coming in a major way. Through his first 14 innings in the big leagues he has a 3.77 ERA, but a 4.71 xFIP.
His minor-league numbers make you question why he was brought up to the majors in the first place. His xFIP in 43.1 innings in Triple-A was a whopping 6.26, along with an ERA of 8.31. ZIPS has his FIP projected for 6.27 and that might be generous. In 10 starts in Triple-A last season, he had a lot of issues with his control, allowing a 6.23 BB/9 rate and a 2.91 HR/9.
Colorado has been in a major slump over the past week, hitting only .210 with a .250 wOBA. The Rockies need their offense to be producing at a high level if they want to go anywhere this year, because their starting pitching and bullpen certainly aren't going to help them.
Merrill Kelly is off to a great start in 2020, as he has allowed just nine earned runs in 31.1 innings of work.
Kelly has a five-pitch arsenal, but he mainly utilizes his fastball and curveball. His fastball has average velocity, but he's been much better with his location this season and opposing hitters have not been able to touch it up (.200 BA against).
His curveball and sinker have been highly effective as well so far this season, allowing nine hits on 185 pitches. He'll have a great matchup against the slumping Rockies.
I have the Diamondbacks margin of victory in this game at 1.47, so I think there is good value in taking their run line of -1.5 at +132.
How would you rate this article?