NASCAR South Point 400 Odds, Picks: 3 Playoff Drivers to Bet
Credit:
Jerome Miron-USA TODAY Sports. Pictured: Monster Energy NASCAR Cup Series driver Brad Keselowski (2) at Las Vegas Motor Speedway.
The NACAR playoffs begin this Sunday with the South Point 400 at Las Vegas Motor Speedway (7 p.m. ET, NBC
Nick Giffen breaks down his three favorite bets for the weekend's race.
The playoffs for the Monster Energy NASCAR Cup Series (MENCS) kick off this weekend at Las Vegas Motor Speedway (LVMS). It's important to understand track history when looking to bet outright winners, and Las Vegas offers a very consistent body of work.
Each of the eight races during the Gen-6 car era have been won by top-tier drivers.
2013: Matt Kenseth (Toyota)
2014: Brad Keselowski (Ford)
2015: Kevin Harvick (Chevy)
2016: Brad Keselowski (Ford)
2017: Martin Truex Jr. (Toyota)
2018: Kevin Harvick (Ford), Brad Keselowski (Ford)
2019: Joey Logano (Ford)
With this consistent history, the plan of attack is to find value in the upper echelon of drivers, and one or two longer shots that have the ability to run like top-tier drivers.
There's also an ample amount of data from 1.5-mile tracks this year.
Six races have taken place — including one earlier this year at Las Vegas — under the 2019 aero package that includes the aero ducts.
Removing races where drivers experienced issues that gave them an outlying result in green flag speed, here are the top 20 drivers' average green flag speed rank, and average finish.
Additionally, practice times and track history also factor into predicting finishing position at Las Vegas.
Let's look at the best values for the South Point 400.
Brad Keselowski +800, +225 Top-3
Keselowski has three wins and an impressive 3.25 average finish over his last eight races at LVMS. He topped the 15-lap chart in Happy Hour, and had the fastest 10-lap average among drivers who made their 10-lap run later in that session.
Yet he's somehow only priced at +800 at the DraftKings Sportsbook. For comparison, he's +650 at William Hill and +500 at Caesars.
Keselowski checks all the boxes: practice speed, track history, and 1.5-mile performance this year. There's value here down to that +650 number, and +200 for a top-three finish.
Martin Truex Jr. +1400, +350 Top-3
Looking at the table above, Truex hasn't been spectacular at 1.5-mile tracks this year, but he does have a win at the Coca-Cola 600. Earlier this year at Vegas, Truex posted the fifth-best average green flag speed and finished eighth.
Truex has a strong history at Vegas as well, with no finishes worse than 11th in five races at Vegas during his time running a Gibbs-affiliated Toyota. That includes a win, and two other finishes in the top four.
This race will start at the hottest part of the day in Vegas, but temperatures quickly cool after sundown. March's race went caution-free outside of the two stage cautions, and still ran 2:38, which would make the race finish just after sundown. Any extra cautions, and this race will finish well after sunset. That will cool off track temperatures by double-digit degrees from race start.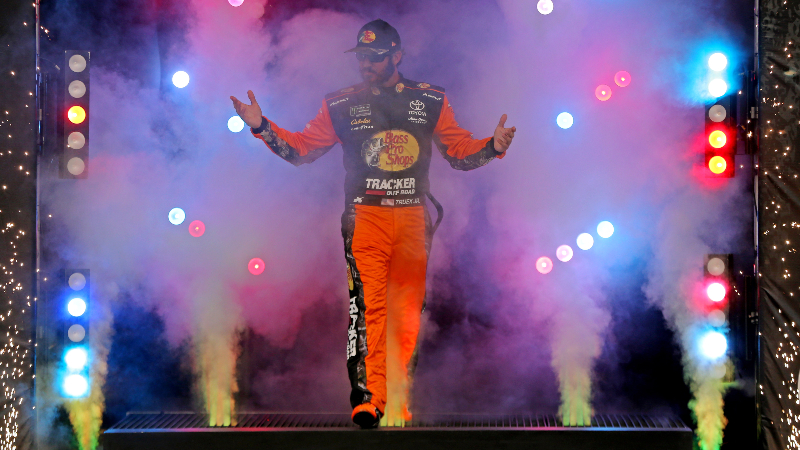 I mention this because Truex is hands down the best night-time driver at 1.5-mile tracks. Martin Truex Jr. has won five of 14 night races at 1.5-mile tracks since 2016. He's finished top three in four other instances for a 64.3% top three rate.
Truex also had the fastest 10-lap average in the cooler opening practice session on Friday among drivers whose lap came partway through the session. He wasn't as good in the heat of the day in final practice, but I expect him to improve throughout the evening and be in contention late in the race.
There are concerns here for Truex, but there's also plenty of upside, and upside wins races. I like Truex down to +1000.
Ryan Blaney +2500
Team Penske has won four of the eight races during the Gen-6 era at Las Vegas. Blaney has yet to win at Vegas, but he has posted strong finishes throughout his career at LVMS. With the exception of his rookie year where he ran part time for the Wood Brothers, Blaney has finished sixth, seventh, fifth, fifth, and 22nd.
His 22nd place finish was an aberration. He started 13th and moved into the top six on the first stint of the race before a tire went down thanks to a missing valve stem.
That put him two laps down and he was unable to recover in a race that was void of non-stage cautions. His average driver rating in his other four non-rookie starts is 103. That puts him sixth among all drivers at Vegas, right behind Keselowski, Truex, Harvick, Logano, and Kyle Busch.
Blaney hasn't been near the top of the speed charts this weekend, but teammates Brad Keselowski and Joey Logano have shown top five speed. Teammate Brad Keselowski led all drivers in 15-lap average in final practice. Blaney only ran 10th in that same metric, but only 0.066 seconds per lap slower than his teammate.
Blaney's history at Las Vegas and his team's history are enough to throw a small bet on him at this number, available at DraftKings and William Hill Sportsbooks. You can also find him at +2000 at multiple books, but that's right at the limit of value on Blaney.
How would you rate this article?