2019 NBA Draft: Ranking the Top Landing Spots for Zion Williamson
Credit:
Photo credit: Jeremy Brevard-USA TODAY Sports. Pictured: Zion Williamson
Duke star Zion Williamson will almost assuredly be the top prize in the upcoming 2019 NBA Draft.
Below, I rank the teams with a realistic chance of getting the No. 1 pick by which situation would be best for Zion's career.
Very rarely does the "next big thing" live up to the hype in basketball. For every LeBron James or Anthony Davis, there are 10 Sebastian Telfairs and Darko Milicics.
That's what makes what Zion Williamson is doing right now so impressive.
He entered his freshman year at Duke with more hype than any prospect in recent memory, and he has not disappointed. He's thrown down his fair share of jaw-dropping dunks…
…but he's so much more than just a dunker.
He's averaging 22.4 points and 9.2 rebounds over 29.2 minutes per game while shooting 68.3% from the field. His advanced stats paint an even prettier picture: He ranks sixth in the NCAA in effective FG%, second in Defensive Rating and first in Win Shares per 40 minutes.
Combine those numbers with a 6'7", 285-pound frame and a vertical of more than 40 inches, and it's easy to see why everyone is drooling over Zion's NBA potential.
GMs and fans alike are daydreaming about the thought of adding Zion to their favorite team's roster, but the reality is that he's more than likely going to be the first pick of the draft. That leaves all but a handful of teams as potential suitors.
If your team can't land Zion, where should you be rooting for him to go? A few things to keep in mind:
Draft position: It would be awesome to imagine Zion on teams like the Warriors, Celtics or Lakers, but that's just not realistic. I'm limiting the landing spots to teams with at least a 4.5% chance of landing the No. 1 pick (according to rest-of-season projections).
Roster: Zion will likely play for a bottom-tier team because, well, that's how the draft works, but there are certainly franchises with brighter futures at the moment given their rosters.
Potential: I'll also take things like cap space and future assets into account. Teams with the potential to grow around Zion have a clear edge over teams that don't.
With those criteria in mind, let's look at the five-most appealing landing spots, starting with No. 5.
---
5. Washington Wizards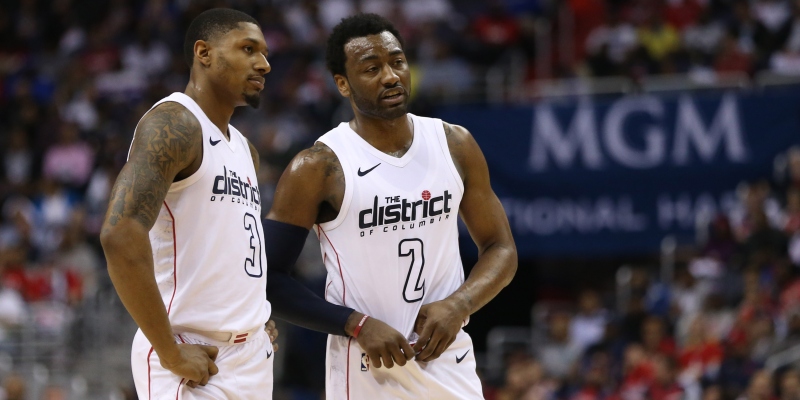 The Wizards are stuck in basketball hell at the moment. Their roster is fully capped out for next season, even after trading Otto Porter in what essentially amounted to a salary dump.
John Wall is on the books for an average salary of $42.3 million over the next four seasons, and he's expected to miss the next 12 months after suffering a ruptured Achilles. Bradley Beal has blossomed into an excellent player, but the Wizards have still slumped to the seventh-worst record in the league despite his production.
That said, this roster clearly has some talent, and adding Zion would make them a really intriguing squad. He would help them immediately in the two areas they've struggled most this season – defense and rebounding – and he obviously has the potential to turn into a future star.
This season, the Wizards rank 26th in Defensive Rating, dead last in rebound rate and 27th in rim defense. Zion has room to grow defensively, specifically around his conditioning, but his outlier athleticism provides him a high ceiling on both ends of the floor.
If Wall can successfully return from his Achilles injury, a Big 3 of Wall, Beal and Zion would definitely make them a formidable foe in the Eastern Conference.
---
4. Phoenix Suns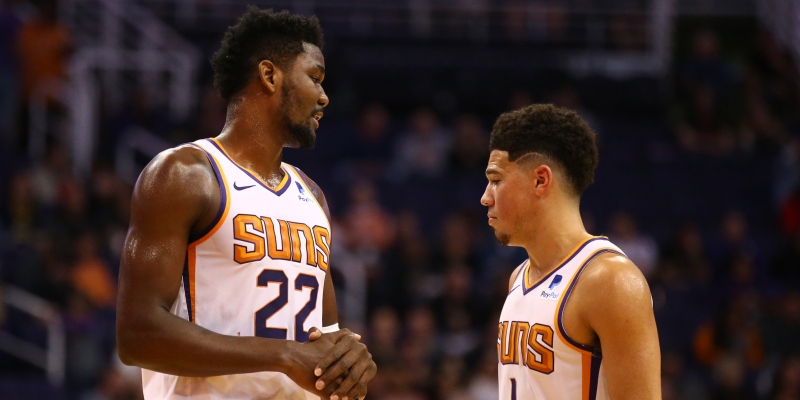 The Suns feel like they should be better than they are at this point. They've picked in the lottery in nine of the past 10 seasons, so they unsurprisingly have a few interesting pieces on their roster.
They have a legit scorer in Devin Booker, last year's No. 1 pick Deandre Ayton and a plethora of intriguing young wings. That said, they've still posted the worst record in the league this season and lost 15 straight games prior to the All-Star break.
Could adding Zion finally return them to relevance? It's possible. Their four-man combination of Booker, Ayton, Josh Jackson and Mikal Bridges — which is probably their most promising four-man combination moving forward — has been outscored by just 1.4 points per 100 possessions this season. Adding Zion to that core group should only help.
The Suns have struck out time and time again in the lottery – they wasted the fourth overall pick in 2016 on Dragan Bender and in 2013 on Alex Len – but Zion seems to be as close to a sure thing as we've seen in quite some time. The Suns would still have a ways to go towards contending, but the pieces would be there.
---
3. Atlanta Hawks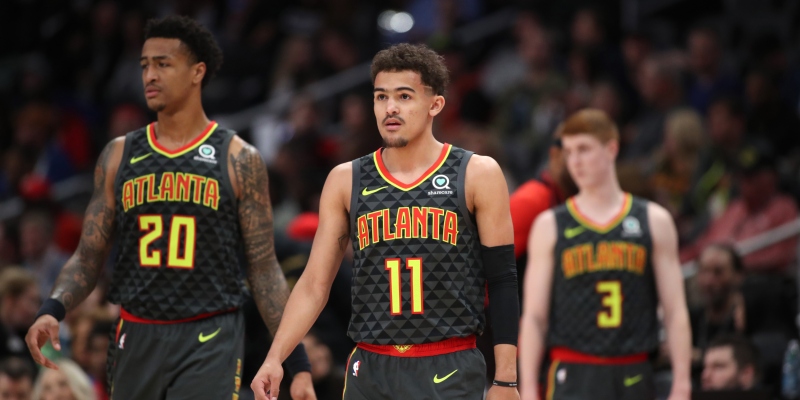 The Hawks are on the verge of building something interesting in Atlanta. They were ridiculed for much of the early season for choosing to trade Luka Doncic for Trae Young, but is it possible the critics have been too harsh on them?
Young has closed the gap significantly on Luka since the beginning of 2019…
Young: 31.2 minutes per game, 19.0 points, 8.0 assists, 4.0 rebounds, 42.1/36.0/82.0 shooting splits
Doncic: 32.3 minutes per game, 22.8 points, 6.6 assists, 8.5 rebounds, 42.1/31.3/66.4 shooting splits.
Luka is still clearly the superior prospect, particularly since Young has been one of the worst defensive players in the league this season. But when you factor in the first-round pick that the Hawks received — they would receive it this season if it falls outside of the top five — this trade might not be as one-sided as originally thought.
Kevin Huerter has been an underrated rookie and is shooting 45.9% from 3-point range during the month of February. He has the potential to turn into one of the best catch-and-shoot 3-point specialists in a league that has become increasingly dominated by shooting.
Finally, pairing Zion with John Collins would give them two absolute terrors in the paint and in transition. Collins disappointed during the dunk contest – don't bring out a prop plane unless you're 100% sure you can actually jump over the damn thing – but he's still taken some major strides forward in his second season.
If they can land Zion with their own pick and the Dallas pick falls in the 6-10 range, Atlanta is going to be a must-watch League Pass team at the very minimum.
---
2. New York Knicks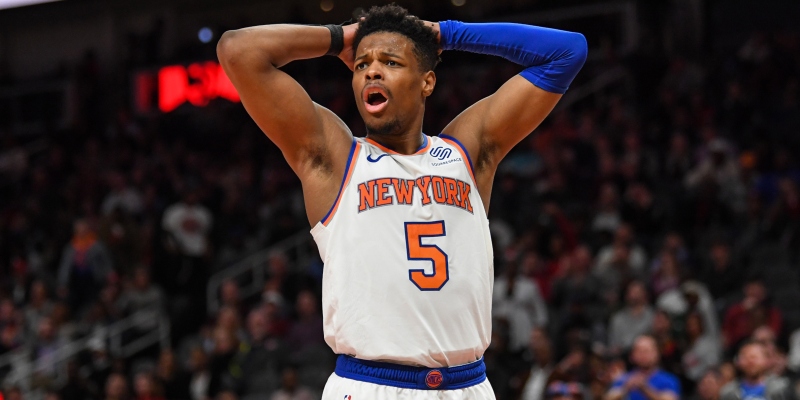 The Knicks have been an absolute disaster of an organization for most of their existence, but you don't have to squint too hard to see a scenario where they have the best team in the Eastern Conference next season.
They cleared out enough cap space for two max-level free agents by trading away Kristaps Porzingis, which was one of the most shocking moves in recent NBA history.
Pessimists will say that this is just another instance of the Knicks choosing to sabotage their future, while optimists believe that this is proof that Kyrie Irving and Kevin Durant will both be taking their talents to Manhattan this offseason.
The Knicks have struck out in free agency many times before, but could this offseason be different? Pairing up those two guys with Zion, Kevin Knox and Dennis Smith Jr. would give the Knicks a core that could compete with any team in the East.
Even if the Knicks do strike out in free agency, watching Zion play 41 games a year inside Madison Square Garden would still be special. The environment at MSG is electric; there's a reason it's called "the World's Most Famous Arena" or "the Mecca of Basketball."
Basketball is just better when the Knicks are relevant, and they would definitely become relevant if they landed Zion.
---
1. Dallas Mavericks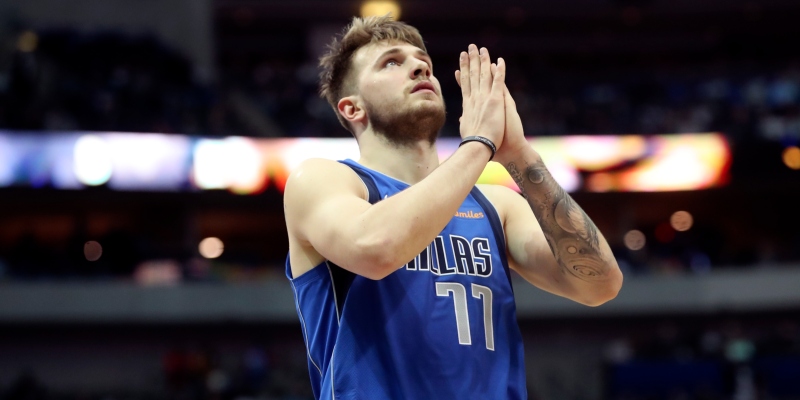 The Mavericks have made some wonderful strides this season. They started by securing Doncic in last year's draft, who has been truly remarkable considering his age.
He's currently averaging 20.7 points, 7.2 rebounds and 5.2 assists per game at just 19 years old. Only three rookies have put up comparable numbers before turning 22: LeBron, Michael Jordan and Tyreke Evans. Any time you're doing something that puts you in the company of LeBron and MJ, that's pretty special.
They also acquired Porzingis, who had allegedly become disgruntled with his current situation in New York. They didn't have to give up much to get him either, trading away Smith Jr., a handful of expiring contracts and two future first-round picks. Even though Porzingis is coming off a knee injury and has yet to fully commit to playing in Dallas, that's a gamble a smart GM should take every single time.
That said, securing those two players has severely handicapped their ability to improve their roster through the draft moving forward. They're going to have to ship off three future first-round draft picks to either New York or Atlanta, which makes this current year so crucial for them.
If they can somehow finish in the top five and keep their pick, it would potentially give them another building block to push for another NBA title.
Of course, the dream scenario for the Mavericks is picking first and getting the opportunity to choose Zion, who appears to fit perfectly next to Luka and Porzingis.
Porzingis was made to play center in the modern NBA, and his ability to shoot the ball from the perimeter would give Zion tons of room to work on the interior. Luka can also shoot the ball from the outside, and his playmaking has been one of his best attributes as a rookie:
If the Mavs can keep Porzingis and secure Zion, they have the potential to be competing for titles in the 2020s once the Warriors' reign ends.