Moore: Bucks, Clippers & Lakers Title Odds Offer Value At Quarter-Season Mark
Credit:
USA TODAY Sports. Pictured: Bucks F Giannis Antetokounmpo, Clippers F Kawhi Leonard, Lakers F LeBron James.
As we reach the quarter pole of the NBA season, it's only right we see what title odds have the most value.
Matt Moore focuses on three contenders: Milwaukee Bucks, Los Angeles Clippers, and LA Lakers.
We're a quarter of the way through the NBA season, and the story of the season is starting to shape up. So now with a little more certainty, if we want to bet title futures now instead of later, where's the value?
Last season, I personally found the best value to be in March. Injuries and various peaks and valleys opened up a lot of value last year in that timespan. The Raptors' odds dipped as they went under the radar, but even teams that didn't win saw shifts that added value.
However, the numbers now are tasty as it certainly looks like there's been a clear delineation between the real top contenders and everyone else.
Later this week we'll look at some contenders with longer odds, but for now, here's where the odds and value are for the three teams everyone has to agree are serious title contenders.
---
Odds as of Thursday and via PointsBet, where Action Network users can access an exclusive promotion to get a 200% deposit match (deposit $50, bet with $150). No strings attached. No rollover required.
---
Los Angeles Lakers
NBA Title Odds: +300
Western Conference Odds: +190
The Lakers are a juggernaut. The knock on them going into December was that they hadn't beaten anyone, and then they swept the Nuggets, Jazz, and (relatively bad) Blazers, so there goes that.
Their offense was shaky early on, it's now fourth in efficiency. The defense has been outright dominant — the return of Rajon Rondo and Kyle Kuzma caused a slight dip but it remains sixth-best in the league — and when they're engaged, their combined length, athleticism, and basketball IQ absolutely smothers teams like flame retardant.
I grabbed the Lakers at +250 to win the division in the preseason, and it's now -143 at PointsBet.
While LeBron James and Anthony Davis are going to drive most of the conversation, rightly, the unsung hero has been Frank Vogel. This roster doesn't look the same without how Vogel has constructed things, balancing the offense and punishing teams with their length.
The Lakers are the No. 1 team in the league in finishing at the rim, including Dwight Howard who is shooting 80 friggin' percent in the restricted area. They are elite in points in the paint, points off fast breaks, second-chance points, and top five defending the paint and controlling the glass.
LeBron is on another level, and it's obvious that he's not only pissed about everyone (very correctly) asserting he lost a step, but that the Warriors' demise has opened up a window. There's no team he feels like he can't win against like with the Warriors.
Davis, to be honest, hasn't impressed me as much as he has others. I've seen some weird defensive stuff on film, there are some wonky metrics. Don't get me wrong, he's playing like a top-10 player, but I'm not high on him as MVP; LeBron is very clearly their best player and the gap is significant.
Davis has monster games, but outside of an absolutely flawless, stellar performance vs. the Wolves Sunday (L.A. Nightlife is undefeated!), they've come vs. teams with absolutely zero interior defense.
That's not a real knock, James Harden beats up bad defenses all the time. But it deserves some context for his season. However, the James-to-Davis connection has accounted for the most assists of any combo this season via PBPStats.com.
In the playoffs, what teams are going to be able to match up with that?
You can count the Nuggets out; they don't have the length or athleticism. The Jazz and Rockets might have some success, but there are various holes and James will go off vs. those two specifically unless Royce O'Neal gets on the level.
The Clippers and Bucks are the only teams that might have the personnel. They're also the only two other teams on this list.
The Lakers have superstars to deliver, a sound defense, rim protection, savvy players who can make big shots in key situations, great coaching and all the momentum. I don't honestly know if you're going to get a better number than this for the title.
VERDICT: If you're going to buy, buy now
[In New Jersey? Bet now at PointsBet]
---
Los Angeles Clippers
NBA Title Odds: +270 
Western Conference Odds: +175 
I kind of hate the Clippers. Not that they're not good, or that I'm rooting against them, or that they're annoying like some teams. They're a feel-good story, the little brother who's finally coming out ahead. It's not a return to the status quo for them to be good, it's a disruption.
No, I hate them because I can't get a big enough sample to really evaluate them vs. actual competition. Kawhi Leonard has missed games vs. the Jazz, Bucks, and Pacers, Paul George was out the first month of the season after shoulder surgery. Landry Shamet went down, which was unfortunate.
But the entire idea of their title contention is built on their ability at full capacity. The Lakers can be missing Danny Green or Avery Bradley or JaVale McGee and still be a deadly weapon. Even if AD went down, the Lakers would have a fighting shot in a playoff series. But the Clippers need their entire arsenal. It's a delicate balance.
If George sat out, Leonard could still carry a team, but the way that defenses can help would be dramatically altered, and their perimeter containment with a statistically good, but at-times vulnerable, set of rim protectors would be compromised. Same for if Leonard were to be out.
The Lou Williams-Montrezl Harrell combination (third-best assist combo in the league), Patrick Beverley as a third perimeter pest, Shamet, Patrick Patterson, JaMychal Green and Mo Harkless as spot-up weapons (Clippers rank fifth in catch-and-shoot points per possession), Ivica Zubac's rim running; it's all a delicate dance, and it is so rare that everyone has their shoes on for the Clippers.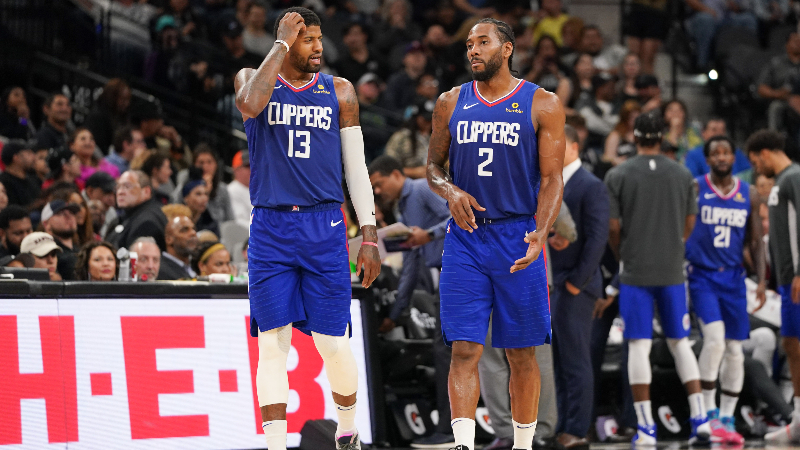 There have been moments; the win vs. the Rockets is a particularly notable example of how, at full strength, the Clippers may be simply unconquerable to all but the other two teams on this list.
In that game the Rockets should have won, could have won, would have won, but even after weathering all the other challenges the Clippers present … Lou Williams just went out and hit a bunch of threes and that was that.
There are areas to nitpick; the data suggests their rim protection is good, but you'll often see Harrell out-maneuvered or Zubac a step out of where he should be. Their drop pick-and-roll coverage is suspect as well and it's entirely likely that their shooters regress.
Overall, though, they've managed to keep their conceptual ideas intact. They've beaten the Jazz with Leonard (at home), the Lakers and Rockets (at home). They've beaten the Celtics and Raptors (at home). They did beat the Mavericks on the road if you consider them top tier.
But you can't hammer them about their win profile because they haven't gone toe-to-toe for the most part. Their ideal version of themselves — the version they are doing all this load management for — is still deadly, a combination of tough shot-making from elite perimeter defenders and stellar supporting play.
Williams has a stellar defensive rating when he's on the floor with Leonard, for God's sake, they're a monster.
I don't know if you want to get in now, though. The Lakers may surge ahead and their popularity will bump them up. There's a good chance another injury hits one of the stars and they get downgraded a bit. There's also likely reason to see if their good not great performance overall sustains itself or if they genuinely hit that top gear.
Honestly, of all three teams on this list, I think the Clippers are the one I want to maybe bet in the playoffs more than any other. Wait until they get into a 2-2 knot or go down 1-2 unexpectedly, and then hit 'em. Either way, there's time.
THE VERDICT: Let it simmer
[In New Jersey? Bet now at PointsBet]
---
Milwaukee Bucks
NBA Title Odds: +500
Eastern Conference Odds: +135
You are going to have to decide what you base your assessments, and therefore your bets on. Do you believe in narrative? Or do you believe in facts?
Last season my former colleague Ken Barkley told me something that has absolutely stuck with me. He said that in most sports, he ignores narrative completely when betting, but in the NBA, he absolutely bets the narrative.
I've thought a lot about that since Fred Van Vleet had a son, turned into Stephen Curry, and ended the Bucks and my longstanding positions on them.
He's right, too. The league always seems to find ways for the narratives to assert themselves. Last season the Raptors were an unstoppable force of momentum after the Kawhi four-bouncer, and ran into the Warriors who were. facing "the end of the dynasty as all things must end." Fully healthy? No way are you taking the Raptors. But the narrative created the result.
The narrative around the Bucks is clear. They let Malcolm Brogdon go to save on the luxury tax, proving they don't deserve a star like Giannis Antetokounmpo despite him winning MVP and the team being two wins shy of the Finals. The Bucks are good, but when the playoffs come, can Giannis, without a reliable jumpshot, carry a team of no-names?
Eric Bledsoe is a choker, the narratives say. Khris Middleton? Overrated. Mike Budenholzer? Regular-season coach. The bench is good, but benches don't matter as much in the playoffs (until they do).
The Bucks are the type of great team that never closes the deal. The late 90s Sonics. The mid-2000s Mavericks and Suns. (Dallas later closed the deal with a drastically different roster and approach.) The early 2010s Pacers. The mid-2010s Rockets.
Until Giannis eventually becomes frustrated and asks out, coincidentally to a big market located on a coast in a cool city, and Milwaukee once again has to figure out what the hell it has to do to compete.
So that's the narrative, and to be absolutely crystal clear I am not saying you should ignore the narrative, no matter how dumb it sounds, because the NBA is rife with dumb things happening historically that we justify later.
Here are the facts: Last season the Bucks had the best net rating — a historic one, to be clear — and absolutely steamrolled right up until the moment Fred VanVleet Jr. was born. Their cast is made of capable two-way players who can shoot, defend, rebound, and pass.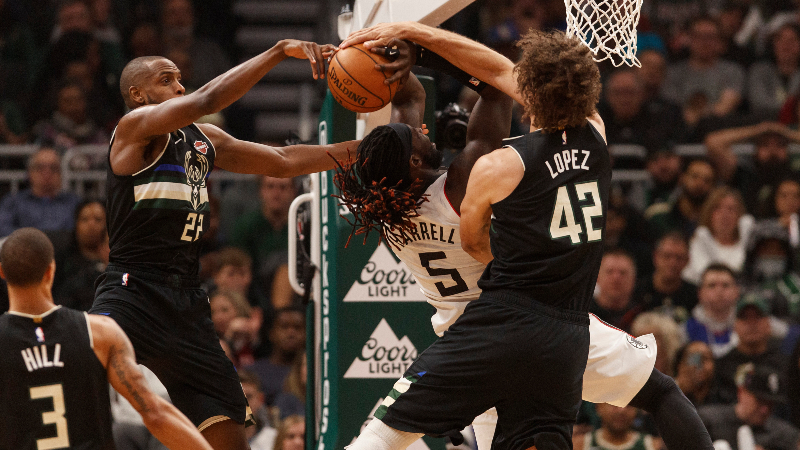 Giannis is on pace for maybe an even better campaign than last year. He's scoring more, shooting better, rebounding more, assisting about the same rate.
The Bucks are No. 1 defensive efficiency and No. 1 in pace. The last team to do that, the 2015 Golden State Warriors, was also the only team in history since pace started to be tracked.
They have an unstoppable superstar who's shooting 31% from 3, which isn't great, but on par with most high-volume scorers and is enough to punish teams with it. They have an awesome defense that contests the right shots. They have experience now, they have size, athleticism, speed, and basketball IQ.
The Bucks are the best team in the league and quite honestly, the gap is not that narrow. But it's December. And we were here last December, and last January, and March, and May, and the Bucks still somehow lost.
Is this number good? No, it's incredible for how good this team is.
Let me put it to you this way. If the Lakers had the resume of the Bucks including signature wins (Clippers with and without Leonard, Houston, Utah, Toronto), dominance in historically meaningful stats, a premier potential-best-player-in-the-league superstar, and no discernible weaknesses beyond "sometimes shots may not fall," they would not be +400. That is not a thing that would be happening.
But it is, because of narrative, and that ties into the one crossover concern between the narrative and the facts: shooting.
In 2018, the Rockets had one of the best offenses in NBA history. They purposefully built their team with effective shooters who could make threes off the attention Harden draws. And yet, in Game 7 of the 2018 Finals, the Rockets missed 18 threes.
Last season, the Bucks made 12.9 3's per 100 possessions, third-most in the league. And yet somehow, they went cold in that closing stretch vs. the Raptors. Teams that shoot 3s in high volume are devastated when those shots don't fall at the same rate. Milwaukee makes and takes the same amount of 3s this season.
This is the concern.
There's value here, make no mistake about it. But it's more than LA bias that has that number lower. Until the Bucks actually win the title, no one is going to be totally convinced they can.
That's just how these things go.
VERDICT: If you're going to buy, buy now
[In New Jersey? Bet now at PointsBet]
How would you rate this article?