Don't Be Fooled: Miami Deserves to Be Here Despite 3-1 Deficit
Credit:
Photo by Megan Briggs/Getty Images. Pictured: Bam Adebayo (Heat)
MIAMI — The Heat deserve to be here.
It wasn't a fluke that they wound up in the Finals, regardless of Giannis Antetokounmpo's injury, the Cavaliers' meltdown or the Celtics' miserable lack of a spine.
The Eastern Conference gave any team from the eight slots a shot at the Eastern Conference crown, and the Heat were the only team with the nerve to take it. They were the only team that played focused, connected basketball, made the shots that needed to be made and won the games that needed to be won.
The Heat deserve to be in the Finals, more so than any team in the East.
They also deserve to be down 3-1, because they're not as good as the Nuggets.
Miami's commentary on the series has been fascinating to watch.
There's been a slow slide from the Heat's usual brand of "regardless of circumstance, we are confident without reservation" before the series to "OK, this is tough, but we're still going to do it" after Game 1. Then after Game 3, they said, "It's fine, we're not going down 3-1, we'll just play harder."
And the post-Game 4 commentary was even more of a different story.
"All we're focused on — I told the guys, feel whatever you want to feel tonight. It's fine," Heat coach Erik Spoelstra said Friday night. "You probably shouldn't sleep tonight any amount of time. I don't think anybody will. We have an incredibly competitive group. We've done everything the hard way, and that's the way it's going to have to be done right now, again."
"We are going to continually fight, starting tomorrow, to get better," Jimmy Butler said. "And then we are going into Monday and do what we said we were going to do this entire time and win. We have to. We have no other choice. Otherwise, we did all this for no reason."
"Our whole season hasn't been easy," Bam Adebayo said. "We just seem like we just — we won't quit. And I feel like that's what he means. We just will not quit."
There are subtle differences here. There's absolute belief, which is what Miami had in the entirety of the Celtics series.
Then there's the aftermath of Game 4: "We have no other choice. That's the way it's going to have to be done. We won't quit."
Covering this series day-to-day, there's a slow realization occurring with Miami. The Heat are becoming aware quarter by quarter that Denver's better. They've beaten "better teams" in these playoffs because those teams didn't have what it takes to seize the opportunities.
Denver does.
Miami has been playing whack-a-mole with the problems Denver presents since the tip of Game 1.
Game 3 saw Nikola Jokic and Jamal Murray touch the ceiling of what a duo can do in an NBA game. So, the Heat threw everything at Murray and Jokic in Game 4, only to see Aaron Gordon go for 27-7-6 with a +29 and Bruce Brown go for 21 points on 8-of-11 shooting.
If the Heat rebalance towards the role players, Joker and Murray will tear them apart again.
Denver has multiple ways to win this series, and it's shown it. Murray has huge scoring performances. Jokic dominates. Gordon bodies the smaller Heat players.
And defense all the way.
Denver's defense has been the better unit in this series, which is both a credit to what the Nuggets are capable of — despite their reputation — and also another sign of Miami's relative weakness.
For long stretches, the Heat offense appears like the lost unit it was last season in the playoffs, at times, that ultimately cost them a Finals appearance.
Miami has papered over those issues with incredible shooting performances throughout the playoffs. In Game 4, the Heat caught the wrong end of the variance stick, as Brown — who's struggled from 3 in the postseason — went 3-of-5, and Gordon went 3-of-3 to start the game from deep.
If Denver is getting any sort of shot-variance advantage, it's a wrap. There's nothing the Heat can do.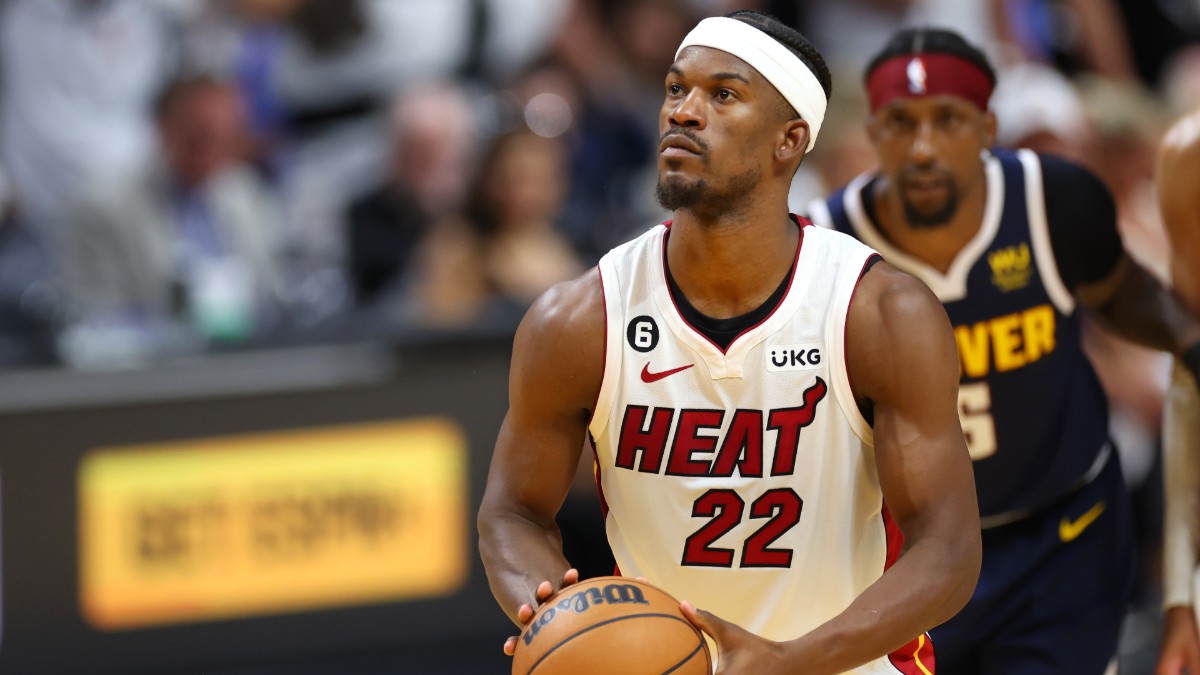 Denver is more talented, but Miami has beaten more talented teams.
While Miami has the best coach in the series, the gap between him and Michael Malone is small compared to the gap between Spo and Joe Mazzulla.
Miami is elite at executing its game plan, but Denver is just as good.
The Heat work harder than any team, but Denver is just as focused at this moment. (As you would expect them to be with a championship on the line, but tell that to the Celtics sitting at home).
So, if all the things that made the Heat the better team in the East aren't present simply because the Nuggets don't let Miami steamroll them via focus, effort and coaching, then it returns to the question of who the better team is.
And the gap between those teams is reflected in a 3-1 series lead for the Nuggets and a +10 net rating through four games.
This series seems close because of how Miami plays; the Heat keep things tight and close through pace and timely buckets. But the numbers make this look like a mismatch, which it should be.
This is a No. 8 seed vs. a No. 1 seed. For all the Heat Culture and voodoo they've manufactured this postseason, they're outmatched, and both teams seem to now be aware of that as the series moves on.
Miami can make this painful, still. It's what the Heat are best at. They can shoot 50% from 3 in Game 5 like they did in Game 2. They can find a way to steal another on the road if Denver starts to believe the press, or if it gets tight with ol' Larry O waiting in the tunnel.
But against an opponent that won't just collapse into a puddle, the Heat are exactly where they should be: the Eastern Conference champion, down 3-1 and on the edge of the end of an unlikely ride.
How would you rate this article?
This site contains commercial content. We may be compensated for the links provided on this page. The content on this page is for informational purposes only. Action Network makes no representation or warranty as to the accuracy of the information given or the outcome of any game or event.