Evan Mobley NBA Draft Profile & Outlook: How the Former USC Big Will Fare In 2021 and Beyond
Credit:
Brian Rothmuller/Icon Sportswire via Getty Images. Pictured: Evan Mobley.
Evan Mobley NBA Draft Profile
Position

Forward

School

USC

Height

7'0″

Age

20

Class

FR

Projected Pick (Odds)

No. 2 (-118)

Odds as of July 1 and via DraftKings.
The 2021 NBA Draft will be here in a flash, so it's time to start to get to know those prospects at the top of the draft.
Cade Cunningham is the heavy favorite to be drafted No. 1 overall to the Detroit Pistons (more on him here). The Houston Rockets will pick No. 2, and the pick there is less clear, but 7-foot Evan Mobley out of USC has emerged as the betting favorite. Mobley is even odds (+100) to go second at BetMGM.
So, who is Mobley? What are his strengths and weaknesses, and what's his role and fit in the NBA? Let's dive in.
Evan Mobley is a Do-Everything Modern Big Man
Mobley stands seven feet tall with a plus-plus wingspan and a nine-foot standing reach. He just turned 20 a few weeks ago, and he looks like the portrait of a modern NBA big man.
Mobley can do it all.
He plays like a large wing with outstanding movement skills and a unique combination of dribble-pass-shoot skills for a player his size, especially one so young.
Like Anthony Davis, Mobley grew up as a guard before hitting a growth spurt, and you see those guard skills in his game. Davis was the only player in history to win Freshman of the Year, Defender of the Year, and Player of the Year in a major NCAA conference — until Mobley joined him this year.
Mobley averaged 16.4 points and 8.7 rebounds at USC with an impressive 58% field goal percentage, adding 2.4 assists and 2.9 blocks per game. He led the Pac-12 in points, rebounds, blocks, win shares, box plus-minus, and most other advanced metrics.
Mobley is a winning player who impacts the game on both ends. But most importantly for a center, he projects as an outstanding defender.
Evan Mobley with 17, 7, 3 blocks and a 3PTM in pretty effortless fashion tonight vs. Santa Clara. No need for much analysis. Special prospect, unique fluidity/movement + skill for a 7-footer. pic.twitter.com/h5B9kM2hW8

— Jonathan Wasserman (@NBADraftWass) December 30, 2020
Strength: Mobley is a Game-Changing Defender
Centers are still the heart of any NBA defense, for better or for worse, and Mobley should be a terrific defender.
Mobley is preposterously good at blocking shots. He is long and lean, and he has a preternatural sense of timing and hand placement on blocks. Mobley is so good at blocking shots that he sometimes gives up position near the rim or even lets the defender go by him just so he can get the better angle on the block.
And unlike other swatters, Mobley isn't looking to volleyball spike one into the stands. Instead, he consistently finds the right block angle to keep the ball in play, tipping it toward a teammate or swallowing it himself to grab-and-go and start a transition opportunity.
Mobley has fingerprints all over the game as a defender. Against Arizona, he dominated the game despite taking only two first-half shots. He does a great job staying vertical and rarely gets in foul trouble, especially impressive because he logged huge college minutes and because young big men tend to foul easily, especially when they're tired.
But it's not just the shot-blocking.
Mobley is also an outstanding defender in space, and that's incredibly important at the next level. His agility and movement skills, combined with his length and wingspan, allow him to stay in front of and completely swallow up guards who are unfortunate enough to try to take him on.
Mobley switches well and defends the pick-and-roll well, and he's an outstanding help defender with his instincts, backside playmaking, and the ability to recover and close out.
Mobley has All-Defense potential. He's the rare defender who can be a great rim protector while also offering switchable perimeter defense. Mobley is not a guy who gets played off the court in the playoffs. He's a 16-gamer.
Strength: Offensive Versatility and Wing Skills
On offense, Mobley is far from a finished product — but that's a good thing. He's a tantalizing blank slate who could be many things once his game rounds out, almost all of them good.
Mobley has solid footwork and an array of post moves, with a soft touch and a comfortable baby hook. Against Colorado, he flashed excellent passing in the short roll and out of the post, consistently finding teammates and moving the ball along to the open shooter, making the smart play.
But few NBA bigs these days play a traditional post role, and Mobley won't be drafted to be the next Joel Embiid. It's his offensive versatility that intrigues.
Mobley has astonishing movement skills for a player his size — genuinely remarkable. Seven-foot dudes are not supposed to be able to move this fluidly.
Honestly, that was the first thing that stood out to me watching Mobley — his smooth movement at his size. That generational movement and size combination make Mobley an incredible weapon on both ends of the court.
Just look at this filth — giants are not supposed to be able to move like this.
Evan Mobley makes this look so normal, but someone his size shouldn't be able to defend like this on the perimeter. Truly has special movement skills pic.twitter.com/NqcDyKzCe6

— Zach Milner (@ZachMilner13) January 12, 2021
It's not just the movement that's smooth. Mobley's entire game is smooth like butter. He's comfortable dribbling, casually crossing a defender over or dribbling between his legs like it's nothing. Mobley is a grab-and-go guy, and though he didn't run much at USC, should be a terrific transition threat.
Mobley's passing stands out, too. He's an excellent passer in the short roll, and that plus his lob threat makes him an excellent player in the pick-and-roll. Against Stanford, Mobley made a few one-handed passes with zip and ease like it was nothing.
Mobley isn't showing off. He's just so naturally good at all this stuff. He makes everything look so easy. When a player has this much natural skill and ability, and that player is seven feet tall and just turned 20, that bodes very well for development.
Like any modern big man, the shot will be important. Mobley's free throw stroke is smooth, and 134-of-193 for 69.4% is a solid number for a big man. Mobley shows a really soft touch, a good sign for his shooting development.
At USC, he made 12-of-40 3-pointers. That's just 30%, but the shot looks comfortable, and 40 attempts is encouraging for a freshman center. Mobley isn't afraid to shoot, and sometimes that confidence tells us more about a shooter than the numbers.
Mobley probably won't ever be a leading scorer. That's just not his game. Think of how Deandre Ayton has been used by Phoenix. Mobley is more of a finisher than a scorer. He's incredibly efficient and will be an important part of good offenses, even if he only gets 16 points himself.
Mobley is a blank slate offensively, and he's probably not going to look like a traditional star with huge scoring or rebounding numbers. But his versatility could open up an entire offense, and he doesn't take much off of the table and is still developing.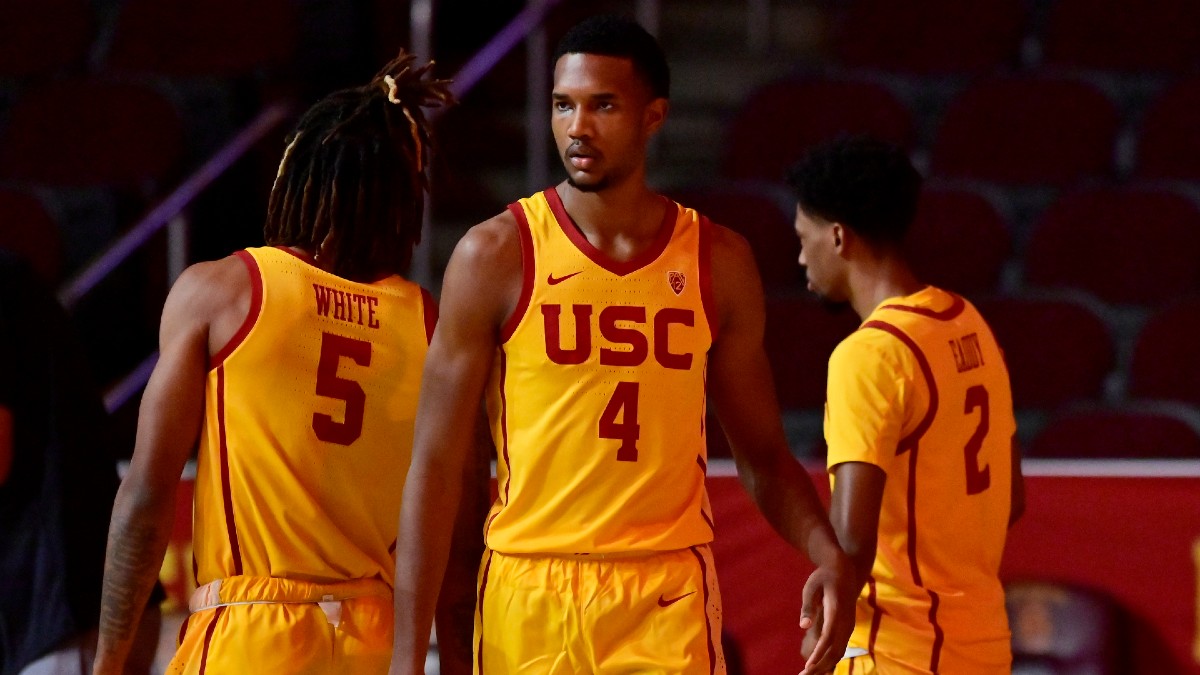 Weakness: A Lack of Physicality and Game Strength
Mobley is hard to miss.
He towers over the field at seven feet, but he's also super lean with crazy long legs like a gazelle. Mobley lopes down the field, and he has high hips and a high center of gravity.  His college playing weight was 210 pounds, and his frame doesn't look like it can put on much muscle.
That could be a problem in the NBA. Mobley has similar size to Anthony Davis or Chris Bosh coming out of college, two players he compares favorably to. Those two obviously made it work, but both vacillated between the four and the five, and neither one dominated physically or on the boards, nor could they hold up to the physical demands of full-time center play.
Mobley's relative lack of strength really stands out when you watch film. He's a disappointing rebounder, and you can tell opponents do not fear Mobley. Physical teams like Colorado pushed him around all game, and it was jarring to see even teams like UC-Riverside and Drake push Mobley around with smaller, non-scholarship players "out-physicalling" a future top-five draft pick.
If you can't hold up against some Riverside dudes with mullets, how will you manage in the NBA? Last year's top center prospect, James Wiseman, was an Adonis. Wiseman would've dropped 25 and 15 on teams like Riverside and Drake, while Mobley struggled to put his imprint on those games.
Strength development is the No. 1 attribute Mobley needs at the next level. Without significant improvement, none of the rest will matter. It doesn't matter how well you dribble, pass, shoot, or defend if you get swallowed up physically and played off the court.
That lack of strength makes Mobley an underwhelming rebounder. He high-points rebounds well, and he smartly tips balls to his teammates.
But he also gets boxed out easily, even by smaller players, and his hands aren't strong enough to hang onto boards. You constantly see teams swipe down on Mobley when he tries to get a rebound. They know he can't hang onto the ball, and it's a problem.
Colorado was Mobley's toughest physical test, and the Buffaloes were a Sweet 16 team. But Mobley struggled mightily for most of his time against Colorado, getting pushed around on the boards and pushed off the ball.
Spoiler alert: NBA teams are even more physical than Colorado.
What stands out to you on these 3 Evan Mobley defensive possessions? A lot of things going on here.

Pay attention to the type of defensive coverage in the 1st clip and why that's relevant for the #Rockets. What does he show around the perimeter and in the paint on contests? pic.twitter.com/MjczGhQl1t

— Alykhan Bijani (@Rockets_Insider) June 24, 2021
Weakness: Disappointing Fire and Motor at Times
Superstars are expected to take over the game, and it doesn't feel like Mobley does that too often. He's a different kind of star, one who quietly impacts every play, but that can be frustrating.
Against weaker opponents, you expect your potential No. 2 pick to take over and dominate as Cade Cunningham would do. Mobley's game isn't built like that, and his mentality may not be wired that way either.
Against UCLA, things were close late, but Mobley looked timid and settled for bad shots without having any way to take over offensively. He literally ducked out of the way with 10 seconds left in a tight rivalry game.
UC-Riverside hung close all the way, and Mobley couldn't make his imprint on the game. He barely touched the ball over the final five minutes and allowed the go-ahead bucket with 15 seconds left. Of course, he also got the ball in the post on the following play, hit the open cutter to tie the game, then switched onto Riverside's ball-handler and blocked a 3 to send the game to overtime before USC won.
That's the thing with Mobley; he always makes the right play — always, even when you want him to play hero ball or take over. For better or worse, he makes the right play. Mobley will be at his best surrounded by good players, but it could make him a frustrating developmental prospect on a bad team.
He also has a questionable motor at times, though it's fair to wonder if that's because he was playing such big minutes as a center. Still, you'd like to see a player with such a versatile skill set get out and run a little more in transition.
Overall NBA Fit: The Perfect Modern Big Man
Mobley is not a perfect prospect, but no 20-year-old is a completed project. He needs to add strength, work on his shot, and polish a lot of raw talent.
But NBA teams are drafting a toolset, not a finished product, and Evan Mobley is about as complete a toolset as you can hope for in a modern big man.
Mobley is crazy talented and versatile. He's a high-impact defender and a super scalable offensive player who can fit into any modern offense with ease. The best version of Mobley is a ceiling raiser, the sort of player who makes the good players around him great.
Think Anthony Davis or maybe Chris Bosh on those Heat title teams. You might see him end up with 17 points, nine rebounds, and four assists, but he'll make the key pass, do all the little things, and anchor the defense as an absolutely vital player on a winning team.
Mobley is a better shot blocker and passer than Bosh, too. If you want to look back a little further, Pau Gasol or Larry Nance Sr. come to mind.
The naysayers will wonder how Mobley's frame will hold up. They'll ask how Mobley can possibly defend centers like Joel Embiid or Nikola Jokic. And it's a fair question, but it's the wrong one. I want to know if Mobley can guard big NBA wings like Kevin Durant, Luka Doncic, LeBron James, James Harden — and I think he can.
He can switch on the perimeter, stay with even some of the best players of all sizes defensively, and protect the rim as a shot blocker. So what if he doesn't have the heft to stop Embiid — neither does anyone else, and Mobley might be just as much of a mismatch at the other end.
The frame does matter. Mobley's floor is far lower than Cunningham, for example, because NBA big men are so fungible. And if Mobley doesn't add strength to stay on the floor, or shoot well or add a scoring touch, then he's just a useful rotation big.
That's why, in the end, Mobley probably isn't the No. 1 pick. Cunningham is certainly the better prospect.
Mobley could struggle to develop if he ends up on a bad team with no guards or surrounding talent for years to come, and he's probably not someone you want to bet on for Rookie of the Year. He's going to take some time.
Still, Mobley looks like the full package, the perfect modern NBA big man prospect. He can play on the perimeter or near the basket, both on offense and on defense. He's a talented, athletic, big who's still just getting started, and I think he's closer to being the No. 1 pick than No. 3 or lower.
Cunningham probably has a better chance to be the best player on a good team. But I think Evan Mobley might end up with a better shot of being the No. 2 or No. 3 on a great championship-winning team.
And, in the end, isn't that really what this is all about?
How would you rate this article?
This site contains commercial content. We may be compensated for the links provided on this page. The content on this page is for informational purposes only. Action Network makes no representation or warranty as to the accuracy of the information given or the outcome of any game or event.