Moore: Quick Fixes Won't Be Enough for Clippers Without More From Kawhi Leonard
Credit:
Andrew D. Bernstein/NBAE via Getty Images. Pictured: Kawhi Leonard #2 of the LA Clippers
Fifteen months ago, Steve Ballmer was fired up.
It even says so in this YouTube title.
Fired. Up.
Ballmer had every reason to be, too. For all the jokes the Los Angeles Clippers have endured over the past two months (and rest assured, there are many more in the pipeline), Ballmer did what he intended to. You aren't going to scratch and claw your way out of the Lakers' shadow in LA. You need to bust out with dynamite.
Ballmer's front office did exactly that. They were patient and consistent in recruiting Kawhi Leonard for a long time, and it had paid off in their landing not only Leonard but Paul George.
Right now, George is "Playoff P," the perennial postseason letdown whose own teammates reportedly rolled their eyes at him after the Clippers' postseason exit. But then, he was a two-way phenom coming off a top-three MVP finish as a player who had been in big playoff games since his young days in Indiana.
The crazy thing to look at in retrospect amid the carnage of the Clippers postseason and offseason moves which culminated in the firing of head coach Doc Rivers and hiring of assistant Ty Lue is how much the Clippers got right.
The constant criticism of the Milwaukee Bucks stems from what they didn't do. They may have hired Mike Budenholzer as their coach and built a deep, versatile roster, but they didn't keep Malcolm Brogdon. They didn't go far enough.
The Clippers, however, went far enough. When they traded Chris Paul, they rebuilt their team with spare parts but good, fun players like Lou Williams, Montrezl Harrell, Shai Gilgeous-Alexander and Danilo Gallinari. That got them into the playoffs and gave them the pieces to acquire George from the Thunder. They were willing to give Williams a big extension. They made moves at the deadline to add Marcus Morris and Reggie Jackson.
"You can't look at the job they did and think the Clippers nailed any of the individual moves. What they were missing was something you can't acquire or develop," an Eastern Conference executive said this week.
Ballmer at least has not fallen victim to the issues that have plagued so many owners: excessive loyalty.
A team that finds success often is convinced that they just caught bad breaks and they should run it back. If your team is good, at all, you can always convince yourself that the team it was in its wins is the real team, and the team its losses were just little things they needed to tweak, or the product of luck.
Ballmer, instead, seems fully positioned to keep pushing, relentlessly, until he gets the success he wants.
That's what you want from an NBA Governor.
The question is whether the alternatives to the moves the Clippers are taking away from this year's disappointment will bear fruit.
WHY THE CLIPPERS LOST
Here's the Clippers fan answer: Montrezl Harrell.
I'm not exaggerating when I say that Harrell was not only considered the sole reason for the Nuggets' upset over Denver, but Doc Rivers' insistence on playing him in that series was the biggest factor in his dismissal.
From The Athletic:
"Two philosophical points of contention between Rivers and the organization were, more recently, his insistence on playing backup center Montrezl Harrell over starting center Ivica Zubac and, at large, his reluctance to develop or empower the team's younger talent throughout his tenure.

After a Sixth Man of the Year regular-season campaign, Harrell missed a month in the bubble due to the sickness and eventual passing of his grandmother. Upon returning, he was visibly not himself, offensively or defensively.

Yet Harrell's postseason role was that of an effective rotation player (18.7 minutes per game), despite the Clippers posting a team-worst minus-11.6 net rating with him on the floor in the playoffs, including a mind-blowing minus-30.1 net rating while sharing the floor with Leonard and George."
Even sources close to the Nuggets were surprised at the leash Harrell was afforded. As an outside league source noted, "Sometimes there are locker room dynamics that keep you from being the team you need to be. Guys have to be willing to sacrifice."
The Harrell complaints are legitimate. Nikola Jokic still roasted Ivica Zubac routinely, and had Zubac played more, it's likely that his numbers would have come to reflect closer to Harrell's. But Harrell was completely outmatched and presented the Nuggets with consistent options to attack.
They also mirrored regular season signals that showed that Harell and Lou Williams were a tandem you could take advantage of.
However, there is a point where just blaming the sixth man falls short. Every team has players who are vulnerabilities. The Nuggets struggle to score with Torrey Craig, and Michael Porter Jr. was sashimi on defense at all points in the playoffs. The Lakers' lineups with Kyle Kuzma were bad by their standards.
It's then that the rest of your team has to be good enough to compensate. The Clippers were not, for several key reasons.
Williams was good defensively for the first part of the Clippers-Nuggets series, something that can only be described as fool's gold. Meanwhile, he averaged just 12.8 points per game in the playoffs and shot a similar outlier 23.5% from 3. (Although it should be noted that Williams' career playoff 3-point percentage is just 23.7% and his career playoff FG% is just 39.3%. Williams was a huge influencer for the Raptors in 2015, winning Sixth Man of the Year as he has repeatedly, and then shot 31% from the field and 19% from 3. Williams may simply not be a 16-game type of player.
Denver was legitimately better. On top of Jokic dominating his matchups, Jamal Murray managed to get by and roast the Clippers' supposedly dominating wing defense. Jerami Grant stepped up and hit shots. The Nuggets' defense, which was so poor vs. a cohesive attack against Utah, was spectacular when it had to face an individual-oriented, talent-over-system approach in the Clippers.
George was bad, there's no getting around it. Over the last four games of the series, he averaged fewer than 20 points per game on 39% shooting and 33% from deep. He was defensively ineffective.
What doesn't get talked about, however, is that this loss is just as much on Leonard.
QUIETLY OVERSTATED
Ultimately, if you're not a team built on a team concept, if you're a star player on a star-driven team, it's your responsibility to carry your squad.
Leonard averaged 25 points, 7.7 rebounds, and five assists in the final three games of the series. Those numbers seem to acquit him, but you did not leverage your entire team and its future to get 25-7-5 from the MVP-level player.
Furthermore, in those games, the Clippers were outscored by 14.8 points per 100 possessions with Leonard on the floor. That's a team stat, but Leonard's reputation is that he impacts the game so much, that even if he doesn't have the stats, you see how much better he makes his team. He didn't in the Clippers collapse.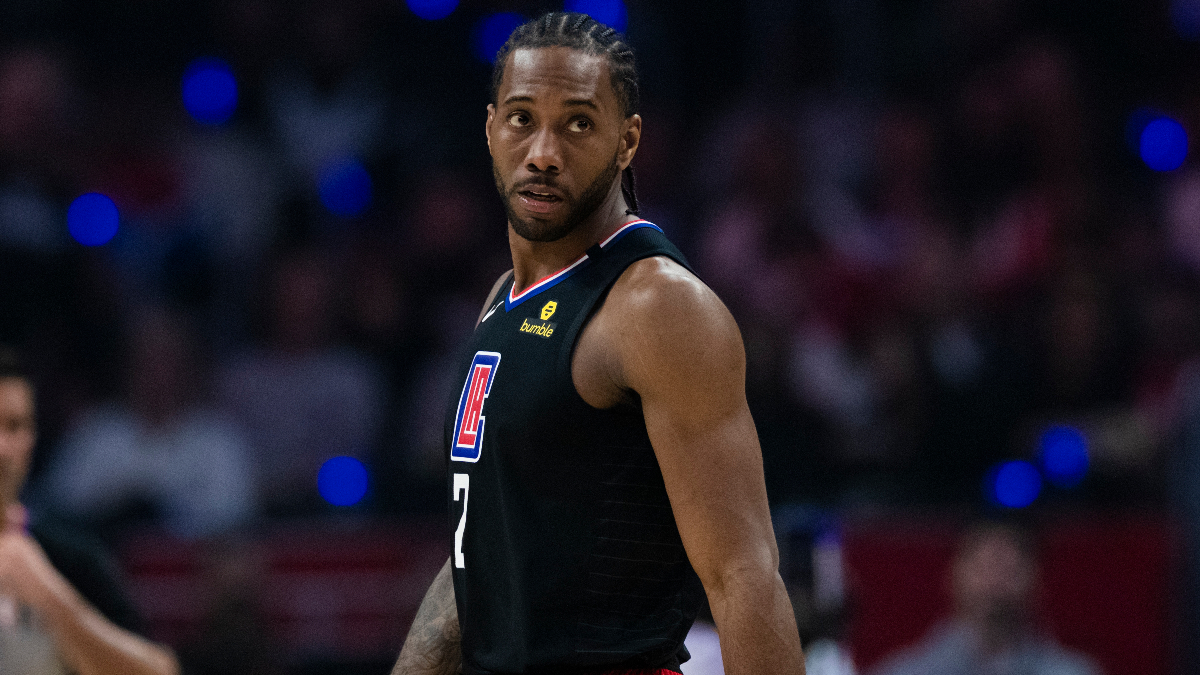 In Game 7, Leonard shot 6-of-22 from the field for 14 points, and the Clippers were outscored by 21 points with the two-time Finals MVP on the floor.
Yet, somehow, it's George and Harrell who too most of the blame while Leonard is exempt because "we've seen what he can do."
It's important to note that Leonard's playoff resume is, by any standard, overstated. He was not the Spurs' best player in 2014 when he won Finals MVP. He exited the playoffs early in 2015 and 2016. He was injured in 2017, which obviously can't be held against him.
Let's not even try and dissect 2018, beyond saying he was continuing to deal with an injury among … other things. And in 2019 he joined an East contender that had an existing leadership structure with Kyle Lowry.
(This is different from being overrated. Leonard is absolutely as good of a basketball player, skill-wise, as his reputation suggests. But there's a point where your skills and stats cross over into your reputation for winning. Leonard is properly rated as a top-three NBA player and overstated a consummate winner.)
This last part is important. Williams said after the season that the team was lacking the right chemistry. That follows reports throughout that season that the team struggled with its chemistry. It was also evident against the Nuggets that the Clippers didn't have a team identity. They were just a bunch of guys thrown together, most with entirely different priorities and feelings on what their roles were.
Leonard is at the center of this.
He is not a leader. This will get tagged as he "leads by example," which is NBA speak for "an exceptional player who doesn't say anything."
"NBA players do not need to be shown the example of working hard or how to win, once they're on playoff teams," a league source who has consulted with multiple teams said this week. "They need the message to get everyone on the same page."
"Your team will always reflect its best player," is an old NBA GM axiom. The Clippers reflected Leonard in the end. No defining identity, often seemingly awkward, and ultimately holding a reputation beyond the reality.
THE QUICK FIX
You can't fire your star player, and Leonard presents the best chance for the Clippers to win a title, without question. Instead, the Clippers did what teams always do when they suffer an epic collapse but can't blame it on the players — show the coach the door.
To be clear, Rivers' tenure with the Clippers was a rollercoaster. He handled the exorbitant pressure of navigating the franchise through the Donald Sterling scandal and subsequent fallout with gusto and aplomb.
He struggled as a dual coach-executive the way most men do. He put together serious contenders with the Lob City Clippers who may not have loved playing together, but were great year after year and never caught the breaks they needed. He transitioned and built-up the post-Chris Paul Clippers into a playoff team. His squad was normally ranked top-10 in both offense and defense.
Rivers' steadfast belief in Harrell was pretty clearly a typical refusal to acknowledge a case of the data showing something that lay behind the eye test. Those tests are routinely failed by coaches, who never want to be beholden to data.
For as many retorts there are that you could see the team was struggling with Harrell, it's proof of how ultimately, the eye test remains subjective against the data, which said that the team did not play well in the postseason with Harrell.
A LUE BEGINNING
The team fired Rivers and hired Lue, who was always going to return to a head coaching job this offseason after winning a title with the Cavaliers in 2016.
Lue is an excellent coach, fluid and curious. He brings the right combination of championship pedigree and relatability for the players, having played in the league himself.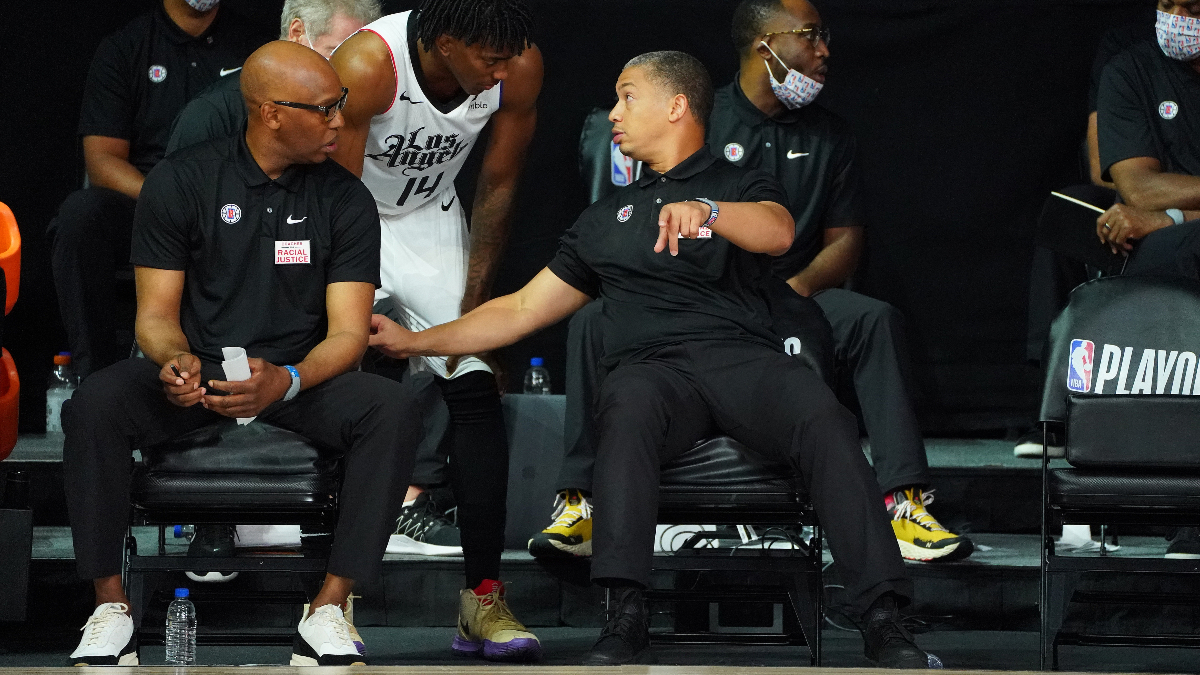 The Athletic reported last week that Lue's willingness to work more closely with the front office, even to the point of allowing broader input on his assistant coaching hires, played a part in the decision, which makes sense.
Rivers, after all, used to be the head of the front office and held a lot of power in the organization going back years.
However, there was one piece from the Athletic we need to drill down on:
"Players like Beverley, Montrezl Harrell and Lou Williams — Clippers bedrocks before the arrival of Leonard and George — bristled when Leonard was permitted to take games off to manage his body and to live in San Diego, which often led to him being late for team flights, league sources said. The team also allowed Leonard to dictate to Rivers when he could be pulled from games, among other things. Lue was on Rivers' bench for all of this, but the Clippers were Rivers' show.

…

Upon Lue's promotion, the first thing he did was to demand that the Cavs' supporting stars — in this case, Kyrie Irving and Kevin Love — sacrifice their individual brands and defer to LeBron. Lue also stripped LeBron of some of the power he'd stolen from Blatt inside the Cavs' locker room, and demanded the league's best player get in better shape, which got the attention of the entire team."
Notably, Montrezl Harrell and Lou Williams both refuted this report on social media. The reporters in question, Jovan Buha and Joe Vardon, have stellar reputations and nothing that was reported stands outside an established pattern of consternation with the star player power structure that is common in the modern NBA.
But even if Harrell departs in free agency as many league sources anticipate, Lue will struggle to try and replicate his efforts with LeBron when it comes to Leonard. The two are simply different people, and James has always held the connectivity of a team as sacred and vital going back to his first with the Cavaliers.
Stephen A. Smith of ESPN reported that Leonard has been advocating for the front office to add a point guard. If true, consider what this means: he's advocating for demoting or moving on from Beverley, a fan favorite and emotional leader, and Jackson, the backup who is a close friend of George.
If the Clippers are going to right the ship, it will take more than removing the Harrell plus/minus anchor and replacing Rivers with Lue. It's going to take a team that not only makes more sense together, but has an identity, that has a "Clippers basketball" they know how to play.
It will take a team that wants to play together, that loves playing together, the kind of joy and exuberance you saw the Lakers routinely share for one another this season.
The Lakers' roster is, from top to bottom, objectively not as good as the Clippers. But their team identity was more defined and their chemistry and leadership was much greater. The same can be said for the healthy Golden State Warriors and Nuggets. That's three teams directly in front of a Clippers team that analytics wonks (who are often right) adored throughout the year.
For the Clippers to go beyond the analytics and the talent and form a whole that is greater than the sum of its parts, it will take the leadership that has been missing.
And that falls squarely on the shoulders of Leonard.
The Clippers can move the deck chairs all they want, but Leonard is the captain. He's going to have to find a way to steer the ship past the iceberg safely, or else we'll hear the band playing the same tune as the life rafts depart next year.
How would you rate this article?
This site contains commercial content. We may be compensated for the links provided on this page. The content on this page is for informational purposes only. Action Network makes no representation or warranty as to the accuracy of the information given or the outcome of any game or event.