NBA Win Total Odds & Pick: Is Miami Heat Culture Enough to Lead the East?
Credit:
Sarah Stier/Getty Images. Pictured: Jimmy Butler #22 of the Miami Heat.
Check out this post for updated season win total odds for all 30 NBA teams.
---
Miami Heat Win Total Odds
| | |
| --- | --- |
| 2023-23 Win Total | 49.5 |
| Previous Season's Wins | 53 |
The Case for the Over
Heat Culture
Advantage Against Injury
High floor
You don't have to believe in Heat Culture. It believes in you.
OK, I don't know what that means, but it's a thing.
Under Erik Spoelstra, the Heat have gone 7-4 to the over in seasons where their win total was below 50. (The prime Triad years with LeBron James, Dwyane Wade and Chris Bosh had ridiculously high win totals.) That's not untouchable, but it's a pretty strong trend.
Miami had an absurd number of injuries last season. They were fourth in VORP lost to injuries per ManGamesLost.com, third in Win Shares lost. Bam Adebayo, Kyle Lowry, and Jimmy Butler all missed time. Not just a little time, but significant time. And Miami won 52.
In the last eight seasons, teams that lost more than a 2.0 VORP to injury with a win total beneath 50 (a key number in win totals) have gone 12-5 to the over.
Unfortunately, last season was such a mess with COVID and injuries that it was an outlier. After 17 teams in eight seasons, there were 23 teams with a 2.0 VORP or higher lost to injury last season. So take that with a grain of salt.
A better indicator of Miami's strength is that despite those injury issues, they just filed in guys and found ways to win. No team, outside of the Clippers and their ridiculous depth, has the capacity to find ways to win shorthanded. Omer Yurtseven started for Miami last season for significant stretches and won his minutes. If there's proof of the impact a coach like Spoelstra can have, it's in edges like this.
Instead of worrying about Miami's ability to avoid injury, Miami has the infrastructure to win games when key players are out. Last season's performance in such situations doesn't necessarily mean they'll be as good this season in similar conditions — especially when they lost a starter in PJ Tucker — but it reinforces the floor for this team.
Miami's defense graded out as fourth-best last season, and that makes sense. I would have voted for Adebayo as Defensive Player of the Year if I had a vote last season; he's the most versatile defender in the league aside from Draymond Green. Their defenders challenge in contain, resist screens, and create turnovers.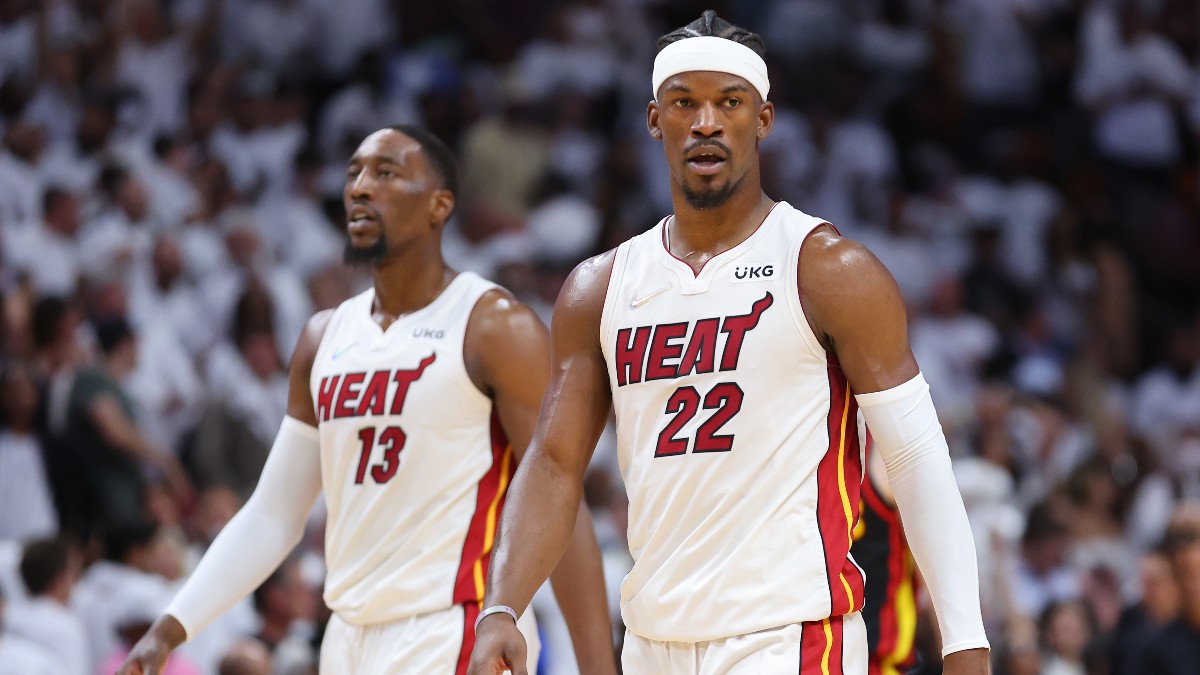 Miami was No. 1 in pace-adjusted opponent points in the paint and tied for No. 1 in opponent 3-point percentage. They gave up a ton of 3-point attempts, which created problems for them in the playoffs, but this is a regular season bet.
The Heat have one of the most diverse defensive schemes in the league: Zone, switch, drop, blitzes. They have the veteran knowledge to be able to execute them effectively.
Their bench unit defends better (relative to their competition) than their starters. To put this into context, the starters have an awesome defense, and usually, with a payroll like the Heat have, the defense is the weak spot. But instead, they hold it down and get stops as well.
That creates a massive advantage for Miami defensively. You can't make up ground with your bench unit against them, and there's a good chance they gain ground on you if you have a lead.
Offensively … things are shakier. Miami finished 12th in overall adjusted offensive rating last season. The Heat were in the bottom half of the league in halfcourt offense for much of the year, but a late push saw them finish 10th. Then in the playoffs, we saw their limitations.
Miami was No. 1 in 3-point percentage offensively, fourth in 3-point makes pace-adjusted and fourth in points in the paint pace-adjusted.
So you see the formula here, right? Win the battles on the perimeter and in the paint. Again, there are complications in the playoffs when you allow teams that have great shooters that can make contested 3s at volume and mid-range shots, and when you can't find those easy shots vs. schemed good defenses.
But in the regular season? This works well. Miami's floor is high, they should be in contention for 45-plus wins based on that.
---
The Case for the Under
They Have No Power Forwards
Old Roster After a Deep Playoff Run
The 50-Win Barrier
Let's start with PJ Tucker. Losing Tucker to Philadelphia is a big freaking deal. In those games where Butler, Lowry, and Adebayo missed time, Tucker was a metronome and actually stepped up and made plays.
(I wasn't sure PJ Tucker could dribble until last season, but he actually scored on-ball off spot-ups last season.)
Tucker had the second-best on-court net rating of any player with over 200 minutes behind Adebayo last season.
Just as importantly, without him, the Heat have almost no power forwards. The conversations going into camp were about moving Butler to four, starting 6-foot-5 Caleb Martin, or starting Haywood Highsmith, who they are reportedly high on. The other option is rookie Nikola Jovic who could be really great or a disaster in such a high-leverage spot.
The Heat can't really adapt to bigger lineups in those situations, so they have to hope their pure shooting options (Duncan Robinson, Max Strus) are hitting to counter in those situations. That could hurt them on the defensive glass.
There is one alternative that's been floated, which is playing Adebayo at power forward and Yurtseven at center. That's intriguing, but it limits their depth and means going away from Adebayo as the center teams have to attack in pick-and-roll.
Some of this would be abated if Adebayo were more of an offensive force, but he continues to be happier being a connector and fill-in-the-gaps player rather than a true high-usage focal point or volume scorer.
The Heat have a lot of miles on them. Five players out of their projected 10-man rotation are 28 or older this season. Butler has an extreme amount of miles on him, and usually, after deep playoff runs, he takes a relative step back the following season.
Kyle Lowry's 2022 season is a little more complicated than on the surface. He missed a big chunk in the middle of the year due to a personal issue. But Lowry also turns 33 this season and showed a noticeable decline the previous two seasons.
The numbers are still there, but if those take a hit it's going to have big impacts on the starting unit. Teams that won over 50 the previous season with a win total of 49.5 or higher have gone 20-14 to the under (59%) in the last 10 seasons.
Heat Win Total Bet
I don't find great value here. I think there's a lean to the under based on likely regression coming off a deep playoff run for a team with a lot of miles on them. Tucker's departure is significant.
We have a lot of questions about Miami and usually teams with a lot of questions are worth fading.
But Miami is a team that has shown an edge in the Spoelstra era of finding answers to those types of questions. That's not a reason to blindly trust they'll get to 49-plus.
How would you rate this article?
This site contains commercial content. We may be compensated for the links provided on this page. The content on this page is for informational purposes only. Action Network makes no representation or warranty as to the accuracy of the information given or the outcome of any game or event.