The Signs of a Bucks Collapse Were Always There. Where Do They Go Next?
Credit:
Stacy Revere/Getty Images. Pictured: Giannis Antetokounmpo #34 of the Milwaukee Bucks sits on the bench after losing Game 5 of the Eastern Conference First Round Playoffs against the Miami Heat.
"You are what your record says you are." — Bill Parcells
The Milwaukee Bucks were not what their record said they were. Jimmy Butler and the Miami Heat proved that over and over this week, and decisively so in Game 5 Wednesday night, eliminating the Bucks in five games in their first-round series.
The record said the Bucks were the best team in the NBA; the former champs from two seasons ago who didn't repeat because Khris Middleton missed last season's playoffs; the 58-win team that went 26-7 after Middleton returned to the lineup in late January.
There's surely context to be applied to their meltdown. But we should start with this: the numbers told us this Bucks team wasn't as good as their record.
I promise we'll get to Giannis Antetokounmpo's injury. Just be patient.
The Bucks did not finish with the best Point Differential (schedule-adjusted) in the NBA. They didn't even finish in the top 10. They were 11th.
Milwaukee finished 13th in non-garbage time offense at Cleaning The Glass. They were just ninth in eFG%, despite having Antetokounmpo.
There were signs.
But the record was there. They were the best team in the East!
However, their regular season success ignores who they've been in the playoffs. The Bucks, over the last five playoff runs, including this season, have the worst differential of any team between their expected eFG% and actual FG%. They literally shoot worse than they should, to a larger degree than any other team.
Teams also shoot great against them. Teams have shot above expectation in three of the five playoff runs overall vs. the Bucks.
You cannot take the title away from the Bucks. They beat Kevin Durant (even if he was short-handed and stepped on the 3-point line), and they beat Devin Booker and Chris Paul, with Antetokounmpo dropping 50 in Game 6. Do not get it twisted, Antetokounmpo is certified.
But that doesn't mean the Bucks have been a great playoff team.
There were problems this season. Their overall performance and verve were low heading into the new year; I wrote about it. They were struggling to get by, Antetokounmpo was limited with nagging knee soreness. Middleton actually tried returning and then immediately went back out again.
---
Want more NBA Playoff Analysis? Check out the Buckets Podcast for everything you need to bet the NBA.
---
Antetokounmpo seemed short of patience. The vibes were not great. Then Middleton returned, and the Bucks stormed the back half of the schedule.
But this season, more than any other, has been defined by wonkiness in the regular season. Everyone was beatable, no one was good on the road, and everyone was resting players, picking their spots.
The teams ranked No. 1, 4, 5, 6 and 10 in schedule-adjusted defense, have been eliminated already. (No. 2 Memphis faces a road elimination game Friday and No. 3 Boston faces the Hawks in a potential closeout Game 6 Thursday.)
This isn't to say the Bucks weren't awesome at times. Their championship caliber shined at various points this season. You do have to win the games, and they did that.
But this team was more vulnerable than the regular season showed.There were roster flaws that Antetokounmpo, Brook Lopez, Jrue Holiday and Middleton's brilliance covered up.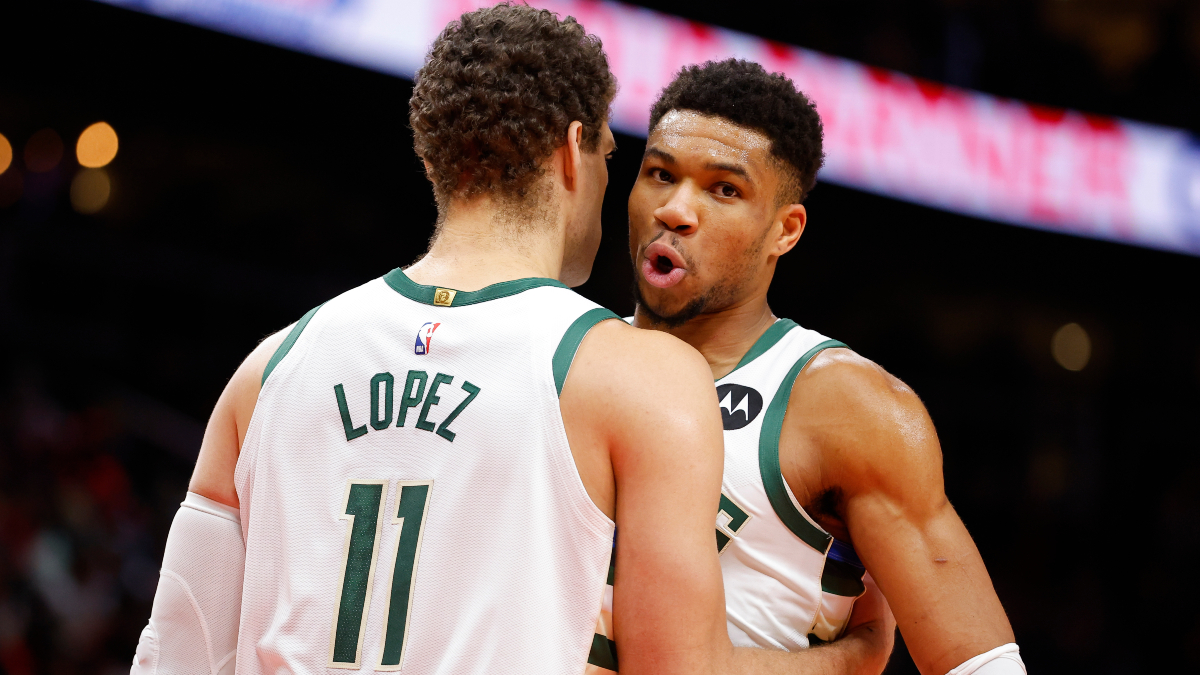 Last season, the Bucks traded multiple wings, including Golden State Warriors rotation wing Donte DiVincenzo for Serge Ibaka. Whether it was to have another body to throw at Joel Embiid in a potential matchup, or just a concern for depth with Lopez coming off a back injury, that trade was a disaster.
Ibaka played just 37 games for the Bucks in two seasons before being shipped out at the deadline, along with multiple assets, for Jae Crowder, who did not play in Games 4 or 5, both must-wins for the Bucks.
Grayson Allen battled in this series and did a better job defensively once Tyler Herro went out with a fractured hand. (Herro was 5-of-6 for 12 points in fewer than four minutes of being defended by Allen, according to NBA.com's admittedly wonky matchup data.) But Allen's still a target, undersized and being put constantly in action.
The Bucks' starters were +19 in this series in Net Rating and were 0-2 when Antetokounmpo was available.
Much of this is just about your usual amount of Heat necromancy, whereby reality just inverts. Bear in mind these two bits of information from after Game 4:
Last night the Heat became the seventh team in postseason history to shoot 40+ percent from three on at least 25 attempts in four consecutive games.

The other six teams finished Top 10 in 3pt% in their respective seasons. Miami finished No. 27.

— Couper Moorhead (@CoupNBA) April 25, 2023
Miami is 43/82 (52.4%) on contested 3s in this series. League average this season was 33.5% while the Heat shot 33.2%. https://t.co/IgA0gfhfrB

— Anchorage Man (@SethPartnow) April 25, 2023
The Heat shot an insane 45% from 3 in this series. They shot over 50% on contested 3s.
So yeah, the Heat are doing what the Heat do in the playoffs. They're playing the horror movie monster that you think you've gotten away from, only to turn around and find them standing there. And on Wednesday, that monster caught the Bucks.
And much like the bad decisions of the victims in horror films, the Bucks accelerated it.
Mike Budenholzer didn't call timeout with multiple opportunities for game-winning buckets. Wild, unsettled offensive possessions resulted in random heaves. Antetokounmpo missed 13-of-23 free throws. Grayson Allen a) being on the floor at all for the final possessions of overtime and b) not even getting a shot attempt up. It was everything all at once.
The Bucks have played 65 fourth quarters in their five playoff runs. In those 780 minutes, they have been outscored by 76 points — nearly a point per minute.
This is who they've been. These playoffs, this run, was the culmination of all of it, and it came at the worst time.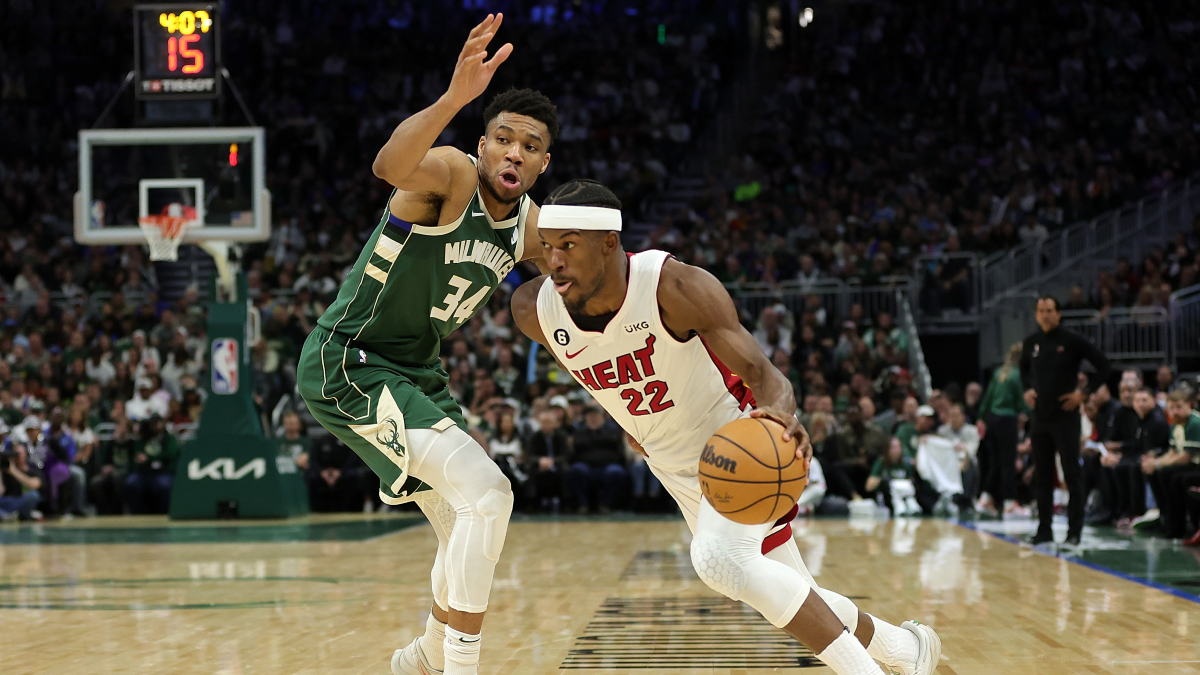 Antetokounmpo dealt with soreness throughout the season. He has a lot of miles on him now. He's been in the league for 10 seasons, playing heavy, brutally physical minutes deep into the playoffs over the last five.
His back injury was unfortunate, and while it's hard to believe the outcome would have changed, it has to be noted how much pain he was in. No wonder his normally not-excellent free throw rate was terrible, given the injury. If the player most believe is the best in the world is far from 100% and misses two games, it's not that big of a surprise that Miami simply gained too much momentum for the Bucks to overcome.
But while injuries happen, and you shouldn't overreact, again, this is who they've been, and the Bucks should have had enough to get past the No. 8 seed with a poor offense, missing both Herro and Victor Oladipo. They certainly shouldn't have gone out in five.
Yet they did.
A few uncomfortable truths lurked under this Bucks season. NBA sources have long said to keep an eye on the Bucks and their future, particularly with Middleton, who will soon be 32 years old. He has a player option this summer and is seeking that last, great, large contract.
Teams will offer it if he chooses to explore his options. Despite coming off injuries, he showed what he was capable of late in the season, even in Game 5. If the Bucks feel they have to get younger and more athletic and can't commit long-term, a key piece may be gone.
Brook Lopez is an unrestricted free agent and has always been comfortable finding a new place every few years. His stock remains sky high as a Defensive Player of the Year candidate who also still was dropping 30 at various points late in the season.
Holiday's playoff performances have been largely disappointing. It's true that he was the difference in the 2021 title season, but his offense isn't quite explosive enough. Holiday's reputation as an elite defender is well earned, and yet it was meaningless when he chose to take on Butler, despite Wes Matthews' size working better.
They do not own the rights to their own pick until 2027 (they do own several picks through swaps in the Holiday trade). They have one young wing, Marjon Beauchamp. The cupboard is bare.
The point in all of this is that this feels sudden, shocking and abrupt. It feels inconceivable for the title favorite to be out in the first round.
But there were signs. There were cracks in the foundation. It just took a Butler meteor to smash the building apart.
The question now is what will remain when the dust settles.
How would you rate this article?
This site contains commercial content. We may be compensated for the links provided on this page. The content on this page is for informational purposes only. Action Network makes no representation or warranty as to the accuracy of the information given or the outcome of any game or event.