How to Decipher the Value of Line Movement for NBA Awards
Credit:
Maddie Malhotra/Getty Images. Pictured: Draymond Green #23 of the Golden State Warriors and Marcus Smart #36 of the Boston Celtics.
One of the interesting things about NBA Awards is there is a case that can be made for a variety of different players at any given point of the season. The analysis can be based on narrative, the eye-test, advanced stats, or a combination of all those factors.
Before the season starts, the opening odds are obviously not tied to recent performance because there is none, but as the season goes on, we see these odds shift for a variety of different reasons, and I'm here to tell you not all line moves are created equal.
When we're looking for clarity on tight awards races, we can be guided by the odds listed at a sportsbook to see if someone is the betting favorite. However, just because a book has someone listed as the favorite does not necessarily mean that they are the most likely to garner enough votes to win.
Awards are not tied to probability in the same way that a spread or a player props are, where the odds often closely correlate with the implied probability of a given event (we won't even get into the Brooklyn Nets at +550 to win the title despite being in the play-in). Rather, they can be tied to a variety of factors, including limiting exposure to a bad line, garnering action on players that the book does not necessarily project to win, or balancing their books to ensure they see a profit at the end of the day.
The important wrinkle to keep in mind for awards markets is you're not really betting on player performance, you are betting on how you project a field of voters to view player performance.
Analysts across the NBA media landscape can write persuasive dissertations that aggrandize the best qualities of an individual player, but that does not necessarily mean it reflects, or changes the views of each voter. What it often does is cause a ton of bettors and readers to react, and take a line that alerts bookmakers to reconsider their line.
We've seen it recently with an award that has been tough to nail down all season: Defensive Player of the Year. There is a case to be made for a multitude of players and since Draymond Green missed so much time with injury, it has felt as if everyone is simply waiting to convinced into picking a winner.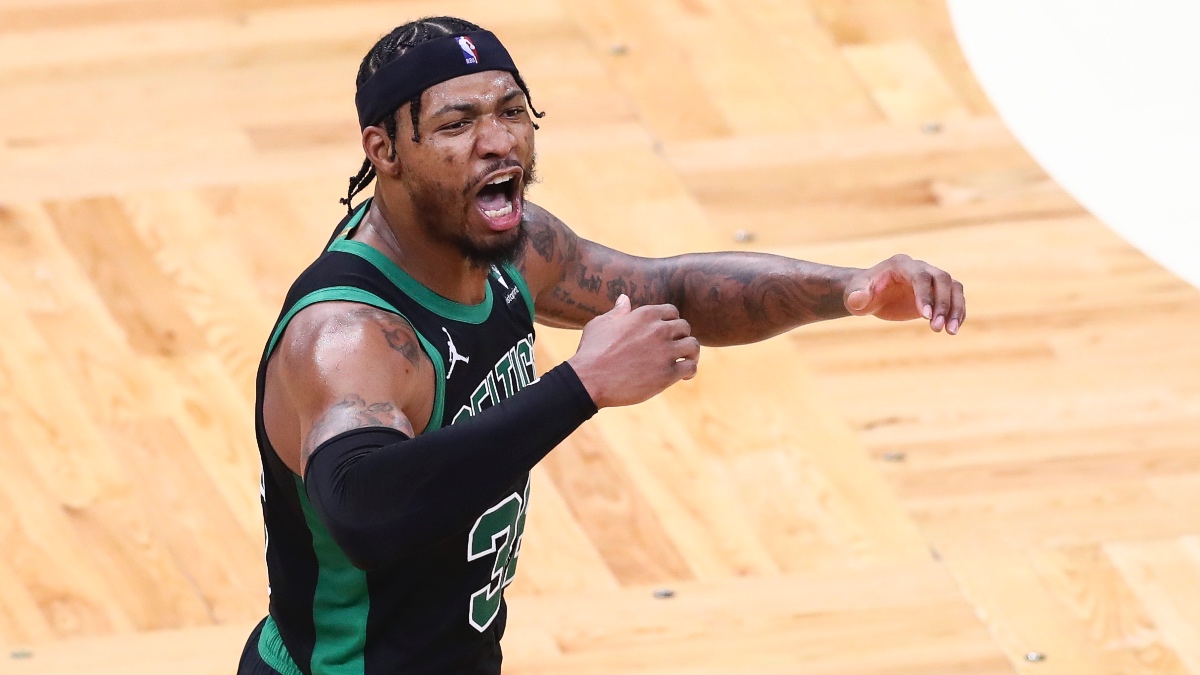 Seth Partnow of the Athletic recently wrote a piece breaking down the field for the award, and (spoiler alert) he picked Marcus Smart to win. Since this, coupled with the injury to his teammate Robert Williams, Smart has vaulted up the rankings and seen his odds dramatically shift. Smart is now the favorite (+160) at BetMGM with Bam Adebayo (+250) and Mikal Bridges (+340) close behind.
While Partnow, or any other individual writer's breakdown is valuable and gives clarity to bettors on specific players, it does not necessarily reflect the entire voting pool.
That brings up to the latest crop of MVP straw polls, which actually could be considered evidence for why a line is moving. Our own Senior NBA writer, Matt Moore, conducted a mini straw poll for his latest Futures Friday where he polled 15 likely voters:
"Of the 15 likely voters I polled, 10 people had Nikola Jokic No. 1. Of those 10, seven had Giannis Antetokounmpo No. 2. And of the remaining five votes who did not have Jokic No. 1, four of those likely voters had Giannis No. 1, leaving just one vote for Embiid as No. 1."
ESPN's Tim Bontemps released his latest straw poll, too, which accurately had Jokic as a runaway winner at the end of last season. This season, although it is closer, Jokic is once again the clear favorite among likely voters, according to Bontempts' poll. The voting for this straw poll isn't final and there are still two weeks left in the season, but it's a useful snapshot of where 100 likely voters stand.
And naturally, the betting markets quickly reacted. Embiid was as big of a favorite as (-200), while Jokic was next in odds at (+190) on Monday night. About two hours after the story was published, Jokic was +105 at FanDuel, and -110 at PointsBet.
Here's where the MVP odds stand at the time of writing on Wednesday:
Updated 2022 NBA MVP Odds
| Book | Embiid | Jokic | Giannis |
| --- | --- | --- | --- |
| FanDuel | +125 | -140 | +1400 |
| DraftKings | -105 | -125 | +900 |
| Caesars | +110 | -140 | +1000 |
| BetMGM | +125 | -145 | +1100 |
| PointsBet | +145 | -170 | +900 |
| FoxBet | +110 | -133 | +900 |
In terms of points, Jokic has 860, Embiid has 719, and Giannis has 593. The gap between Jokic and Embiid is greater than that between Embiid and Antetokounmpo, yet the betting line indicates there is a much more significant gap.
With the line move, if you have significant exposure to Jokic at a big plus-money number (i.e. 20-1), this would be a good opportunity to hedge with both Embiid and Antetokounmpo to at least return your cost basis on that ticket.
This is still a three man race, but Antetokounmpo has clear upside.
Antetokounmpo outpaces Embiid in every major statistical category aside from points (they are tied at 29.9), he leads him in VORP, and his Bucks just beat the 76ers head-to-head to win the season tiebreaker if they finish with the same record.
If the Nuggets somehow fall precipitously to close the season while the Bucks rise to the top of the East, I'd want a ticket on Antetokounmpo.
All sportsbooks have liabilities; they win long term because they set lines at a point that is profitable for them, yet enticing for the betting public. They want to garner action.
In the end, it all comes back to which player media members will vote for and what evidence we have that legitimately gives us an edge over the lines books are posting.
How would you rate this article?
This site contains commercial content. We may be compensated for the links provided on this page. The content on this page is for informational purposes only. Action Network makes no representation or warranty as to the accuracy of the information given or the outcome of any game or event.