Friday NBA Predictions, Picks & Betting Odds (Nov. 29): Can the Lakers Slow the Wizards' Offense?
Credit:
Derick E. Hingle-USA TODAY Sports. Pictured: Los Angeles Lakers forward Anthony Davis (3), New Orleans Pelicans guard Jrue Holiday (11).
This NBA season, I'm trying something new. I'm going to write a daily piece that highlights everything bettors and DFS players need to know for that night's slate. For more on what to expect, read the inaugural piece.
On Wednesday I finished 3-6 for -2.9 units. While I don't want to get sucked into the past, I think it's worth reviewing things each day.
The best way to do that is to look at closing line value (CLV), which is just measuring whether the line you bet moved for or against you by closing.
I bet Jazz +1.5 and it closed at Jazz +1 (lost)
I bet Jazz +100 ML and it closed at +100 (lost)
I bet Nets-Celtics under 214 and it closed at 214 (lost)
I bet Magic-Cavs over 209 and it closed at 209.5 (won)
I bet Kings-Sixers (2H) under 103.5 (won)
I bet Rockets -7 and it closed at Rockets -7 (won)
I bet Suns -6.5 and it closed at Suns -7 (lost)
I bet Lakers-Pelicans over 232 and it closed at 231.5 (lost)
I bet Thunder-Blazers under 219 and it closed at 219 (lost)
It ended up being a pretty mediocre day for CLV, although it looked better at times. The Rockets were up at -8 for the entire day but got bet down at the last minute to -7. The Jazz moved from +1.5 to a pick'em or even favored after it was announced Rudy Gobert was playing, but late action pushed it back.
Anyway, the only game I lost value against the closing line was in the Lakers-Pelicans game, which moved down a half point.
Overall, it was a frustrating night. I think my process was right on my main writeup of Rockets-Heat with impending Miami regression and Jimmy Butler out, but I was apparently wrong about the Jazz, which I bet pretty hard. I have been expecting more from this Jazz team all season.
They haven't been crazy disappointing or anything; they're still above .500 and look to make the playoffs. But there are some concerning things about this team. The defense has been just fine — better than expected even — but the offense has been a problem. It's not really shooting; they're 13th in eFG% while 20th in offensive efficiency overall.
The main issues have been turnovers and their shot profile, the latter of which is most concerning. There's some data that suggests while shooting numbers are especially volatile early in the season (and in small samples anytime), a team's shot profile is a fairly sticky thing. After a month or so, if a team is taking mid-rangers at a high rate or getting to the rim a bunch, that's likely to stay the same for the season.
That makes sense: Shot profiles mostly come from personnel and scheme, which don't change unless there's a major injury or coaching change, whereas on-court performance can be very luck-based.
And the Jazz have been weird:
2018-19: fourth in rim shot frequency, eighth in 3-point rate, second in corner-3 frequency
2019-20: 21st in rim shot frequency, 16th in 3-point rate, seventh in corner-3 frequency
Maybe that reverts once players get more used to each other — adding in any primary ball-handler (Mike Conley in this case) is a shock to a system — but maybe it doesn't.
And if it doesn't, it potentially lowers their ceiling long-term, even if they still remain fine in the regular season and push toward the playoffs. It also potentially makes them more vulnerable on a night-to-night basis, especially if they get down.
I know it might get old to hear about shot profiles, analytics and the Moreyball movement in basketball constantly, but it's a defining part of the current NBA zeitgeist for a reason. Math is important. And when you're consistently taking non-optimal shots, you are not the best version of yourself.
Anyway, enough about the Jazz and Wednesday's games. Let's get to today's huge 12-game slate (we're skipping the Celtics-Nets early game) and find some angles.
Note: For updates, see the chat at the bottom of this post.
YTD Record:
Overall: 109-92-1
Spreads: 36-37-1
Totals: 36-29
Moneylines: 7-5
Props: 27-21
Jump To: Odds & Analysis | Projected Starting Lineups & Injury News | Player Props | DFS Values & Strategy | My Bets | Live Chat
---
Betting Odds and Analysis
7 p.m. ET: Toronto Raptors (-3.5) at Orlando Magic, 207.5
7 p.m. ET: Charlotte Hornets at Detroit Pistons (-7.5), 213.5
7:30 p.m. ET: Philadelphia 76ers (-6.5) at New York Knicks, 209
7:30 p.m. ET: Milwaukee Bucks (-11.5) at Cleveland Cavaliers, 228.5
8 p.m. ET: Golden State Warriors at Miami Heat (-12), 209.5
8 p.m. ET: Atlanta Hawks at Indiana Pacers (-10.5), 223.5
8 p.m. ET: New Orleans Pelicans at OKC Thunder (-4.5), 229
8 p.m. ET: Utah Jazz (-7.5) at Memphis Grizzlies, 220
8:30 p.m. ET: LA Clippers (-6) at San Antonio Spurs, 225.5
9 p.m. ET: Dallas Mavericks (-2) at Phoenix Suns, 231
10 p.m. ET: Chicago Bulls at Portland Trail Blazers (-7.5), 226
10:30 p.m. ET: Washington Wizards at LA Lakers (-11.5), 235.5
Let's run through a couple angles I'm eyeing.
76ers at Knicks
What a way to start off the post-Thanksgiving holiday: betting on the New York Knickerbockers.
It's terrifying for sure, but the Sixers have the potential to be quite limited today. Al Horford and Kyle O'Quinn are already out, Josh Richardson is doubtful to play and Shake Milton is questionable. Ben Simmons is probable with an illness.
Richardson and Horford definitely don't get the buzz and media coverage that Simmons and Joel Embiid do, but they're arguably just as important to this team, especially on the offensive end. Without either of them on the floor, the 76ers have posted an eFG rate that is 4.3% worse — the most extreme mark of any players on the team.
They are perhaps the two best shooters on the team, so it's not surprising to see the offense suffer without them playing. It's a small sample, but in 281 possessions this season without either on the court, the Sixers have posted a poor -8.1 Net Rating and have scored just 102.1 points per 100 possessions (11th percentile this season).
Granted, a bunch of those minutes have come without Embiid (although with Simmons) who is a beast on both ends of the floor. Still, a main lineup of Simmons, Matisse Thybulle, Forkan Korkmaz, Tobias Harris and Embiid just isn't going to have the same punch or spacing as the regular starting unit.
Without Richardson and Horford out there, the Sixers have taken very few 3-pointers, especially from the corner. They've mostly relied on mid-rangers and shots at the rim, which can be fine, but it's also somewhat predictable.
The Knicks don't have a great defense by any means, but they have been really good at defending the mid-range and not terrible in the paint/at the rim. Taj Gibson is washed athletically but smart; Mitchell Robinson is raw but has the potential to be a dynamic rim-protector. The Knicks should take advantage of the spacing issues and pack the paint around Embiid, and if so the 76ers could have troubles offensively.
The 76ers could counter that a bit by pushing the pace in transition, although the Knicks have limited transition opportunities at a top-10 rate this year. If they play things smart today — a big if admittedly for New York — then the Knicks should be able to cover this big number against an undermanned Philly unit.
Raptors at Magic
The Magic have been putrid offensively this season, ranking 28th in efficiency, 30th in eFG% and 30th in pace. They're bottom-10 in three of the four offensive four factors.
I've written about how they've been a bit unlucky this year: They have the worst eFG% on wide-open shots and the sixth-worth mark on open ones. Per pbpstats.com's Shot Quality model, they have an expected eFG% mark based on shot location, play context, etc. of 51%-plus, but they're actually below 49%.
But I'm not going to talk about that again. Instead, I'm going to talk about their pace, which has been up a bit lately and I think for a sustainable reason. Nikola Vucevic is out for the foreseeable future, and the starters without him have played at a pace about four possessions per 100 faster. The bench has already been faster than the starting unit, so not having Vuc looks to increase the overall pace of the game a bit.
Against this Raptors team without Vuc last week, the Magic had 104 offensive possessions, their highest mark of the year. They played in the halfcourt on only 75.2% of those, which is a big difference from their normal marks (and low in general for the league). They did a great job pushing off live rebounds in particular.
Now that didn't translate into a huge offensive game — they had an offensive efficiency of just 100.0 (20th percentile) — because they couldn't finish at the rim and the Raptors defense is very good. But despite that the game still finished at 210 points — over that total of 207 and over this one, too. And that was despite super cold shooting from both teams.
All in all, if the Magic are going to play a bit faster without Vuc post-ups as a main offensive hub, then I think this low total is a bit too low at 207.
Wizards at Lakers
The Wizards this season have been profitable to the over, going 9-6-1 overall, including 7-3-1 as an underdog, as they are today against the Lakers. It's easy to understand why: They rank second in offensive efficiency, fifth in pace and dead last in defensive efficiency. Talk about a perfect situation for overs and fantasy goodness.
The Lakers have also had a great offense, ranking third in efficiency, but their defense has also been very good; they're just 8-9 to the over this year.
But they also have some interesting splits. They started off the season super-hot defensively, as you can see by Cleaning the Glass' game log layout: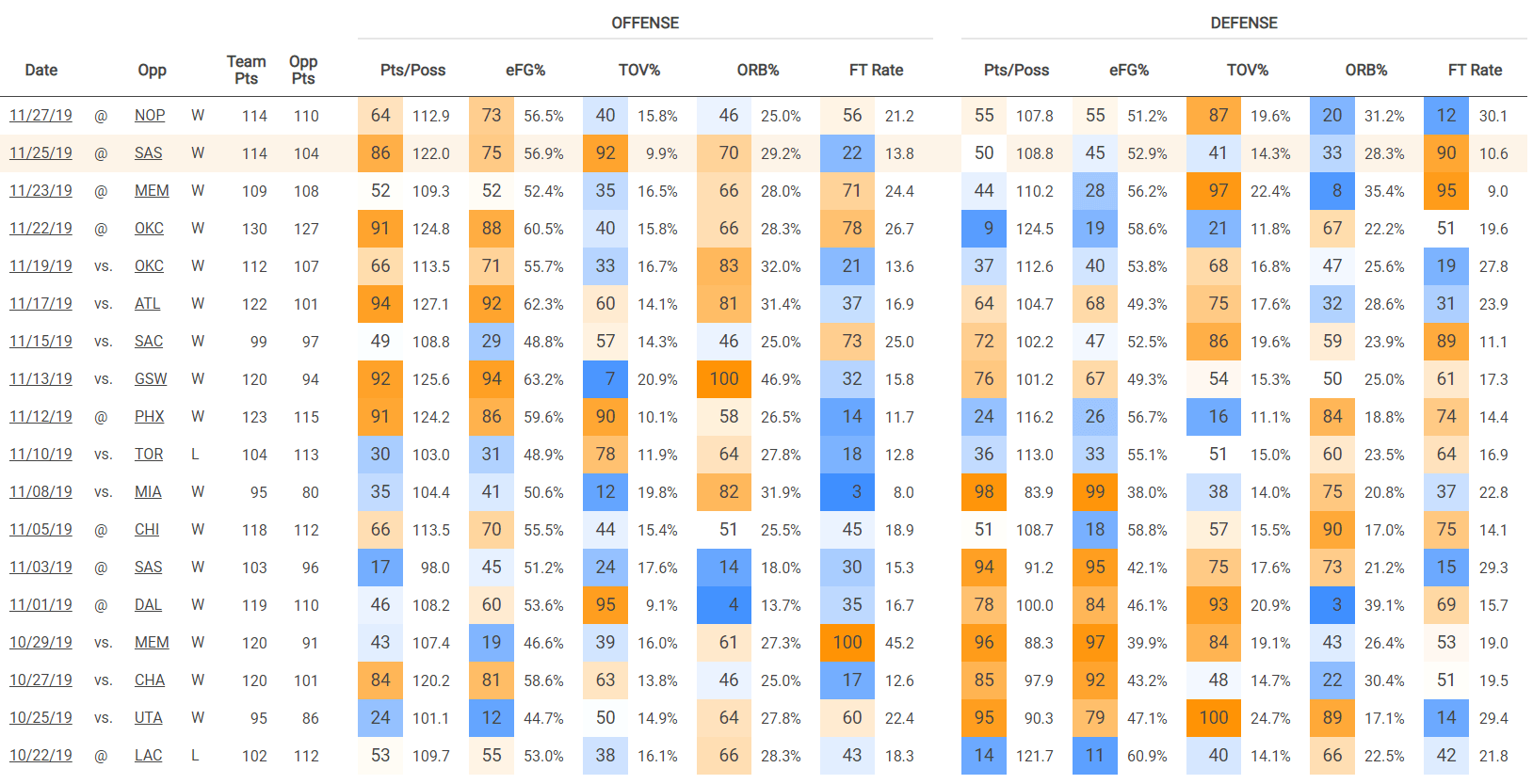 Through their first eight games, the Lakers were awesome defensively, as you can see. But since that mark, they've largely been winning on offense.
Lakers' first eight games: +10.0 Net Rating (first), 107.8 Offensive Rating (16th), 97.8 Defensive Rating (first)
Lakers' last 10 games: +6.4 Net Rating (eighth), 116.9 Offensive Rating (third), 110.4 Defensive Rating (17th)
Part of that could be schedule, but I think part of it is regression. In those first eight games, opponents posted a 32.5% eFG% on open shots vs. the Lakers — the lowest mark in the league by 5%!
But since that time, Lakers opponents have been at 58.5% on those shots, which is about middle of the pack. There's very good defensive personnel on this team, and I think they're likely a top-10 defense, but they were clearly benefiting from shooting luck to start the year.
The biggest question mark here is the sustainability of the Wizards offense. They've been on fire to start the year, but they've also been a bit lucky shooting, posting a league-high 58.2% eFG% mark on open shots. They currently have the second-best overall eFG% at 55.0%, but their shot profile suggests they should be more around league-average.
What's more, they currently rank second in Offensive Rating within the halfcourt, when defenses are set. The roster doesn't look very good, which is why it's hard to believe the team is playing this well. Their shot profile isn't great either, as they're fifth in long mid-rangers and 27th in corner-3s.
But still, the pace is super high and the defense is terrible. They're coming off a very fast, great offensive game against the Suns on Wednesday, and they actually got up a ton of corner-3s in that one.
As of early Friday afternoon, 55% of the bets are on the under, but 61% of the total money wagered is on the over, creating a disparity that could be attributed to sharp money (bigger bets). It's historically been profitable to follow that, even if the line has moved up as a result (per Bet Labs):
At 235, I think there's still a point or so of value left on the bone here.
[In New Jersey? Bet now at PointsBet]
Projected Starting Lineups and Injury News
Note: Info as of 2:30 p.m. ET. For up-to-the-minute lineups and news, see FantasyLabs' matchups page.
Projected Lineups
Atlanta Hawks: Trae Young – Cam Reddish – De'Andre Hunter – Jabari Parker – Damian Jones
Charlotte Hornets: Devonte' Graham – Terry Rozier – Miles Bridges – PJ Washington – Cody Zeller
Chicago Bulls: Tomas Satoransky – Shaq Harrison – Zach LaVine – Lauri Markkanen – Wendell Carter Jr.
Cleveland Cavaliers: Darius Garland – Collin Sexton – Cedi Osman – Kevin Love – Tristan Thompson
Dallas Mavericks: Luka Doncic – Tim Hardaway Jr. – Dorian Finney-Smith – Kristaps Porzingis – Dwight Powell
Detroit Pistons: Bruce Brown – Langston Galloway – Luke Kennard – Blake Griffin – Andre Drummond
Golden State Warriors: Draymond Green – Alec Burks – Glenn Robinson III – Eric Paschall – Willie Cauley-Stein
Indiana Pacers: Malcolm Brogdon – Jeremy Lamb – TJ Warren – Domantas Sabonis – Myles Turner
LA Clippers: Patrick Beverley – Paul George – Kawhi Leonard – Maurice Harkless – Ivica Zubac
LA Lakers: LeBron James – Kentavious Caldwell-Pope – Danny Green – Anthony Davis – JaVale McGee
Memphis Grizzlies: Ja Morant – Dillon Brooks – Jae Crowder – Jaren Jackson Jr. – Jonas Valanciunas
Miami Heat: Justise Winslow – Kendrick Nunn – Jimmy Butler – Bam Adebayo – Meyers Leonard
Milwaukee Bucks: Eric Bledsoe – Wes Matthews – Khris Middleton – Giannis Antetokounmpo – Brook Lopez
New Orleans Pelicans: Jrue Holiday – JJ Redick – Brandon Ingram – Kenrich Williams – Jaxson Hayes
New York Knicks: Frank Ntilikina – RJ Barrett – Marcus Morris – Julius Randle – Taj Gibson
OKC Thunder: Chris Paul – Shai Gilgeous-Alexander – Terrance Ferguson – Danilo Gallinari – Steven Adams
Orlando Magic: Markelle Fultz – Evan Fournier – Aaron Gordon – Jonathan Isaac – Khem Birch
Philadelphia 76ers: Ben Simmons – Matisse Thybulle – Furkan Korkmaz – Tobias Harris – Joel Embiid
Phoenix Suns: Ricky Rubio – Devin Booker – Kelly Oubre – Dario Saric – Aron Baynes
Portland Trail Blazers: Damian Lillard – CJ McCollum – Rodney Hood – Carmelo Anthony – Hassan Whiteside
San Antonio Spurs: Derrick White – Bryn Forbes – DeMar DeRozan – LaMarcus Aldridge – Jakob Poeltl
Toronto Raptors: Fred VanVleet – Norman Powell – OG Anunoby – Pascal Siakam – Marc Gasol
Utah Jazz: Mike Conley – Donovan Mitchell – Bojan Bogdanovic – Royce O'Neale – Rudy Gobert
Washington Wizards: Isaiah Thomas – Bradley Beal – Troy Brown – Rui Hachimura – Thomas Bryant
Injury News
Atlanta Hawks: Cam Reddish (wrist) is questionable.
Charlotte Hornets: Malik Monk (finger) is probable. Cody Zeller (hip) is questionable.
Chicago Bulls: Chandler Hutchison (shoulder) is out. Ryan Arcidiacono (elbow) and Tomas Satoransky (toe) are probable.
Cleveland Cavaliers: John Henson (hamstring) is out.
Dallas Mavericks: Kristaps Porzingis (knee) and Dorian Finney-Smith (finger) are probable.
Detroit Pistons: Nothing new.
Golden State Warriors: Nothing new.
Indiana Pacers: JaKarr Sampson (back) is doubtful.
LA Clippers: Rodney McGruder (hamstring) is out.
LA Lakers: Anthony Davis (shoulder) is probable.
Memphis Grizzlies: Kyle Anderson (heel) is questionable.
Miami Heat: Derrick Jones Jr. (hip) is out. Jimmy Butler (illness) is expected to play.
Milwaukee Bucks: Sterling Brown (AC joint) and Kyle Korver (elbow) are out. George Hill (back) is probable.
New Orleans Pelicans: Derrick Favors (personal) and Lonzo Ball (illness) are out.
New York Knicks: Nothing new.
OKC Thunder: Nothing new.
Orlando Magic: Michael Carter-Williams (hip) is out. Aaron Gordon (ankle) is questionable.
Philadelphia 76ers: Al Horford (rest) and Kyle O'Quinn (calf) are out. Josh Richardson (hamstring) is doubtful. Shake Milton (illness) is questionable. Ben Simmons (illness) is probable.
Phoenix Suns: Ty Jerome (ankle) is out. Ricky Rubio (back) and Aron Baynes (hip) are probable.
Portland Trail Blazers: Gary Trent Jr. (hamstring) is probable.
San Antonio Spurs: Nothing new.
Toronto Raptors: Serge Ibaka (ankle) is doubtful.
Utah Jazz: Ed Davis (fibula) is questionable.
Washington Wizards: Ian Mahinmi (Achilles) and CJ Miles (wrist) are out.
---
Player Props
To bet props, I use our FantasyLabs player props tool. Follow me in the Action Network app to see my bets (or go to the bottom of the article), but the more important thing is the tool, which measures our projections for every player vs. current odds in the market and highlights the biggest edges for you.
Player props are an inefficient market, which allows casual bettors (limits are low, so pro bettors aren't incentivized to prioritize them) to grab very +EV bets. That said, the lines move quickly. Our props tool is set up so you can always see whether there's an edge even at the updated numbers throughout the day.
It's one of my favorite tools we offer and should be one of your bookmarked pages if you like making a few extra bucks. Here's a screenshot of what it looks like:

My usual recommendation: Bet unders.
Last season, 10-rated props in our tool hit at a 60.31% rate. But overs hit at a 57.08% rate vs. 66.47% for unders. For 9-rated props, 55.96% of overs were successful bets vs. 62.60% for unders.
As I have noted in the past, unders have more outs: A blowout, an injury, a poor shooting night — all will likely make the under hit. But also, props are less efficient as a market given the low limits, so they're less likely to adjust for things like opponent and pace.
One under I think is intriguing is Darius Garland's 11.5-point total.
Garland has gone under this mark in seven of his past nine games, although he's gone over in two of his last four. Those were somewhat outlier shooting games for him, however, and his minutes have been a little volatile.
Really, though, this is about the matchup against the Milwaukee Bucks, who this season rank second in defensive efficiency and sixth in pace. Further, their defensive scheme is very conservative: They don't really ever switch, instead either dropping the big to protect the paint or doubling onto ball-handlers when defending pick-and-rolls.
Most of Garland's shots this season have been in that mid-range; he apparently likes pulling up there. The Bucks have been good at defending that area, which is where the roll-man defender usually end up.
That means guys like Kevin Love are going to have opportunities in the pick-and-pop or to swing/playmaker as the defense rotates, but it could mean somewhat fewer scoring opportunities for Garland as the secondary guard with Collin Sexton.
DFS Values and Strategy
Well, I hope you took yesterday to eat some good food, nap and recover from Wednesday's 14-game slate, because we have another big one today.
Let's start with the studs. Giannis Antetokounmpo and Luka Doncic — the two young guys — are at the top of the pricing structure, and they're obviously always in play. Giannis has the superior matchup of the two vs. the Cavaliers, but both honestly have triple-doubling, game-winning upside every night.
But I would expect most users to try to build around big men today, notably Davis and Embiid, both of whom have pristine matchups.
Davis gets the Wizards, who, as noted above, are top-five in pace but dead last in defensive efficiency. He'll match up against … rookie Rui Hachimura, if those positional cross-matches hold. Even when he plays center, he'll go up against Thomas Bryant. You get the picture: He could dominate this matchup, and he's been hot lately, notably going for 41 on Wednesday before the break.
LeBron James could be popular as well for the same reasons, although I would be hesitant to use them together. Our NBA Models have correlation data that highlights how tied together fantasy scoring is for teammates. According to that, a good game for Davis means a mediocre one for LBJ, and vice versa.

And Embiid … no need to go too in depth here. He's coming off a 33-16 game, and today he'll get the lowly Knicks without Horford and likely Josh Richardson. Even Simmons could be limited with an illness, although he's currently probable to suit up.
Value-wise, the 76ers are definitely the team to target, both because of the matchup and the injuries. Tobias Harris, Matisse Thybulle, James Ennis, Furkan Korkmaz — you name it, they're probably underpriced relative to today's role. Figuring out which 76ers to use is the name of the game today, especially since there's not a whole lot of huge injuries other than in this game.
Check out our models to see which Philly guys we're projecting the highest, along with other values to plug alongside the studs of the slate.
For more DFS analysis and value plays, check out the FantasyLabs NBA models.
My Bets Currently
Knicks +8 (I wouldn't bet past +7.5)
Looking for Wizards-Lakers over 235
Looking for Raptors-Magic over 207
[In New Jersey? Bet now at PointsBet]
Follow me in our free app if you want an alert on bets I make. I'll also make updates in the chat below.
---
Updates and Live Chat
I will put updated thoughts below, whether they're about line movement, injury news, etc. You can also ask questions, which I'll answer as quickly as I can.
How would you rate this article?