Monday NBA Odds & Picks (Nov. 4): Betting Analysis, DFS Strategies, Injuries, More
Credit:
Photo credit: Mike DiNovo-USA TODAY Sports. Pictured: Derrick Rose
From betting analysis to player props to DFS value picks and more, Bryan Mears gets you ready for Monday's six-game NBA slate.
This NBA season, I'm trying something new. I'm going to write a daily piece that highlights everything bettors and DFS players need to know for that night's slate. For more on what to expect, read the inaugural piece.
Friday I finished 7-0 for +2.5 units. While I don't want to get sucked into the past, I think it's worth reviewing things each day.
The best way to do that is to look at closing line value (CLV), which is just measuring whether the line you bet moved for or against you by closing.
I bet Spurs -7 and it closed at Spurs -7
I bet Lakers -110 and it closed at Lakers -106
I bet Bucks-Magic under 215 and it closed at u214
I also live bet the Lakers at +4.5 and +7.5 when they fell down early to the Mavericks. I did the same with the Rockets at +8.5, as well as the over/under in that game at 238.5, which I wrote up as a target in Friday's piece. Honestly, those were pretty lucky to hit and needed some bounces late, but I think the process was still a good one.
It was a good night, but let's go ahead and jump into Monday's slate. This is a long post, so use the jump links below to skip ahead to whatever you're looking for.
Note: For updates, see the chat at the bottom of this post.
Jump To: Odds & Analysis | Projected Starting Lineups & Injury News | Player Props | DFS Values & Strategy | My Bets | Live Chat
---
Betting Odds and Analysis
7 p.m. ET: Detroit Pistons at Washington Wizards (-3.5), 224.5
7:30 p.m. ET: New Orleans Pelicans at Brooklyn Nets (-4), 239
8 p.m. ET: Houston Rockets (-5.5) at Memphis Grizzlies, 230
8 p.m. ET: Milwaukee Bucks (-7) at Minnesota Timberwolves, 229.5
9 p.m. ET: Philadelphia 76ers (-1.5) at Phoenix Suns, 223.5
10:30 p.m. ET: Portland Trail Blazers (-10.5) at Golden State Warriors, 221.5
(Odds via PointsBet — claim your 200% deposit match, an exclusive promotion for Action Network users)
Let's talk about a few edges I'm currently eyeing.
Update: I no longer like the Pistons-Wizards under with Isaiah Thomas reportedly starting and getting heavier minutes for the Wizards.
Pistons-Wizards under: I haven't made this bet yet, as I'm hoping it'll get back to 225. As of Monday afternoon, 59% of the bets are on the over, which has gotten 62% of the money. It's sitting at 224.5, and I'll wait to see if the public money will push it back up at all.
The Pistons are likely down a few point guards today: Derrick Rose has already been ruled out with a hamstring injury, and Tim Frazier (shoulder) is doubtful. Bruce Brown and Luke Kennard are projected to start at the guard spots, but without Rose, Frazier and Blake Griffin, they'll be hurting for playmaking.
I think this line is potentially undervaluing the effect of Rose, who has been nothing short of amazing this season. He's one of the early favorites for Sixth Man of the Year certainly.
It's a small sample size, but his splits are pronounced: With him off the floor this season, the Pistons have been a stupid 19.7 points per 100 possessions worse on offense. Defensively, they've been worse, too, but I'm hesitant to lay a lot of blame on Rose for that. I think he's a much more impactful player offensively, so I'm weighting that part of the splits more.
Pace-wise, Rose is also important. Per NBAwowy, the Pistons have played at a 103.2 pace (would rank league-average) with him on the court vs. a 97.5 mark (easily last in the league) with him off.
I think the market is getting hyper-efficient in measuring player value to the spread, but I'm not sure we're all the way there yet in terms of value to the over/under. Without Rose and Frazier, the Pistons are likely to be much worse offensively and slow it down, too.
The Pistons already get out in transition the least of any team this year. The Wizards are 22nd in transition frequency despite having the third-highest pace in the league. Part of that is their opponents so far, but they also have weird splits when they push the ball.
Per pbpstats.com, the Wizards have averaged 13.81 seconds per possession — eighth-fastest in the league. A good chunk of that, however, is off made field goals. And somehow they've actually been more efficient off made field goals than missed ones, which is an odd split and one I don't see continuing long-term. It should be harder to score against a set defense than a scrambling one.
All said, I like the value on the under here and will try to grab it at its highest point.
Rockets-Grizzlies: Let's talk about this game for a second.
Russell Westbrook is out for this one, and here are early Rockets splits with him and James Harden…
Rockets overall: 107.8 pace | 113.9 ORtg | 116.6 DRtg
Harden and Westbrook on: 110.0 pace | 115.6 ORtg | 117.9 DRtg
Harden on/Westbrook off: 99.9 pace | 116.0 ORtg | 120.3 DRtg
Westbrook on/Harden off: 112.9 pace | 108.1 ORtg | 110.3 DRtg
Both off: No minutes
With just Harden and no Westbrook, the Rockets have tanked in pace, going from the fastest in the league to just about the slowest. That coincides with how the Rockets played last year, when they finished the season ranked 23rd in the league in pace.
The defense has been a little worse, but the offense hasn't seen much of a dip. Note, of course, that this is all a tiny sample size.
The overall metrics make sense, however, and match the eye test. Westbrook thrives in transition and attacking the rim, whereas Harden is a more methodical 1-on-1 player who likes to dribble and manipulate the defense. With Harden leading the offense with Westbrook, they'll likely play slower.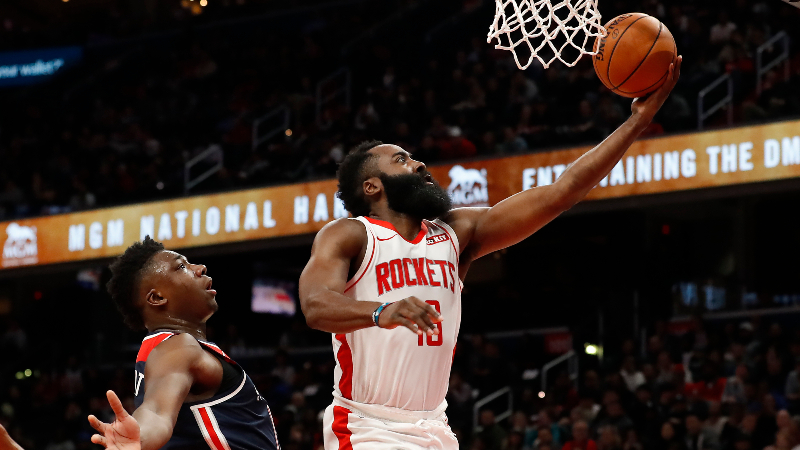 Of course, the Grizzlies have played uber-fast this year, ranking first in the league in transition opportunities. Further, the Rockets defense has been atrocious, ranking 29th in efficiency and dead last in eFG% allowed. They're allowing the third-highest 3-point rate, and opponents are first in the league on those opportunities.
Still, there's likely regression to come. The Rockets are terrible in transition defense, but they're fine in limiting those opportunities. Further, while they're middle of the pack on wide-open 3-pointers allowed, opponents are shooting a league-high 51.0% on them — a truly ridiculous number that should come down. They've been unlucky on defense.
The under is the sharp side here, although unfortunately the line has already dipped from 235 at opening to 229.5 currently. There's not much meat left on the bone there, but there could be live betting opportunity like there was the other night in the Brooklyn game.
In that one, I noted that the Rockets have started off slowly and have taken off when Harden and Eric Gordon share the floor more together. Gordon will likely take Westbrook's starting role tonight, which means the Rockets could start faster than normal before easing back into expectations.
As a result, if the over/under gets back to the mid-230s in the first quarter, I'll be looking to live bet the under. I think that's a better play than taking the low under now.
---
Projected Starting Lineups and Injury News
Note: Info as of 2 p.m. ET. For up-to-the-minute lineups and news, see FantasyLabs' matchups page.
Projected Lineups
Brooklyn Nets: Kyrie Irving – Caris LeVert – Joe Harris – Taurean Prince – DeAndre Jordan
Detroit Pistons: Bruce Brown – Luke Kennard – Tony Snell – Markieff Morris – Andre Drummond
Golden State Warriors: D'Angelo Russell – Jordan Poole – Glenn Robinson III – Eric Paschall – Willie Cauley-Stein
Houston Rockets: James Harden – Eric Gordon – Danuel House – PJ Tucker – Clint Capela
Memphis Grizzlies: Ja Morant – Dillon Brooks – Jae Crowder – Kyle Anderson – Jonas Valanciunas
Milwaukee Bucks: Eric Bledsoe – Wesley Matthews – Khris Middleton – Giannis Antetokounmpo – Brook Lopez
Minnesota Timberwolves: Jeff Teague – Andrew Wiggins – Treveon Graham – Robert Covington – Gorgui Dieng
New Orleans Pelicans: Lonzo Ball – Jrue Holiday – Brandon Ingram – Nicolo Melli – Derrick Favors
Philadelphia 76ers: Ben Simmons – Josh Richardson – Matisse Thybulle – Tobias Harris – Al Horford
Phoenix Suns: Ricky Rubio – Devin Booker – Kelly Oubre – Dario Saric – Aron Baynes
Portland Trail Blazers: Damian Lillard – CJ McCollum – Rodney Hood – Anthony Tolliver – Hassan Whiteside
Washington Wizards: Isaiah Thomas – Bradley Beal – Isaac Bonga – Rui Hachimura – Thomas Bryant
Injury News
Brooklyn Nets: Nothing new.
Detroit Pistons: Derrick Rose (hamstring) is out. Tim Frazier (shoulder) is doubtful.
Golden State Warriors: D'Angelo Russell (ankle) is questionable. Draymond Green (finger) remains out.
Houston Rockets: Russell Westbrook (rest) is out.
Memphis Grizzlies: Grayson Allen (ankle) and Jaren Jackon Jr. (knee) are out. Brandon Clarke (back) is probable.
Milwaukee Bucks: Wesley Matthews (ankle) is not on the injury report.
Minnesota Timberwolves: Karl-Anthony Towns (suspended) is out.
New Orleans Pelicans: Derrick Favors (knee) is questionable. Brandon Ingram (head) is on track to play.
Philadelphia 76ers: Joel Embiid (suspended) is out.
Phoenix Suns: Kelly Oubre (adductor) is probable.
Portland Trail Blazers: Hassan Whiteside (knee) and Rodney Hood (quad) are probable. Pau Gasol (foot) remains out.
Washington Wizards: CJ Miles (foot) is questionable. Jordan McRae (finger) is unlikely to play.
There are some huge names out or questionable tonight, including Russell Westbrook, Joel Embiid, Karl-Anthony Towns, Derrick Favors, Derrick Rose, D'Angelo Russell and more. I hit on the Westbrook and Rose situations above, but let's touch on a few more.
Embiid is out serving the second game of his two-game suspension, and he remains a highly-valuable player to his team. Look at his on/off splits throughout his career and this season, courtesy of Cleaning the Glass:

He'll likely be missed today against a Suns team that has been a revelation this season, currently ranking second in point differential. They're seventh on offense and sixth on defense.
This line feels about right to me, though. Early on, we've tracked sharp money on Suns at +2 but then again on Philly -1 and -1.5 after it moved. That indicates it'll likely fluctuate until closing at those numbers, which is right to me.
The Karl-Anthony Towns situation is pretty interesting. Without him this weekend, the Wolves smashed the Wizards and didn't seem to miss him at all. On the season (in a limited sample), the Wolves have been 12.0 points/100 worse without him offensively but 9.7 points/100 better on defense.
While they surprised against the Wiz, I'm skeptical that should continue today against the Bucks. Milwaukee plays a very conservative defensive scheme that drops its big to protect the rim and corral the ball-handler. As a result, big men, especially those who can pick-and-pop and make plays, are very important against the Bucks.
That sounds like a job for Towns and not for Gorgui Dieng, who has averaged 0.4 three-point attempts per game in his career and is not known as a playmaker on the offensive end.
This game will come down to whether the Wolves wings and big men can hit from deep, and I'm skeptical they will. The line has already moved to Bucks -7, but there might be some value on the under for the Wolves' team total.
---
Player Props
To bet props, I use our FantasyLabs player props tool. Follow me in the Action Network app to see my bets (or go to the bottom of the article), but the more important thing is the tool, which measures our projections for every player vs. current odds in the market and highlights the biggest edges for you.
Player props are an inefficient market, which allows casual bettors (limits are low, so pro bettors aren't incentivized to prioritize them) to grab very +EV bets. That said, the lines move quickly. Our props tool is set up so you can always see whether there's an edge even at the updated numbers throughout the day.
It's one of my favorite tools we offer and should be one of your bookmarked pages if you like making a few extra bucks. Here's a screenshot of what it looks like:

My usual recommendation: Bet unders. Last season, 10-rated props in our tool hit at a 60.31% rate. But overs hit at a 57.08% rate vs. 66.47% for unders. For 9-rated props, 55.96% of overs were successful bets vs. 62.60% for unders.
As I have noted in the past, unders have more outs: A blowout, an injury, a poor shooting night — all will likely make the under hit. But also, props are less efficient as a market given the low limits, so they're less likely to adjust for things like opponent and pace.
One under I think is intriguing is Brook Lopez's rebound prop, which we're currently projecting under the 5.5 number. Lopez currently has a minuscule 5.9% total rebound rate, which is tiny for a big man.
One reason is because he's a big man who plays outside, especially on offense spacing the floor. He has yet to grab an offensive board this season. A bigger part, though, is Giannis Antetokounmpo, who is posting a career-high 21.1% rebound rate on the season. Giannis is essentially a point big, so his ability to grab rebounds and push is immensely valuable for the offense.
Lopez may have some positive regression in his numbers as the season goes on, but the trend is still there. I think the under on this number will be the sharp side most nights.
DFS Values and Strategy
There's no shortage of value today with all of the big players out I listed in the injury portion of this article. It's also leading to crazy stud value, too.
On many slates, we're lucky if we have any players with a +7.0 Projected Plus/Minus or higher. Today? Eight on FanDuel.
A couple of those guys are studs: Giannis Antetokounmpo is facing a Minnesota team without Karl-Anthony Towns. Giannis is always a stud worth buying given his triple-double opportunity. But even higher in value are James Harden, who is without Russell Westbrook today, and Andre Drummond, who remains without Blake Griffin and will also be without his two main point guards in Derrick Rose and Tim Frazier.
Value-wise, Gorgui Dieng is just $4,000 on FanDuel and should start again without Towns. Last game, Dieng in nearly 24 minutes put up 18-8 with two steals and three blocks, exceeding value by nearly 30 points. Sheesh. Bruce Brown and Luke Kennard for the Pistons should get all the minutes they can handle with the Detroit guards out; they're just $3,900 and $5,000, respectively.
Honestly, the challenge today is deciding which values you want to go with in cash games. We've yet to mention Jonas Valanciunas or Jeff Teague or Eric Gordon or Kyle Anderson or Brandon Clarke or Markieff Morris or Taurean Prince. That's what happens when so many studs are out in a single slate.
And the big question is where to go contrarian for tournaments. I usually like to eat chalk on the value guys — there's a reason they're such values — and pivot to a different stud who hit a ceiling game.
Those options today are guys like Damian Lillard, Ben Simmons or Kyrie Irving. But fading Harden, Giannis and Drummond sure is a tough pill to swallow.
For more DFS analysis and value plays, check out the FantasyLabs NBA models.
My Bets Currently
Under 221 in Blazers-Warriors (I wouldn't bet past 221)
Looking for Rockets-Grizzlies live under of less than 234 in first quarter
[In New Jersey? Bet now at PointsBet]
Follow me in our free app if you want an alert on other bets I make. I'll also make updates in the chat below.
---
Updates and Live Chat
I will put updated thoughts below, whether they're about line movement, injury news, etc. You can also ask questions, which I'll answer as quickly as I can.
How would you rate this article?