Phan: Why NBA Game 82 Is My Betting Super Bowl — And the 15 Bets I Like Tonight
Credit:
Greg M. Cooper-USA TODAY Sports. Pictured: Sacramento Kings point guard De'Aaron Fox (5)
As someone who bets a lot of NBA games off injury news, today is my Super Bowl. It's Game 82 of the regular season. Players are getting scratched left and right, and the odds have been on the move all day.
If you follow me in the Action App, you may have noticed your phone lighting up a little more than normal today. Like I said, it's my Super Bowl.
Today is an extremely good reminder of the value of using our @FantasyLabsNBA Twitter handle and news feed as a betting and fantasy resource. Minutes after high-profile players got ruled out, you saw games come off the board, but it's not instantaneous. That means you can absolutely beat the market if you're speedy.
Let's quickly go through each of the 15 NBA bets I've made (so far) for tonight. I'll give some of my thought process behind the wager, and, more importantly, some analysis on whether the current numbers posted around the market still have value.
---
Pistons at Knicks
8 p.m. ET
My Bet: Under 208
Current Odds: Over/Under 206.5
This was a straight reaction to the news that Blake Griffin is out tonight. I figured that was coming, as he looked severely limited and was completely ineffective (7-25 FG, 3-13 3PT) in the Pistons' last two games. Detroit's Offensive Rating plummets from 107.6 (17th) to 102.6 (28th) when Griffin is off the court this season.
Does it still have value? No. Think 206.5 is about right and there's not much of an edge at the current number.
---
Warriors at Grizzlies
8 p.m. ET
My Bet: Grizzlies +6.5
Current Odds: Grizzlies +6
Kevin Durant, Klay Thompson and Andre Iguodala will all play tonight for the Warriors … but they're expected to be limited to just 15-20 minutes. With Stephen Curry, Draymond Green, DeMarcus Cousins and Shaun Livingston already out, Golden State is waving the white flag in a game that has no meaning whatsoever given they already clinched the No. 1 seed in the West.
Does it still have value? Yes, at +6. What's been abundantly clear over the course of the season is that this is one of the Warriors' worst bench units in some time. With Durant and Thompson limited to just 15-20 minutes, we'll be seeing a ton of Quinn Cook, Alfonzo McKinnie, Damion Lee, and Jacob Evans tonight. No thanks.
---
Pacers at Hawks
8 p.m. ET
My Bets: Hawks +1.5; Hawks -1
Current Odds: Hawks -4.5
I bet Hawks +1.5 right when the lines opened in the early morning. Pacers coach Nate McMillan has been talking about resting his starters, and since he hadn't done it in any of the previous games, it was pretty obvious they were going to sit a bunch of guys tonight.
Bojan Bogdanovic, Myles Turner, Thaddeus Young and Wesley Matthews will all miss tonight's game — and I expect Indiana's veterans who are playing (Darren Collison and Tyreke Evans) to have their minutes capped in what is a totally meaningless game for the Pacers. There was some uncertainty on the status of Domantas Sabonis, but he'll only play in case of an emergency (foul trouble, injuries).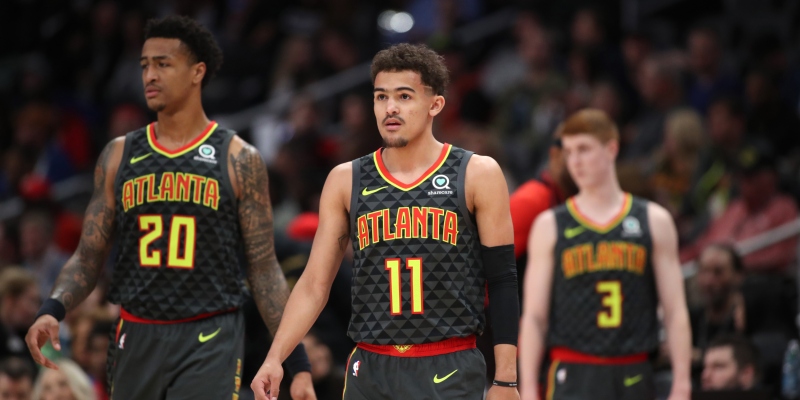 Meanwhile, the Hawks get back Trae Young and John Collins after a one-game absence due to load management. They'll essentially have a full squad (minus Dewayne Dedmon) playing against a very depleted team.
Does it still have value? No, though I'm a bit surprised it's gotten all the way up to -4.5. I would've still bet it at -2.5 or -3, but the Hawks have lost most of their value at this number.
---
Bulls at 76ers
8 p.m. ET
My Bets: Bulls +9, Under 223, Under 222.5
Current Odds: Bulls +6; Over/Under 219
My initial Bulls bet came after I found in a game recap that Ben Simmons and Tobias Harris wouldn't play tonight, while Jimmy Butler, Joel Embiid and JJ Redick were unlikely to suit up. Butler, Embiid, and Redick have since been ruled out.
The Bulls are also missing four of their five starters — Otto Porter Jr., Zach LaVine, Kris Dunn, and Otto Porter Jr. In addition, JaKarr Sampson, who's been Chicago's best player lately, is no longer with the team as the Bulls were unable to sign him with a second 10-day contract because they were granted a roster hardship provision to sign him initially.
With so many shot-creators out on both sides, I bet the under twice.
Does they still have value? No for the spread; yes for the over/under. I still like Under 219. Both of these teams are severely lacking players who can create their own shot. I have a hard time seeing either team scoring a whole lot more than 105 points.
---
Thunder at Bucks
8 p.m. ET
My Bet: Thunder -3
Current Odds: Thunder -4.5
This is a situation where there's a big gap in motivation. The Thunder still very much want to win, as they try to avoid dropping to the 8-seed and playing the Warriors in Round 1.
The Bucks, meanwhile, have locked up the top seed in the East. Giannis Antetokounmpo and Brook Lopez are both out, and the starters who are playing should see their minutes slashed.
Here's the one wrinkle: After I bet the Thunder, Paul George popped up on the injury report as questionable with a sore right shoulder.
Does it still have value? Yes … but only if Paul George is confirmed to be playing. I'm good with OKC -4.5 or -5 in that case.
---
Magic at Hornets
8 p.m. ET
My Bet: Hornets -3.5
Current Odds: Hornets -4
The Hornets still have a faint chance of making the playoffs, so they won't be resting anyone (Marvin Williams and Cody Zeller are out with injuries). In general, I love targeting them at home, where Kemba Walker has been great throughout his career.
I made my bet after Jonathan Isaac got ruled out for the Magic, but before news dropped about Nikola Vucevic missing the game. It looked like a 40-45% chance Vucevic was going to play, so I thought it was worth the risk to beat the market. Right before 6 p.m. ET on Wednesday, Vucevic was ruled out and the Hornets moved to -4.5.
The Magic have a playoff seed locked up, while the Hornets should be giving their best effort at home.
Does it still have value? Yes. Now that Vucevic is confirmed to be out, I like this up to Hornets -5.
---
Heat at Nets
8 p.m. ET
My Bet: Nets -4
Current Odds: Nets -5.5
The Nets can secure the 6-seed in the East with a win, so they're certainly motivated tonight playing at home. The Heat, meanwhile, are on the second leg of a back-to-back, playing on the road after Dwyane Wade's emotional final game in Miami last night.
Wade will play tonight, but is dealing with knee pain and will have his minutes monitored. Coach Erik Spoelstra said he'd sit out in any other circumstance. The Heat also have a few other guys nursing injuries, namely Justise Winslow. A lot of their starters played big minutes last night, which is a concern with an older Heat team.
There's even talk of Miami playing Udonis Haslem tonight, as he's contemplating retirement at season's end. That would be good news for the Nets: Haslem has no business being anywhere close to an NBA rotation at this juncture of his career.
This is just a tough spot — and the Nets are in decent form. DeMarre Carroll and Joe Harris will miss tonight's game, but Brooklyn has the depth to compensate and Caris LeVert looks as close to 100% as he's been in a while.
Does it still have value? Not really. Tiny bit of value left in -5.5, but nothing significant.
---
Jazz at Clippers
10:30 p.m. ET
My Bet: Clippers -6.5, Clippers -7
Current Odds: Clippers -8
My Clippers bets were a direct reaction to the Jazz having a ton of guys ruled out. Derrick Favors, Donovan Mitchell, Rick Rubio, Rudy Gobert and Kyle Korver will all sit out for Utah.
The Clippers still have plenty of motivation. They need to win to avoid getting the 8-seed and having to play the Warriors. LA will get a boost from having Patrick Beverley and Danilo Gallinari back in the starting lineup tonight. The Clippers' bench will also be intact. Lou Williams and Montrezl Harrell against the Jazz's new second unit featuring the likes of Ekpe Udoh, Grayson Allen, Tony Bradley, and Naz Long is not going to be remotely fair.
An added bonus: The Jazz are on the second night of a road back-to-back
Does it still have value? Yes. I'd bet this all the way up to Clippers -8.5. Starts losing value at Clips -9.
---
Kings at Blazers
10:30 p.m. ET
My Bet: Kings +8.5, Kings +8, Under 228.5
Current Odds: Kings +3; Over/Under 225.5
I saw this report come out just after noon ET from a connected Blazers beat writer, so I jumped on Kings +8.5 early. I was making a bet that either Damian Lillard and/or CJ McCollum would indeed be ruled out.
Tuesday's game was hard-fought, the team got in late from LA, they'd likely prefer not to play Moe nor CJ on the second night of a back-to-back regardless and Dame has said multiple times he'd like to rest in the last game, so… https://t.co/IkaD5eK1Tr

— Casey Holdahl (@CHold) April 10, 2019
Immediately after the Lillard and McCollum news became official, I hit Kings +8 again.
Sacramento has been out of playoff contention for a while, but it has been playing its starters normal minutes during that stretch. I don't see any reason why that wouldn't be the case tonight.
In terms of the under, I have a hard time seeing how the Blazers create consistent enough offense without their two main shot-creators and while playing on the second night of a back-to-back. Fatigue will for sure play a factor down the stretch of this game, particularly in the fourth quarter.
Does it still have value? Yes for the spread. I still like Kings +3, and would even consider the Kings moneyline if you're up to it. While most of the value has been sapped out of the over/under, I can see a case for the Blazers Team Total Under 115, given the reasons outlined above.
How would you rate this article?