Monday's NBA Injury Report: Betting, DFS Impact for Nets and Spurs
Credit:
John E. Sokolowski-USA TODAY Sports. Pictured: Joe Harris
Brooklyn Nets guard Joe Harris is questionable while the San Antonio Spurs are dealing with injuries of their own.
We break down the betting and DFS impacts for both teams in Monday's NBA Injury Report.
Monday night's NBA slate features six games with injuries and questionable players. We'll analyze the following two:
Milwaukee Bucks at Brooklyn Nets: 7:30 p.m. ET on NBATV
San Antonio Spurs at Sacramento Kings: 10 p.m. ET on NBATV
Note: The information below is as of 10 a.m. ET. Check out our live news feed and follow us on Twitter for up-to-the-minute news and analysis.
Nets G Joe Harris (Hip) Is Questionable
Injury background: Harris was questionable last Sunday with a sore right hip before being made available. He played 19 minutes in that game, and was excluded from the injury report the subsequent three games. He's now questionable with the same injury from last week.
Tonight's impact: The Nets are thin in the backcourt without Caris LeVert (foot), Spencer Dinwiddie (thumb) and Allen Crabbe (knee).
Shabazz Napier started the last game Harris missed, but Dinwiddie was available off the bench. Napier or Theo Pinson could start if Harris is unavailable, but since the Nets deploy a zone defense, communication will be disrupted in the first and second units.
If Harris sits, expect increased minutes for Pinson. Napier's salary has risen to season-highs with the absence of Dinwiddie over the past week, capping his utility. Pinson could vault into a punt option, and Mitch Creek could be forced into the rotation.
The Bucks are a solid matchup for Harris because they allow a plethora of 3-point attempts to opponents as a result of selling out to limit shots at the rim. Regardless, the Bucks claim an elite defense. Their pace has been among the fastest in the league this season, which has led to plenty of raw points allowed.
The Nets are presently home underdogs implied to score 110.75 points. When Harris, LeVert, Dinwiddie, Crabbe and Jared Dudley (hamstring) have been off the court, the Nets have sustained a 107.9 Offensive Rating, down from 109.2 when Harris is removed from that quintet.
The Nets were bothered by the length of the Magic in their last game and held to 89 points. The Bucks possess exceptional length, creating considerable downside when contemplating the over.
Additionally, Rondae Hollis-Jefferson has looked limited following a myriad of injuries, and Rodions Kurucs has hit the rookie wall, converting 9-of-40 shots in the last four games.
San Antonio Spurs
Injuries: Derrick White (heel) is out. Dante Cunningham (ankle) is probable.
Injury background: White was added to the injury report with a sore left heel. He missed the first nine games of the regular season with a torn left plantar fascia, and the Spurs might be acting cautiously in sitting White.
Cunningham is probable for the second straight game with a sore right ankle. Gregg Popovich said Cunningham was available during pregame media availability on Saturday, only for the team to rule Cunningham out less than an hour later.
Tonight's impact: White had started 23 straight games, and the last time he was unavailable, Cunningham started and played 14 minutes. Cunningham was subbed out at the 5:16 mark of the first quarter and didn't return until Popovich emptied the bench midway through the fourth period.
Davis Bertans started the second half ahead of Cunningham, and either is a candidate to start for the injured White.
Pau Gasol has started six of the past seven games in which a regular starter has been ruled out, and he could also enter the replacement mix. Alas, he's averaged 13.8 minutes per start, and most of White's minutes will likely filter elsewhere.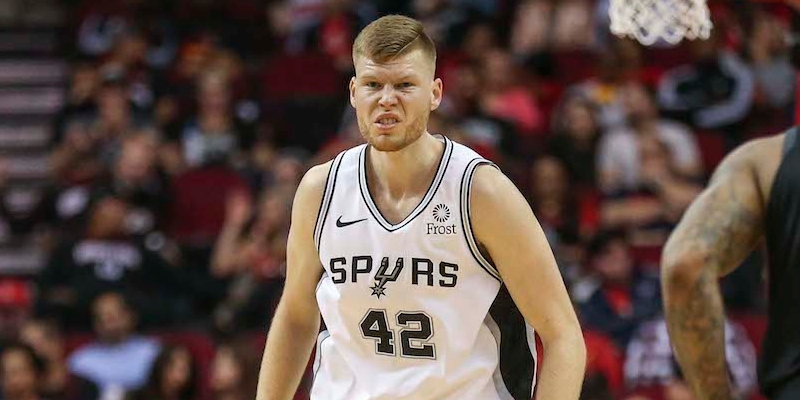 Bertans has exceeded salary-based expectations in eight straight games in which he's played at least 24 minutes. He's also an elite 3-point shooter — converting on 47.1% of his attempts this season — and the Kings are one of five teams allowing a 3-point rate higher than 36% since the beginning of January.
When the four usual starters — Bryn Forbes, DeMar DeRozan, Rudy Gay and LaMarcus Aldridge — have been on the court without White, the Spurs have recorded a +0.7 Net Rating, per Cleaning the Glass. None of the normal starters have increased their DraftKings per minute production while Forbes has been the only Spur with a usage rate increase, via the NBA On/Off tool.
The Kings have actually ranked fifth in Defensive Efficiency since the beginning of January, and they've dropped to 10th in pace over that span.
The Spurs' pace hasn't drastically altered with or without White, but there's a noticeable jump in tempo from when DeRozan and Aldridge are on the court to when the reserves play.