NBA Most Improved Player Odds & Picks: OG Anunoby, Ja Morant, More Value Bets Entering the Season
Credit:
Cole Burston/Getty Images. Pictured: OG Anunoby #3 of the Toronto Raptors.
Six major individual NBA awards are given out each year. For five of them we have a pretty good idea what sort of person wins it:
MVP: Best player on the best team
Rookie of the Year — Rookie with the best counting stats
Sixth Man of the Year — Highest-scoring bench player
Defensive Player of the Year — Elite big man on a top-five defense
Coach of the Year — Whichever team overachieves the most
Those are generalizations, of course, but it's amazing how often those five awards can be reduced to something so simple. The one award we don't have any real way to explain is the Most Improved Player award.
Take a look at the last nine Most Improved Players, all of whom fit a similar profile:
2021 Julius Randle, age 26, improved from 20/10/3 to 24/10/6
2020 Brandon Ingram, age 22, improved from 18/5/3 to 24/6/4
2019 Pascal Siakam, age 24, improved from 7/5/2 to 17/7/3
2018 Victor Oladipo, age 25, improved from 16/4/3 to 23/5/4
2017 Giannis Antetokounmpo, age 22, improved from 17/8/4 to 23/9/5
2016 CJ McCollum, age 24, improved from 7/2/1 to 21/3/4
2015 Jimmy Butler, age 25, improved from 13/5/3 to 20/6/3
2014 Goran Dragic, age 27, improved from 15/3/7 to 20/3/6
2013 Paul George, age 22, improved from 12/6/2 to 17/8/4
Those are our last nine MIP winners. Let's note a few important patterns.
1. All nine guys leapt into All-Star/All-NBA consideration
This is not an award for guys who went from the fringe of the roster into a sure rotation spot. It's also not an award for surprisingly steady contributors. And most importantly, it's not guys like Jerami Grant and Christian Wood who move into a new high-usage situation and increase numbers drastically without ever really looking like an All-Star.
All nine of these guys leapt all the way to the verge of stardom. Anything less than that is not enough, certainly not compared to the way this award used to be given out.
2. They're young and early in their careers
Three MIPs were in their age-22 season. Four more were 24 or 25. Randle (26) and Dragic (27) are actually on the older side.
History tells us we are most likely looking for a player entering their age 22-through-25 season, maybe 26 or 27 for late bloomers. That narrows the scope quite a bit, on both ends. The average MIP this decade is 24 years old.
3. Numbers matter, especially points
Improvement bears out in the counting numbers, and not just scoring. Check the numbers above. Every MIP winner improved in points, rebounds, and assists per game, with the lone exception of Dragic dropping a single assist.
Those nine MIPs averaged around 14 points, 5.5 boards, and 3 assists the year before winning the award. They then leapt to an average of 21 points, 6.5 boards, and 4.5 assists their winning season. As always, points are king.
4. Winning matters, too
Eight of our nine MIPs made the playoffs. Brandon Ingram was the lone exception, and he was a very narrow winner over Bam Adebayo, whose Heat went to the Finals. In most cases, the MIP winners made the playoffs but didn't go particularly far.
So what have we learned?
We're looking for a player around age 22-to-25 entering their third or fourth season who looks primed to make an All-Star leap — and we want someone in the 15/5 range who can leap to 20 PPG and make the playoffs.
The Favorite
MPJ is the favorite or close at most books, and he certainly looks primed for a huge season. The absence of Jamal Murray for much of the season should leave plenty of opportunity for Porter, and he sure took advantage last season. In the 20 games after Murray's injury, Porter averaged 24.6 points on blistering 56/45/85 shooting with 3.5 3s per game.
If he does that over a whole season, he will absolutely be in All-Star consideration and then some. At 23 years old entering the third year of his career, he looks like a perfect fit.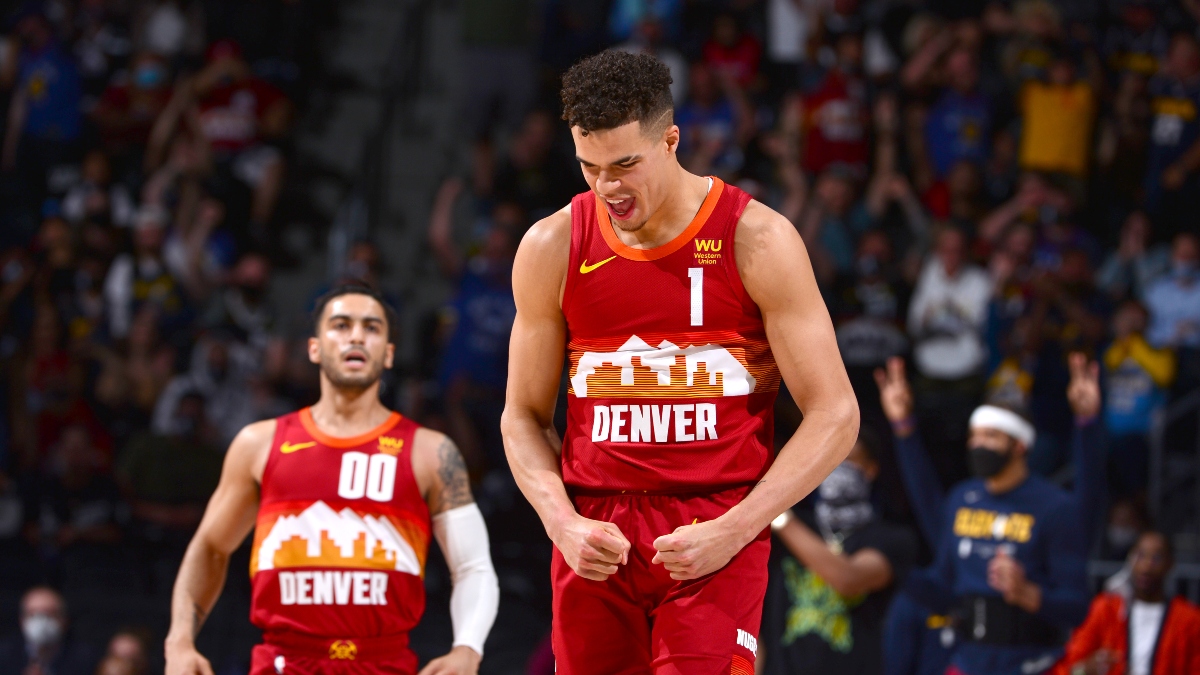 But is he already too good?
Porter already put up 19/7 last season. That's a better line than any of our MIPs had entering their winning year until Randle's win last season.
It's unwise to ride the betting favorite this early for such an unpredictable award. And don't forget, there's one shot Porter won't take this season, so that could be a factor too.
The Unicorn
Porzingis really doesn't fit our criteria. He's a previous All-Star. He's on the older side for this award at age 26 and entering his seventh season as a pro. And he's already averaging 20 PPG.
Still, Porzingis is "The Unicorn" for a reason. He's never been like anyone else, so why start now? A real Dallas breakout probably depends more on a jump by KP than one from Luka Doncic.
I still can't get over the 13 games right before the pandemic when Porzingis finally looked healthy and whole. During that stretch he averaged 27.7 points and 11 rebounds a game on 50/40/83 shooting, with 3.6 3s and 3.5 stocks a game and a BPM around 9.0. That is an MVP line.
If Porzingis can stay healthy all season and produce anything like that, you have to wonder if he'd break the mold and get some MIP attention. He doesn't fit our formula, but he's a pretty interesting 100-to-1 long shot.
Big Men Playing for a Big Contract
Deandre Ayton, Suns (+6500 FanDuel)
Ayton averaged 14/10 last season but leapt to 16/12 in the playoffs on 66% from the field. Could that portend an even bigger leap to come?
It would be a bit odd to give this award to a former No. 1 pick. Oladipo was a No. 2, but switched teams twice before winning MIP.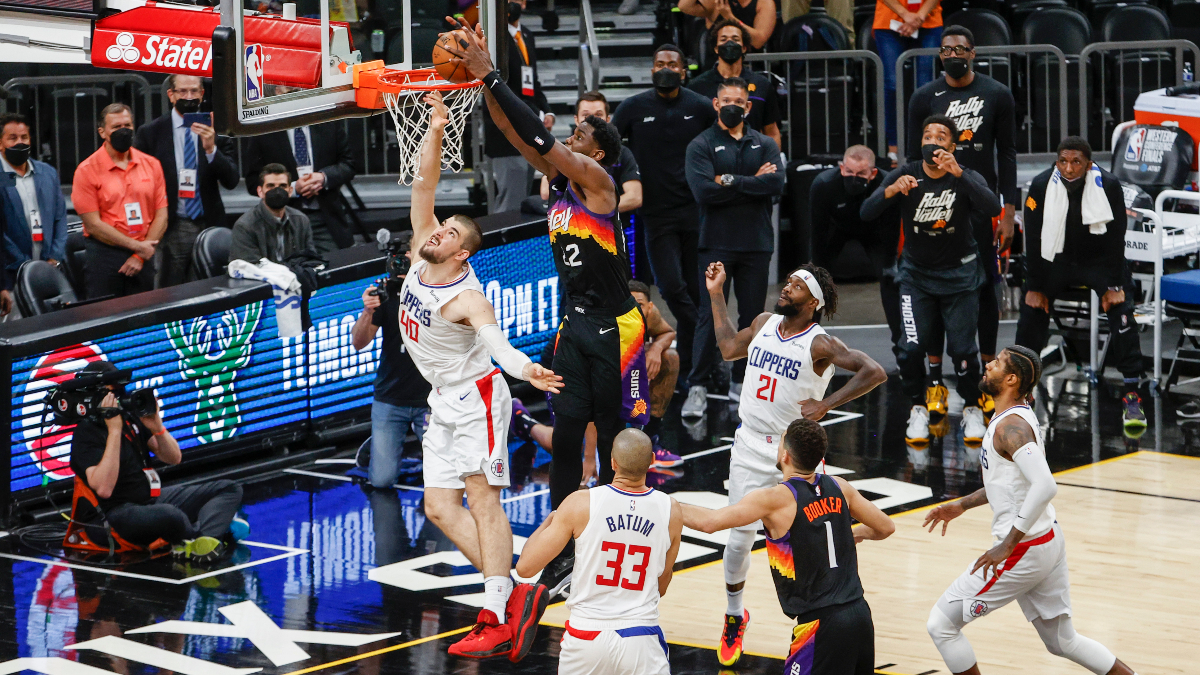 Ayton would need to ride the narrative leap from the playoffs, but can he really get the numbers leap he'd need? That probably means something like 20/14 and an All-Star leap, but does he really get that with Chris Paul, Devin Booker, and that deep Phoenix team? The Suns are probably too good to have an MIP breakout without a major injury.
Jaren Jackson Jr., Grizzlies (+2400 FanDuel)
Jackson is 22 and entering his fourth season, though last year was mostly a lost season to injury. But JJJ is healthy this preseason, and boy does he look good. His scoring has increased each game from 7 to 16, 20, then 29 in the finale, in which he drained 7s in a huge game against the Bulls. Just as encouraging, Jackson's fouls have fallen each game in that stretch, and he's also grabbed at least seven rebounds every game.
Fouls and rebounds were a big problem for JJJ in the past, so this is a good sign of improvement. Jackson averaged 17.4 points and 4.6 rebounds his last healthy season, but it's helpful to zoom in on December and January from that year. During that 27-game stretch, Jackson leapt to 20.1 PPG on 50/42/72 with 3.1 treys per game on 26% usage. That was a little sign of what's in there.
Can Jackson stay healthy and out of foul trouble long enough for a breakout? We're still waiting for his defense to catch up, but even if it does, that's not the sort of thing that wins this award. If Jackson shoots more 3s than ever and leaps to something like 24/7, could he be a second Grizzlies All-Star?
The Two Best Bets on the Board
Ja Morant, Grizzlies (+3000 BetMGM)
Morant hasn't made an All-Star team, but looks poised for a huge third-year breakout season. Morant won Rookie of the Year with 17.8 points and 7.3 assists per game, but didn't see much of a numbers increase as a sophomore.
But that might not have been entirely his fault. Morant had a monster opening night with 44 points and averaged 36/8 in his first two games before getting hurt, and he never looked fully healthy again. Morant rushed back to help his team, and the Grizzlies made the playoffs, but it came at a cost.
The return of JJJ should be huge for Morant since Jackson's spacing opens up driving lanes. Steven Adams also sets great screens and clears the lane more than Jonas Valanciunas.
For a true breakout, we may need to see more shooting. Morant shot 30% from deep last year, and 2-for-10 on 3s in the preseason is not encouraging. But the stage is set for a leap to 25 PPG and an All-Star berth as the best player on a playoff team.
If you do bet Morant, make sure to shop around. He's one of the favorites at some books, but still a serious bargain at +3000 at BetMGM.
OG Anunoby, Raptors (+2800 BetMGM)
We've come to my favorite play on the board.
Anunoby fits our profile perfectly. He's 24 years old and averaged 15.9 points and 5.5 rebounds last season, so he's almost exactly at the averages of those nine MIP winners.
He's also on a team with a ton of extra available usage now that Kyle Lowry is gone and with Pascal Siakam and Chris Boucher already injured. There are suddenly plenty of shots to go around in Toronto, and if the preseason is any indication, Anunoby will get lots of them.
He has been one of the stars of the preseason. He's averaging 19.2 PPG and hitting a blistering 54% of his 3s, making 3.2 treys per game in 25.1 minutes per game. Per 36 minutes, that would put Anunoby over 27 points, 6 rebounds, 3 assists, and 2 steals a game, along with more than 4.5 3s.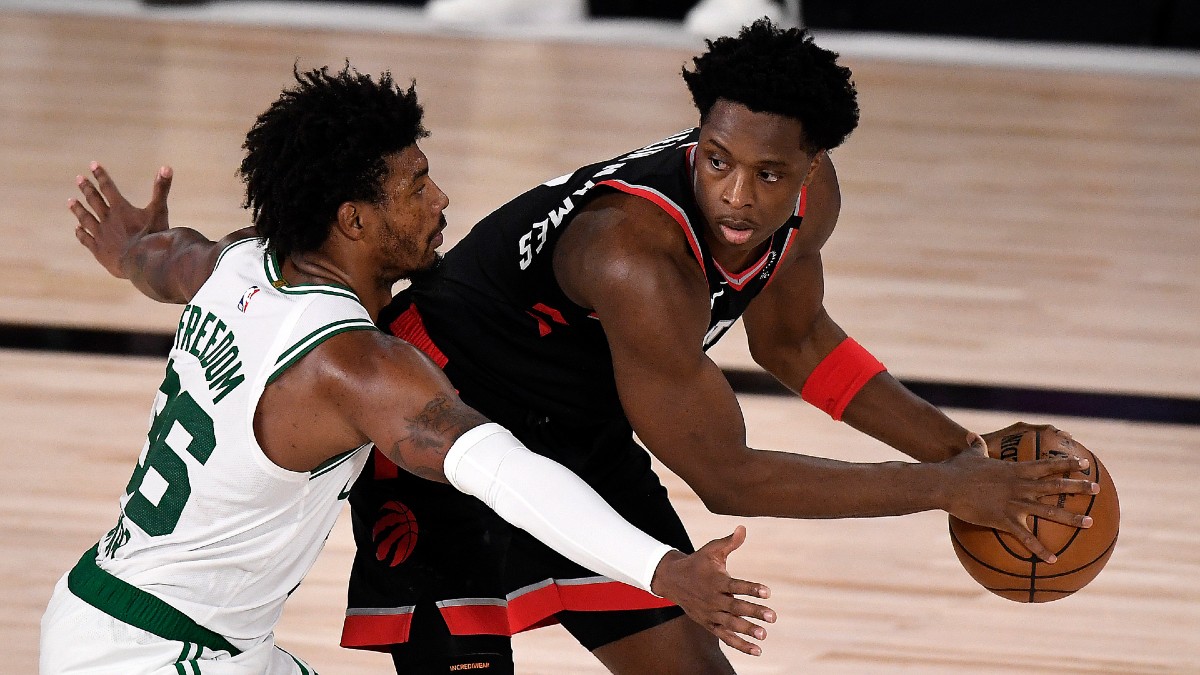 Anunoby is already a defensive stud. He also has the profile of a player who can make big improvements as a hyper-athletic defensive wing who is slowly rounding out a raw offensive game.
He showed a significantly improved handle this preseason, and he looks more in control of his game and aware of the game flow. The jumper is far smoother too and has already been improving in recent seasons. He looks poised for a serious uptick in usage.
Anunoby is already getting major preseason hype as a potential breakout player. On our Buckets podcast, I recommended Anunoby as my favorite play on the board. He was +6600 at BetMGM at that point.
The OG hype has already robbed a lot of that value, but I still see real value at +2800 at BetMGM. I'm buying Anunoby stock while it's available.
But this is a wide-open award. I'll grab some Morant too, and now that I know what to watch for, I'll keep my eye out for other budding All-Stars leaping to over 20 PPG in that age 22 to 25 range. The battle is only just beginning.
How would you rate this article?
This site contains commercial content. We may be compensated for the links provided on this page. The content on this page is for informational purposes only. Action Network makes no representation or warranty as to the accuracy of the information given or the outcome of any game or event.