Why Does Frank Vogel Play Andre Drummond With Anthony Davis? It's complicated.
Credit:
Barry Gossage/NBAE via Getty Images. Pictured: Andre Drummond #2 and Anthony Davis #3 of the Los Angeles Lakers.
No one outside of the Los Angeles Lakers themselves really understands the Andre Drummond situation.
With 2:10 left in the third quarter of the Lakers' Game 1 loss to the Phoenix Suns, Drummond checked out, finishing with 12 points on 5-of-7 shooting, nine rebounds, one block, and a was -4 in his 19 minutes of action.
In Drummond's three stints in Game 1, the Lakers were held even in the first, outscored in the second by four points, and held even in the third. Drummond's three stints were all spent with Anthony Davis on the floor.
It's important to note that Davis also played poorly and after the game put it on himself to perform better in Game 2. Davis did, in part thanks to 21 free throws as he put up 34-10-7.
Equally notable was that Drummond finished +5 with 15 points and 12 rebounds in Game 2.
The Lakers made a significant adjustment in Game 2, pinning all of Drummond's minutes with LeBron James. That led to an on-court offensive efficiency of 122 for Drummond, even if the defense slipped.
But still, it is puzzling why Drummond continues to play such a big role on the Lakers despite the team being worse with him on-court — specifically worse next to Davis — while Marc Gasol, NBA champion and former Defensive Player of the Year, has vanished to the bench before finally being used in Game 2.
For two years, Lakers fans have clamored for more of Davis at the 5. When the superstar forward was traded from the New Orleans Pelicans, the idea that Davis would resist playing small-ball center was discarded, as fans so often do in assuming the best-case scenario will come to pass.
Davis missed a significant chunk of the season with injury but ultimately played just 103 minutes this entire season without one of Marc Gasol, Montrezl Harrell, or Drummond on-court with him. He played 14 of those in Game 1, with half of those minutes coming in the fourth quarter as the Lakers attempted to make a comeback.
Naturally, the questions come fast and furious, pointed at one man: Lakers head coach Frank Vogel.
"Why wouldn't Vogel just play his best lineup? This is so easy! It's just stubbornness from Vogel!"
Well, that depends on who you ask.
Occam's Center
The first, and easiest theory is that Vogel simply believes in the pairing.
"Of course. Absolutely. We have two of the best bigs in the game. AD playing with another 5 man like he did all year last year was one of our best lineups," Vogel said. "I do think it will work. I don't know what the overall was tonight, but it's definitely a combination we believe in." – Courtesy of Silver Screen and Roll back in April.
Rebounding is the easy thing to attribute it to. One league source that works with personnel decisions painted it differently:
"I think they're trying to make last year's strategy work, and that's how they're used to defending," the source said.
Last year, the Lakers absolutely bullied teams with Davis next to Dwight Howard, and if necessary, JaVale McGee. Their route to the playoffs was different, however, facing an overmatched Portland Trail Blazers team, a small-ball Houston Rockets team, and a Denver Nuggets team that specifically struggled with bigger, more physical lineups.
Vogel has also played big lineups in the past at other stops.
"[Vogel] has always played big lineups, a traditional power forward and a traditional center. It was [David] West and [Roy] Hibbert in Indiana, then [Serge] Ibaka and [Nikola] Vucevic in Orlando," a long-time league executive noted. "The coaching tree he comes from is pretty traditional in terms of position play."
The Suns — and other teams the Lakers will play in this postseason should they advance — are a bit different in their matchup challenges, however. And that's where the source's other comment comes into play:
"Also, (they are) trying to placate AD."
Preference Materials
Here's Davis at his Lakers introductory press conference in 2019:
"I like playing the four, I'm not even going to sugarcoat it. I like playing the four, I don't really like playing the five," Davis said. – Courtesy of Silver Screen and Roll.
And here's general manager Rob Pelinka that same day:
"We wanted to make sure to honor what Anthony asked for when we traded for him: To get some fives that he could play with."
This was an under-discussed element in New Orleans as criticism rained down on the Pels for having Omer Asik and other centers around, completely ignoring the fact that Davis does not want the physical wear and tear of playing center. Davis has a history of injury issues, a lithe frame, and the sensibilities of a guard, which is what he played before his growth spurt in high school.
But playing a center next to Davis is one thing. Davis and Gasol had a +11 Net Rating this season despite all the time LeBron James missed. Why Drummond?
An NBA scout opined, "I have no clue (why they don't play Gasol instead of Drummond). Gasol gave us issues all year and I felt like he helps that team so much. Drummond is popcorn stats — empty as hell."
The Friends We Made Along the Way
When it became obvious that Drummond was on his way out in Cleveland, initially league sources I spoke with felt he was most likely to join the Nets, which turned out to be false. The missing connection was Davis and Drummond's relationship that dates back to high school.
"We're pretty close," Drummond said. "Being in the same draft class, seeing each other through high school and grow throughout the years and being teammates on the USA team also is an excellent experience, too. Just to watch him grow has been real fun for our friendship."– Courtesy of the Detroit Free Press back in 2015.
No one I spoke with for this story is privy to the exact relationship or assurances that led to Drummond agreeing to join the Lakers. But multiple league sources said they were under the impression that assurances about playing time and a strong chance to start were included. This is nothing out of the ordinary.
"Players in that buyout situation have a tremendous amount of leverage, being midseason pickups coming in on cheap contracts to help teams that really need them," one agent said. "They can dictate the terms, and often times those terms are things the coach has to abide by whether he likes it or not."
Power Outrage
It's often misunderstood how the power dynamics in the NBA work. Traditional sports hierarchies hold the coach up as the ultimate decider of playing time and rotations, and that's simply not the case in many instances.
"You've got players to please. You've got front office people to please. You've got agents to please, which can have ripple effects. You've got all these people to please, and at the end of it, you've got to navigate all that and get the wins. It's not easy," one agent who represents several high-level coaches told The Action Network.
This has of course been exacerbated by the player empowerment era the league is currently experiencing. There are good elements, particularly when it comes to union negotiating power and the complicated societal elements involved, and there are also consequences of it.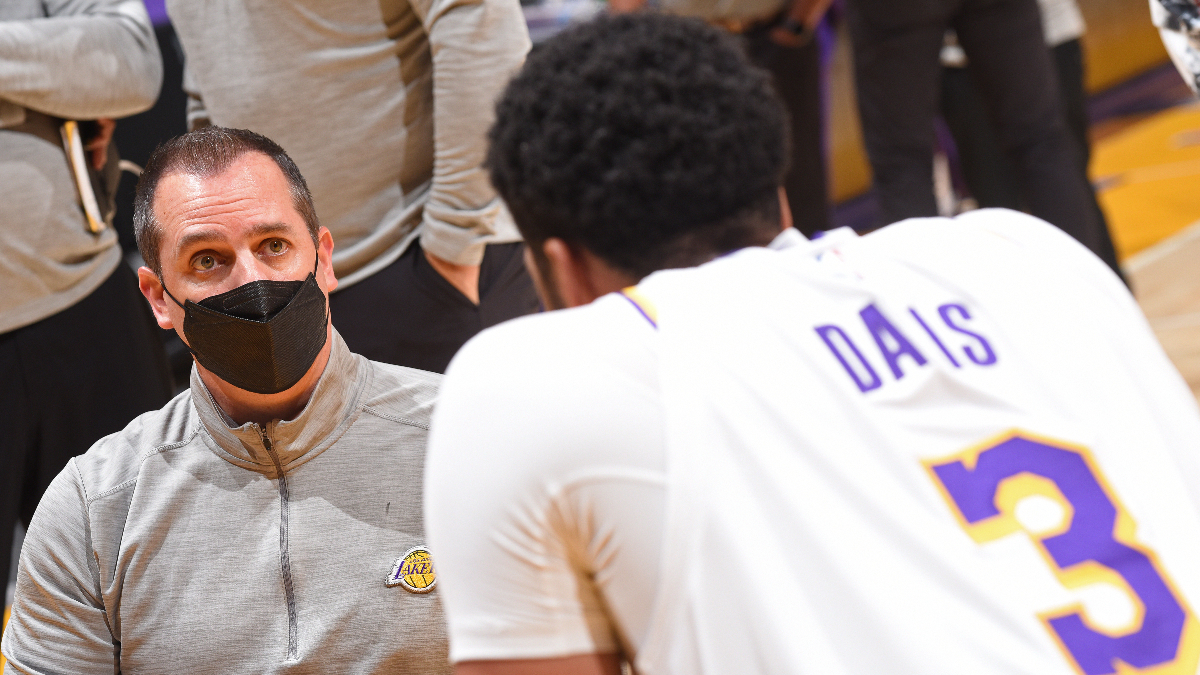 Some coaches have more authority than others, the agent remarked.
"Sometimes in these situations, the front offices aren't defending their coach. Miami defends their coach. Pat Riley would be like 'go f*** yourself.' The instability of the coaching world has given the players the opportunity to get coaches fired."
Now, again, it's possible that Vogel just really believes these lineups are the answer, long-term, for how the Lakers want to play. LA wants to bully its opponent with physical defense and interior scoring. Vogel's teams have always had clear identities, and those identities have been met with success.
Game 2 reinforces that idea, as afterward, the Suns have been outscored with Drummond on the floor vs. Deandre Ayton. But trying to separate that from the impact of LeBron James being on-court is equally difficult.
Any examination of why the Lakers sometimes act in ways that seem to betray the most direct line between themselves and on-court success has to be met with an understanding of the complicated politics of the NBA and how those factors may — or may not — influence the Lakers as they pursue their title defense.
How would you rate this article?