Warriors NFT Championship Ring Sales Raise More Than $2 Million
Credit:
Noah Graham/NBAE via Getty Images. Pictured: Stephen Curry #30 of the Golden State Warriors.
The Golden State Warriors raised more than $2 million in an NFT auction on Opensea this weekend.
The team sold 327 NFTs of artwork of championship tickets and rings and raised the bulk of the money through NFT auctions that also included physical rings.
An astounding $871,581 was paid for an NFT of the team's six championship rings combined in one. The winner will receive a physical ring that combines all those rings made by Jason of Beverly Hills. The ring will have 120 grams of 14K gold and 475 diamonds and sapphires weighing nearly 5K.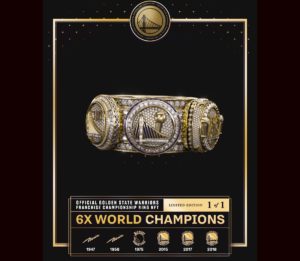 If the ring alone is considered, it would be the second highest price ever paid for a championship ring. Charlie Sheen sold his 1927 Babe Ruth ring in 2017 for a little more than $2 million. The custom Warriors ring is more than double the price of the previous high price paid for an NBA ring — Kareem Abdul-Jabbar's 1986-87 Lakers champ ring, which sold for nearly $400,000 in 2019.
Seven auctions included a physical ring with prices paid from $51,984 for the NFT and physical ring associated with the 2015 title to $130,292 for the physical ring associated with the 2018 title. That winner will get a courtside ring presentation and courtside seats.
The Warriors also sold a "Golden Ticket" NFT for $85,875. The NFT entitles the bidder to become a Warrior for a day, which includes signing a one-day contract and attend a coursed shootaround with a custom jersey.
The number of physical items offered lead some to wonder whether this should trumpeted as a success for NFT's or if its just masquerading as a standard auction. On the flip side, the physical offerings allow teams and properties to protect their brand should the idea of NFT's fall flat and lose value.
How would you rate this article?
This site contains commercial content. We may be compensated for the links provided on this page. The content on this page is for informational purposes only. Action Network makes no representation or warranty as to the accuracy of the information given or the outcome of any game or event.