2023 Final Four Film Breakdown: Do UConn & San Diego State Own Matchup Advantages?
Credit:
Photo by Sean M. Haffey/Getty Images. Pictured: Jordan Hawkins (UConn)
You know the stats. You've checked KenPom daily over the past six months. You know who's on top of Bart Torvik since Feb. 1 (it's UConn, by the way), and you have a projected spread and total for both Final Four games.
As sports bettors, we sometimes get too wrapped up in the numbers. And rightfully so! Sports betting is about trading numbers, not betting on or against teams.
But there are only four teams left in the NCAA tournament, and only three college basketball games are left. So, you need to dig as deep as possible into these matchups to find an edge in the uber-efficient market.
It's time to look past the statistics and investigate the schematic matchup. There might be an Xs and Ox stylistic matchup that you won't find in the box scores.
I've been watching these teams all season, and I went back through the film and watched hours of FAU, SDSU, Miami and UConn to answer one simple question: how do these teams play basketball on the court?
I will try to avoid the numbers as much as possible, focusing mainly on the schematic tenants of each program's offense and defense.
Author's note: A very special shout out to Eric Fawcett and CJ Moore for most of the video content below.
---
---
Connecticut in One Line
Complex, organized, lethal offense combined with an athletic-but-exploitable defense.
Connecticut Offense
The UConn offense is the most complex and complicated to break down.
Coach Dan Hurley is a wizard. The Connecticut offense is a barrage of elite ball movement, smart off-ball player movement and unlimited set pieces.
The off-ball player movement is the key, more specifically, off-ball screens. The Huskies run their whole offense through off-ball screens, starting on one side of the court and moving to the other if that doesn't work.
Their goal is mainly to get Jordan Hawkins, Alex Karaban or Tristen Newton an open 3-pointer.
Look at Hawkins run figure-eights through two until he gets a shot.
Ultimately, this is how UConn generates most of its offense. The Huskies are a top-10 team in PPG from off-ball screens, and Hawkins is a top-10 player in PPG from off-ball screens.
But Hurley's offense doesn't stop after the first or second screen.
The Huskies will also utilize dribble hand-offs to spring open shooters. Here's a DHO from Adama Sanogo to Newton, and then Sanogo becomes the second end of a stagger screen to spring open Hawkins for the jumper.
But, again, it doesn't stop there. The Huskies will use off-ball screens to roll into ball-screen sets, usually with Sanogo or Donovan Clingan setting the screen.
Both big men are effective as rollers in on-ball screens, with Sanogo scoring 1.155 PPP in those sets (72nd percentile) and Clingan scoring 1.171 PPP (73rd percentile).
However, the two are so effective because the off-ball perimeter screens and UConn shooters pull defenders away from the basket, allowing the big men to work one-on-one.
Check out this baseline out-of-bounds set play, where both Gonzaga defenders gravitate toward Karaban, allowing Sanogo to rim-run freely.
Sanogo is an elite post-up player, but his role in this offense is that of a push-for-emergency button. If all the other sets fail, dump the ball down to the block, where Sanogo and his 1.018 post-up PPP will be there waiting to bail the Huskies out.
It's a damn good last option, and that's why the UConn offense is so tough to stop. The Huskies run so much complex and beautiful stuff so crisply, and then they have an elite fail-safe option.
There's one last crucial piece to mention: Andre Jackson Jr.'s development.
Jackson can't shoot. A big part of UConn's cold streak was because defenses sagged off Jackson on the perimeter, freeing up defenders to help on Hurley's deep playbook.
But Hurley, ever the offensive genius, adjusted. He now moves Jackson around the court like crazy, specifically utilizing him as a cutter. Jackson's high basketball IQ has managed to find the soft spots of every defense.
When Jackson is cutting like this, you can't help off him. That's opened back up Hurley's pandora's box.
Jackson also developed into an elite distributor in his new role. He's dished out 31 assists over four tournament games, utilizing hand-offs and quick-flash passing to find easy layups or open 3s.
The Huskies' offense is brilliant, and it's run to perfection. I don't know how you stop it.
Connecticut Defense
Usually, you'll get hard-hedges on ball-screens, specifically from Sanogo. But you wouldn't be surprised to see UConn switch everything.
The Huskies play mostly straight-up man-to-man, and it's effective because everyone is an athletic plus-defender. That's specifically true about Jackson, who is one of the best on-ball defenders in the league.
You will see some ball pressure, but nothing crazy. However, Hurley does like to run opponents off the 3-point line.
The Huskies' post-defense is surprisingly poor statistically, but they make up for that with monstrous interior size.
Meanwhile, the Huskies' transition defense is surprisingly solid statistically, but they're vulnerable there because of how hard they crash the offensive boards.
It's a mixed bag for UConn defensively, but the team has been playing elite defense.
The Huskies have been communicating so well on both sides of the court.
---
---
Miami in One Line
Quick-twitch offense, quick-twitch defense, for better or for worse.
Miami Offense
Guard play, guard play, guard play.
All five guys can create for themselves, with everyone bringing something different.
Isaiah Wong brings elite-level shot creation and dribble penetration. Jordan Miller is elite with his off-ball motion. Nijel Pack and Wooga Poplar are elite spacers and shotmakers. Norchad Omier is the nation's most versatile big man in the pick-and-roll.
Jim Larranaga runs very simple actions to get everyone going, the players space the floor way out, and then the offense just flows.
The Canes run plenty of guard-guard screens to create isolation mismatches. From there, it becomes easy for the players to pressure the rim, slip into the mid-range, or step back for 3.
Look at how Pack and Omier set a quasi-faux stagger screen for Wong, only for Omier to roll while Pack pops. Pack gets the one-on-one against Houston's Jamal Shead and cooks him.
In a similar play, Wong uses Omier in a high ball screen and hits Pack in the same spot. However, both defenders get pulled to the perimeter, and Pack hits the ever-athletic Omier for a slam.
That's a free-flowing motion offense at work.
The Canes also look for back-door cutters from their guard-heavy play.
Miami runs the initial action and lets its athleticism and proclivity for bucket-getting take care of the rest. It's pretty fun to watch.
It's also adaptable and amorphous. There hasn't been a single ball-screen coverage scheme that has stopped Miami from scoring at will.
Miami Defense
I haven't mentioned Miami's transition offense. The Canes are one of the most transition-reliant offenses in the NCAA, getting out in transition at a top-15 rate with top-20 efficiency marks.
Part of that is Miami's pure athleticism. The guards are quick-twitch, much faster and better than opposing transition defenses.
However, a second part of that is Miami's aggressive defense. The Hurricanes want to turn defense into offense, so the Canes relentlessly pressure the ball handler.
They'll throw double teams, blitz ball screens and fly around the perimeter trying to cut off passing lanes.
But that also leaves the Hurricanes open to back cuts behind the defense. And Miami is very small, and vulnerable at the rim to either cutters or post-ups from big men.
Sadly, UConn is built to ruthlessly exploit those weaknesses.
---
---
FAU in One Line
Four around one.
FAU Offense
FAU is incredibly deep. The Owls run nine deep, which has helped them wear down opponents during their tournament run.
However, take a deeper look at the roster construction. It's seven elite 3-and-D guards and two monstrous big men.
This is very much by design.
Dusty May runs a four-out, one-in ball-screen motion offense. He puts four guards who all can run the pick-and-roll, take defenders off the dribble, or shoot. And then he puts one monstrous center in the middle to roam the paint.
It's a low-quality shot, but this is the base set offense for FAU.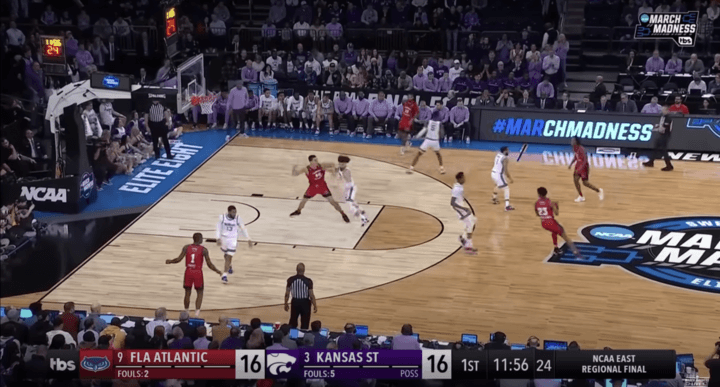 Look at that spacing!
From there, the Owls attack you in a few ways.
First, the Owls will look for short-roll ball-screen action. Check out Bryan Greenlee reject the Vladislav Goldin screen, only to dish it to him and have Goldin turn and hit a back-door cutter.
Second, the Owls will look for off-screen action to free up one of its many well-spaced shooters.
Here's another Greenlee-Goldin ball screen, but only for Goldin to set another off-ball screen and free up Alijah Martin for the shot.
And the Owls will do that repeatedly, ball-screen into off-ball screen into a short roll into a shot, either at the rim or from 3.
But in reality, coach May is looking for this:
This is the key to everything FAU does on offense. The Owls space the floor, move the ball deliberately and launch 3s.
The other sets are gravy.
FAU Defense
The FAU defense is four-around-one inspired, too.
FAU mostly plays drop coverage, letting one of the monstrous bigs sink toward the rim against ball screens and other sets. From there, the four guards play one-on-one, and the Owls are surprisingly frisky for how undersized they are.
With Goldin patrolling the paint, the Owls are freed up to run guys off the 3-point line more.
Generally, the key to beating this defensive style is getting mid-range shots over the Goldin drop.
Luckily for San Diego State, that's exactly what the Aztecs want to do.
---
---
San Diego State in One Line
Keep it simple, stupid — zoom action and drop coverage.
San Diego State Offense
I alluded to SDSU's offense in the FAU section, and it's because the Aztecs love to meddle around in the mid-range.
The Aztec guards and wings prefer to find mismatches and create buckets in that area. But the Aztecs do this mainly because they have no other offensive reprieve.
San Diego State is a wildly disorganized offense for a Final Four team. The Aztecs don't excel in any area and don't have easy ways of generating offense.
From what I can tell, coach Brian Dutcher and the Aztecs utilize the "we got dudes" offense. Every Aztec is so strong and tough that they have simply out-muscled opposing interior defenses in that mid-range area.
There was one set that San Diego State ran repeatedly in that game vs. Creighton, known as a zoom "duck" action.
It's a dribble hand-off from the big man — in this case, Nathan Mensah — who then rolls. The ball-handler then creates his shot or looks for the big man "ducking" toward the rim.
It worked, as Creighton's elite drop coverage couldn't adjust to SDSU's physical and aggressive style.
Darrion Trammell, Lamont Butler and Mensah combined for 38 points on 13-for-27 shooting from 2-point range.
San Diego State Defense
The San Diego State defense is infinitely more entertaining to break down. The Aztecs run a quasi pack-line defense with drop-coverage elements.
On the perimeter, the Aztecs always attack from one pass away, looking to create havoc, turnovers and offense from defense.
The Aztecs are also just ruthlessly pressuring ball handlers. They didn't let Creighton get into any offensive set in the second half of the Elite 8 game, shutting off everything on the perimeter.
Additionally, here's Butler getting Brandon Miller early in the Alabama game.
Against ball screens, the Aztecs will use Mensah in drop coverage, similar to how FAU plays them. The San Diego State guards and wings are solid enough defenders to guard everything else one-on-one, so the Aztecs also run guys off the 3-point line.
Here's Mensah dropping toward the rim against Alabama, only to come in late and send a layup into the stratosphere.
However, there's a key difference between San Diego State's defense and everyone else's — the Aztecs are the best close-out team in college hoops. Coach Dutcher emphasizes high hands when closing out, and the Aztecs execute.
As a result, no team is better at dictating opposing shot selection than the Aztecs. They will funnel you off the 3-point line and into the mid-range, where you're forced into an inefficient 2-point shot over the Mensah drop with a physical defender draped all over you.
There's a reason the Aztecs are in the Final Four, folks.
How would you rate this article?
This site contains commercial content. We may be compensated for the links provided on this page. The content on this page is for informational purposes only. Action Network makes no representation or warranty as to the accuracy of the information given or the outcome of any game or event.