Betting on Coaches' Quirks: Sweaty Sean Miller, Cranky Coach K, and More!
One of my favorite sports-related trips was the year I went to the Pac-12 tournament in Las Vegas. Sure, I lost a tooth somewhere in the MGM Grand (story for another time), but I still had a blast.
It's safe to say college basketball brings out the best in me, so now that the college sports calendar has officially flipped from football to hoops, I have some wisdom I'd like to share.
College basketball coaches are a unique breed. These sweaty, fiery, borderline crazed individuals can swing a game with the simple toss of a suit jacket. But some are better than others at the not-so-subtle attempts to motivate their teams.
Here are four totally and completely foolproof (not really) betting tips tied to some of my favorite coaching quirks.
The more Sean Miller sweats the more likely Arizona is to win. It's science.
As an Arizona alum, I love Sean Miller. But I have some breaking news to share: Sean sweats. A lot. When it becomes too much, his jacket will come off, and you will see his white shirt soaked to a point where he definitely would win a wet t-shirt contest. More importantly, the sooner he sweats through his shirt, the more heated and determined he gets. The most memorable instance of this came in the 2016 NCAA tournament, when Sean's whole body was covered in sweat halfway through the first half and someone snapped the epic screengrab below. Arizona lost that game (don't wanna talk about it), but trust me, you want keep an eye out Sean's sweating tendencies. If he has one of those moments where he tosses his jacket on the bench and his shirt looks like he just fell in the pool, it wouldn't be a terrible idea to live bet the Wildcats.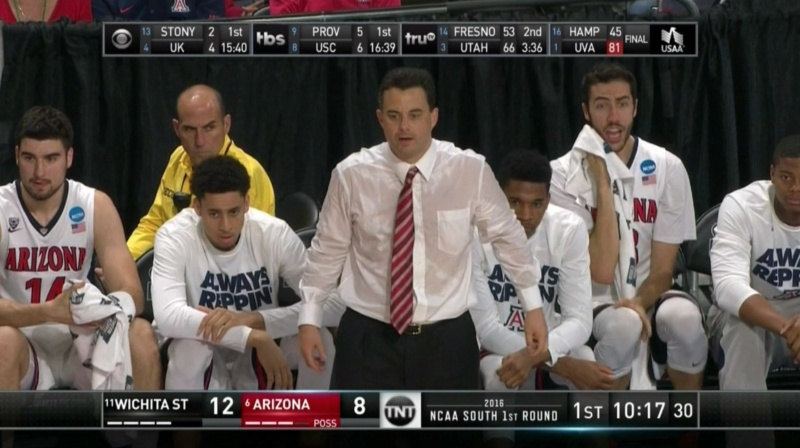 When Bill Self technical foul, load up on the Jayhawks.
Kansas coach Bill Self is not afraid to go ballistic on a ref, even if the call was the right one. Many think he does this purposely to get his team fired up. Either way, the strategy seems to work. Self received a technical foul in at least three games during 2016-17 regular season and wouldn't you know it, Kansas won all three of them.

So, let's say Kansas is in Manhattan taking on Kansas State, and the Jayhawks are down near the end of the first half. If Self gets one of his patented T's, my advice would be to drop a few on Kansas in the second half. The Jayhawks will pull out a W, and you'll probably get to see another Bruce Weber blow-by handshake. Win-win!
Watch out for Coach K disciplining his players like children.
No one will confuse Mike Krzyzewski with a new-age head coach. Here's a solid tip: If Coach K punishes his own players in some gimmicky way, look for the Blue Devils to come out strong in their ensuing game. Last year when he wasn't even coaching due to back surgery, Coach K was so enraged after losing three of four that, aside from games, he did not allow his players to wear anything that had Duke's logo or name on it. (Side note: Can you BE any more vain?) It seemed to work: Immediately after the apparel ban, Duke went on a seven-game winning streak. Also worth noting: During that same stretch, Coach K locked the Dukies out of their own locker room. So it seems like there's a pretty ironclad correlation between the players not having their bidets and being extremely motivated.
The perfect Jim Boeheim prop.
Let's end this super scientific study with the clearest fact of them all: Jim Boeheim likes to pick his nose (visual proof below). And while no book will post a Jimmy B booger prop, nothing is stopping you from offering one up to your buddy next time you're watching Cuse at a bar. 50-1 odds seems fair, no? Who knows, you may end up enjoying the fruits of your labor, much like he does.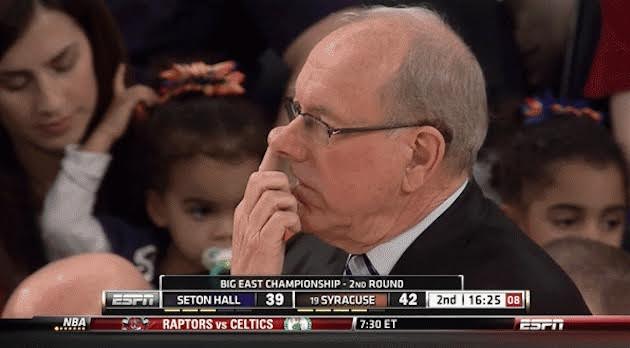 Top image via Charles LeClaire-USA TODAY Sports
How would you rate this article?