BlackJack's Final Four Postcard, Day 1: Champagne Buckets, Winning Bets and Piano Bars
Well, it's been a ride so far brother. Yours truly landed in Austin, Texas around midnight Friday night, and trekked down to San Antonio where I would conquer the city in a way nobody has since Santa Anna.
Saturday morning I wake up and head over to Southtown 101, a wonderful local dive bar, that sponsored this venture. Grab some lunch, some champagne buckets ($10?!?) and prepare to host "Viva La Vegas", my nightly radio call in show (it's on iTunes). The show went spectacularly, there were listeners who even came down to watch it live, which was awesome. After the show I get a DM, from one Reed Tellinghuisen of South Dakota State fame. Reed wants to know, where the party's at. I inform Reed the party is wherever BlackJack is. We agree to meet up after the games.
Ah, yes, the games. The superficial reason I am in San Antonio to begin with. After a couple of buckets of champagne and some shots (they were chili rimmed and delicious), we made our way to the Alamodome, which apparently is not in Texas, but the Soviet bloc, because there are no alcohol sales in the building. Absurd, I know. Anyhow, I survived that insanity and made it to my seats to watch the games.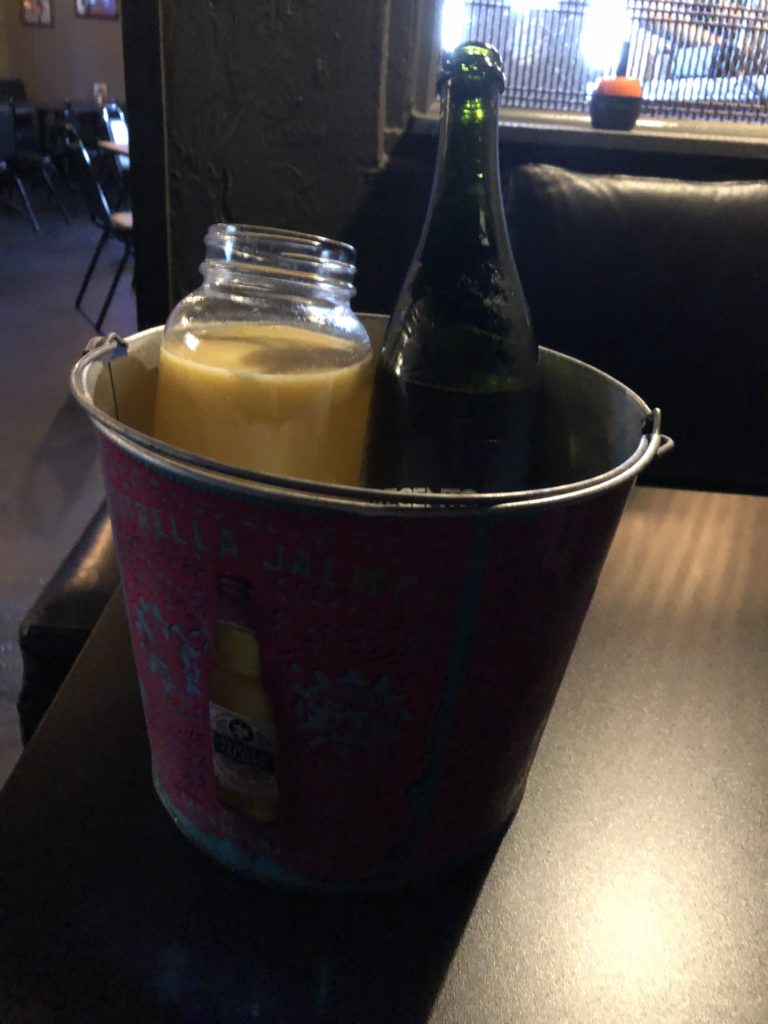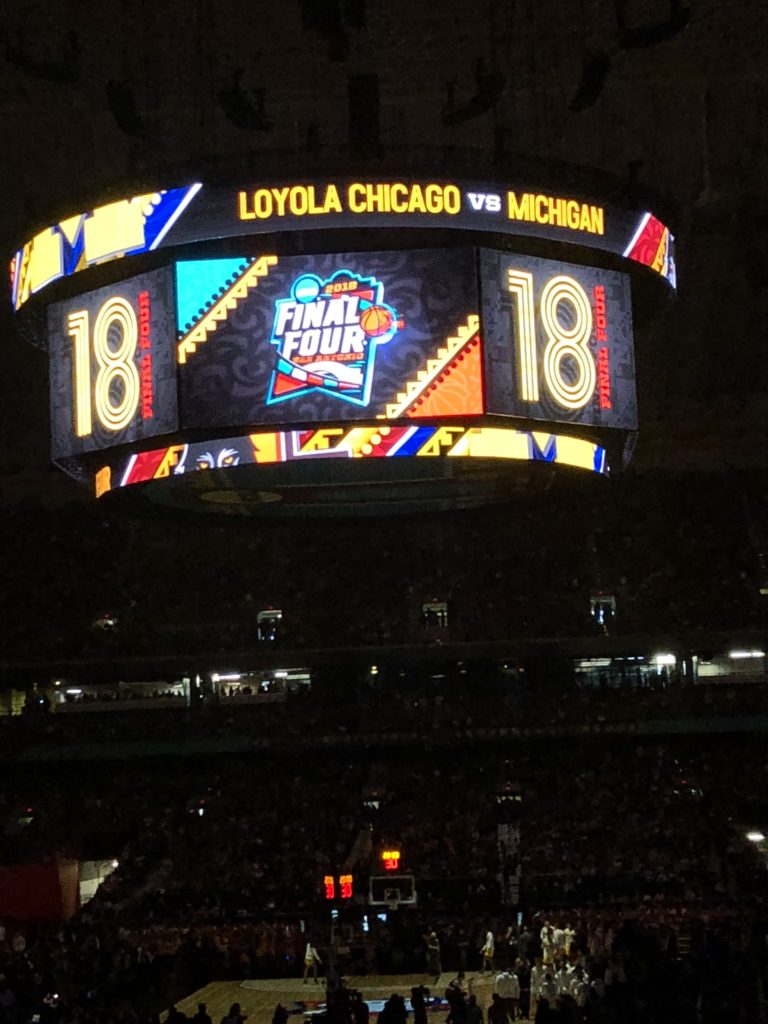 I don't want to offend any fan base here, but I'm probably about to, so what the hell. Michigan and Loyola both stunk. I mean, that was legitimately the worst basketball game I've ever attended in person. I can't remember how many shots those teams missed within three feet of the basket. I appreciate a good defensive battle, but that's not what this game was. These teams just could not get out of their own way. It was a snooze fest and everyone breathed a giant sigh of relief when the final buzzer hit. Also, Michigan's inability to hit free throws and Loyola refusing to make or even attempt a 3, cost me the over in that one. And yes, I am bitter about it. It was my only loss on a 4-1 day.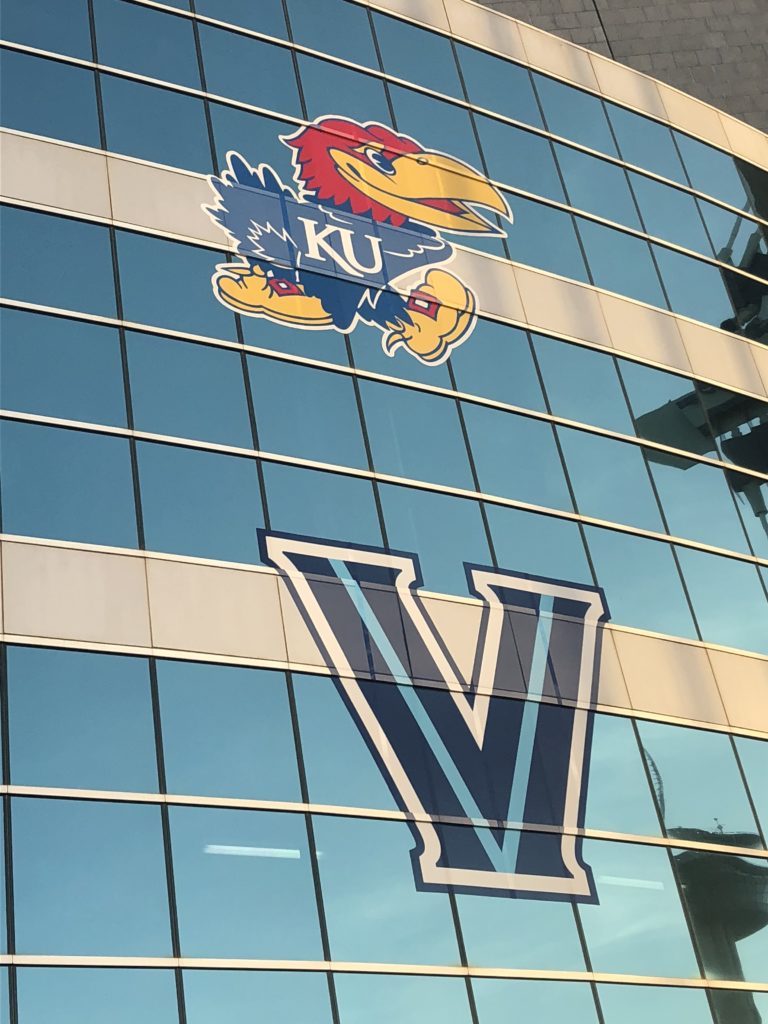 Time for the Main Event. Kansas vs. Villanova. The big boys. Man, did the big boys ever show up. Well, the ones from Pennsylvania did. The Kansas team we saw last night was embarrassing. In fact, there were a couple of Kansas fans right behind me and next to them was a Villanova freshman and her Dad; the Dad remarks that he wished it was a better game, and the Kansas fans sincerely said to the guy, "I'm sorry we're not playing well, I wish it was a better game for you guys." Not a trace of snark or sarcasm, just good old fashioned, midwestern nice. It was beautiful. Not as beautiful as Villanova's shooting was, but beautiful nonetheless. Anyway, we all know what happened there, 'Nova cruised, the over hit, it was a great game. See ya, Alamodome.
Now, I mentioned earlier that Reed Tellinghuisen wanted to party with a legend in San Antonio, so I felt obligated to oblige him. I met up with my new best friend at Howl at the Moon, a dueling piano bar. It was electrifying. The bar was awesome, they sold Skoal in vending machines, I couldn't ask for more. I also met my other new best friend, Grant Benzinger of Wright State basketball fame. Great dudes. The night got a little out of hand back at Southtown 101 around 4:30 a.m. when they changed their flights to stay a day longer. But, what the hell right? When in Rome. Or San Antonio. Now here I sit, back at the bar, new bucket of champagne in front of me. Pancakes and sausage on the plate. Ready for action. Let's go San Antonio.