UVA-Duke Mega Preview: Will Virginia's D Continue to Dominate?
Credit:
© Geoff Burke-USA TODAY Sports
As a result of their stifling defense, Virginia has built a two game lead in the ACC standings over Duke. In their most recent game, they held Clemson (albeit without Donte Grantham) to 36 total points. Let's take a look at whether or not Virginia can extend their winning streak to 12 games with a road win over Duke on Saturday.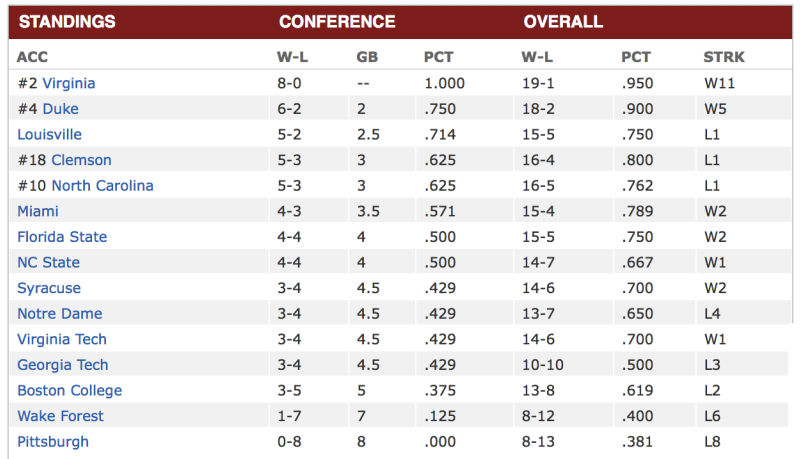 ---
Virginia at Duke (-4)
Virginia currently defends at a level not seen in the KenPom era of college basketball. That dates back to the 2001-02 season. If the season ended today, Tony Bennett's team would have the best adjusted defensive efficiency rating (.816 points per possession) of the last fifteen years. The best season ever recorded in KenPom's database came in 2014-15 from Kentucky, who held teams to .844 points per possession. That team finished with an undefeated record. We're talking about a team potentially playing the best defense in the history of modern college basketball. A team that held a ranked conference foe to 36 points in 62 possessions. A team that held the defending national champions to 49 points in 59 possessions.
So what makes Virginia's defense so impenetrable? Outside of Jim Boeheim, no coach has a defensive system as infamous as Bennett's vaunted Pack Line defense. For those unfamiliar with the system developed by Dick Bennett and perfected by his son, I will give a quick summary.
On the surface, the Pack Line is a pretty simple man to man penetration denial defense. However, in today's dribble drive and spread pick and roll heavy game, it forces teams to hit contested jump shots. The Pack Line basically breaks down into four key tenets.
1. Stifling pressure. They extend on the ball handler with their other 4 defenders behind an imaginary 16 foot "line". If all goes right (which usually does with this defense), the ball handler dribbles into the "pack" of help defenders. The ball handler then must kick out to the perimeter, as evidenced by this clipboard photo.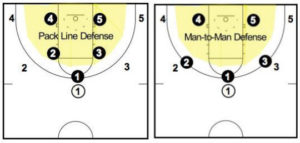 The jump shooter then gets met with a quick close out from an already in position defender from within the pack. Duke's Grayson Allen, who knows the Virginia defense as well as anyone in the ACC, has previously summed it up perfectly. In a quote to the Raleigh News and Observer:
"What they're really good at is – a lot of times it looks like five guys are defending the ball because everybody is ready to help or recover," Allen said. "And they do a great job with the rotations especially the big guys."
2. Double relentlessly on every post touch. Ideally, Bennett would never have the ball get into the post. However, when it does, a second big comes with a quick double team. Simply put, no team will beat Virginia at the rim. Per hoop-math, the Cavaliers allow teams to shoot just 49.6% at the rim (8th best in the country). Arguably, the country's best overall defender resides in Bennett's frontcourt with Isaiah Wilkins. Per Synergy, Wilkins allows just .426 points per possession. That ranks as the best mark in the country among players with a minimum of 100 possessions. Bennett has used a smaller lineup of late with athletic freshman De'Andre Hunter playing alongside Wilkins. Per hooplens, when those two play together, Virginia allows a patently absurd .75 points per possession. This clip perfectly demonstrates the two main tenets of Bennett's defense.
3. No transition opportunities. Bennett largely eschews chasing offensive rebounds in order to rotate back defensively. That naturally makes sense because why not leverage the best defense in college basketball history (at this point) if teams can beat you down the floor.
4. Rebounding. If a team prioritizes jump shots, UVA wants to grab the miss. In particular, the long rebounds that typically occur from the high volume of three point attempts the pack line forces. While UVA has been off the charts defensively, the defensive rebounding hasn't lived up to Bennett's standards. In fact, this team stands as the worst ranked in terms of defensive rebounding during his tenure in Charlottesville.
Now, let's get to the main question at hand for tomorrrow. Does Duke match up against this feared UVA Pack Line? Historically, yes. Since the 2013-14 season (when Virginia fully blossomed under Bennett), Coach K has won 4 of the 5 meetings. The Blue Devils have scored over 1 point per possession in all 5 contests, eclipsing 1.1 in three.
So why has Duke had success when other teams have struggled? Simply put, Coach K's teams can ALWAYS shoot. And even more importantly, he always has size that can shoot over the Pack Line. Last year, Jayson Tatum torched Virginia with his length. The year before? Brandon Ingram. This year, all eyes will be on Marvin Bagley and fellow big man Wendell Carter, whose ability to score facing the rim will make a difference for Duke tomorrow. Additionally, Coach K has played them together more frequently of late.
I previously mentioned that UVA's frontcourt duo of Wilkins and Hunter play elite defense. However, per hooplens, Bagley and Carter score 1.28 points per possession when on the court together. Talk about strength vs strength.
Trevon Duval's obscenely quick first step can also help give Duke a major advantage. His ability to break down the initial ball pressure and kick out to Duke's long/lethal shooters is the ideal way to beat Virginia.
A name I haven't mentioned? Grayson Allen. With Bagley and Carter likely bottled up near the rim, Duke wil need all of their jump shooters. Allen has not played great offensively in ACC play by his standards. In fact, Allen is shooting under 25% from 3 in league play. However, his length on the perimeter and ability off the ball in motion on the weak side of the floor is essential against the Pack Line.
I mentioned earlier that UVA has had some atypical issues rebounding this year. Duke can exploit this weakness, as the they lead the country in offensive rebounding rate.
The elephant in the room is Duke simply does not have a very good defense. At least not yet, as they do possess all of the tools of an elite defense. Also, in fairness, both Bagley and Carter grade out as "excellent" in post defense, per Synergy. Duke will simply need to stay focused against UVA's offense. The Cavs methodically run countless screens to free up Kyle Guy or a pair of big wing shooters in Ty Jerome and Devon Hall. In fact, UVA owns the country's highest average possession length at 20.5 seconds. Duke's talented youth must simply defend for literally the entire shot clock and avoid getting lost in a sea of screens. Quietly, Duke hasn't allowed an opponent to score over 1 point per possession since the debacle in Raleigh. Although, they played Pitt and Wake 4 times in that stretch.
Bottom line, Duke should have the focus in Cameron to relentlessly chase Guy off screens all game. Duke's offense also has the talent and personnel to efficiently score on the Pack Line.
The Pick: I lean Duke at -4. I would take them if the line drops. If not, I would throw them in a ML parlay, as I think they find a way at home.