Tuesday Sharp Report: Wiseguys Getting Down on Four Totals, One Side
Credit:
Rick Osentoski -USA TODAY Sports
It's that time of year again. Hide yo kids. Hide yo wife. It's about to get crazy. Welcome to the Madness!
After examining all the percentages, line movement and bet signals for Tuesday's 12-game slate, here are five college basketball bets that professional players are focusing on today, including games that start at 7:00, 9:00, 9:10 and 10:00 p.m. ET.
All data as of 4:15 p.m. ET
Wagner-Baylor Under 138
7:00 p.m. ET
We're seeing a classic Pros vs. Joes bet split for this NIT First Round total. More than 70% of bets are taking the Over, but more than 60% of dollars are on the Under. Meanwhile, the total has fallen from 139 to 138 at Pinnacle, one of the sharpest offshore books. This Under movement was caused by a pair of steam moves at GTBets (U 141.5) and Greek (139.5), followed by a reverse line move at Carib (U 139).
Florida Gulf Coast-Oklahoma State Under 159
9:00 p.m. ET
Another NIT First Round sharp under. Despite the high total, recreational bettors see an easy Over with "Dunk City" and high-flying OK State. Not the sharps. Only 33% of bets are taking the Under but it accounts for more than 50% of dollars, a sharp bet vs. dollar discrepancy and clear indication of smart Under money.
This total opened at 159 at Pinnacle and early public betting pushed it to 162. That's when sharps at 5Dimes (+64.4 units, the best bet signal book in all of college hoops) and GTBets triggered a pair of steam and reverse line moves, dropping it back down to 159. Essentially, we're looking at a sharp "line freeze" when comparing the open to the current number.

Hampton-Notre Dame Under 151.5
9:00 p.m. ET
Sharps and squares seem to be largely in agreement with this total. The Under is getting 65% of bets, but more than 90% of dollars, indicating Average Joe money but also big sharp professional money. The big dogs at 5Dimes steamed the Under 154.5 early this morning. A few hours later, wiseguys at Pinnacle crushed the Under 153. You had some late buyback at Over 151.

St. Bonaventure (+3) vs. UCLA
9:10 p.m. ET
In the most heavily bet game of the night, more than 60% of bets are laying the points with UCLA. Why? Because public bettors gravitate toward favorites and big-name schools. However, we've seen several sharp indicators on the underdog Bonnies in this First Four showdown. The Bonnies enjoy a valuable bet vs. dollar split (37% bets, 50% dollars), evidence of the bigger sharper wagers grabbing the points, not laying them. Meanwhile, despite a majority of bets taking the Bruins, the line has fallen toward St. Bonaventure (+3.5 to +3). This sharp reverse line movement indicates liability on the Bonnies.

Rider-Oregon Under 158.5
10:00 p.m. ET
Recreational bettors see the name "Oregon" and automatically think high-scoring game. Nearly 65% of bettors are taking the Over, yet the total has fallen from 162.5 to 158.5 across the market. This was caused by a pair of steam moves at GT Bets and Pinnacle, which forced the entire market to drop the total. The Under is also getting slightly more dollars (40%) than bets (36%), another sharp money indicator. Pinnacle is even more bullish on the Under, they're down to 158.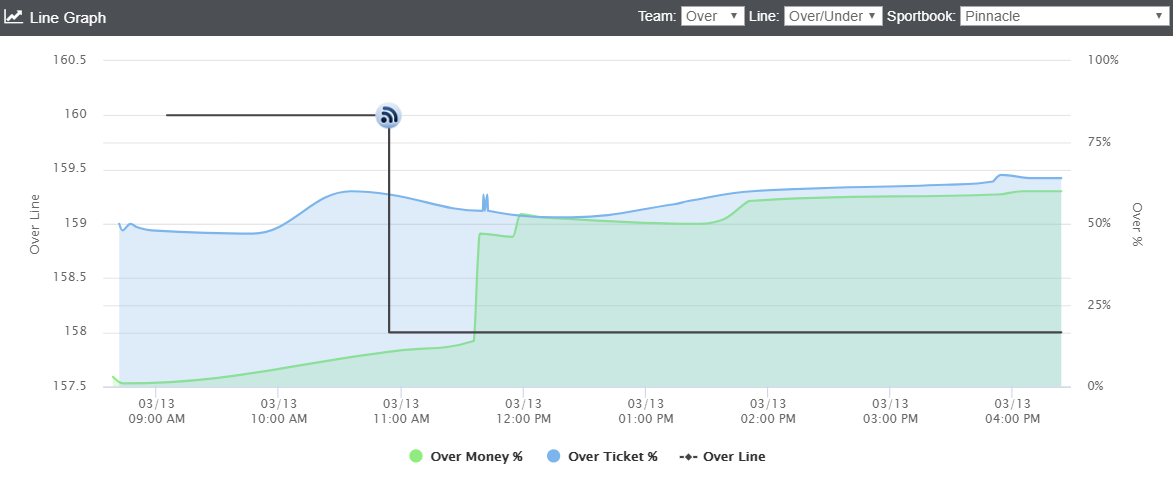 A few reminders:
A really high bet percentage is usually a clear indicator of who public bettors (aka the guys who don't do this for a living) are taking. And breaking news: The majority of public bettors aren't successful over the long haul.
To help locate which games the pros are on, focus on the money percentage metric. If a team is getting a much higher share of dollars compared to bets, that's a good sign that the wiseguys are on them.
Don't blindly bet games based on percentages. You also have to look at the line movement. One of the best sharp indicators is Reverse Line Movement: when the betting line moves in the opposite direction of the team the public is betting. Example: Duke is getting 75% of spread bets vs. North Carolina but you see the line move from Duke -1 to +1.5. That's a sure sign the wiseguys are on UNC.
Thirsty for more in-depth betting analysis? Sign up for a Sports Insights Pro trial and join our Live Betting Hangouts where we break down the entire board every weeknight from 6:30-7 p.m. ET.
The Pro membership also gives you a fully-customizable live odds page with lines from 50+ books, the number of bets on every game, best bet picks, steam and reverse line moves, Sharp Action Report, weather, injuries, line watcher, line predictor and more.
If you have any questions about Sports Insights, the Betting Hangouts, or betting concepts in general, you can find me on twitter @Josh_Insights
Cover Photo via Rick Osentoski -USA TODAY Sports
Pictured: St Bonaventure guard Jaylen Adams (left), guard Matt Mobley (middle), and guard Idris Taqqee (right).