Wednesday's Most Popular Public Bets
Sign up for The Action Network's daily newsletter to have the best sports betting insight and analysis delivered to your inbox.
St. Bonaventure's outright win was a big public loss last night, as 61% of bettors had laid the points with UCLA. As we've seen, taking a contrarian approach has been a historically profitable strategy this time of year, but will that continue tonight?
Using our bet and money percentage data, let's dive into the three games this evening that have attracted the most public action.
Illinois Chicago (-5) vs. St. Francis PA
8 p.m. ET
It's unlikely to attract a high bet total, but this CIT matchup might close with the most lopsided betting percentages of any college hoops game tonight. Illinois Chicago has drawn 78% of spread bettors who've accounted for 94% of the spread money wagered on this game, but the line has remained at 5 all day.
Why the public loves Illinois Chicago: Both teams had impressive seasons, each going 12-6 in their respective conferences, but playing in the slightly more respectable Horizon League gives UIC the heavy public backing.
That, or squares are confusing them with Loyola Chicago, which honestly sounds a lot more likely to me.
Washington Wizards (-3.5) at Boston Celtics
8 p.m. ET
Getting 68% of spread bets, the Wizards aren't quite the most lopsided NBA pick of the night (MIA 71%, MIL 69%), but given that this game is on pace to attract more than twice as many bets as the other two, it's safe to say this is the most popular public NBA bet.
Washington has also attracted 86% of spread dollars wagered on this game, which, helped by Celtics injuries, has moved the line from -2 to -3.5 since the morning.
Why the public loves Washington: It's rare for the public to go against Boston, but as I mentioned, the Celtics are hurtin'.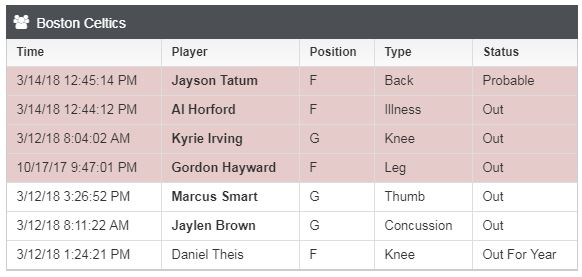 Nebraska (+4.5) at Mississippi State
9 p.m. ET
Of the top five most heavily bet college games tonight, this one has generated the most lopsided bet percentages. Getting 4.5 points, the Cornhuskers have 66% of the public backing them tonight in Mississippi. But with 67% of spread money landing on the Bulldogs, this line has actually gone up from its opening number of 4.
Why the public loves Nebraska: Nebraska was very impressive in the Big Ten this season, going 13-5 for a fourth-place tie with Michigan. And despite a solid overall record, Mississippi State finished seventh in a weaker conference, making those 4.5 points look like gold to a square bettor.
Photo: Nebraska guards Anton Gill (13) and James Palmer Jr. (24)
Credit: Bruce Thorson-USA TODAY Sports