Tuesday's Sharp Report: Who Wiseguys Are Betting in College Hoops
Credit:
Joe Maiorana-USA TODAY Sports
Using data, tools and software available at The Action Network, we've highlighted Tuesday's most overvalued public sides, and the games getting pounded by sharp bettors.
All info as of Tuesday afternoon at 3 p.m. ET. For live ticket and money percentages, go here. For more info on our bet signals data and sharp money indicators, check out this link.
Lopsided Tickets
According to our number of bets and betting percentage data, here are the most popular sides among public bettors: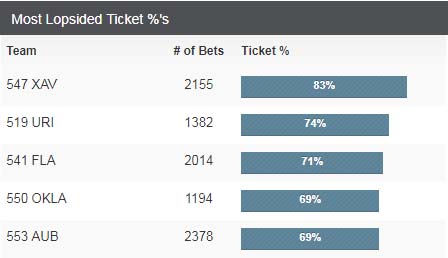 Lopsided Money
According to our number of bets and money percentage data, here are the most popular sides in terms of actual dollars wagered:
Sharpest Bets
According to our sharp money indicators and betting market analysts, here's who the wiseguys are betting tonight in college hoops:
Massachusetts (+9.5) vs. Rhode Island
6:30 p.m. ET
Rhode Island opened as 11-point road favorites and are receiving 74% of spread tickets. While the public is laying the points, sharp bettors have driven the line down to 9.5.
Western Michigan (+2.5) at Eastern Michigan
7:00 p.m. ET
Sixty-six percent of tickets are backing Eastern Michigan, yet 57% of dollars wagered have taken Western Michigan. Our Bet Signals triggered a Steam Move on WMU at +3.5, helping explain why the line has moved down to +2.5.
Ball State (+7) at Toledo
7:00 p.m. ET
The majority of bettors (65%) are laying the points with Toledo, but the dollar percentages are split almost 50/50. A Reverse-Line Move was also triggered this morning at Ball State +8, revealing that sharp action is the reason for this line move.
St. John's (+4.5) vs. Xavier
8:30 p.m. ET
With 82% of the action, Xavier is the most popular public side of the day, at the time of publication. Even with bettors loading up on the Musketeers, the line has fallen from -6 to -4.5. Such a large percentage of tickets taking one side but a line moving the other way is a clear indicator of one thing: sharp action.
Photo via Joe Maiorana-USA TODAY Sports