Tales from March Madness in Vegas: The Mad Search for a Lost Tooth
Credit:
Kirby Lee-USA TODAY Sports
It's my most wonderful time of the year: March. In one week, the NCAA Tournament will be underway, and so will begin the least-productive two weeks of my life. For those of you lucky enough to be in Sin City for the Madness — or this weekend's conference tournaments — I put together a cheat sheet of my past Vegas … experiences.
Consider this your one-stop shop for what NOT to do during your March Madness Vegas trip.
Don't get drunk and try strike up a conversation with coaches.
One year, after I had my fifth or sixth Arnold Palmer, I saw a man who I THOUGHT was USC head coach Tim Floyd. So, of course, I went up to him and said, "Hey, I was rooting for you guys, Fight On." Problem was, Floyd had not been USC's coach for at least three years. Even worse, the man was actually Washington State coach Ken Bone, whose team had already been eliminated from the Pac-12 tournament. He was clearly trying to get some relaxing pool time. Needless to say he didn't stick around long.
Don't do Jell-O shots. Just … don't.
After my Arizona Wildcats lost in awful fashion to UCLA in the semifinals, my friends and I decided to drown our sorrows in the most destructive way possible. Someone gave me a $100 bill and said "Go get us some Jell-O shots." Unfortunately for him (and me), he didn't say how many shots I should buy. Naturally, I used the ENTIRE $100, and, well, that's a lot of shots . Shocker, this will come into play later.
The emptier the arena, the louder your voice carries.
Whether it's the first-round games that no fans bother to show up to, or the later games that many teams' fans leave early, the arena during conference tournaments can be very empty. While this is great in that you can move up to better seats, it is not so great if you wish to yell "DIE IN A FIRE" to the refs. Not only will the refs be able to hear you loud and clear, so will everyone else, including security. Pro tip: Keep your ref thoughts to yourself.
But I will say this: In this particular tournament, Sean Miller received a technical foul at the end of the game for saying, "He touched the ball," which lead to an investigation into the officials, which resulted in the finding someone actually offered a trip to Mexico for whichever ref T-ed up Miller, and ultimately got the head of officiating, Ed Rush, fired. So TECHNICALLY one of the officials DID die in a fire. Just sayin'.
If you lose a tooth while wasted, don't text your dentist.
While we were pounding the $100 worth of jello shots (see above), a tooth started to bother me. And a little later, I noticed that I lost said tooth. My first reaction was to get on my hands and knees at the bar and try to find it. No luck. Then I figured I must have swallowed it, so I went up to our room to force myself to throw up. Thanks to the $100 worth of jello shots, it was the prettiest most colorful toilet bowl I'd ever seen. Nothing like digging around in rainbow water to find a tooth. Spoiler: I didn't find it. Apparently, that didn't stop me from going to see David Guetta at the Wynn. I don't remember much about the show, and despite being there for four hours, I never managed to find my friends or my tooth. At some point during the evening (3 a.m.) I texted my dentist in LA: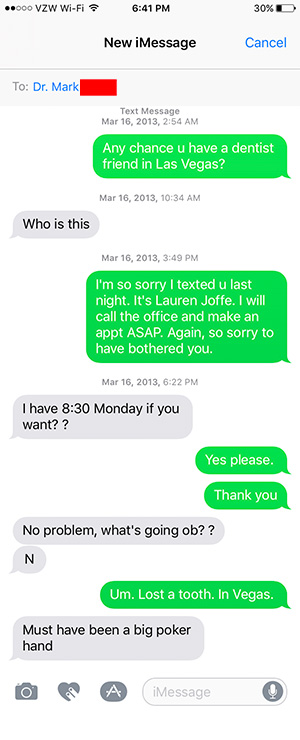 The next morning my friend had lost her phone so she called the hotel lost and found to see if someone turned it in. I grabbed the phone after her and said, "Wait … Did anyone turn a tooth in?"
Despite all that, that weekend was one of the most fun trips I've ever had (the resulting mouth surgery, not so much). There really is no place like Las Vegas.
Photo via: Kirby Lee-USA TODAY Sports
How would you rate this article?