Baylor vs. TCU College Basketball Odds & Pick: Betting Value on Horned Frogs
Credit:
David K Purdy/Getty Images. Pictured: Baylor coach Scott Drew (left) and Jared Butler.
The No. 2 Baylor Bears take on the TCU Horned Frogs in a Big 12 college basketball showdown on Saturday.
TCU is a 12.5-point home underdog, and Tanner McGrath doesn't think the Horned Frogs will cover in this spot.
Check out McGrath's full betting analysis and see his pick for Saturday's game below.
Baylor vs. TCU Odds
---
---
Big 12 conference play is beginning to ramp up, as the Baylor Bears head to Fort Worth on Saturday to play the TCU Horned Frogs.
The Big 12 is an exciting conference. It's loaded with talented teams, including Baylor, Texas, Kansas, West Virginia and Texas Tech. The conference has taken a big step in recent seasons and has played some great basketball.
This won't be one of those games.
The Horned Frogs are 9-3 this season, but KenPom has them projected to finish 9-12. Meanwhile, Baylor seems to be the only real threat to Gonzaga's dominance this season.
However, the spread is 12.5 points, and that's a number TCU could definitely cover. That being said, I'm not sure they will.
---
Baylor Bears
The Baylor Bears are top five in both offensive and defensive efficiency, per KenPom. No other team is ranked top-five in both metrics, including Gonzaga.
It's important to mention Gonzaga. While Baylor is 10-0 straight up (SU) and 8-2 against the spread (ATS) this season, it should only be focused on beating Gonzaga when the time comes. Scott Drew's club is head and shoulders above the rest of the nation.
That is largely due to their backcourt. The trio of Jared Butler, Davion Mitchell and MaCio Teague is phenomenal. They are scoring a combined 42.8 points per game while all shooting over 47.5% from the field. Those three are also very active on the defensive end, combining for 5.3 steals per game.
The bigger guys are stepping up, too. At the power forward position, the duo of Mark Vital and Matthew Mayer has been critical to Baylor's success. Mayer is a great offensive spark off the bench, as he's scoring 10 points per game while averaging only 15.4 minutes per game.
The Bears are an all-around balanced squad who do everything well. They rebound well, are top-five in the country in assists, have a 20:12 assist-to-turnover ratio, and are shooting 56.1% from 2 and 43.6% from 3 (second in the country) with five players averaging more than 10 points per game.
Baylor can beat you in so many different ways, and if TCU is to somehow upset them Saturday, the Horned Frogs will have to play perfect basketball.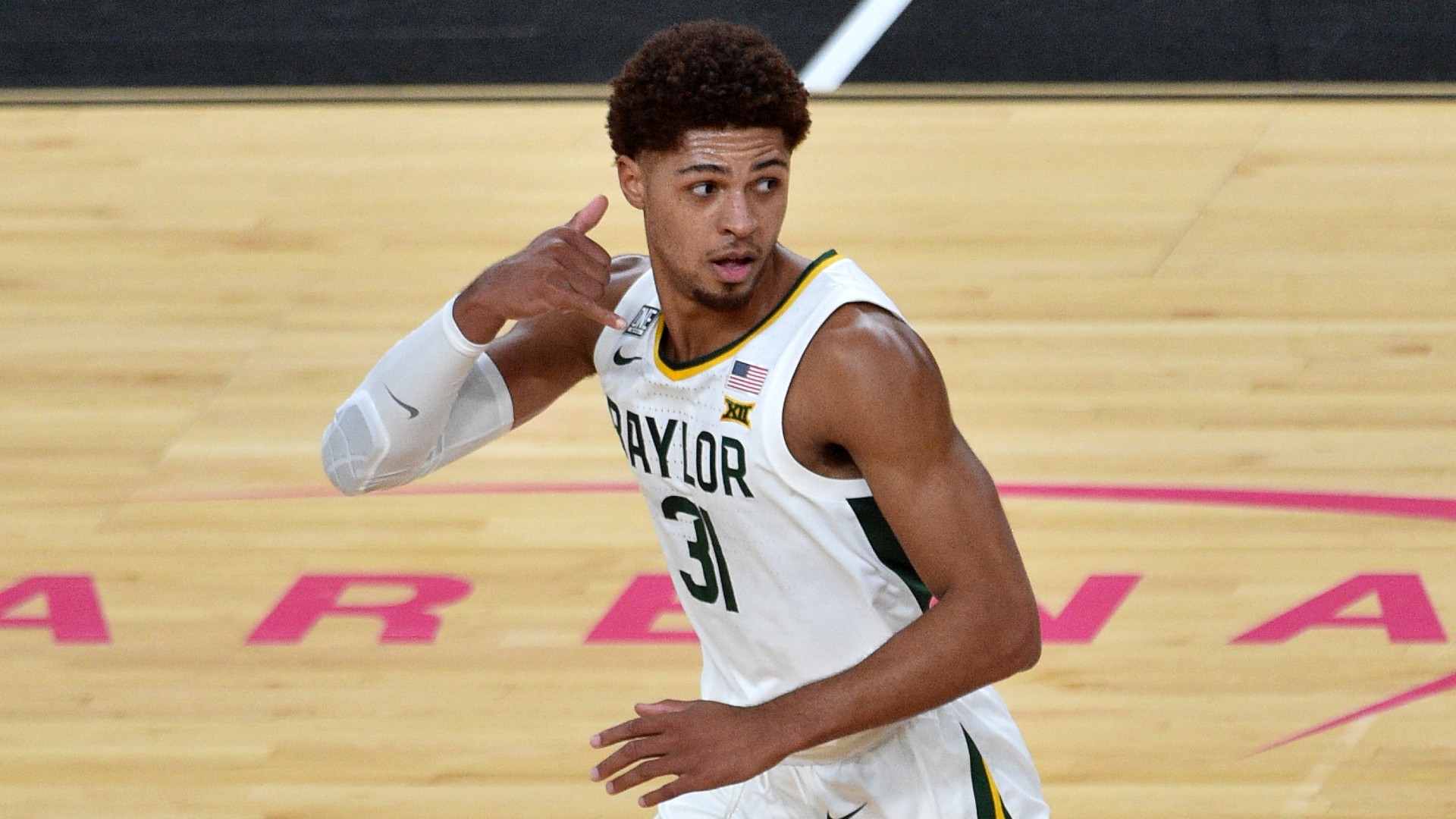 TCU Horned Frogs
The Horned Frogs currently sit at 9-3 overall and 2-2 in conference play.
They own three KenPom top-100 wins this season, as they defeated Tulsa, Texas A&M and Oklahoma State.
Their three losses came in the form of a 4-point loss to Oklahoma, a 9-point loss to Providence and a 29-point loss to Kansas. Strangely, all of these were home losses.
TCU's biggest strength is its offensive efficiency. The Horned Frogs own the third-best effective field goal percentage in the Big 12, mostly on the back of junior forward RJ Nembhard.
Nembhard is TCU's biggest bright spot this season. He's upped his scoring numbers from 12.1 points per game last year to 18.2 this year while shooting almost 13% better from the field. He's scored over 20 points five times this season, including games against Oklahoma State, Providence and Kansas State.
Defensively, TCU has been elite on the perimeter while struggling on the interior. Its opponents are shooting less than 30% from outside the arc but more than 50% from inside the arc.
However, the biggest issue for the Horned Frogs this season is their free-throw shooting. They are making just 64% of their free throws, which falls outside the top-250 in the nation.
Again, TCU will have to play perfectly to defeat Baylor. Nembhard needs to have a big game and the Horned Frogs have to minimize their deficiencies.
What to Watch: TCU's Home Struggles
Last season, 15-14 TCU shocked the world by defeating undefeated Baylor in a 75-72 February home win.
The big difference this season is that TCU has been horrendous at home.
At home this season, TCU is 2-7-1 ATS and surrendering 68.2 points per game, which ranks 211th in the country.
It's scoring only 70 points per game at home, which is 261st. Finally, at home, the Horned Frogs are only grabbing 34 rebounds per game, which ranks 257th, and are allowing 33 rebounds per game, which ranks 163rd.
In Baylor's two road games so far, it's averaging 88 points per game. The Bears offense will have no issue in Fort Worth today.
---
Betting Analysis & Pick
The line is currently at Baylor -12.5, and at the time of this writing, Action's public betting data shows 50% of the tickets on Baylor and 50% on TCU.
While normally, Baylor draws the majority of the bets, I believe the public is noticing TCU's recent successes against Baylor. TCU has won four of its last six games against Baylor, including the last three in Fort Worth.
However, as I mentioned above, TCU has been playing brutal at home this season. Actually, since the start of the 2019-20 season, TCU is just 10-17-1 at home.
I'm banking on TCU's home struggles continuing and Baylor's offensive attack rolling through an exploitable Horned Frog defense.
Pick: Baylor -12.5.
How would you rate this article?