Pac-12 Tournament Betting Odds & Picks: Oregon State-Oregon, Arizona-USC, Cal-UCLA
Credit:
Cassy Athena/Getty Images. Pictured: UCLA G Chris Smith
After two upsets to close out the night session, should the top seeds be on red alert in Las Vegas for the second straight day?
The first two matchups this afternoon feature teams that split their season series, and Pac-12 Cinderella Wazzu knocked off the Sun Devils by two in their lone meeting this season. Will a shakeup in the bracket continue or will the back-to-backs put these dogs at a disadvantage?
Pac-12 Tournament Odds & Picks
---
All odds as of Thursday morning and via FanDuel. Get up to a $500 risk-free bet at FanDuel today or see more offers and reviews for the best online sportsbooks.
---
Oregon State vs. Oregon
Spread: Oregon -7.5
Total: 137.5
Time: 3 p.m. ET
TV: Pac-12 Network
The Beavers and Ducks split their season series, with a pair of double-digit victories in favor of the respective home team. As I mentioned in the lead up to Oregon State's game yesterday afternoon, the Beavers have been reliable at the window as of late. They handle inferior opponents and cash as favorites and run out of gas when pressed by quality teams.
The once-mercurial Ducks finally have a run of elite basketball in their rearview mirror. They've reeled off four straight wins straight up and against the spread, including an overtime thriller at Arizona. Payton Pritchard, the Pac-12 Player of the Year, is averaging 27.5 points per game, 5.3 assists per game and 4.5 rebounds per game on 51.4% shooting from long range over this hot-streak.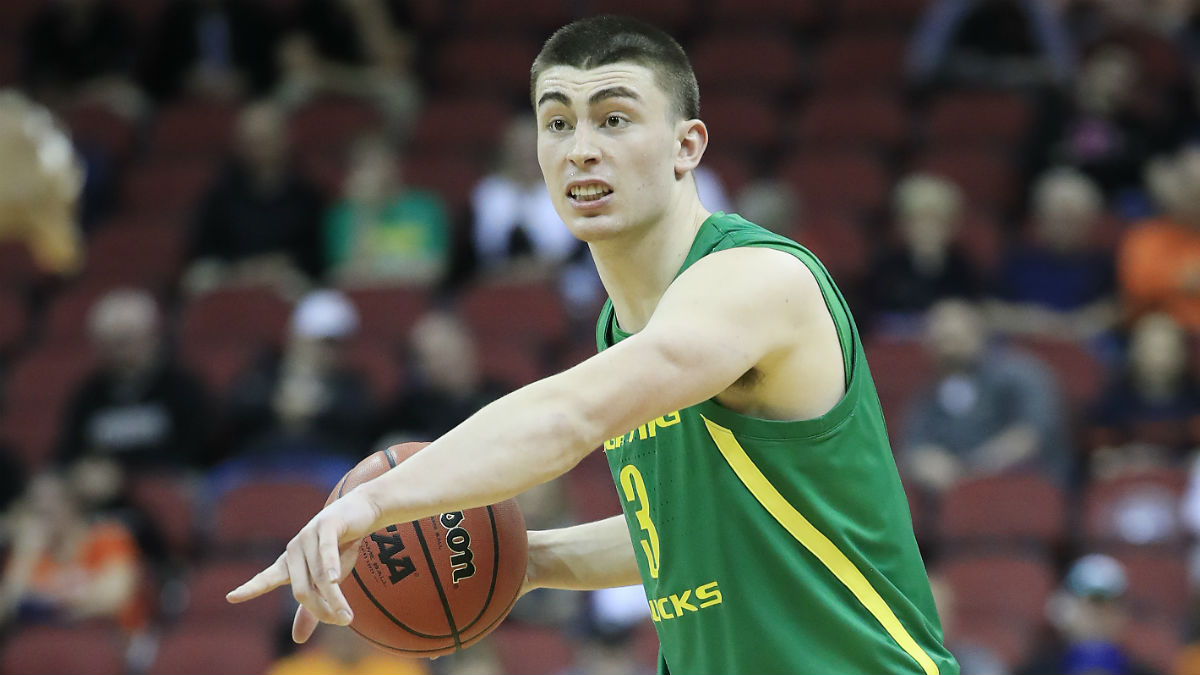 As a whole, the Ducks are now up to sixth nationally in offensive efficiency.
Oregon State is 5-9 ATS away from Corvallis this season and is ill-equipped for a shootout against the Webfoots. The Beavers have eclipsed 74 points just once since Jan. 16 and came into the Pac-12 Tournament as the 220th-best three-point shooting team in the country. They were marginally better than that against Utah yesterday, shooting 8-of-22 from deep.
I like the Ducks to push the tempo and leave the Beavers down the stretch, leaning on elite three-point shooting (39.6%, second) to put together a few second-half runs.
PICK: Oregon -7.5
Arizona vs. USC
Spread: Arizona -1
Total: 138.5
Time: 5:30 p.m. ET
TV: Pac-12 Network
The scheduling quirks of the Pac-12 conference translated to Southern California playing just one game between March 1 and tonight. That kind of layoff can obviously go one of two ways for the Trojans, rested legs aiding a strong second half or rust hampering them out of the gate.
Speaking of hot starts, USC has been successful in the first 20 minutes of its three wins, leading Arizona, Arizona State and UCLA at the break.
Arizona had a nice neck-crack victory over Washington last night, but will that be enough to start a new streak of competent play on the offensive end? I remain skeptical that a win over the bottom of the barrel in the Pac-12 truly represents a righting of the ship. For starters, U of A took 29 foul shots, which is not a repeatable feat against a USC team that allows just 17 free throw attempts per game.
I'm going to split the difference, banking on both a little bit of rust from USC and a drought or two from Arizona's inefficient offense in the second half.
PICKS: Arizona first-half; USC+1 full-game
Cal vs. UCLA
Spread: UCLA -11.5
Total: 132.5
Time: 9 p.m. ET
TV: Pac-12 Network
The Bruins are one of the best stories in all of college basketball. After an 8-9 start overall and a 1-3 start in Pac-12 play, Mick Cronin completely remade his team's identity. Since then, they've developed an edge defensively — a la Cronin's Cincinnati teams — and reeled off 11-of-14 games straight up and a sterling 10-3-1 record against the spread.
Cal is walking straight into a beartrap in this quarterfinal matchup. While the Golden Bears were able to grind out a victory against Stanford, their slow pace and putrid efficiency numbers from the floor will definitely come back to bite them against the Bruins.
Cal has nearly zero room for error because if the Bears are even slightly off the mark, their anemic offensive rebounding (6.6, 309th) will be their undoing.
UCLA has held its past six opponents to 61 points per game, and has entered an elite stratosphere on the offensive glass. The Bruins lead the Pac-12 in offensive rebounding percentage and rank 23rd nationally at 33%. This gives them a significant edge if they show any rust in the early going.
According to my ratings, the Bruins are a great value at any number under 14.
PICK: UCLA -11.5
Washington State vs. Arizona State
Spread: OFF
Total: OFF
Time: 11:30 p.m. ET
TV: FS1
Given the speed of the news cycle lately, who knows if this game will even be played tonight. If the Cougars and Sun Devils do lock horns, it should be a great one for a few reasons.
Arizona State has shown flashes in the past six weeks of being a really good team. The Sun Devils have a pair of top-25 wins in the past two months (Arizona, Oregon), but have lost three of four heading into the Pac-12 tournament. The variance in Arizona State's play may be the most significant in the conference (now that Colorado is out), which could very well lead to some high-end hoops at T-Mobile Arena.
The next reason this one should be entertaining is pace. Arizona State loves to push the rock (31st) and has a tendency of convincing opponents to do the same. In their last game against Wazzu, the two teams breezed by the 146.5-point total. Arizona State has gone over in seven of eight and WSU has cashed four straight overs.
After finding its groove a bit against Colorado, I think we're in line for another solid offensive performance from a Washington State team that has scored 74 or more in three straight games, which is five points above their season average. I expect Wazzu to keep pace with Arizona State for the first half, which should lead to an entertaining game played in the high-70s.
We don't have lines yet, but I'm interested in the first-half under.
How would you rate this article?