March Madness Odds, Picks, Predictions: How Stuckey is Betting Thursday's NCAA Tournament Matchups (March 17)
Credit:
Ethan Miller/Getty Images. Pictured: Tommy Kuhse.
This is March, which means Stuckey is ready to bet some March Madness.
There are 16 games on Thursday's NCAA Tournament slate, and Stuckey explains how he's betting (or passing) all of them below.
Check out his full breakdown for Thursday's March Madness games below.
Here are my quick thoughts on all 16 NCAA tournament games for Thursday, including what I bet or may bet in each.
---

Colorado State vs. Michigan -2  |  O/U: 137
12:15 p.m. ET on CBS
I had this close to a coin flip prior to the news that Michigan point guard Devante Jones did not travel with the team.
That pushed me over the edge to play the Rams. I have him worth two points to the spread, but it could be more based on some of the on/off splits — although those can be misleading for various reasons.
The Michigan post will present problems for Colorado State, but head coach Niko Medved could counter with some interesting small-ball lineup. It's a fascinating roster battle in a game where both offenses have advantages on paper.
Verdict: Colorado State +2
---

South Dakota State vs. Providence -2 | O/U: 136
12:40 p.m. ET on truTV
There's a chance I may be the only one on the planet with a Providence ticket. Nate Watson should have a field day inside against a super soft Jackrabbit interior, while Justin Minaya is an excellent defender who can give Baylor Scheierman fits.
This South Dakota State team is the real deal with elite spacing and shooting all over the court. There's a reason it led the country in 3P shooting by almost four percentage points at 44.2% — the highest single-season mark since 2012.
That 3P shooting is unsustainable, especially against a solid perimeter defense in the Friars.
The Jackrabbits did all of their damage against one of the nation's easiest schedules of defenses. In fact, they played only two tournament teams all season: a 16-point loss to Alabama and a 17-point win over Montana State.
Meanwhile, PC had 12.
I'm sure it won't be easy, but I'll trust the experienced Friars to pull out another close one. I also prefer the moneyline, for what it's worth.
Verdict: Providence ML
---

Boise State vs. Memphis -3 | O/U: 133
1:45 p.m. ET on TNT
Think the under is worth a look here in a matchup between two offenses that have questions at the point guard position.
Both defenses are excellent with an abundance of switchable length that can really take away any mismatch each offense usually can create.
The Broncos, who rank outside the top 300 in adjusted pace, will want to slow this game down to a crawl. That's ideal for the under.
Conversely, the Tigers rank in the top 40 nationally in that category. They'll surely want to speed this up and make it a more hectic game that is conducive to their style. That's not ideal for the under.
However, Boise State excels in transition defense, which is mandatory against Memphis. So, while we may see Memphis force a high frequency of turnovers, I'm not sure that necessarily translates into a lot of easy buckets the other way.
Additionally, given its aggressive defensive nature, Memphis fouls a lot as you might imagine. A march to the free-throw line is not a recipe for cashing an over bet, but Boise State is one of the worst free-throw shooting teams in the country (65.0%), so we could see plenty of points left on the board from the charity stripe.
The potential pace concerns me, but think this eventually turns into a half-court battle of two defenses that match up extremely well with each offense.
Verdict: Likely Under
---


Norfolk State vs. Baylor – 21 | O/U: 137.5
2 p.m. ET on TBS
Absolutely no interest here. Next!
Verdict: Hard Pass
---

Longwood vs. Tennessee -18  |  O/U: 133
2 p.m. ET on TBS
I'm leaning toward Longwood.
The Lancers have a backcourt that can shoot the lights out from 3. Those guards will also have a size advantage in this matchup, so they should get some good looks. That said, the talent gap is massive in favor of the Vols.
Absolutely nothing big here — only a potential small play on Longwood.
Verdict: Potential Small Longwood Wager
---


Richmond vs. Iowa -10.5  |  O/U: 150.5
3:10 p..m. ET on truTV
Will Richmond run out of gas after winning four games in four days to win the A-10 Tournament? Well, you could ask the same question about the Hawkeyes, who did the same thing last weekend.
This comes down to who can get more stops in a matchup between two excellent offenses. The answer is likely Iowa, but Richmond should put up plenty of points here. Oh, and Iowa has Keegan Murray, who is averaging 26 points over his last 13 games, shooting over 55% from the floor and a hair under 50% from deep.
I do think the line is a tad high, but I'm not getting in front of this Iowa train right now. Slight lean to the over.
Verdict: Likely Pass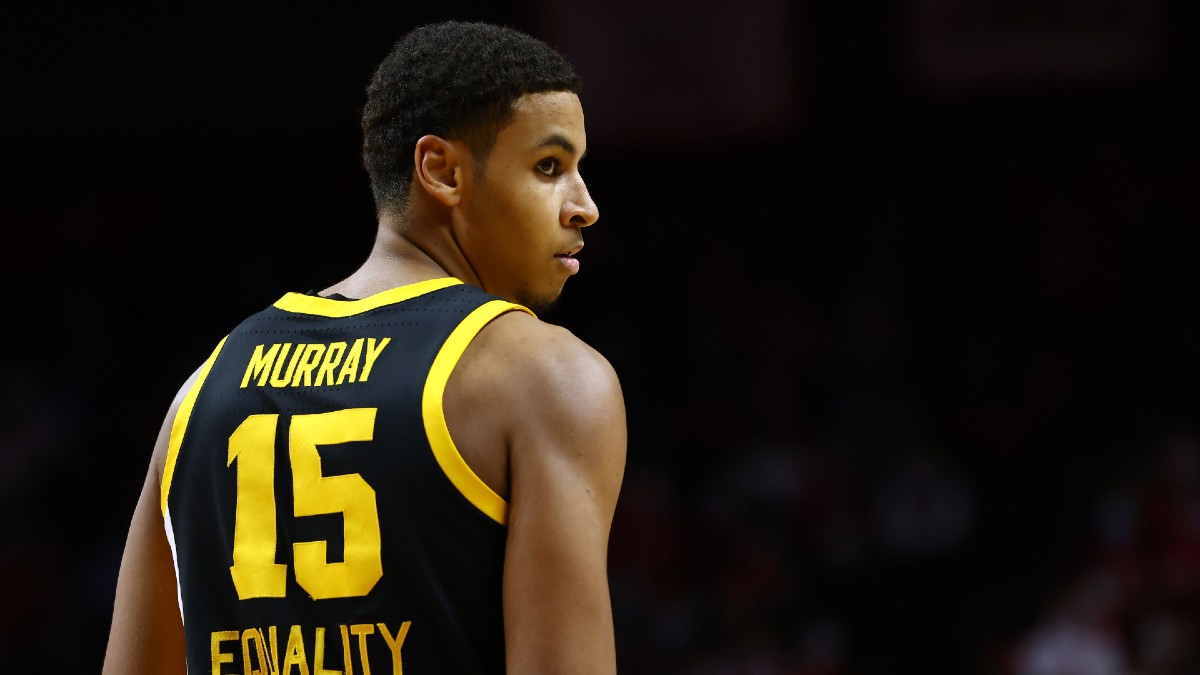 ---
Georgia State vs. Gonzaga -24  |  O/U:  150
4:15 p.m. ET on TNT
Both of these teams got hosed by the committee with this first-round matchup since Georgia State should not be a No. 16 seed. In fact, as soon as the bracket was released, my initial reaction was "Georgia State is the best No. 16 seed ever."
The Panthers had a rough start to the season with injuries, COVID-19 issues and horrible shooting luck on both ends of the floor. That all changed midway through January, and they won 10 in a row to close out the year, capped off by a Sun Belt Conference Tournament title.
Georgia State has experienced guards who can create their own shot and bother Gonzaga some with pressure. It also does a tremendous job of defending at the rim, especially in transition, which is an absolute must against the Bulldogs. The Panthers rank in the 98th percentile in points per possession allowed in transition, per Synergy.
Gonzaga is a different animal, but that's a positive sign. This is simply too many points in my eyes.
Verdict: Georgia State +24
---
Marquette vs. North Carolina -3.5  |  O/U: 152
4:30 p.m. ET on TBS
I keep going back and forth on this one in my bracket and from a betting perspective. While I show a bit of value on the underdog, Marquette has been headed in the wrong direction over the past month. It also might have some matchup issues in this one, namely on the boards and defending Armando Bacon.
Then again, I'm not in a rush to lay points with a very inconsistent Heels team. Their good can look really good, but their bad can look really bad.
Verdict: Likely Pass
---

New Mexico State vs. UConn -6.5  | O/U: 132
6:50 p.m. ET on TNT
This one should be a grind. Neither team wants to play particularly fast, and both have plenty of length that can bother each opposing offense.
UConn, in particular, has a number of capable defenders it can throw at Teddy Allen, which would cut off the head of the NMSU offense.
Both offenses thrive on the glass, but that won't be as easy of a task in this one with two capable defensive rebounding clubs. I also don't expect either team to efficiently score at the rim.
This has half-court slugfest written all over it.
Verdict: Under 132
---


Saint Peter's vs. Kentucky -17.5  |  O/U: 132
7:10 p.m. ET on CBS
This is a pretty big spread for an excellent St. Peter's defense in a game with a total of 132.
Using extended pressure with elite rim protector KC Ndefo on the back end, SPU ranks fifth in eFG%, per KenPom. That said, Kentucky now has the healthy guards to handle the pressure, and Big O is a different animal at the rim than Ndefo is used to dealing with.
In fairness, the Peacocks offense can struggle mightily, to put it kindly. But they've played better in the new year, which is why they've covered 17 of their past 21 games.
However, they rely on getting to the free-throw line and cleaning up on the offensive glass, which aren't likely avenues for success against the Cats. Meanwhile, UK could live at the line (SPU 347th in foul rate) in front of a partisan crowd in Indianapolis.
It still feels like a bit too many points despite the talent gap and potential matchup issues.
Verdict: Maybe Small Saint Peter's Bet
---


Indiana at St. Mary's -2.5 | O/U: 126.5
7:20 p.m. ET on TBS
This is a brutal spot for Indiana, which has to travel out west for a Thursday night game after playing a hard-fought play-in game on Tuesday night. This will also mark the fifth game in eight days for the Hoosiers, while St. Mary's has played zero over that stretch.
This problem is made even worse when you consider the coaching advantage for the Gaels, who are just a nightmare team to play with limited prep time.
Saint Mary's also defends at the rim at a high level and takes away second-chance opportunities as well as anybody. It's hard to see Indiana's offense operating at a functional level here.
Indiana's elite defense will keep this close, but the Gaels will out-execute the Hoosiers offensively down the stretch.
The Gaels are much more reliable at the line as well, but I still prefer the moneyline in what should be a low-scoring grinder.
Verdict: St. Mary's ML
---


Creighton vs. San Diego State -2.5  |  O/U: 120
7:27 p.m. ET on truTV
I think this is where Ryan Nembhard's loss at point guard catches up to Creighton. The Jays did OK without him last weekend but either faced teams that don't pressure or couldn't stop them at the rim.
That won't be the case against San Diego State's absolutely elite defense, which ranks No. 2 in adjusted efficiency. It doesn't allow anything at the rim and forces turnovers at a top-30 rate nationally.
San Diego State's offense isn't pretty, and I doubt the Aztecs run away and hide. However, Matt Bradley should be able to create enough offense to bring home a victory.
Verdict: San Diego State ML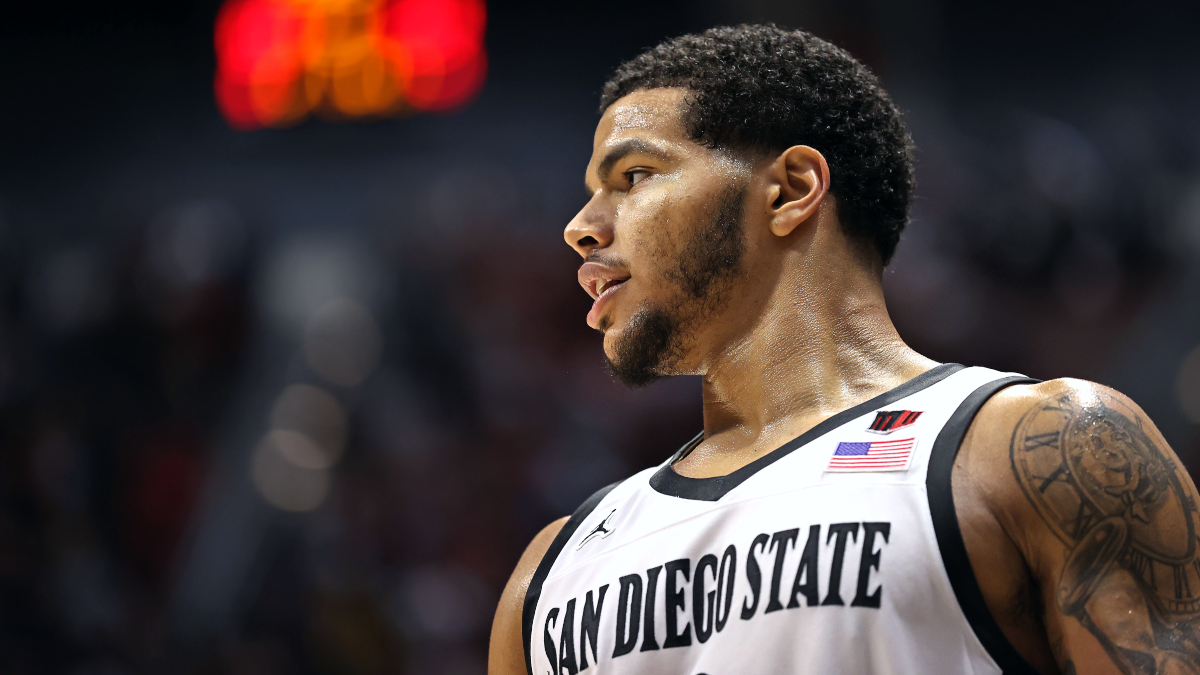 ---


Vermont vs. Arkansas -5  |  O/U: 139
9:20 p.m. ET on TNT
Lines continue to get more efficient in the NCAA Tournament with each passing year. This game highlights that increased efficiency perfectly, as we probably would've seen Arkansas -7 or -8 back in the day.
While I don't see that much value on Vermont from a pure numbers perspective, I do show value on the dog. Plus, that's going to be the case for a lot of tournament games these days. Therefore, it primarily comes down to the matchup and having to accept greater variance with tighter lines.
This Vermont offense is the real deal. The Catamounts also don't turn the ball over and rank No. 1 nationally in defensive rebounding rate. Both of those statistics are critical against the Hogs.
Verdict: Vermont +5
---
San Francisco vs. Murray State – 1  |  O/U: 136
9:40 p.m. ET on CBS
I hate the committee for giving us this first-round matchup of two excellent mid-major teams. Murray State has more raw talent, but San Francisco is better coached and more battle-tested this season.
I simply can't decide on this matchup, especially since we don't know how SF will respond without big man Yauhen Massalski. He matters.
There should be runs by both teams in this one, so I'll just enjoy this game and see if an opportunity pops up live.
Verdict: Live Betting Game
---

Akron vs. UCLA -13.5  |  O/U: 128.5
9:50 p.m. ET on TBS
This is too many points for what should be a low-possession game. The Zips also have bodies inside capable of hanging with the UCLA interior.
If the Akron 3s aren't falling, it could get ugly, However, if they are falling, this could be an upset nobody sees coming.
Verdict: Akron +14.5
---

Texas Southern vs. Kansas -22  |  O/U: 145
9:57 p.m. ET on truTV
No thanks!
Verdict: Hard Pass
How would you rate this article?
This site contains commercial content. We may be compensated for the links provided on this page. The content on this page is for informational purposes only. Action Network makes no representation or warranty as to the accuracy of the information given or the outcome of any game or event.