National Championship Betting Trends, Stats: Action Network's Connecticut-San Diego State Betting Primer
Connecticut and San Diego State have navigated the waters and found their way to the National Championship Game on Monday night in Houston, Texas.
The NCAA Tournament has been a spectacle. From Fairleigh Dickinson to Princeton to Florida Atlantic's run to the Final Four — it's been a heck of a ride. Let's finish strong.
Welcome to the March Madness National Championship edition of Action Network's betting primer.
All data, stats and trends are updated as of Monday, April 3, 12 p.m. ET.

---

1. Aztecs Shot at History
San Diego State is the fifth team in the seeding era to get to the National Championship game after entering the NCAA Tournament with odds of 80-1 or higher. If the Aztecs beat Connecticut and win it all, they would fall right behind 2014 UConn as the longest odds entering the tournament to lift the trophy.

Longest Pre-Tournament Odds to Make NCAA Title Game
2011 Butler: 200-1 (Lost to Connecticut)
2022 North Carolina: 125-1 (Lost to Kansas)

2014 Connecticut: 100-1 (Beat Kentucky)

2023 San Diego State: 80-1 (Faces Connecticut)
2010 Butler: 80-1 (Lost to Duke)
Only four teams have had above 20-1 odds or higher entering March Madness and won the title since seeding began in 1978: 2014 Connecticut, 1985 Villanova, 2011 Connecticut and 1983 NC State.
---

2. We Didn't Expect This …
Preseason odds for college basketball are much less available than odds entering the NCAA Tournament going back in history. Connecticut opened the season with 80-1 odds to win it, while San Diego State was 66-1.
Dating back to the 2008-09 season, Connecticut actually has the longest preseason odds to make it to a title game, just ahead of Texas Tech at 70-1 back in 2019. At 66-1 odds, the Aztecs are tied for the third-highest odds to win it all to make it to a title game.
The longest preseason odds to win a title in this span? Connecticut both in 2014 at 65-1 and at 40-1 in 2011.
---

3. Large Title Spreads
Connecticut opened about a 5-point favorite across the market and was very quickly bet up to -6, which led to the current market of -7.5 to -8. Here is a list of the biggest spreads in a National Championship game since 1970.
-16, 1972 UCLA beat Florida State
-14, 1996 Kentucky beat Syracuse
-13, 1974 NC State beat Marquette
-9.5, 1999 Duke lost to Connecticut
-9.5, 1985 Georgetown lost to Villanova
-8, 1988 Oklahoma lost to Kansas
-8, 1973 UCLA beat Memphis
1974 NC State and 1973 UCLA covered the spread. 1972 UCLA, Kentucky, Duke, Oklahoma and Georgetown did not.
Overall, favorites in the National Championship game are 39-13 straight up and 30-22 against the spread dating back to 1970.
The NCAA Tournament expanded to 32 teams in 1975 — here are the biggest upsets in either the Final Four or National Title dating back to 1970. The only two teams to lose twice in the mini tourney as 7-point favorites or more was Oklahoma and North Carolina. The biggest upset? Of course Duke losing to Connecticut in 1999 and Georgetown falling to Villanova in 1985.

Worst NCAA Tournament Betting Losses in Final Four & Title Game

1999: Duke (-9.5) lost to Connecticut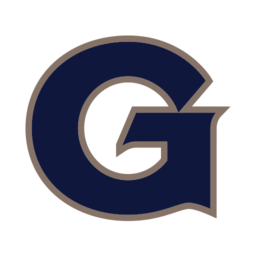 1985: Georgetown (-9.5) lost to Villanova
1991: UNLV (-9) lost to Duke
1998: North Carolina (-8.5) lost to Utah
1988: Oklahoma (-8) lost to Kansas
2014: Florida (-7) lost to Connecticut
2002: Oklahoma (-7) lost to Indiana

1983: Houston (-7) lost to NC State
1972: North Carolina (-7) lost to Florida State
---

4. Utter Dominance
Connecticut is beating its opponents by 20.6 PPG and has beat each of its five opponents by 13 points or more.
Connecticut will be the 16th team to enter a National Championship game after winning all its prior NCAA Tournament games by 20 PPG or more.
Of those previous 15 teams, 12 went on to win it all, with 1999 Duke, 1964 Duke and 1955 La Salle the three teams to come up short in the title game.
Another way to look at it: UConn has outscored its opponents by 103 points in this NCAA Tournament. This is the seventh time a team has outscored its opponents by 100+ points entering the title game. Of the previous six, five would go on to win it all. The only exception? Duke in 1999, which lost to Connecticut.

Finally, double-digits. Since the tournament expanded in 1985, there have been five teams to enter a National Championship having won each tournament game by double digits: 2023 Connecticut, 2018 Villanova, 2016 North Carolina, 2009 North Carolina, 2001 Duke and 2000 Michigan State. 2016 UNC was the lone loser of the group.
---

5. Cover City
The Connecticut Huskies are covering the spread by 15.6 PPG (+78) during March Madness. That is the third-highest average cover margin entering a National Championship in the seeding era. The highest?
2016 Villanova at +18.6 PPG and 1981 Indiana at +18.5 PPG — both Villanova and Indiana went on to win the titles (and cover the spread).
This season, Connecticut is 26-12 against the spread heading into the title game. If it wins and covers, it will still have the second-best ATS win percentage, behind 2018 Villanova. Here are the cover champions the Huskies hope to join.
Highest Average Cover Margin — National Champions
1981 Indiana: +17 ATS differential
2016 Villanova: +16.3 ATS differential
1979 Michigan State: +12.8 ATS differential
2006 Florida: +12 ATS differential
1990 UNLV: +11.1 ATS differential
2014 Connecticut: +10.1 ATS differential
Most Total Points Covered By — National Champions
2016 Villanova: Covered by 98 pts
1981 Indiana: Covered by 85 pts
2006 Florida: Covered by 72 pts
1990 UNLV: Covered by 66.5 pts
1979 Michigan State: Covered by 64 pts
2014 Connecticut: Covered by 60.5 pts
Best Single Season ATS Record — National Champions since 1996
2018 Villanova: 28-12 ATS (70%)
2019 Virginia: 24-12 ATS (66.7%)
2006 Florida: 21-11 ATS (65.6%)
2021 Baylor: 17-9 ATS (65.4%)
---

6. Public Revenge
After San Diego State's buzzer-beater officially cashed the Florida Atlantic spread bet and Connecticut covered and knocked off the Miami Hurricanes, the public went 2-0 ATS in Final Four spread bets. Entering the weekend, the public was 5-13 ATS in the Final Four and National Championship since 2016.
Our Action Labs betting market data goes back to 2005 and we have never seen a Final Four weekend where the public finished 3-0 ATS.
Connecticut currently has 63% of the tickets as a 7.5-point favorite against San Diego State in the title game.
In our Bet Labs database, only three teams have closed with at least 63% of the tickets in the Final Four or National Championship game — and those three teams are 0-3 straight up and against the spread. Each time the public side was the favorite and lost by 7 points or more. Overall, public sides are 25-27-1 ATS in the Final Four and title game, including 7-13 ATS since 2016.
Biggest Public Sides in Final Four & Title Game Since 2005
Team

Opponent

Spread Bet %/Game Results

Kansas

2008 Final Four

UNC (-2.5): 70% tickets
Kansas, 84-66

Kansas

2008 National Title

Memphis (-1.5): 65% tickets
Kansas, 75-68

UCLA

2006 Final Four

LSU (-1.5): 63% tickets
UCLA, 59-45
---

7. How The West Was Won … or Lost
The streak is in jeopardy. Since Arizona in 1997, no national champion has been based west of Texas. San Diego State was the only West Coast team in the Final Four and now it finds itself in the National Championship against East Coast powerhouse Connecticut.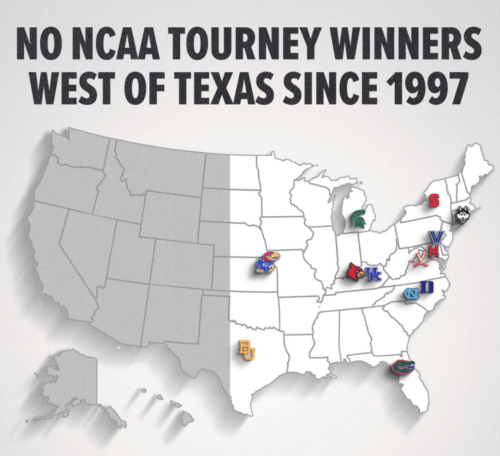 ---


8. Chalk Prevails In The End
Connecticut (-125) and San Diego State (+400) entered the Final Four as the betting favorites. In 18 of the past 19 Final Fours, one of the two favorites entering Final Four weekend went on to win it all. The one exception was in 2014 — when UConn won it all.
---

9. Combined Seeds
The 5-seeded San Diego State Aztecs face off against the 4-seeded Connecticut Huskies in the title game. The combined seeds of nine in the National Championship is tied for the fourth-highest in the seeding era behind 2014 (15 combined), 2011 (11 combined) and 1980 (10 combined).
Ironically enough, last year's Final Four was also a combined nine with 1-seed Kansas and 8-seed North Carolina.
The combined 18 seeds in the past two National Championship games is the second-highest ever behind the combined 20 seeds in the 2013 and 2014 title games with Kentucky (8) and Connecticut (7), plus Michigan (4) and Louisville (1).
---
10. The G.O.A.T Champions
If Connecticut cuts down the nets and covers the closing spread in the National Championship, it would join these teams as undefeated against the spread (6-0), en route to a title since the tournament expanded in 1985:

2018 Villanova

2016 Villanova

2015 Duke

2014 Connecticut
2009 North Carolina
2006 Florida

1991 Duke

1985 Villanova
---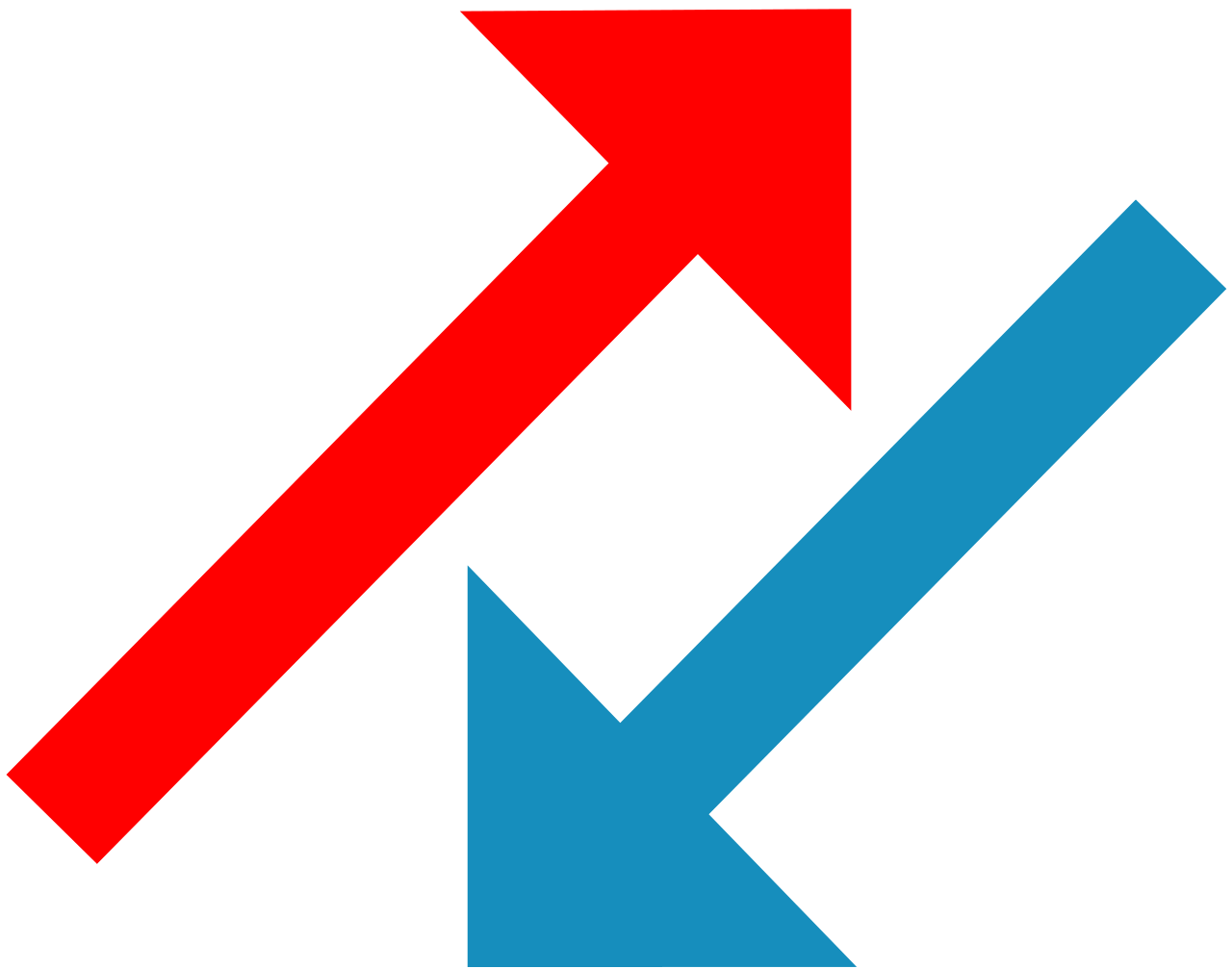 11. Outside The Big East
Connecticut has absolutely dominated non-conference opponents. The Huskies are 16-0 straight up and 15-1 against the spread when facing a team not in the Big East — both are the best records in the country in non-conference showdowns.
---

12. Storrs, CT: Title Town
Connecticut is a perfect 4-0 straight up in National Title games. That's the best win percentage in National Title games, with the most wins, among all programs. Louisville is a perfect 3-0 straight up.
If you add up the Huskies men's titles and women's titles in basketball, they would have 15 total National Championships entering Monday night. Second on the list would be UCLA with 11 men's titles (no women's) and then Kentucky with eight men's and Tennessee with eight women's titles.
The only program with two or more titles in men's and women's is Connecticut.

---


13. Title Experience
Connecticut enters its fifth National Championship game while San Diego State is in its first. This will be the 13th title game, since the field expanded in 1985, where one program is entering its second (or more) title game and the other program is in its first.
The more experienced school is 7-5 straight up, but has won four in a row and five of the past six since 2000. The only loss was Indiana against Maryland in 2002.
---

14. Low, Low, Low
The under train came to a stop in the National Semifinals against Florida Atlantic, but overall San Diego State is 22-14 (61.1%) to the under this season, according to Bet Labs. Aztec games have gone under the total in 12 of their past 13 contests where San Diego State is 12-1 straight up with nine consecutive wins. Overall, the under is 14-2 in San Diego State games since February 1st and the Aztecs are 15-1 in those contests.
This will be the sixth title game since 2005 where one (or both) of the teams entered the National Championship with 60%+ of their games on the season going under the total. Five of the previous six title games ended up going under the total.
The under has performed well in title games recently, going 11-6 since 2005 and 20-14 back to 1988.
---

15. From Agony to Ecstasy
Not often do teams who get bounced in the Round of 64 turn around and make the National Championship the following season. 2022 North Carolina comes to mind, as does 2019 Virginia, which ended up cutting down the nets.
But how often does a National Championship feature two teams that got bounced in the Round of 64 the year before?
Since the tournament expanded in 1985, the answer is never. We've seen teams not make the tournament at all and meet in the title game (Baylor/Gonzaga), but not like this.
---

16. New Territory
San Diego State is a 7.5-point underdog against Connecticut in the National Championship game — that is the Aztecs biggest line as an underdog this season and their biggest line since December 4, 2021 against Michigan (they were +8.5 and lost by 14).
That game vs. Michigan is San Diego State's only game above a 7-point underdog since the start of the 2020 season.
---

17. Efficiency Has Worked
Connecticut has been the better free throw shooting team this tournament and this season when compared to San Diego State. Good free-throw shooting teams have excelled recently in March Madness. Overall, teams that shoot 75% or higher vs. teams that shoot under that mark are 55.8% ATS since 2005, including 68-45-2 ATS since 2018 and 88-57-4 ATS since 2016.
---
Historical odds history via Sports Odds History
How would you rate this article?
This site contains commercial content. We may be compensated for the links provided on this page. The content on this page is for informational purposes only. Action Network makes no representation or warranty as to the accuracy of the information given or the outcome of any game or event.