Biggest Question of the NCAA Tournament: How Do You Beat Undefeated Gonzaga?
Credit:
Brian Rothmuller/Icon Sportswire via Getty Images. Pictured: Members of the Gonzaga Bulldogs men's basketball team celebrate their conference championship.
The Gonzaga Bulldogs are the fifth college basketball team to enter the NCAA Tournament with an undefeated record since Indiana's perfect (32-0) season in 1976. Indiana State (1979), UNLV (1991), Wichita State (2014) and Kentucky (2015) entered March Madness with an unblemished record, with all ultimately falling short of the championship.
Gonzaga has only played one game where its margin of victory was less than 10 points. The Bulldogs earned an 87-82 victory over West Virginia back on December 2, when Bulldogs' super freshman Jalen Suggs left with an injury.
Can Gonzaga be beaten? And if so, what type of team is most likely to do it? That is the question we attempt to answer, just three days before the Bulldogs begin their quest for the ultimate prize.
How To Dethrone Gonzaga
I examined the last five NCAA tournaments, looking for patterns among the teams that defeated the Zags. I started with the 2014-2015 season, because that began a run of five consecutive Sweet 16 or better finishes. Last season was of course excluded, since there was no tournament.
In order to beat Gonzaga, a team first needs to understand what it does well.  Using KenPom, here are the critical metrics that best illustrated the Bulldogs' success in each of the past five NCAA tournaments: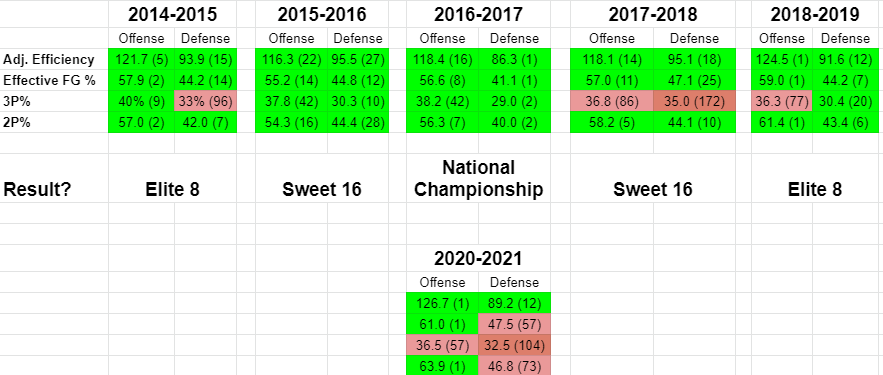 Gonzaga's success is predicated on superb offensive efficiency. The Bulldogs have ranked inside the Top 22 for adjusted offensive efficiency each of those six seasons, including first in the 2018-2019 campaign, as well as this season.
Gonzaga facilitates its offense with an even more efficient, effective field-goal percentage, which accounts for the scoring difference in three-point numbers.
Head coach Mark Few has constructed an offense that ranked second overall in 2014-2015, and first overall in effective field goal percentage in both 2018-2019 and this current season. Simply put, the Zags' offense is a machine. 
However, Few has created an elite defensive team as well. The Bulldogs ranked inside the Top 20 on defense in four of those five years, including No. 1 overall in the 2016-2017 season. In many ways, that team was so efficient on offense and defense, it's still surprising they didn't defeat North Carolina in the finale.
As great as the Zags have been, I have identified four common areas teams have exploited to derail the Bulldogs in each of those past five years.
The Four Keys To Beating Gonzaga
Stellar Defense:  In each of their defeats, the Zags were severely limited from either two-point or three-point range. In three of the five losses (Duke, Florida State and Texas Tech), the Bulldogs shot a combined 25 percent (14 of 56) from beyond the arc.
In its championship loss to North Carolina, Gonzaga was strong from 3P (42%), but brutal from inside the arc at 30 percent. It's certainly logical that any team that's going to beat Gonzaga must have the ability to slow it down on offense in some capacity.
Each of the Bulldogs' opponents (with the exception of Florida State in 2018), ranked inside the Top 18 in defensive efficiency. That defensive presence was usually manifested through blocks and steals, with each of Gonzaga's opponents registering at least 10 combined. In Gonzaga's last three losses, North Carolina, Florida State and Texas Tech had at least 15 combined blocks and steals.
The first step toward defeating Gonzaga? Disrupt its offensive rhythm.
Rebounding is Overrated:  It was surprising that in each of Gonzaga's five losses, it out-rebounded its opponent. This is a direct result of teams needing to extend their defense to limit the Bulldogs three-point attempts. By doing so, team's will sacrifice the appropriate rebounding positions, in exchange for deflections, steals and blocked shots.
This was clearly evident in Gonzaga's 2016 loss to Syracuse, where the Bulldogs out-rebounded the Orange by a 37-33 margin, but still fell victim to 19 combined steals and blocks.
To my surprise, holding a rebounding advantage was not a top priority in defeating the Zags. However, since rebounding is an essential way of getting extra shot attempts, teams needed to offset this discrepancy by finding an edge in other areas, such as free-throw shooting.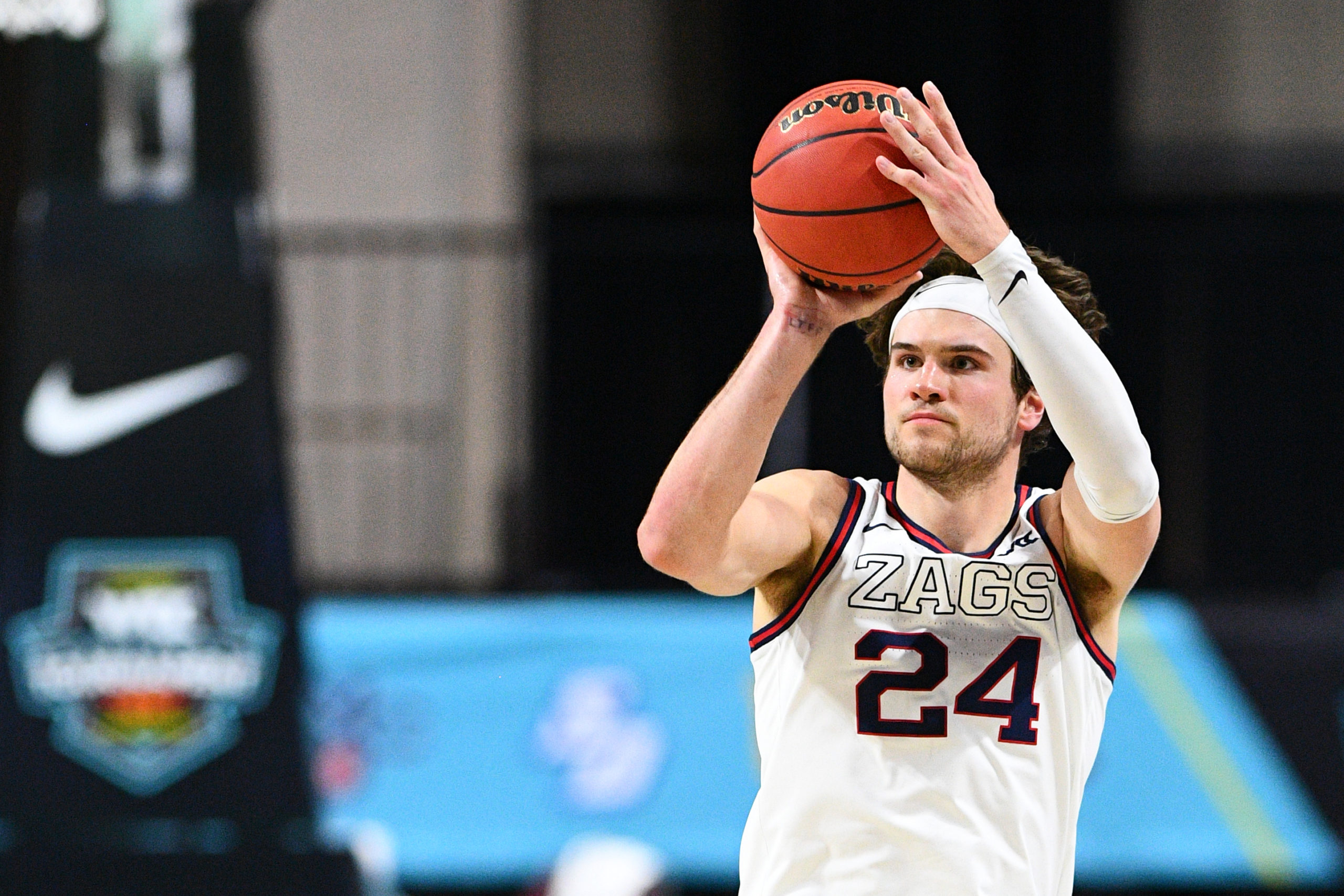 Free Throws:  Gonzaga's offense ranks 15th overall in free-throw attempts this season. However, in their last five NCAA Tournament losses, the Zags have failed to generate an advantage at the charity stripe. Some examples:
In 2015, Duke almost doubled Gonzaga's free-throw attempts (19 to 10) and made four times as many free throws (8 to 2). 

In 2016, the Orange held a massive free-throw shooting discrepancy. Syracuse, which only shot 68.8% as a team, went 14 of 16 (88%) from the charity stripe. The Bulldogs made only 4 of 5 free-throw attempts. 

In 2019, Texas Tech shot a blistering 16 of 19 (84.2%) from the line, while Gonzaga was slightly worse at 12 for 15 for 75 percent.
In the other two matchups, Gonzaga's opponent either matched or slightly exceeded the Bulldogs free-throw production. Teams have been able to attack Gonzaga off the dribble and take advantage of a historically less-athletic Bulldogs perimeter defense. With players such as Suggs, Andrew Nembhard and Joel Ayayi, it is clear Few has tried to address this issue. 
Offensive Efficiency:  Last, but certainly not least, teams need to find a way to match Gonzaga's lethal offensive efficiency. In all of their past five defeats, the Bulldogs' opponents have either found superb efficiency from 2-point range, 3-point range or both.
In 2018, Florida State only shot 6 of 20 (30%) from three-point land, but finished with an impressive 21 of 38 (55.3%) from inside the arc. In 2019, Texas Tech shot 39.1% (9 of 23) from deep, while limiting the Zags to just 26.9% from three-point range.
It might seem obvious, but to beat Gonzaga, a team must be able to score often and with high efficiency. This is precisely why a team like Virginia was blown out by a 98-75 score line earlier this season. If the Bulldogs are going to lose, it needs to be a team that brings its own high-level of scoring efficiency. 
---
---
Who Can Beat Gonzaga This Season? 
It's going to a take an incredibly talented and well-coached team to take advantage of all four of those categories. Given the Bulldogs favorable path to the Final Four, it will be even tougher. Here are my top choices:
Alabama Crimson Tide
The biggest resistance to a national championship would likely come from the Crimson Tide. Alabama has the most complete profile of any team Gonzaga would meet prior to the title game.
The Crimson Tide rank second overall in adjusted defensive efficiency, plus they're Top 10 in defending the three-pointer and holding opponents to just 28.8 percent from deep.
Alabama is littered with athletic guards on the perimeter who could attack Gonzaga off the dribble from every position. From a matchup perspective, an Alabama-Gonzaga Final Four would be college-basketball nirvana.
Illinois Fighting Illini
A championship matchup between Gonzaga and Illinois would be epic. The Fighting Illini have won 14 of their last 15 games, boasting absurd 12-5 record against Quad 1 opponents.
Only one other team (Oklahoma State) has at least 10 Q1 victories. With Ayo Dosunmu (20.7 PPG, 6.3 RPG, 5.3 APG) and 7-foot big man Kofi Cockburn (17.6 PPG, 9.6 RPG), it feels right that a historic season would need to go through Illinois to be complete.
Head coach Brad Underwood's team is Top 7 in offense and Top 5 in defensive efficiency per KenPom, an elite metric balance. Illinois holds opponents to just 45.4% from two-point range, and make the three-pointers at a Top-25 rate at 37.6 percent. This is clearly the Bulldogs' most challenging obstacle.
---
Baylor Bears
The Bears are certainly talented, but have failed to play at that elite level since returning from a three-week COVID-19 pause in February. Senior guard Jared Butler (17.1 PPG, 4.8 RPG, 42.9% 3P) is an All-American player, but Baylor's offensive turnovers and poor free throw shooting (66.5% in conference play) are major concerns.
The Bears are the best three-point shooting team in the country (41.8%), but I worry about their no-middle defense against a versatile and explosive offense like Gonzaga.
Oregon Ducks
The Ducks certainly have the offense, ranking first in Pac-12 play in adjusted offensive efficiency and three-point percentage at 39.4 percent. Oregon has superior defensive guards, plus it ranks first in conference play in defensive turnover percentage.
The overall defensive rating (76th) is a little low, but was clearly skewed by multiple injuries throughout the season. Oregon's lack of rebounding is not an issue, and its 72% free-throw shooting in the Pac-12 was solid. Now fully healthy, Oregon is a team Gonzaga will want eliminated before the Elite Eight. 
St. Bonaventure
The Bonnies have one main weakness: depth. However, the rest of their profile is fantastic. They have a standout big man in 6-foot-10 Osun Osunniyi (10.5 PPG, 9.5 RPG) and four veteran guards that are strong two-way players.
The Bonnies can make threes (37.5% as a team), plus they sit in the Top 90 in the country at the line. Head coach Mark Schmidt's crew blitzed the Atlantic 10 Tournament, winning their three games by an average of 14.3 PPG.
St. Bonaventure is super on the defensive end, and have heated up enough from deep to give Gonzaga a formidable longshot No. 9 seed in the Final Four.
How would you rate this article?
This site contains commercial content. We may be compensated for the links provided on this page. The content on this page is for informational purposes only. Action Network makes no representation or warranty as to the accuracy of the information given or the outcome of any game or event.