How to Build a Contrarian Bracket to Dominate your NCAA Tournament Pool
Credit:
Noah K. Murray-USA TODAY Sports
It's bracket week, and if you are like me, then you have already filled out a couple of brackets to get the juices flowing. Now is the time I take a step back, analyze the bracket and start to find where I can gain an advantage in large pools. The idea is to build a contrarian bracket that can win. Picking all the 16-seeds to win in the first round would sure as hell be contrarian, but wouldn't give you a leg up on your competition.
The strategy is to use our Bracket Simulator to find teams that are being selected less than they should be by the general public. In the daily fantasy sports world, you'll often hear of our FantasyLabs experts using the term "leverage." Leverage is owning a low-owned player who will differentiate you from the field if he performs well. This is the same process, only we have a leg up because we actually know what percentage of teams are being taken in every round. We have all the data we need, so let's get rolling.
The methodology may be reversed compared to what you are used to. Most people fill out the first round, then the second round, Sweet 16, etc. For this bracket, we start with the champion and work our way back. The reason for this is because most scoring systems weight the winner of the tournament so heavily that you want to ensure you have your largest advantage with the game that counts for the most points.
To figure out our champion, we'll compare the outcomes of the simulations to the pick percentages available on ESPN.com's Tournament Challenge page. According to our numbers, here are the 10 most likely champions and how many brackets are currently taking those teams to win the championship:
While our most likely champion is Virginia, the number of people selecting them gives us a negative expected value (-EV) if we take them to win our bracket. (Note on our simulations: We ran them before Virginia announced ACC Sixth Man of the Year De'Andre Hunter would miss the tourney with a wrist injury.) The next four schools of Villanova, Duke, Cincinnati and Purdue are all being undervalued by current brackets. The choice of champion comes down to Villanova or Cincinnati.
While Cincinnati has the largest percentage difference, Villanova wins the championship more than twice as often as Cincy, according to our model. We'll put both teams in our championship game, with 'Nova winning its second title in three years.
Note that we've selected a 1-seed and a 2-seed to meet in the championship game, but we only expect around 1.5% of brackets to have this same matchup. We've already differentiated ourselves from the field without having to go crazy with upsets (that comes later).
We still need teams from the West and Midwest to round out our Final Four. In the West Region, North Carolina and Xavier are getting all the love, but it's the team that made it to the championship game in 2017 that has value. Currently, 11.1% of brackets are taking Gonzaga to reach the Final Four, but our simulation has them winning 19.1% of the time.  As a 4-seed, Gonzaga is our third team in the Final Four.
In the Midwest, I had to double-check the numbers a few times because something weird is happening. Duke is being undervalued by the general population. It's partly because they are in a bracket with other blue-blood programs Kansas and Michigan State. I would also guess that people are tired of getting burned by Duke's struggles in recent years. Whatever the cause may be, Duke is a +EV decision in this region and our fourth Final Four team.
While I hope you enjoyed going through my thought process, if I did that for every game in the tournament, this article wouldn't be done in time for the games on Thursday. Here's a look at each region filled out with the same methodology as before, with a few notes on each one:
South Region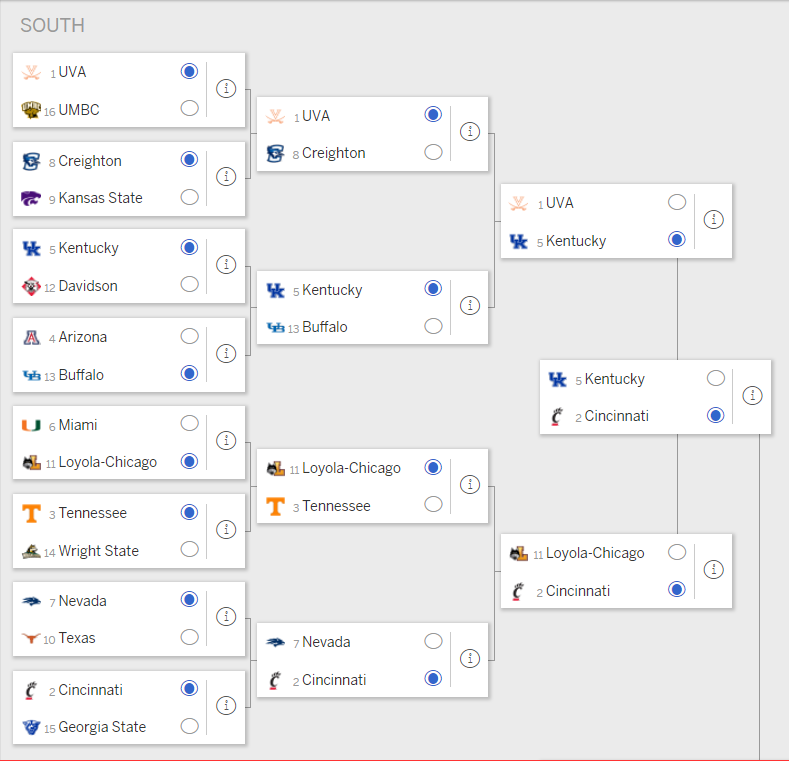 Virginia and Arizona are the two public favorites in this bracket, so naturally it would make sense to have both of them out relatively early. Only 3.2% of brackets have Creighton in the Sweet 16, which makes them a tempting gamble given that we have them making it 9.6% of the time. But knocking out Virginia in the Sweet 16 is still a high-leverage play given they are the most popular team picked to win it all.
Our simulation gives Buffalo a 25.2% chance of knocking off Arizona, while 92% of brackets are assuming the Wildcats get by unblemished. Buffalo gets the nod. Loyola-Chicago becomes our first Cinderella story, as it advances to the second weekend in this scenario.
West Region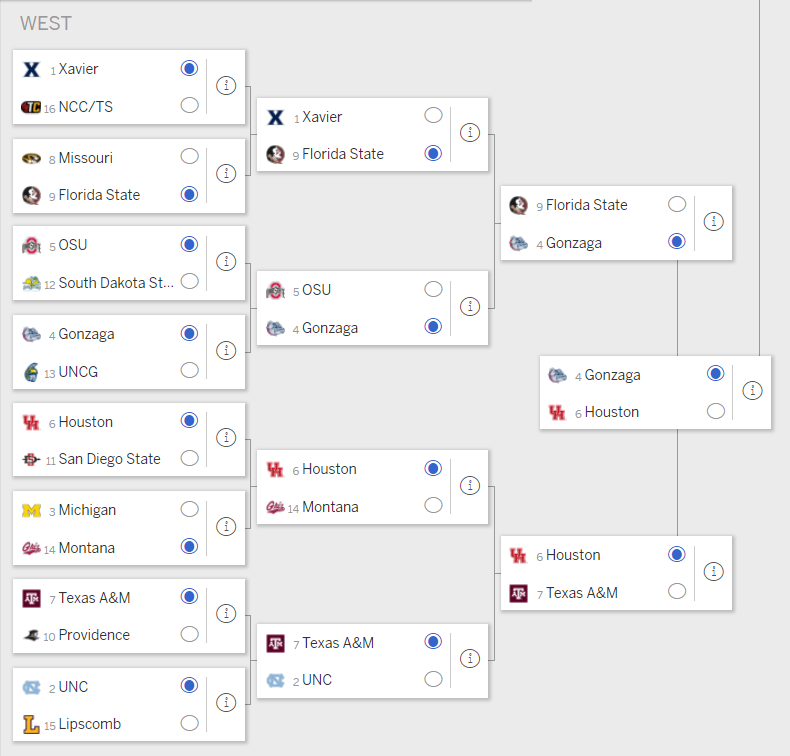 Nearly 84% of brackets have Xavier in the Sweet 16, but our model has the Muskies winning just 64% of the time against either Missouri or Florida State. Given that Missouri is the more popular pick right now, Florida State knocking out a 1-seed early is the contrarian play.
Not to be outdone, Texas A&M knocks out the fan-favorite Tar Heels at the bottom of the bracket. North Carolina is the most popular pick to win this region, so rooting for the Tar Heels' early demise should help you in your pool standings.
East Region
 
Not nearly as much chaos in this region, as most of the selections are right in line with our predictions. The lack of big names likely cuts out some of the bias, and it would have been interesting to see the percentages if Duke or Michigan State had swapped with Purdue or Texas Tech.
Florida going down in the first round is the only true upset in this region, as Butler is favored by our model and the current betting market.
Midwest Region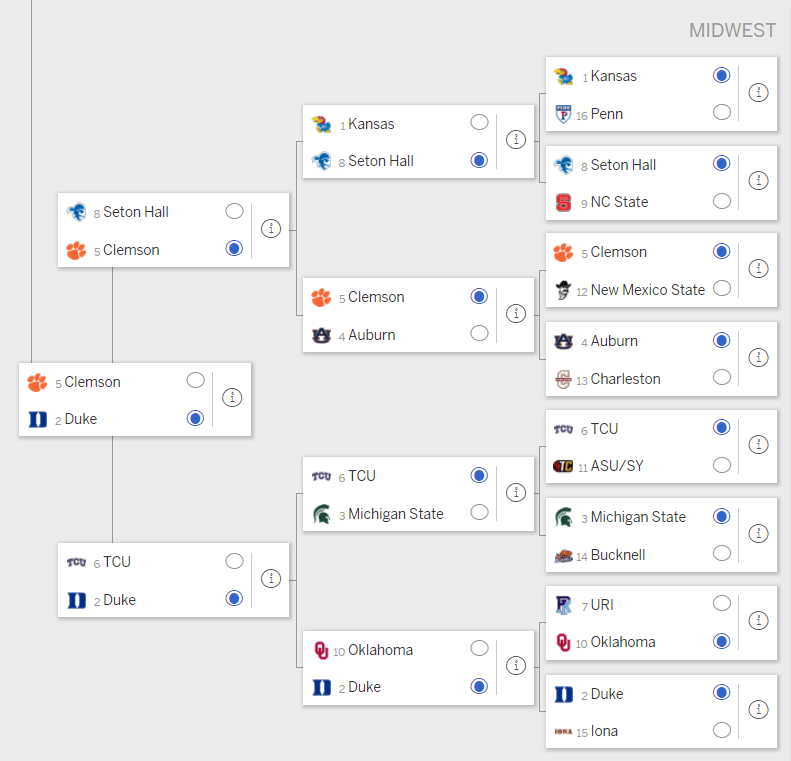 Neither Kansas nor Michigan State advance to the second weekend, as both are public darlings. The second-round game between Clemson and Auburn was tough to pick because both our model and the public like Auburn, but only to a tune of 54.4% of submitted brackets. In this case, I'll go with the more contrarian option but could easily flip-flop those and see Auburn in the Elite Eight.
So there's the complete bracket. Just copy and submit to your pool and win all the money, right? Not exactly. You still need some luck on your side. Actually, you need A LOT of luck on your side. I was contrarian last year but still didn't have South Carolina in the Final Four. Anything can happen in this 63-game tournament; you just hope the percentages play out in your favor.
There are still three ways that you can adjust your bracket if you don't 100% agree with my picks above (how dare you):
Your Pool Size: If you are in a smaller pool, you can pick fewer upsets and go mostly chalk and still gain an advantage over a lot of your opponents by following the same logic above.
Your Location: If you live in Lexington, you may want to have Kentucky losing a little earlier if you think most of your competition will have the Wildcats making a deep run. Remember, a lot of people still fill out brackets with their hearts, not their heads.
Your Gut: It's your bracket! If you have a strong urge that a team is going to win, don't let me stop you. This contrarian bracket will help gain an advantage over the field, but it's your final decisions that make it your bracket.
Top Photo: The Villanova Wildcats celebrate after defeating the Providence Friars in the Big East Tournament title game; credit: Noah K. Murray-USA TODAY Sports
How would you rate this article?