State of the Big East College Basketball Betting Report: Breaking Down Conference Contenders & Bubble Teams
Credit:
John Fisher/Getty Images. Picured: Nate Watson.
Year after year, national buzz surrounds the Power Five football conferences as basketball season ramps up, and somehow, we seem to forget just how great the Big East can be.
Yes, the quality of play in the Big East is as good or better than other football-focused conferences, but there's something special about the Big East's historical context, rife with rivalries and hatred. Even the newer blood in the conference is starting to settle in and feel like they've always been there.
This season is no different.
The Big Ten and Big 12 might have more quality teams, but the juice in the Big East is hard to match. As March approaches and the Big East Tournament at Madison Square Garden looms, the Big East may well be the most exciting conference in basketball.
To reset before March arrives, let's evaluate the Big East teams with postseason plans, breaking them down into tiers. Apologies to St. John's, Butler, DePaul, and Georgetown, which won't be a factor in mid-March.
---
Big East Conference Contenders: Villanova and Providence
Villanova's win over Providence on the road Tuesday night was the defining moment of this Big East season so far.
Providence held a two-game lead in the loss column with just four games remaining on each team's conference schedule. A win over Villanova would have put the Friars in uncharted territory, the heavy favorites to collect the first regular-season Big East crown in program history.
Providence was riding one of the more unlikely seasons in the nation, winning all nine of its games decided by five points or fewer.
That's how the Friars sat at 21-2, in the top 10 of the AP Poll and on top of the Big East while still treading water in more predictive analytical models. KenPom had the Friars 47th prior to the Villanova game, with BartTorvik slightly more optimistic but still placing Providence 37th.
Villanova dashed those hopes and now sits just one loss behind Providence, yet there are some unanswered questions remaining. Villanova is going to finish the season with all 20 of its scheduled conference games played. Providence, which went on COVID-19 pause earlier this year, likely will not. The Big East champion then will be chosen by winning percentage.
This means that both teams still control their own destiny in determining a champion in part because they are scheduled to play each other again at Villanova in two weeks.
If the Wildcats take care of business, the two teams will have the same number of losses in Big East play, but Villanova would stay atop the standings due to its higher winning percentage. If Providence wins out, including an upset victory at Villanova, the Friars will be regular-season champions.
If you are a Providence believer and want to wager on that possibility (currently +150), I would likely stay away from a Big East future and simply wait to bet on the Friars in the game against Villanova. The Friars' next three games (at Butler, vs. Xavier, vs. Creighton), plus the possibility the Big East finds room in the schedule to get any of Providence's postponed games back on the calendar, make for a minefield for the Friars.
For Villanova fans, this year may have a sense of déjà vu.
Every few years, another team in the Big East thinks it has a chance to topple Villanova's dynasty, and time and again, Jay Wright and his team of quiet assassins end that threat.
Collin Gillespie and Justin Moore comprise the best backcourt in college basketball. Until teams start selling out defensively to force Villanova's role players to beat them, Villanova will ride Gillespie and Moore to wins.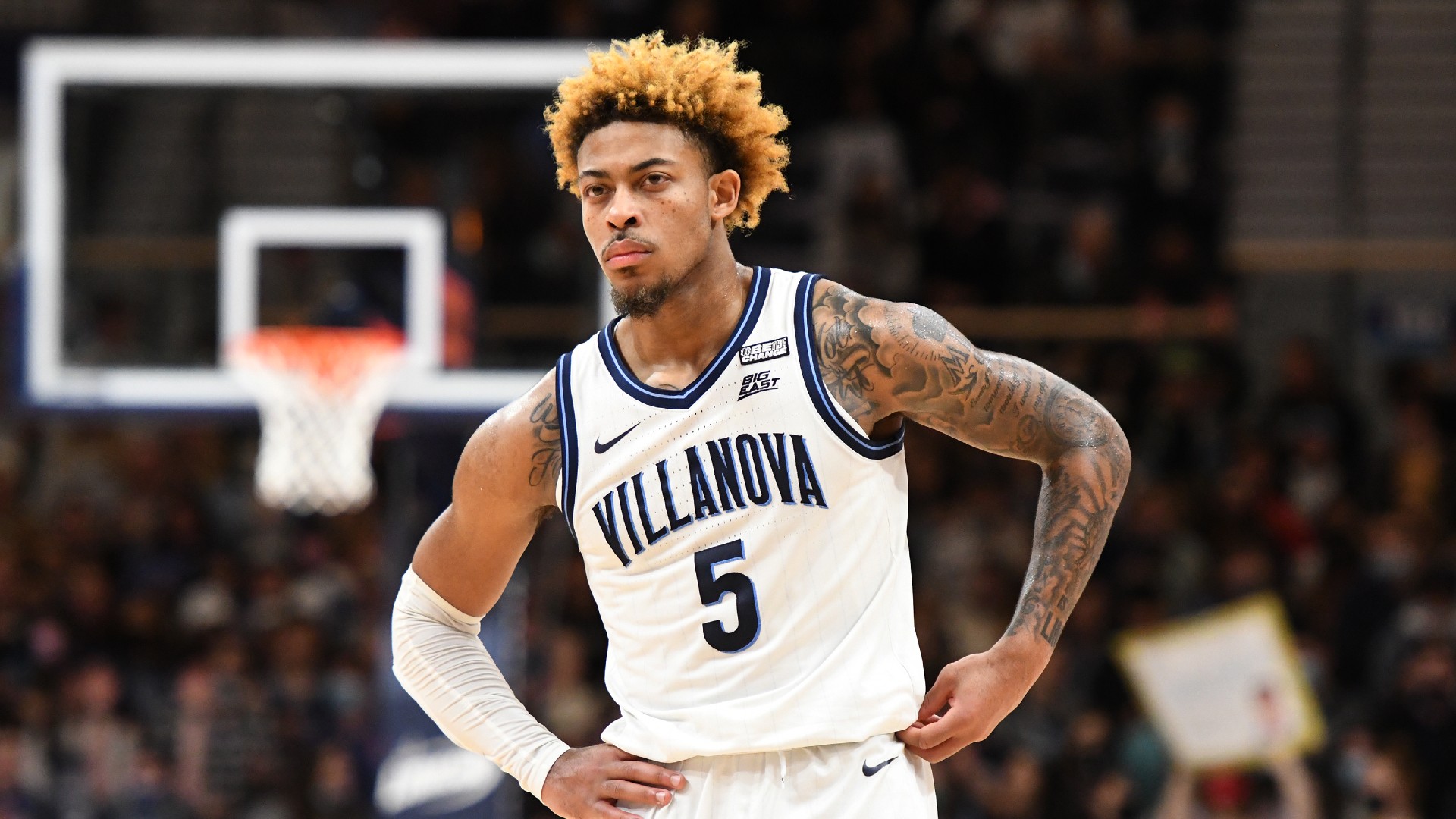 ---
The Surefire NCAA Tournament Teams
No team in the Big East has ridden a rockier roller coaster than Marquette. The Golden Eagles started 8-2, with some very strong nonconference wins. They then turned around and lost four straight, sputtering in the early conference slate.
Marquette rebounded, winning its next seven, including a road win at Villanova. The Golden Eagles have now lost three of their last four, though the win in that stretch was a second victory over Villanova, completing the season sweep.
That leaves Marquette in a precarious position heading into March. Bracket Matrix has Marquette slotted as a No. 5 seed currently, making the Golden Eagles both a dangerous team to meet in any region and totally susceptible to a first-round exit.
Because Marquette has shown an ability to deliver a haymaker, especially against Villanova, I'll have my eyes on its odds to win the Big East Tournament at Madison Square Garden. It'll be worth a flier at the right price.
Connecticut, meanwhile, is one of the harder teams in college basketball to get a proper read on. The Huskies don't have glaring strengths and weaknesses, save for maybe defensive rim protection.
UConn has just one win against KenPom's top 30, a November win over Auburn in which the Huskies shot 57% on 3s.
Connecticut has not laid any eggs either. All seven Husky losses came to top-70 opponents.
My current view of UConn is simple: The Huskies will compete with teams in their station, beat teams well beneath them, but offer little threat to true championship contenders.
The next six days will be massive for UConn, with a three-game homestand against Seton Hall, Xavier, and Villanova upcoming.
Xavier has been somewhat similar. Analytics love the Musketeers. KenPom has them in the top 25. EvanMiya is even more bullish, ranking Xavier 20th. But I find it hard to fall in love with a team that is 7-6 in this Big East.
If Xavier wants to make a statement, the scheduling gods have gifted an opportunity. Road trips to UConn and Providence in the next week are a perfect chance to see what Xavier can do against strong competition in a tough environment.
Xavier's current best road win came against an Oklahoma State team that's a fringe top-50 team depending on which metric you use.
---
The Bubble Teams
Seton Hall is likely on the safe side of the bubble, but there's a team that seems safe every year and then suffers a losing streak that puts it on the outs or in Dayton for the First Four.
The Pirates' remaining regular-season schedule offers three home games against the bottom dwellers of the Big East (DePaul, Butler, and Georgetown) and road games against stronger opponents (UConn, Xavier, and Creighton). If Seton Hall can "hold serve" by winning at home and looking competitive in losses on the road, the season-ender at Creighton will have massive NCAA Tournament implications.
Seton Hall will also be a team I have eyes on as a spoiler at Madison Square Garden. The Pirates have struggled through conference play with the injury bug, especially the seemingly perpetually-hurt Bryce Aiken ailing of late. If he's in the lineup, this Seton Hall team gets a major boost.
Creighton is in a more precarious situation on the bubble.
The Bluejays are currently the second-to-last team in the field, per BracketMatrix, leaving some work to do down the stretch. All of Creighton's remaining games will be Quad 1 or Quad 2 in the NET rankings, providing a chance for the Bluejays to climb the bubble.
I'm skeptical of their chances to do so, given how sloppy and inefficient the Creighton offense has been this season.
The Bluejays are young, so an NCAA Tournament berth would be a year ahead of schedule.
How would you rate this article?
This site contains commercial content. We may be compensated for the links provided on this page. The content on this page is for informational purposes only. Action Network makes no representation or warranty as to the accuracy of the information given or the outcome of any game or event.